Italian Cheese: A Brief Guide by Region
Cheeses from Italy have found their place in the hearts of foodies all over the world. There are hundreds of cheeses in Italy, made virtually everywhere – from the alpine meadows of the north to the picturesque rolling hills of Tuscany to Sicily's romantic plains. Parmigiano, Mozzarella, and Provolone only scratch the surface of Italian dairy. Cured and soft, intensely fragrant and mild, ideal for shredding or perfect for spreading, made with cow, goat, sheep, or buffalo milk, there are countless cheese varieties in Italy. Each region offers its specialties and spins on the classics. The "Slow Food" Movement runs a spectacular Bi-Annual Cheese fair in the Piemonte town of Bra, and this is Cheese Mecca! Quality is of the utmost importance to Italian cheese producers, and there are cheese "conzorzios," quality control boards (similar to wine and olive oil) for each type. There are two quality classifications for Italian Cheese- DOP (Denominazione Di Origine Protetta, i.e., Protected Designation of Origin), and IGT (Indicazione Geografica Protetta, i.e., Protected Geographic Indication, same quality control also used for wine) so if you see these labels on the cheese it signifies the maximum in quality assurance.
While it would be impossible to cover all of Italy's amazing cheeses, here is a look at some you are likely to encounter on your gourmet tour of Italy, along with other more classic gems.
Campania, Calabria, and Puglia – Southern Italy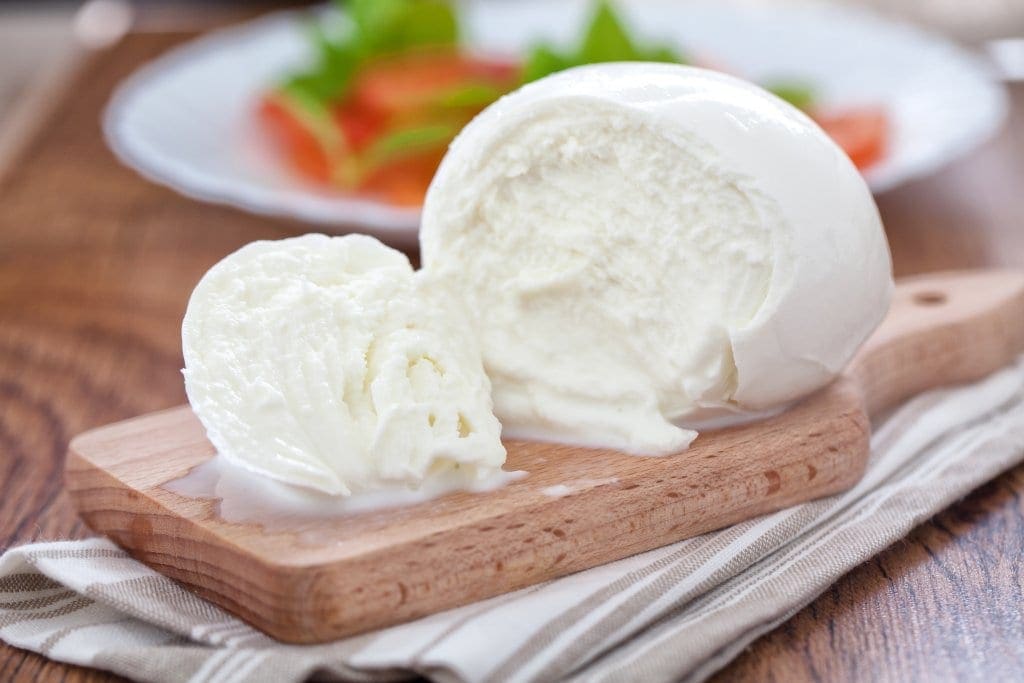 Creamy Buffalo Mozzarella
Burrata
A variant of Mozarella from Puglia, a gorgeous calorie bomb. The process is similar to mozzarella, with the difference being additional cream is added. The result is a hedonistic, milky cheese, best when just made. Burrata is served on its own or also in white pasta. Delicious.
Caciocavallo
This Southern Italian cheese is shaped like a mini gourd and comes plain or smoked. Made with cows' milk, it is a hand-shaped cheese ("Pasta Filata") and can be eaten as soon as three months of ripening. It can be consumed while young (usually after two months) and when aged (up to 2 years). The Caciocavallo Silano DOP is made in all the southern provinces- Campania, Calabria, Molise, Basilicata, and Puglia.
Canestrato Pugliese
From Italy´s "heel" of Apulia ("Puglia" in Italian), this delicious cheese is made in the Foggia province. It is a flaky sheep's cheese that has used the same production technique since it was mentioned in Homer´s Odyssey. The cheeses are aged on fennel stalks from 2 months to a year. Intense bouquet and a Parmigiano-like texture, this cheese pairs well with a rich Puglian red from the Tormaresca estate.
Mozzarella
Authentic Mozzarella is made with water buffalo milk. When made with cow milk, the correct term is "Fiordilatte." The process used is the classic "Pasta Filata," of hand stretching and kneading after the curd is dipped into hot whey. When exported, Mozzarella is most often seen as a soft, fresh cheese formed into a ball shape and stored in water. However, fresh mozzarella must be eaten within 24 hours and is one of the sublime pleasures on earth! You can taste fresh mozzarella in many high-end restaurants in Italy, particularly in Campania, where real Mozzarella di Bufala is made. At the Vanullo dairy, for example, taste just-made Buffalo milk yogurts, ice creams, and moist mozzarella "braids" (called "treccia")- an unforgettable experience! Delicious served with heirloom tomatoes and fresh basil (called an "Insalata Caprese," or "Capri Salad), it's also the world's favorite pizza topping.
Sardinia and Sicilian, Italian Islands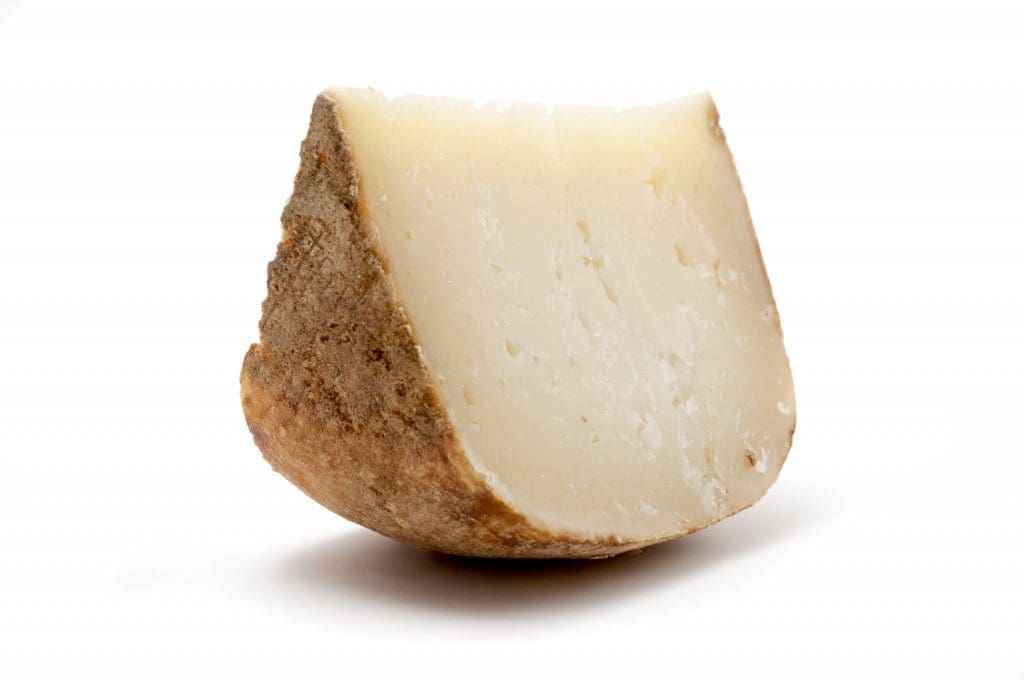 Pecorino cheese
Fiore Sardo
"Sardinian Flower," this sheep's cheese (pecorino) is firm and with savory nuances of Mediterranean herbs. Aged from 1-6 months, this cheese is of the highest quality and is made using historic techniques.
Pecorino
While Pecorino is made in many different regions of Italy (Pecorino Romano from Rome, Pecorino Toscano from Tuscany and Pecorino Siciliano from Sicily, Pecorino dei Monti Sibillini from Marche, Pecorino del Sannio from Molise, or example), Pecorino Sardo from Sardinia is the one most exported. "Pecorino" is a term given to any Italian cheese made from sheep's milk as "Pecora" means sheep. Pecorino is a hard, pressed cheese, which is often aged. In general, it takes up to a year for the cheese to mature, and it is during this time Pecorino´s characteristic tangy and savory flavor comes into its own. Pecorino cheese is used in various ways- served on its own in wedges with wine, as an ingredient in many sauces, including pesto, and grated into risottos and over pasta.
Piacintinu
This unique saffron-colored Sicilian cheese is a hard sheep´s cheese made between October and June and served fresh. It is spiked with peppercorns and pairs well with a Sicilian white like Planeta's buttery Chardonnay.
Ragusano
This cheese comes from the Sicilian city of "Ragusa" (a beautiful place known for its Baroque architecture). Cows milk from the special Modicana breed of cows is used to make this small production cheese, aged from 3 months to one year.
Emilia Romagna, Marche, and Tuscany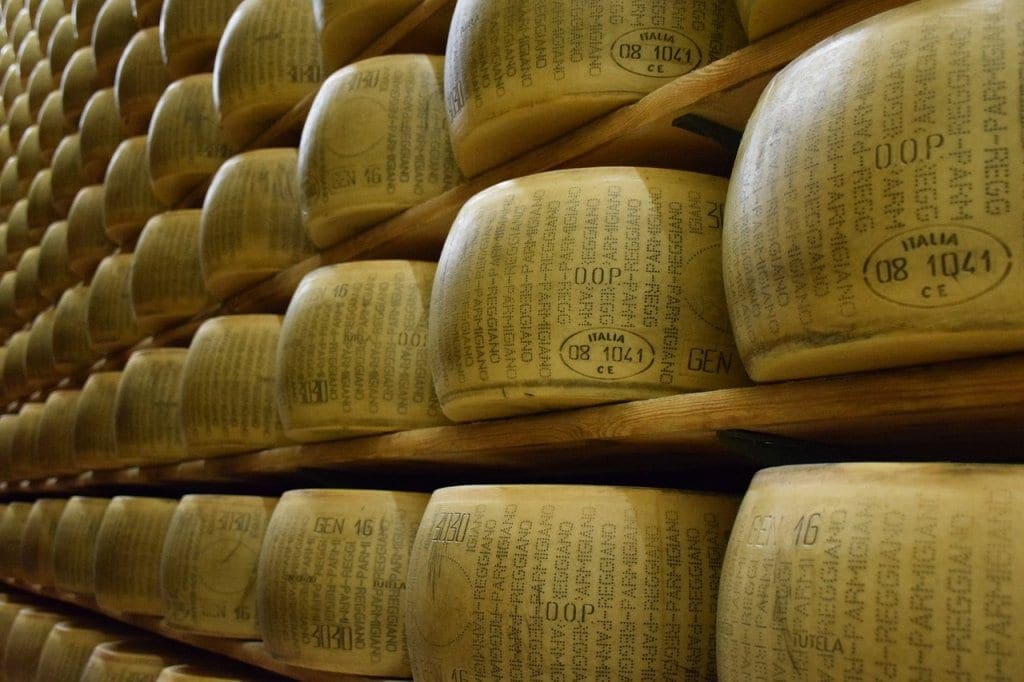 Casciotta d'Urbino
From the marvelous region of Marche on the Adriatic coast, this cheese is made with 70% sheep´s milk and 30% cow´s milk. It is a young, tender cheese, usually only aged 20-30 days. An anecdote is that this cheese is said to have been a favorite of Michelangelo!
Marzolino del Chianti
This young soft cheese is made in the lovely Chianti wine country with raw ewe milk. The intense flavor goes great with a luscious Riserva from Chianti's Badia Coltibuono estate.
Parmigiano Reggiano
"Parmesan" is perhaps Italy's best-known cheese. There is a wild gamut of qualities and prices, with the simplest of this cow-milk cheese being aged 12 months and the more sought-after versions boasting 36 months of aging and an impeccable production process. Parmigiano Reggiano has an appellation that is very strict and can only be made in certain areas, including Bologna Alla Sinistra del fiume Reno, Mantova alla destra del fiume Po, Modena, Parma, Reggio nell'Emilia. Parma is the heart of Parmigiano production; here, they often serve roughly cut chunks of cheese with sparkling wine, an excellent combination. You can also grate it over pasta, salad, soup, or bread, or toss the rind into a stew for added flavor. read our Guide to Parmesan Cheese
Pecorino di Pienza
This is a superb example of pecorino; this sheep's cheese can be sold fresh (with a red rind) or aged (with a black rind). It is also often sold in small pieces in extra virgin Tuscan olive oil in jars.
Lombardy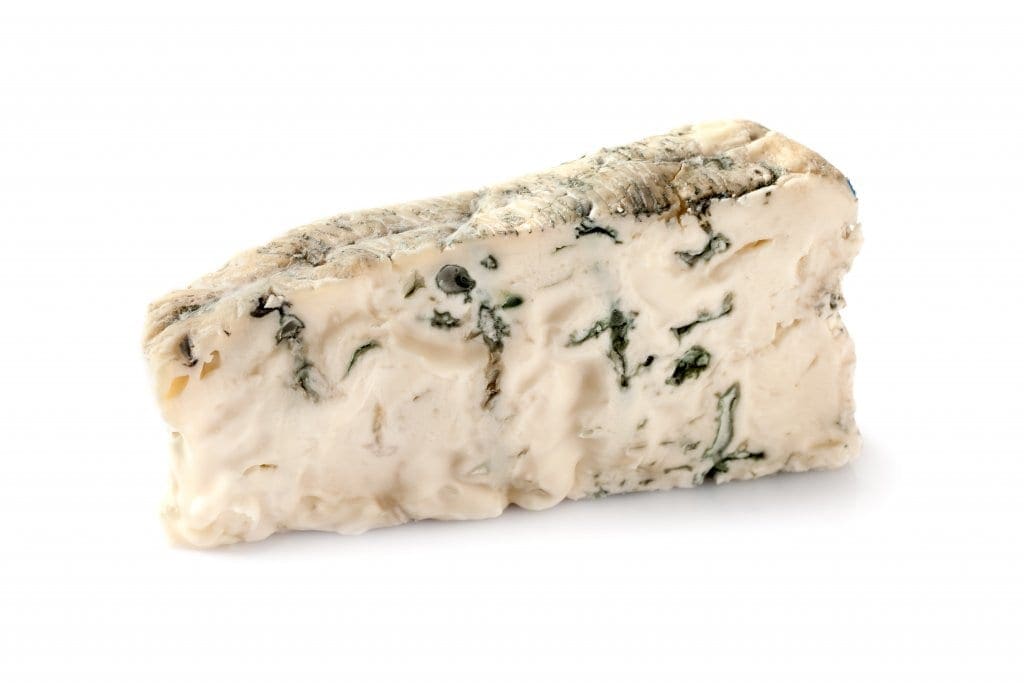 Gorgonzola cheese
Bagòs
This delicious cheese is made in the Val Caffaro in Eastern Lombardy. "Bagòs" in Brescian dialect means "Bagolino," and Bagolino refers to the little village where this cheese was invented. Cows milk is used to make this yellow cheese (colored from saffron), often aged for 1 to 2 years. It pairs well with Franciacorta bubbly.
Bitto
Made near the Valtellina wine-producing region of northern Lombardy, Bitto is a wonderful cow's cheese that can be "young" (70 days) or aged ("stagionato") for up to 10 years. Intense flavor and bouquet. A small amount of goats' milk can also be included.
Gorgonzola
A pungent "Italian Blue Cheese," Gorgonzola is an intensely flavorful semi-soft cheese that's best eaten on salads, with fruit like grapes or pears, or spread on bread. It's excellent, accompanied by the rich Amarone and Recioto wines and made in both Lombardy and Piedmont.
Magnuca
This Lombard cheese is made with cow milk and comes from the Val Chiavenna. It can be aged for as little as one month and up to one year. It can be served in slices to accompany polenta—pairs well with robust red wines from Valtellina.
Mascarpone
Technically not cheese is made with cream instead of milk; the process is similar to yogurt. The texture is soft, ultra-creamy, and is saltless, so used for many desserts. Mascarpone is the key ingredient in Tiramisu, for example. It is also used in savory sauces to add a depth of flavor.
Taleggio
This short and squat soft cheese comes in rectangular shapes and is made with pure cow's milk. The most famous characteristic of taleggio is its powerful aroma. Maturing takes about 40 days, and Taleggio is often used in cooking (risottos especially) as it has a delicious, almost fruity flavor. The Val Taleggio (namesake) is in Lombardy near Lake Como, but Taleggio is made all over the north of Italy, including Piedmont (Novara and Verbania) and the Veneto (Treviso).
Piedmont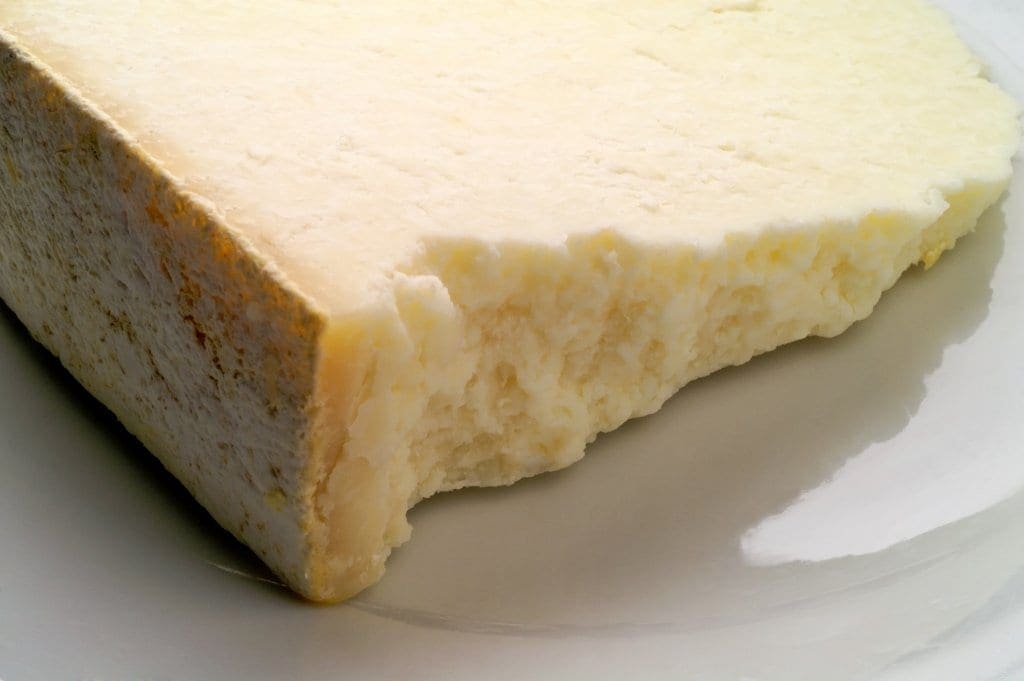 Castelmagno aged cheese
Bra
One of the best cheeses in Piedmont, there are different types of Bra: Bra Tenero (young, usually about 45 days), Bra Duro (aged generally for six months), and Bra Nostrale. Bra Duro tends to be the nuttiest one, all delicious. Bra is also the Piedmont town home to the Slow Food Movement and near Barolo and Barbaresco wine country.
Blu del Moncenisio
Cheese is made from unpasteurized cow's milk, fantastic Alpine cheese, and a streaked "blue" produced around Moncenisio. Tastes great with late-harvest sweet wines.
Castelmagno
Named after the village where it is made, this is one of Piedmont's most renowned cheeses. Made in the Alps (in the Grana Valley) from a specific breed of Piemontese Cow milk of two separate milings and then aged naturally in caves for 2 to 5 months. The cheese is crumbly and a pearly color with blue streaks. Apart from being a great dessert cheese, it is also used a lot in gourmet cooking.
Raschera d'Alpeggio
It is named after the Raschera Alps (Cuneo province, Piedmont). Made from cows' milk, the taste is pronounced, herbaceous, and moderately spicy in the aged version—pairs well with juicy Dolcetto d´Alba.
Vall d'Aosta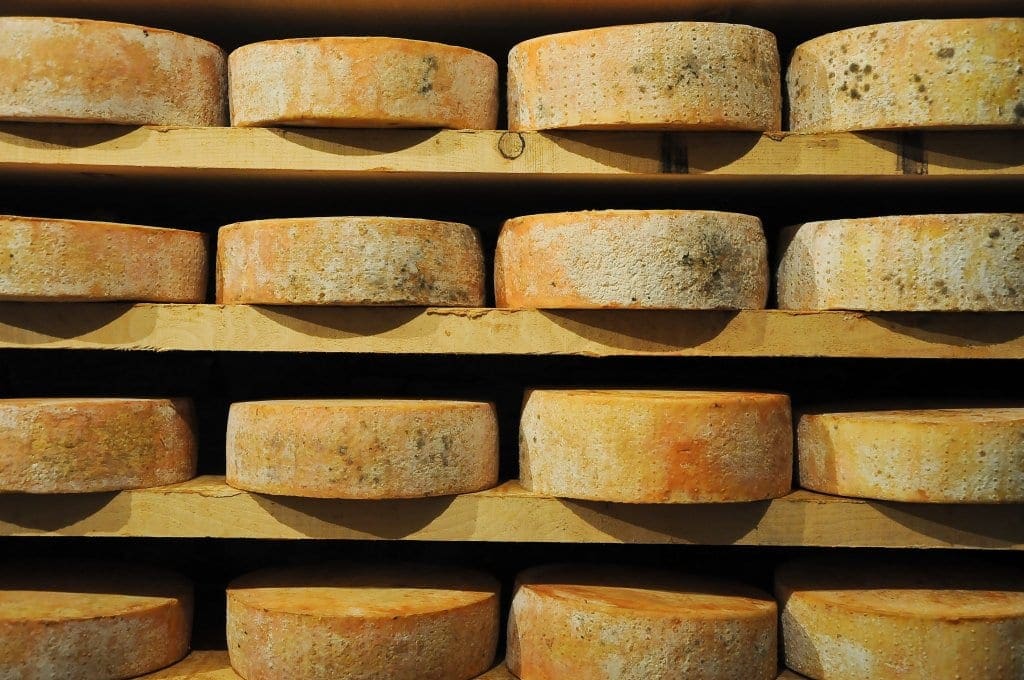 Fontina
A favorite for gourmet fondues, this semi-soft cows'-milk cheese is made in the French-influenced Aosta Valley in northwest Italy. Fontina has a wonderful mild nutty, and buttery flavor.
North-Eastern Italy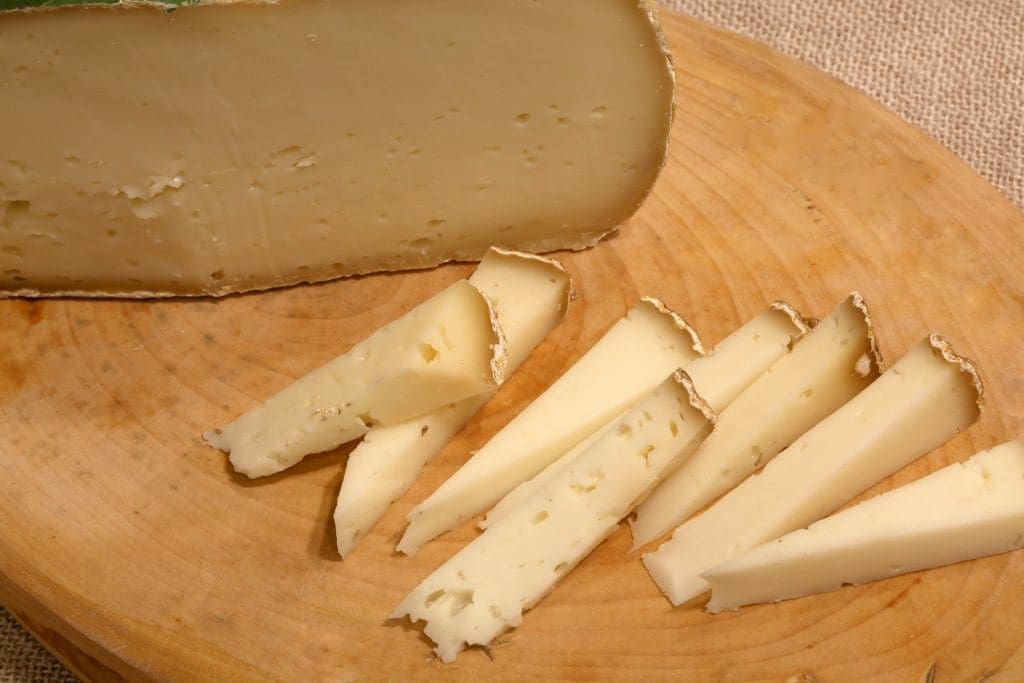 Asiago aged cheese
Asiago
You'll find this mild hard cheese shredded over pasta or atop risotto. This pale cheese is made with cow's milk and can be aged for up to 24 months. Asiago Mezzano is six months old, Vecchio is one year old, and Stravecchio is two years old. Asiago is produced in both the Veneto (Padova, Vicenza, Treviso) and Alto Adige (Trento) areas.
Montasio
This delicious cheese is made with cow's milk in the Veneto (Belluno, Treviso, and Padova) and Friuli (Udine, Trieste, Gorizia, Pordenone, etc.) The "stagionatura" (aging) is a minimum of 2 months, and Montasio can be aged up to one year. The flavor is intense and concentrated and pairs nicely with Friuli´s "Super Whites," such as the Bastianich Vespa.
Other Italian Cheese of Note
Grana Padano
This cheese is the "twin" of Parmigiano Reggiano. However, while Parmigiano Reggiano is only made in a small protected appellation in Emilia Romagna, Grana Padano is made all over the plains of Northern Italy from Piedmont, Lombardy, Trentino, Veneto, and of course, Emilia Romagna. This affects flavor ever so slightly in the types of grass the cows eat in the varying regions. Grana Padano is also a little paler than Parmigiano.
Ricotta – Made all over the Italian peninsula, Ricotta is created by combining the whey from other cheeses; the spreadable soft Ricotta is most often used as a cooking ingredient; it's a must for dishes like lasagna, manicotti, and cheesecake. Variations of traditional ricotta include "Ricotta Forte" (Puglia), "Ricotta Affumicata Sarda" (Sardinia), "Ricotta Infornata" (Sicily and Puglia), "Ricotta Ossolana" (Piedmont), and "Ricotta Salata" (Sicily, Sardinia, and Puglia).
Italian Cheese Terms Glossary
Affumicato – smoked
Amarognolo – slightly bitter, term aficionados use
Aromatico – aromatic
Aspro – sharp
Bufula (Formaggio di) – buffalo's cheese
Burroso – buttery
Cagliata – curd
Caglio – rennet
Capra – (Formaggio di)- goat´s cheese
Caprino – fresh goat´s cheese
Caratteristico – characteristic
Caseificio – Dairy, cheesemaker
Coltello da Formaggio – cheese knife
Delicato – delicate
Dolce – literally "sweet," but for cheese, it is used to mean the flavors are round, neither sharp nor spicy
Duro – hard
Erborinato – Blue cheese, usually cow´s cheese.
Formaggio – cheese
Formaggio alle erbe – cheese with herbs
Formaggio alle noci – cheese with walnuts
Formaggio erborinato – blue cheese
Formaggi al carrello – cheese trolley
Forte – strong
Fresco – fresh, young
Fruttato – fruity
Fuso – melted
Grattugiato – grated
Intenso – intense
Ircino – used to refer to the typical flavor of goat´s cheese
Latteo – milky
Maturazione– maturation (aging)
Morbido – soft (cheese)
Muffe – cheese mold
Muschiato – used to refer to the flavor of buffalo milk
Pecora (Formaggio di)- sheep´s cheese
Piccante – spicy, often used to describe certain goats cheeses
Ricotta – re-cooked, cottage cheese
Salamoia – brine
Sapido – used to describe very savory cheeses
Siero di latte – Whey
Speziato – spiced, used to refer to cheeses that have a nuance of spice (such as nutmeg)
Stagionato – matured
Related Blog Posts: