Lusciously dense, glossy dark brown, and with an intense kaleidoscope of flavor, balsamic vinegar is known as the Black Gold of Italy's Emilia Romagna region for good reason – the distinctive bottles of Aceto Balsamico Tradizionale are the precious jewels of the table. The traditions and procedures surrounding the sumptuous elixir are deeply ingrained in the culture, history, and lifestyle of Modena, and the neighboring city Reggio Emilia and a visit to a balsamic vinegar loft is a memorable treat for the senses.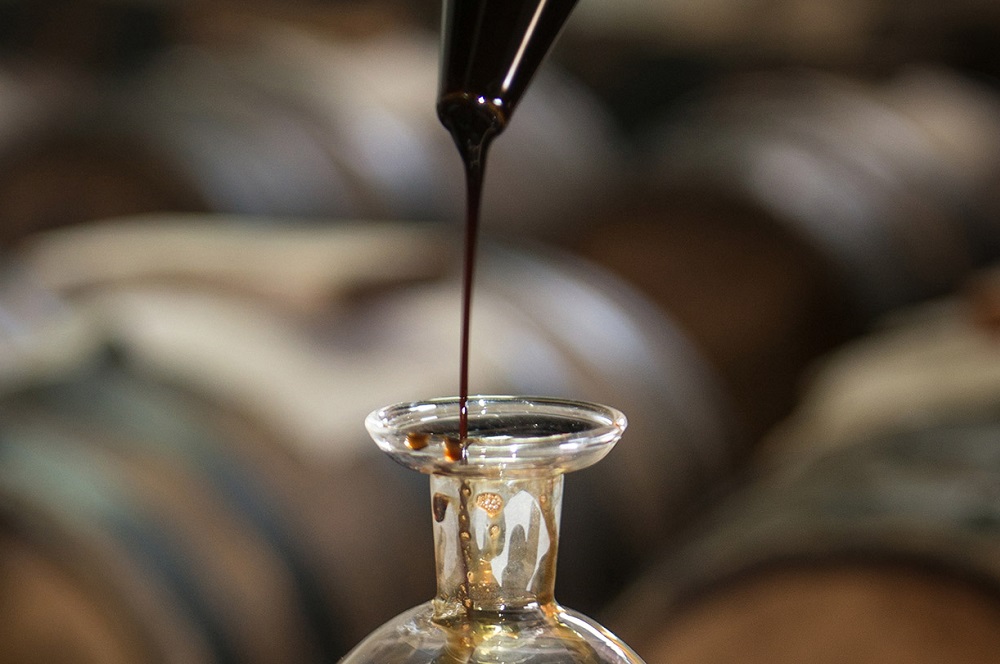 But what exactly is balsamic vinegar? How is it made? And how to distinguish between the different types?
What is balsamic vinegar?
While balsamic vinegar falls into two main categories with very different characteristics and price tags, cooked grape juice, or must, is the starting point for both. The everyday version, Aceto Balsamico di Modena IGP (Protected Geographical Indication), is fresh and youthful, with a delicious vinegary acidity splashed over salads. At the same time, the addition of the word 'traditional' to the name indicates a prestige product that takes at least 12 years to produce and makes a tasty addition to almost any dish, sweet or savory: Aceto Balsamico Tradizionale di Modena DOP (Protected Designation of Origin) and Aceto Balsamico Tradizionale di Reggio Emilia DOP.
The history
Grapes and their juice, in one form or another, have been a staple on Italian tables since ancient times. Saba (cooked grape must) was mentioned by Latin writers Virgil and Pliny the Elder, who recommended it as a sweet alternative to honey. Today, saba crops up in traditional recipes around Italy, but its primary use is for making balsamic vinegar here in Emilia Romagna.
The local specialty vinegar started to make a name for itself for its memorable, unique qualities in the 11th century when it was presented as a gift from Boniface of Canossa to the future Holy Roman Emperor, Henry III, in 1046 on his way to Rome to be crowned. From then on, the sublime substance became highly sought after among the courts of Europe and requested if not received as a spontaneous gift. When the ruling Este dynasty transferred their base from Ferrara to Modena in 1598, they started work on the magnificent Palazzo Ducale with a purpose-built acetaia or vinegar loft. Despite this, they could not meet all their needs for vinegar, as so many diplomatic gifts were required, and they called on the local noble families to contribute. Things changed at the end of the 18th century when Napoleon's troops invaded, took over the Palazzo, and sold the precious vinegar barrels for profit. From this time on, the production of balsamic vinegar, as it was now known (the term 'balsamic' introduced to describe its therapeutic properties) became more widespread, in the lofts of farmhouses and family homes, made largely for personal use and no longer exclusive to the realm of the privileged.
In 1967 the Consorteria dell'Aceto Balsamico Tradizionale association was founded to promote balsamic vinegar and organize events and initiatives, including an annual competition. Each year, the winning balsamics are proclaimed during St John's day celebrations on 24 June in the village of Spilamberto.
How is Aceto Balsamico Tradizionale made
The process begins immediately following the grape harvest. Although a range of local grape varieties grown within the province are permitted, producers generally opt for Trebbiano or one of the various types of Lambrusco, also used to make wine of the same name – another premium product of this area. Yields per hectare are lower than those permitted for wine production. Next, the carefully selected grapes undergo a soft pressing to obtain only the purest must, which is then heated in open vats to a temperature of around 90°C (195°F ) for 12 hours or more. Once cool, a natural fermentation occurs, followed by the transformation process with natural vinegar bacteria, or acetobacter.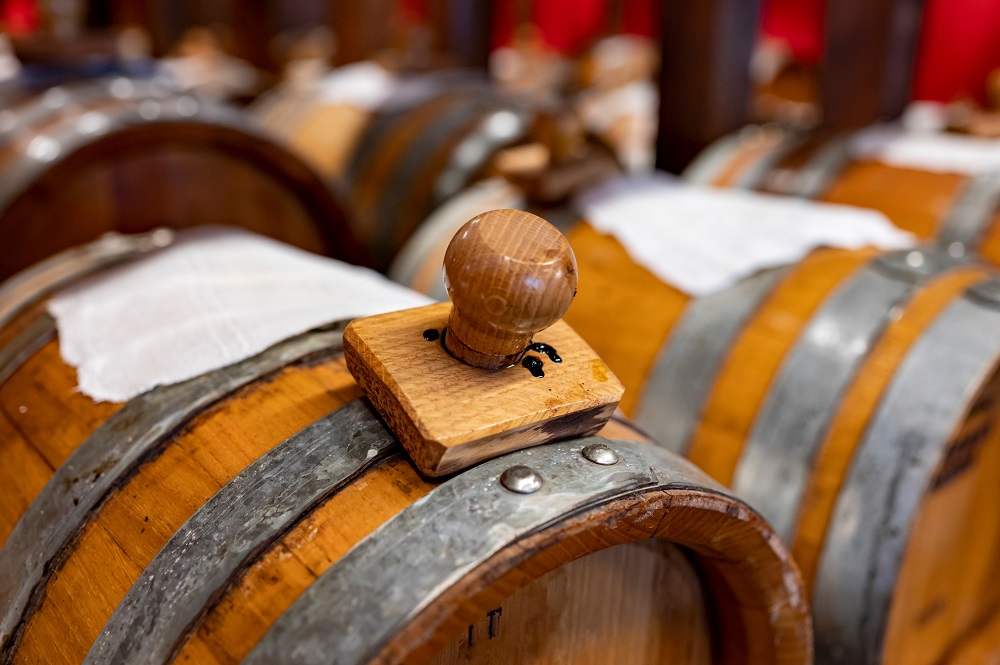 Traditional balsamic vinegar is made in a perpetual procedure, like sherry, with a series of wooden barrels of diminishing sizes called a battery. It's customary to set up a new battery on the birth of a baby, for a wedding, or to mark another significant event in the life of a family. Each battery usually has at least five barrels, though some have ten or more. Different woods are used for the barrels, each contributing characteristics to the finished product: mulberry, chestnut, oak, cherry, juniper, and acacia. While most producers go for a variety of woods for greater complexity, some concentrate on a single type to ensure particular results, such as cherry wood for a sweeter, fruity vinegar, or juniper wood for sharper aromatic flavors.
Each barrel is filled to two-thirds with fermented grape must to start a battery. Barrels are arranged on their sides in a loft, with a piece of linen covering an opening so that evaporation can occur easily, following the rhythm of the seasons and giving rise to the enticing aromas that fill the air. Each year, the smallest barrel is topped up, to two-thirds full, with liquid from the second smallest, which in turn is topped up from the third smallest barrel and so on, all along the row. Finally, a fresh addition of fermented must, ready and waiting in the so-called 'mother' barrel or abbess, is added to the largest barrel in the battery.
And so the process goes on year after year after year. Finally, the moment of truth to reward such patience comes when the minimum 12-year period is up, and a small amount of balsamic vinegar is removed from the smallest barrel. If it passes the consortium's tests, including tasting by a panel of experts, the finished balsamic vinegar is bottled and given an official seal. When sold, bottles come with a so-called 'friendship saver' – a small pourer to prevent splashes and over-generous portions by guests unaware of the value of the contents.
How old?
For both ABTM (the Modena version) and ABTRE (the Reggio Emilia version), only specifically designed 100ml bottles may be used: a square base and rounded top for ABTM and an elegant tulip shape for ABTRE.
While ABTM is made in two versions – a minimum of 12 years for 'affinato' and 25 years for the denser, more complex 'extra vecchio' – ABTRE has three versions, identifiable by label color. A lobster-colored label indicates the 12-year variety, the most vinegary of the trio; with a silver label, it's still at least 12 years old but with a lower degree of acidity, and with a gold label, it's the version aged a minimum 25 years. In 2021 the ABTRE consortium also introduced taster-size 10ml bottles.
As it's a perpetual process, the exact age of the black liquid gold is impossible to affirm. However, many historic balsamic producers have ongoing batteries dating back a hundred years or more. Tasting a drop from one of these is an emotional experience!
Aceto Balsamico di Modena IGP
Produced in the province of Reggio Emilia and Modena, this everyday, delightfully fresh version of balsamic vinegar is also made with the fermented cooked must of local grape varieties. It's mixed with at least 10% of ten-year-old wine vinegar and spends a minimum of 60 days in wooden vats; then, aged for three years, it can be classified as invecchiato. If the color isn't as rich and deep as the producer would like, a 2% addition of caramel is permitted for these vinegars.
There is also a great variety of balsamic condiments on the market. As no official regulations govern their production, it's wise to find out if these are made like the traditional balsamic vinegars, with only grape must and time (usually less than 12 years), or if they include wine vinegar or other ingredients.
Balsamic experience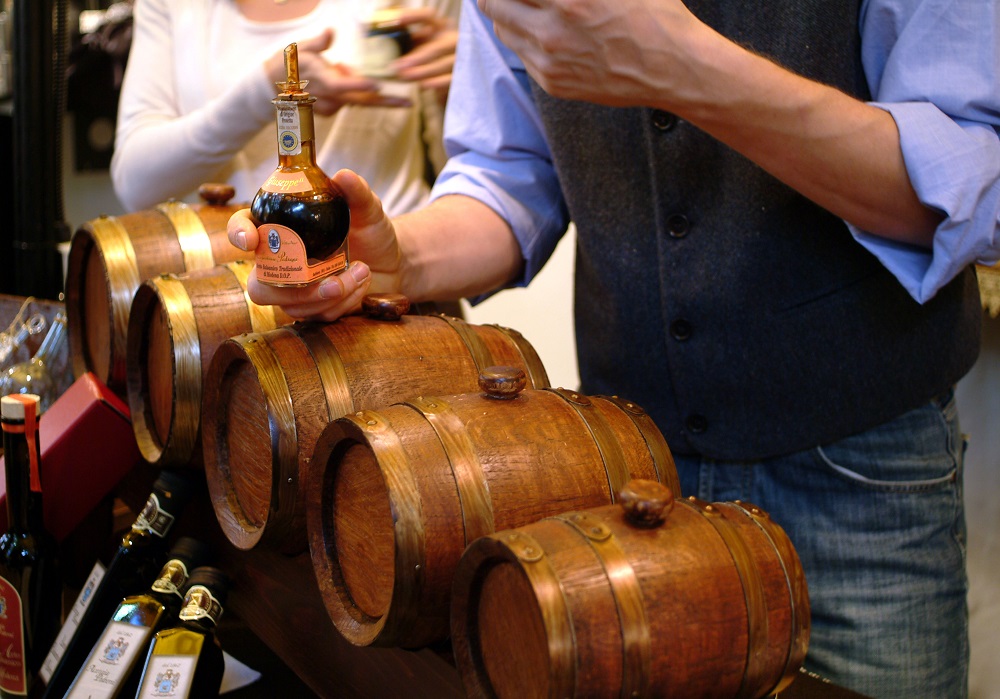 A visit to a balsamic vinegar producer in a private villa, historical Palazzo, or picturesque farmstead is a great way to try a whole range, and it's always something more than just a foodie experience, providing a glimpse into centuries of family life and local traditions.
Cellar Tours has designed this one-day private chauffeured excursion to two Balsamic Vinegar Acetaias, followed by a delicious gourmet lunch in a local historic restaurant. This excursion can begin in a number of cities, including Bologna and Verona.
In central Modena, the Consorteria store (Piazza Mazzini 9) gives a good insight into the world of balsamic vinegar. A couple of producers have balsamic boutiques in Modena, such as Malpighi and Giusti (stores can also be found in Bologna and Milan). Even Modena's city hall has a vinegar loft set up in 2003 – its extravecchio vinegar won't be available until 2028, while the first balsamics from the new collection at Modena's Palazzo Ducale will be ready in 2029.
A touch of traditional balsamic vinegar can make a dish. It's a classic with risotto, Parmigiano Reggiano, or gelato and delicious with strawberries, omelets, steak, and seafood; a drop is an ideal digestif and can be an intriguing ingredient for cocktails – just let your creativity flow! Which to buy? A well-stocked kitchen deserves a selection of balsamics so you can find your perfect pairings.
Some notable and recommend producers