Sicily is a desirable destination for adventurous travelers, home to sun-soaked beaches, Europe's largest active volcano, and internationally acclaimed wines. For the gastronomically inclined, Sicilian cuisine offers a vast and diverse selection of dishes.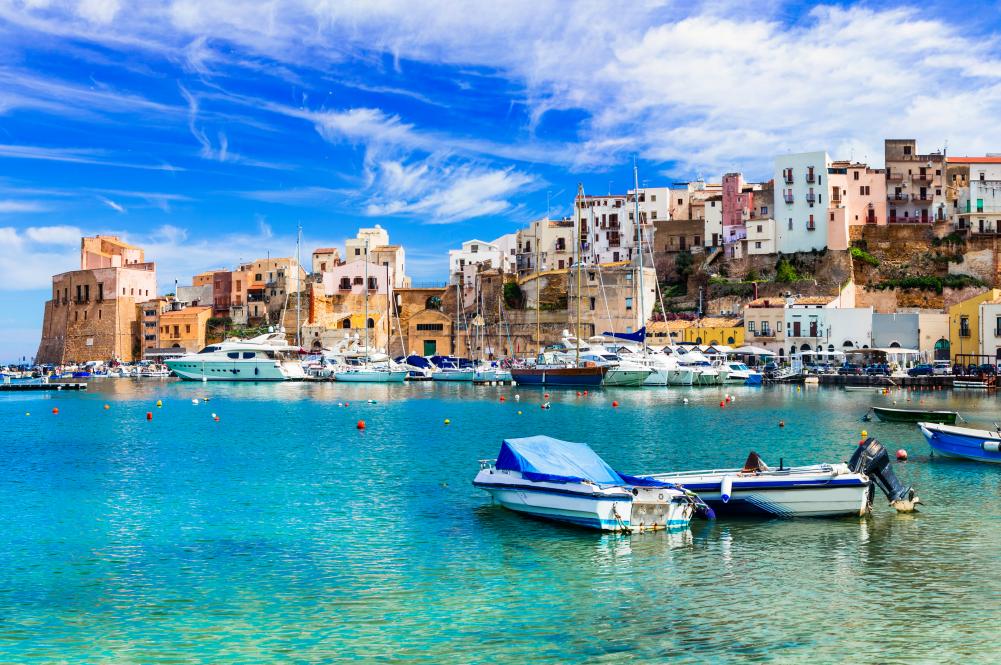 Thanks to the island's strategic location in the Mediterranean Sea, roughly 160km northeast of Tunisia, Sicily experienced a tumultuous history. First, the Phoenicians, then the Greeks from the 8th century B.C., colonized the island. Notably, the Greeks brought their olive trees and viticultural practices with them. Next, the Carthaginians and Romans duked it out to control the island during the Punic Wars, and in 945A.D the island fell to Arabs. Then came the Normans and Spaniards. Each culture left its indelible mark on the island's art, architecture, and cuisine.
In addition to its multicultural heritage, the abundant Sicilian landscape contributes to its vibrant culinary traditions. Mount Etna's fertile volcanic soil grows a wealth of vegetables and grapes for distinctly Sicilian wines. Plus, there's an assortment of microclimates for plentiful agriculture, thanks to the island's varied topography, Mediterranean influence, hot Sirocco winds from Africa, and the Mistral blowing down from the northwest.
The Sicilian Diet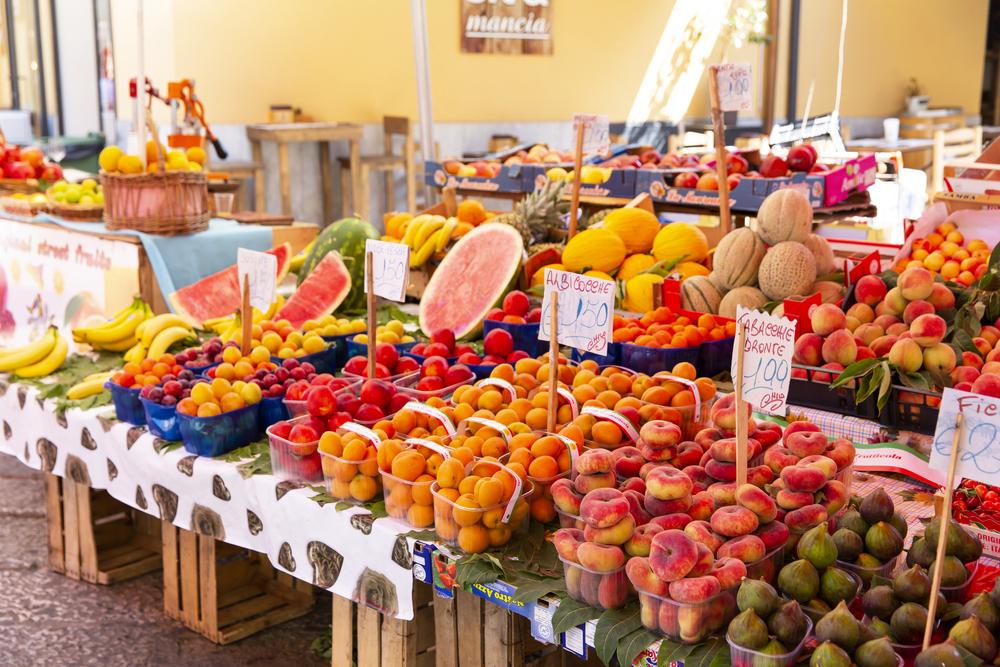 Il Capo market in Palermo
In Sicily, the diet is primarily based on grains, legumes, and fish. Yet meat and game are available, though generally reserved for special dishes. As far as vegetables go, eggplant is widely incorporated into Sicilian cuisine thanks to the island's Arab influences. Also heavily included in Sicilian dishes are zucchini, cauliflower, artichoke, broccoli, and bell peppers. Confusingly broccoli is known as sparaceddi in Sicily, and green cauliflower broccoli and regular cauliflower is vrucculi.
Sicilians rarely cook with butter, unlike the North of Italy. Instead, they use olive oil and flavor their dishes with delicious condiments such as salmoriglio, made from garlic, onions, lemons. Additionally, anchovies appear in many Sicilian recipes. Lemons and oranges prevail throughout the island, as do capers, which the Greeks brought to Sicily along with olives. Pistachios are also a quintessential Sicilian ingredient used in both savory recipes and desserts. Varieties from Raffaldi and Bronte are especially sought after. Moreover, the Arabs introduced saffron, couscous, pine nuts, capers, cinnamon, chile peppers, raisins, and candied fruit to the island. Today, these ingredients make Sicilian cuisine markedly diverse and distinctive in respect to other regional Italian cuisines. For more information on personalized food & wine tours of Sicily, organized by Cellar Tours
Sicilian Cheeses
Caciocavallo cheese is featured prominently in Sicilian cuisine. It's a cow's milk cheese that's eaten as a table cheese when young. As it becomes harder and sharper with age, caciocavallo is often grated over Sicilian pasta dishes. Traditionally, to make caciocavallo, the cheese is formed into balls tied together with raffia palms.
Next, ricotta cheese also abounds in Sicily. Ricotta is a twice-cooked creamy curd, hence the name ricotta or recooked. It's regularly used in both sweet and savory Sicilian recipes. Other notable Sicilian cheeses include:
Canestrato
Piacentinu Ennese
Provola Iblea/Provola Dei Nebrodi
Ragusano Dop
Ricotta Infornata
Vastedda Valle Del Belice
The Best Street Food in Sicily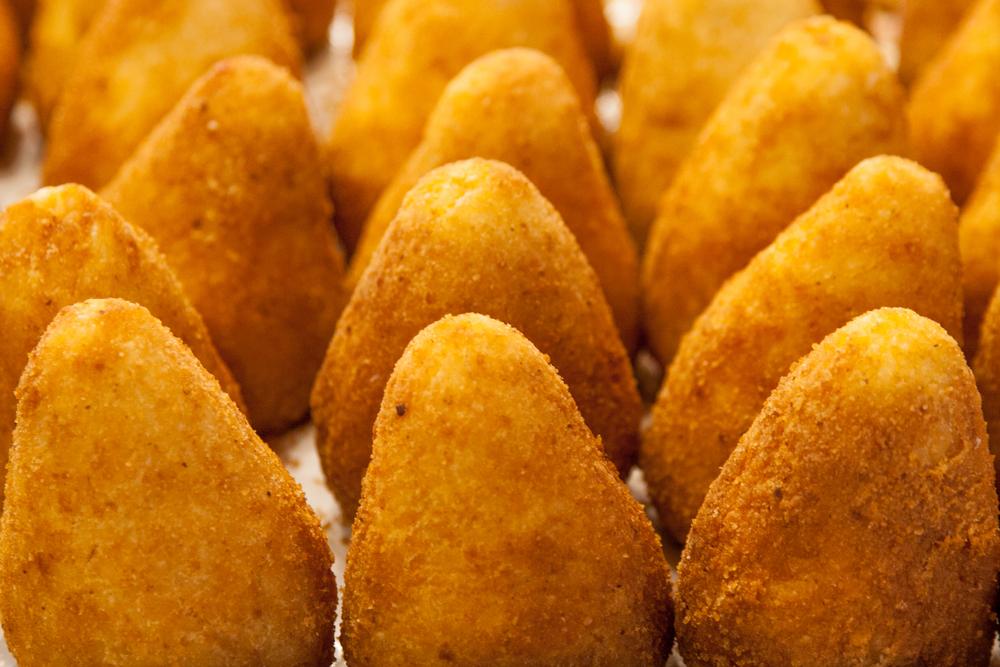 Delicious Arancini
No Sicilian experience is complete without sampling the plethora of street food the islands have to offer. The street vendors attract potential customers to their respective food stalls with abbanniata, a shouted song in the local dialect —the fragrant smells of cipollina and an array of fried Sicilian street foods compounding their efforts. Plan your beach days accordingly because a visit to the capital of street food means it's time to eat.
Arancina vs. Arancino
East vs. west battle has long been underway in Sicily. The conflict culminates in arguably Sicily's most famous street food—Arancina. Or is it arancino? Well, it depends on where you're eating this deep-fried, breadcrumb coated rice snack.
In the west of the island, Palermo makes arancina into a spherical ball. One version sees the rice stuffed with minced meat, while another is decadently filled with béchamel, ham, peas, or mushrooms. Plus, saffron adds a subtle flavor to this famous bite of Sicilian cuisine. To the east, in Catania, arancino is shaped in pizzo or more of a triangular shape reminiscent of Mount Etna. Meat is also a popular arancino filling in Catania, as is béchamel, butter, and eggplant. However, the jury is still unsure whether the feminine arancina or masculine arancino is the true name for this Sicilian street food classic.
Sfincione
With fresh, high-quality ingredients, simplicity can be just as divine as the most elaborate dish. Sfincione proves as much. The name translates to "thick sponge," which suitably describes this focaccia-like pizza. The focaccia dough for sfincione is often topped with tomato sauce, onions, anchovies, and caciocavallo. However, variations abound throughout the many cities of Sicily.
Pane e Panelle
Pane e panelle is the fundamental fried street food of Palermo. One that's sure to have you loosening your belt and returning for seconds. The dish includes fried chickpea pancakes made from a simple batter of chickpea flour, water and served sandwiched between a sesame seed bun savored in Sicily called mafalde. Pane e panelle originated in the kitchens of the poor, as legumes like chickpeas were relied on as a protein source. Though today the dish contributes to the riches of Sicilian cuisine.
Pani Cunzatu
Another dish with humble beginnings, pani cunzatu, or seasoned bread, is the ideal snack to grab while on the go. Bread is seasoned with olive oil, fresh tomatoes, oregano, and anchovies. Optionally, cheese and onions can be added to the mix.
Cipollina
Amongst the street food stalls in Catania, you'll encounter enticing aromas of sizzling onions thanks to cipollina. The snack rival of Palermo's sfincione, cipollina is made with sautéed spring onions, tomato sauce, mozzarella, and ham housed in a crispy, flaky puff pastry crust.
Pidone
Sicily's region of Messina offers a calzone-like snack called pidone. However, the dough for pidone is much thinner and crispier. These fried delights are shaped like triangles or crescent moons and stuffed with anchovies, curly endive, and tuma, a type of fresh sheep's cheese.
Pizzolo
This one-of-a-kind pizza is unique to Sicily and comes in many versions and can be your appetizer, main course, and dessert. The classic pizzolo is topped with olive oil, oregano, salt, pepper, and Parmigiano Reggiano cheese. The savory version is filled with greens, cheeses, and salami, while the sweet is filled with honey, pistachio cream, or chocolate.
Scaccia
Also known as scacciato or impanata, scaccia is a delectable gift from the province of Ragusa. Its thin dough is made with water, olive oil, yeast, and flour. Ingredients like ricotta, onion, eggplant, tomato, and sausage are used as filling between layers of the dough, which is folded over itself, resembling the layers of lasagne.
Purpu Vugghiutu
For seafood, look to purpu vugghiutu. This octopus preparation typical of Palermo involves tenderizing the octopus with a beating, then boiling it in salted water until the pink tentacles are cooked and succulent. Purpu vugghiutu is often served with a spritz and lemon for a fresh taste of Sicily.
Sicilian Street Food for Offal Lovers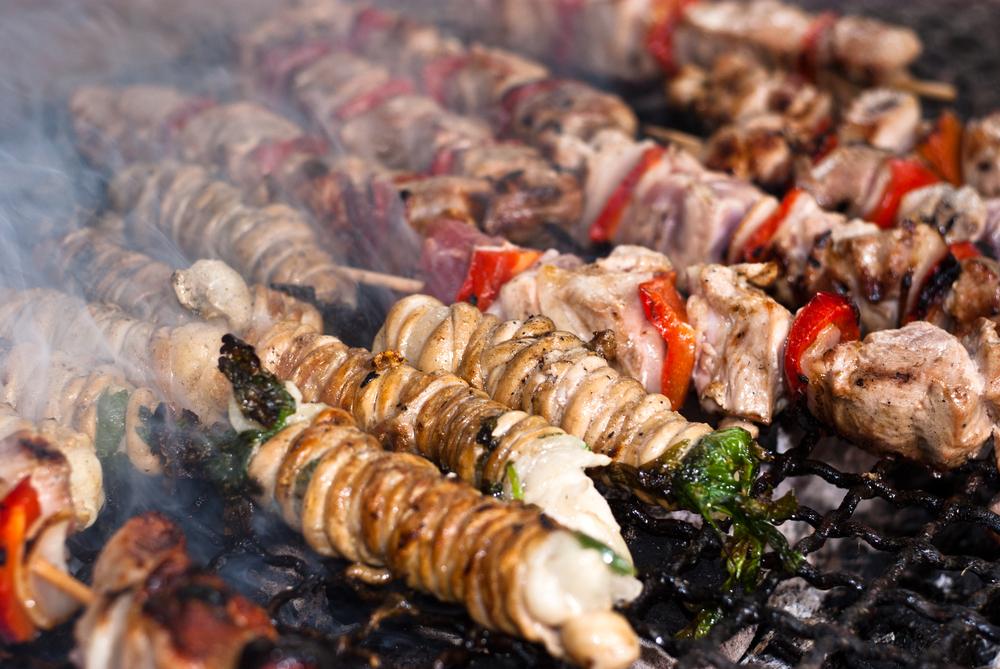 If you enjoy offal, then head to the stigghiularu to snack on stigghiola. These are rolls of entrails, usually from lamb, though chicken and goat stigghiola are also eaten. The entrails are either skewered or wrapped around leeks and onions. Stigghiola is served hot off the grill, garnished with only lemon and salt.
In Palermo, enjoy the highly popular pani câ meusa, a greasy, juicy sandwich of veal entrails. This Sicilian classic is made by boiling the calf's spleen, lungs, and trachea; when cooked, the offal is sliced into pieces and sandwiched in sesame bread. Pani câ meusa is either served schettu (single – without cheese) or maritatu (married – with cheese) with ricotta or caciocavallo.
If you're craving meat while perusing the street vendors of Catania, order arrusti e mancia. Meaning grill it and eat it, arrusti e mancia is how to order all kinds of grilled meats on the go. In Catania, horse and donkey meat are very popular. The meat is grilled, sliced, and stuffed into bread without the need for any extra garnish or sauces.
The Autista
With such an abundance of mouthwatering food and wine, it's easy to overeat or overdrink in Sicily. But worry not, the Sicilians have a drink to help with either occasion. The autista, or the driver, is a drink made of lemon juice, soda water, and bicarbonate. The bicarbonate is added last, and you need to drink the autista before the glass bubbles over. The drink was created to sober up those who had over imbibed. Yet the autista is a miracle worker when it comes to digesting and degreasing the stomach after a binge on fried Sicilian street food.
Primi Piatti Siciliani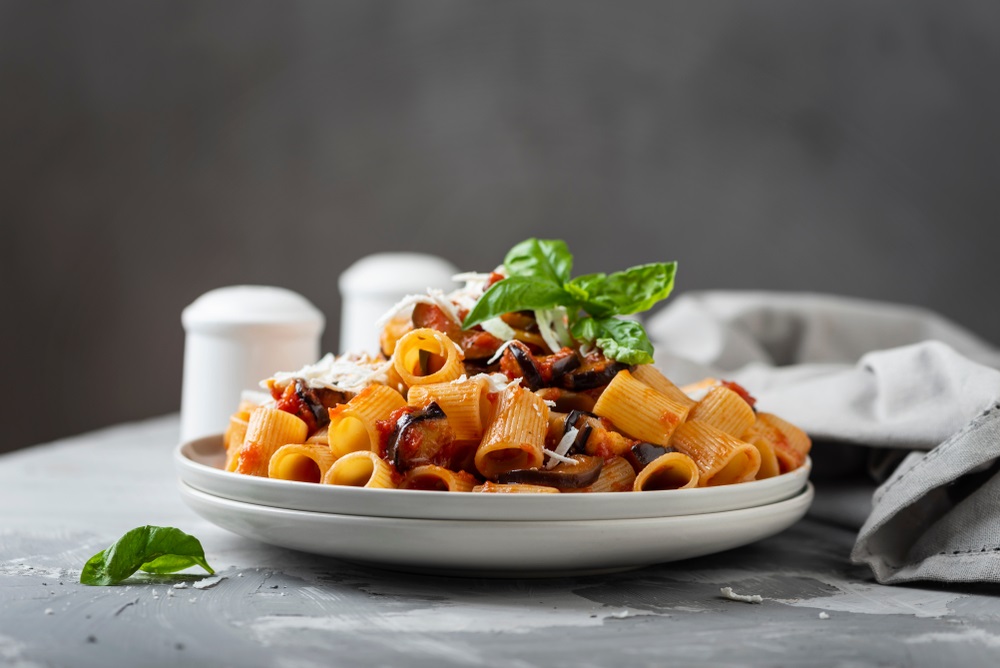 Pasta alla Norma
Pasta alla Norma
Though widely savored throughout Sicily today, pasta alla norma was initially created in Catania. This vibrant pasta dish is made by first frying eggplant in olive oil and slow-cooking sauce of tomatoes and basil. The pasta is tossed with the tomato sauce, then the eggplant is added at the end, and the pasta is topped with grated ricotta salata.
Pasta con i Tenerumi
Pasta con i tenerumi is an easy summer meal at the Sicilian table. This one-pot pasta is made with the leaves and shoots of zucchini. First, the zucchini and tenerumi are cooked in a pot of boiling water. Next, the spaghetti, either broken into pieces or left whole, is added to the boiling water. Picchi pacchi sauce is also added, which is tomatoes and garlic browned in olive oil. Once everything is cooked, the dish is finished with a generous grating of caciocavallo or aged ricotta. In effect, pasta con i tenerumi is more of a soup, which some prefer to eat cold when the summer temperatures are high.
Bucatini alla Paolina
This traditional vegetarian pasta from Palermo was created by the friars of the Order of the Minims founded by San Francesco di Paola. Religious orders called for the friars to live a life of obedience, poverty, and chastity. They also had to live a "Lenten life" perpetually, meaning a diet without meat, milk, eggs, or cheese.
A Paolina friar created bucatini alla paolina to serve his brothers something delicious while adhering to their religious orders. Bucatini alla paolina incorporates tomato paste, garlic, anchovies, and breadcrumbs. However, cloves and cinnamon are the signature spices of this dish. Today, another version of bucatini all paolina abounds with the addition of cauliflower.
Pasta con le Sarde
Pasta con le sarde is another essential dish in Sicilian cuisine. It's known as a dish of mari e monti, or "of seas and mountains," because it includes wild fennel, which is not found on the coast. Traditionally, this Sicilian specialty is prepared with bucatini, sardines (plentiful in Sicily), and wild fennel. Additional ingredients include raisins, pine nuts, salted anchovies, saffron, and breadcrumbs. In Sicily, toasted breadcrumbs are called muddica atturata or cheese of the poor people.
A few variants of pasta con le sarde are savored throughout the island. The Trappitara version from Trappeto in Palermo is the most classic and served in bianco. In Messina, they exclude saffron, while the Milanesa adds tomato sauce and uses salted sardines.
Busiate alla Siciliana
While in Sicily, tasting pesto alla Trapanese is a must. This unique pesto from Trapani is made by working garlic, almonds, basil, cherry tomatoes, olive oil, and salt into a paste with a mortar and pestle. Typically, pesto alla trapanese is served with busiate pasta. The pesto clings to all the nooks and crannies of this rolled-corkscrew shape pasta for the perfect flavor-packed bite.
Pasta ' ncasciata
A specialty of Messina, pasta 'ncasciata takes its name from the unique cooking technique used to make the classic dish. To prepare pasta 'ncasciata, ground beef, onions, white wine, and tomatoes are placed in a casserole dish. The casserole is covered in hot embers and cooked slowly to create a ragù. Maccheroni pasta cooked very al dente is tossed with the ragù, fried eggplant, and caciocavallo cheese. Grated parmigiano reggiano cheese tops the dish, which is then baked until golden brown.
Other variations include 'ncasciata from Palermo, which is made with a tomato sauce. As well as 'ncasciata from Ragusa made with the addition of sausage, salami, or ham. While 'ncasciata from Enna foregoes tradition, opting for cauliflower and pecorino cheese.
Couscous Trapanese
In Sicilian cuisine, couscous is cooked in a traditional low, and wide terracotta bowl with flared edges called a mafaradda. Couscous and hot, salted water are added to the mafaradda and stirred around by hand until the couscous is ready. Couscous from Trapani incorporates a fish soup made with red snapper or sea bass, celery, onion, bay leaf, tomato, garlic, and parsley.
Secondi Piatti Siciliani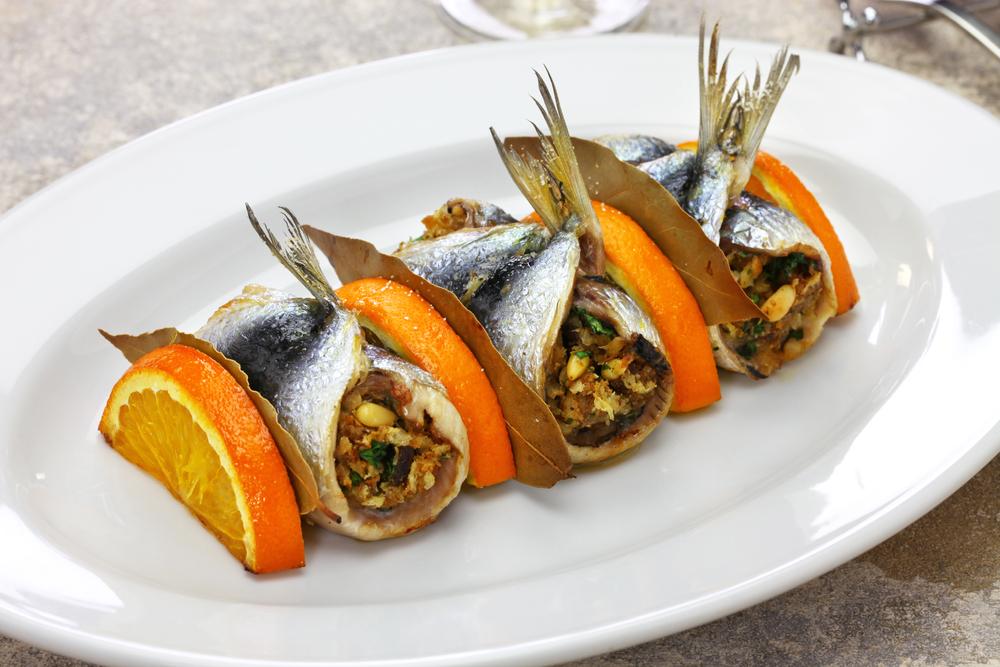 Sarde a Beccafico
Mulincianeddi Chini
This stuffed eggplant dish is typical of Sicilian cuisine and known as melanzane ripiene in traditional Italian. The eggplant is filled with a mixture of its pulp, parmigiano reggiano, garlic, and breadcrumbs. Then slowly roasted until lusciously tender.
Agghiotta
This fish stew from Messina is made with salted northern cod historically imported by the Normans. The cod first needs time to soak. Then it's cooked with potatoes, tomato, onion, celery, and olives. Plus, pine nuts, raisins, and capers, the trademark ingredients of Sicilian cuisine. Agghiotta can also be prepared with tuna and swordfish. However, for these fishes, the dish is only prepared with onions, celery, tomatoes, capers, and black olives.
Sarde a Beccafico
Sarde a beccafico is a traditional dish that embodies the agrodolce (sweet and sour), symbolizing the flavor contrasts found in Sicilian cuisine. Historically, social class indicated the types of food typically eaten. The nobility and elite ate foods that were higher and closer to the sky, i.e., birds. In contrast, the lower class ate what was lower to the ground, such as sardines. The name of this dish comes from the beccafico, small birds traditionally eaten by the nobility. There are many versions of sarde a beccafico in Sicily. Palermo's take on this baked specialty includes butterflied sardines stuffed with a mixture of breadcrumbs, garlic, sugar, parsley, and pine nuts.
Involtini di Pesce Spada
Involtini di pesce spada is another delightful seafood recipe from Sicily. This plate features pieces of swordfish stuffed with breadcrumbs, raisins, and pine nuts. The swordfish involtini are skewered with bay leaves between each piece of fish for enhanced aromatics, then baked.
Pesce Spada alla Siciliana
This classic Sicilian swordfish recipe involves olives, tomatoes, capers, garlic, celery, vinegar, and pine nuts. These ingredients are sautéed in olive oil then simmered in water. Once the water evaporates, the swordfish steaks are cooked in the same pan. To serve, pesce spada alla Siciliana is topped with a tangy, flavorful sauce.
Calamari Ripieni
In Sicily, calamari is stuffed with the typical Sicilian filling of breadcrumbs, parsley, capers, olive oil, and occasionally pine nuts. They can be cooked in a tomato sauce or, as in Messina, cooked in a sugo alla ghiotto or greedy sauce. This tasty sauce is made with celery, onion, capers, olives, tomatoes, and olive oil.
Polpette all'Agrodolce
These sweet and sour Sicilian meatballs are made from a mixture of beef, eggs, pine nuts, cinnamon, salt, pepper, and amaretti cookies that have been soaked in milk. The polpette is deep-fried and finished with a sauce made from sugar, vinegar, capers, olives, pine nuts, and onions for that signature agrodolce flavor of Sicilian cuisine.
Coniglio alla Siciliana
Another agrodolce meat dish enjoyed in Siciliy is coniglio alla Siciliana. To prepare the dish, first, a soffrito of onions, carrots, and celery is made. Then, the rabbit is salted and slowly cooked with soffrito, capers, wine, sugar, vinegar, pine nuts, and raisins.
Farsumagru
Known as farsumagru in Sicilian dialect or falsomagro in traditional Italian, this is a hearty meat dish. The name means fake lean; the dish looks lean from the outside yet is filled with quite the riches. Farusmagru is a meat roll stuffed with hard-boiled eggs, cheese, prosciutto, and peas. The meat roll is baked, then served on a platter. While baking, farsumagru releases flavor-packed juices, which are served over pasta for the first course.
Dolci Siciliani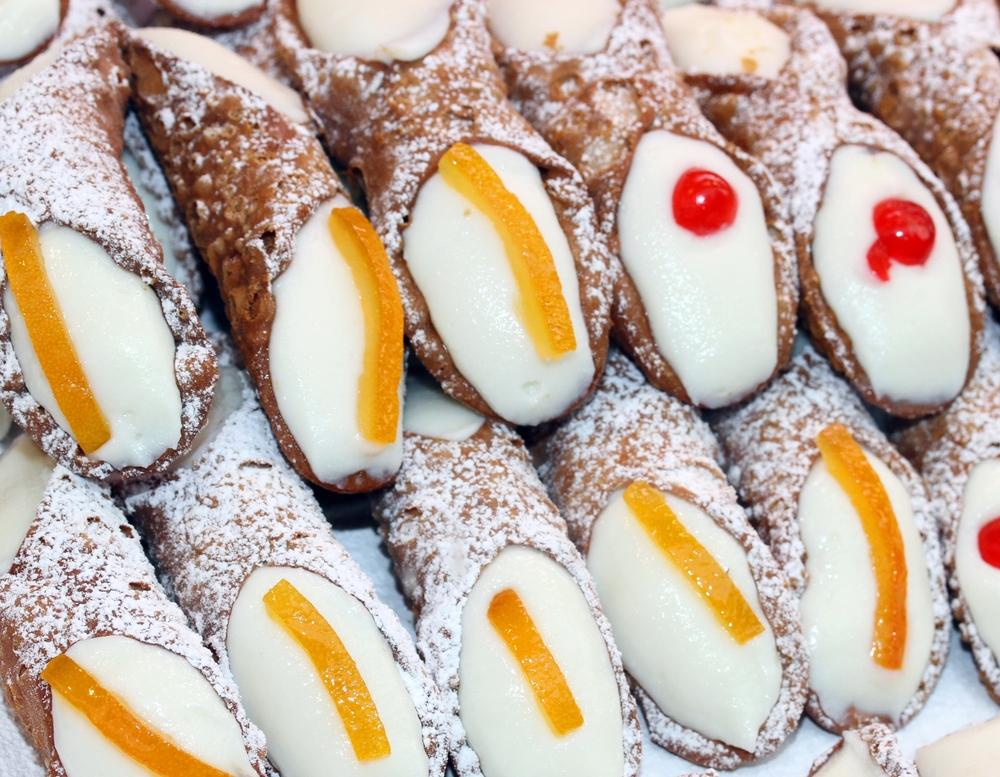 Cannoli Siciliani
Cannoli
Famous and adored the world over, cannoli is easily the most iconic dessert of Sicily. Traditionally, a connolo is a rolled, tube-shaped fried dough filled with fresh ricotta and decorated with candied orange peel. Other variations incorporate crushed pistachios, chocolate, and other candied fruits.
Cassata Siciliana
Cassata is also a contender for the most quintessential Sicilian dessert. A colorful creation representative of the island's vibrancy, cassata's time-consuming preparation makes it even more special. This dessert involves a liqueur-soaked sponge cake concealed under a green-rimmed, candied fruit-topped marzipan exterior. Ricotta and chocolate chips enliven the sponge cake.
The iconic Sicilian dessert speaks to the multicultural heritage of the island. The name cassata comes from the Arabic word quas'at, which is the cylinder-shaped metal mold used to make casseroles and cakes. During the Norman period, the nuns of the Martorana convent in Palermo developed marzipan from a mixture of almond flour and sugar. In contrast, the Spaniards brought sponge cake and chocolate to the island. Though the opulent and stunning cassata Siciliana adored today became a true masterpiece during the Baroque period.
Also, keep an eye out for Casatelle of Sant'Agata prepared in Catania for its patron saint. Known as minnuzze ri Sant'Ajita in dialect, these sponge cake, ricotta, and chocolate desserts are covered in marzipan and topped with a candied cherry. They're meant to resemble the breasts of Sant'Agata, which were amputated during martyrdom.
Granita
Prominent in eastern Sicily, granita is the ideal dessert to enjoy under the hot Sicilian sun. The Arabs introduced this cool "flavored snow" dessert. Supposedly, ice was historically cut from the tops of mountains and brought down to the villages to be crushed and flavored for granita. Today, a plethora of granita flavors exist in eastern Sicily, such as lemon, coffee, watermelon, almond, peach, strawberry, prickly pear, and more. Sicilian granita is not so much a slushy but rather a dense and creamy treat that can also accompany brioche for breakfast.
Frutta Martorana
These marzipan sweets prominent in Palermo and Messina are true works of art. Frutta martorana originated in the Martorana monastery in Palermo, where nuns would decorate the barren trees in the courtyard with fruit-shaped marzipan sweets to impress visiting archbishops. Eventually, the nuns began to sell the frutta martorana, and they became a great source of income for the church. This specialty is especially prevalent in Sicilian pastry shops on All Saints' Day.
Sfoglio di Polizzi
In the Madonnie mountain range in the north-central part of the island, you'll find sfoglio di polizzi, known as sfùagghiu, in the local dialect. The sponge cake dessert is filled with chocolate, cinnamon, and a fresh sheep's cheese called tuma. Sfoglio di polizzi was created by the nuns of the Santa Margherita convent in honor of their patron saint.
Zeppole di Riso
Zeppole di riso are tasty fried rice pancakes initially served in the 16th century by the nuns of the Benedictine Monastery in Catania. The zeppole dough is made from a mixture of rice, milk, and orange zest. After being fried, the zeppole di riso is garnished with orange honey and icing sugar for a unique sweet taste of Sicilian cuisine.
Sfinci di Ricotta
Ricotta makes its way into another scrumptious fried Sicilian dessert called sfinci. The ancient Sicilian recipe is often prepared around Carnival. The dough for sfinci is made from ricotta, flour, sugar, eggs, and baking soda. Occasionally, they're enriched with raisins. The dough is shaped into small balls, fried until golden brown, and sprinkled with sugar for an addictive dessert you can't stop eating.
About Nicole Dickerson
WSET certified international wine writer with a passion for rare varieties and cellar hand experience in both hemispheres. Join me in the vineyards and cellars of the wine world at palmandvine.com.
Related Blog Posts: