Nestled amongst the foothills of the Alps in northwestern Italy sits Piedmont. This Italian region is famous worldwide for its highly sought-after Nebbiolo wines of Barolo and Barbaresco. Wine lovers travel from near and far to soak up the landscape of undulating hills blanketed in vineyards while savoring arguably the best Italian wines the country has to offer. Yet Piedmont is the ultimate destination for epicureans to delight in as well. Piedmontese cuisine boasts an array of quality dishes and products waiting to be discovered on a food and wine tour of the region, organized by Cellar Tours.

What is Piedmontese cuisine?
The traditional Piedmontese cuisine differs from Mediterranean cooking throughout Italy. First of all, olive oil isn't as widely used since olive trees aren't as extensively planted in the region. Instead, Piedmontese dishes often incorporate butter. The Italian region's proximity to France coupled with abundant pastures for prized Piedmontese cattle mean butter is always readily available. Secondly, French influence on Piedmontese cuisine is evident in the various sauces used in Piedmont dishes. Plus, the fact that cheese is often consumed at the end of the meal in Piedmont.
Many Piedmontese recipes call for abundant amounts of garlic. Due to the plethora of cattle in the region, meat is often featured in Piedmontese kitchens, with veal making a frequent appearance.
While Piedmont boasts a variety of regional pasta, this part of Italy is also renowned for its rice. Moreover, Piedmont is one of Europe's foremost centers for rice cultivation. During the Middle Ages, the Cistercian monks established rice agriculture amongst Vercelli's marshy lands. Today, many Piedmontese dishes include this ancient grain.
The Famous White Truffles of Alba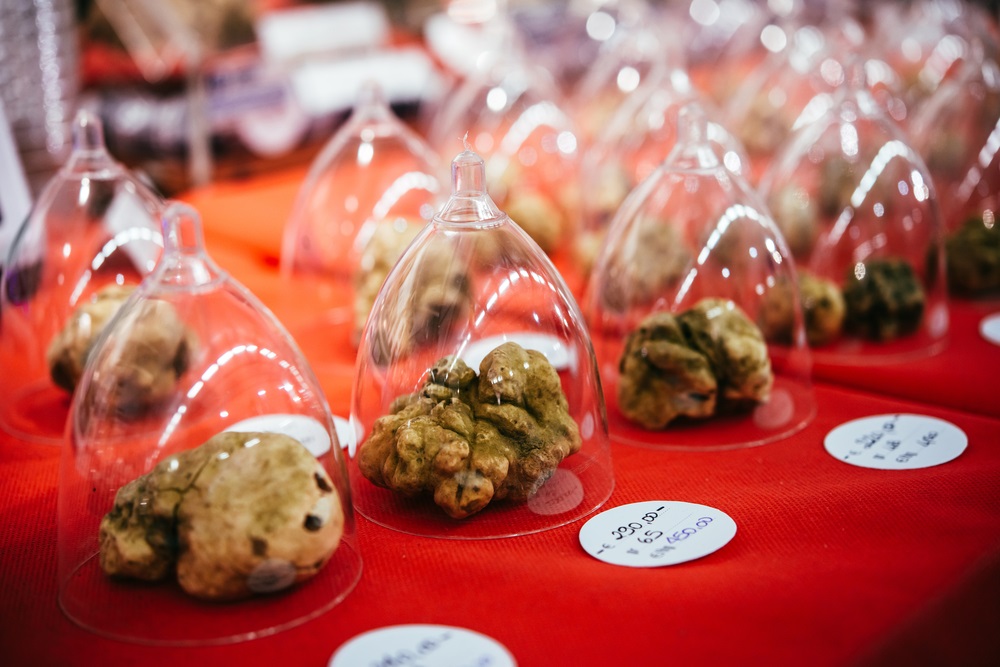 White Truffles on Sale at the Alba Truffle Fair
Every year from September to December, foodies flock to Alba in Piedmont for white truffle season. The truffles grow deep in the Langhe's forests, where they thrive in clay and marl soils. Once hunted by pigs, today, dogs sniff out the white truffles which grow underground. Alba white truffle is adored for its deep, earthy, luxurious flavors.
In Piedmont, truffles are shaved onto pasta, risottos, and more. Yet, they boast a hefty price tag due to the laborious hunting process. Additionally, truffles can only grow in moist soils near the roots of oak, poplar, haze, and linden trees. So there's limited availability every season.
Rural Cuisine vs. Noble Dishes from the Court of Savoy
Piedmontese cuisine is based on two juxtaposing culinary traditions. Many regional dishes are rooted in the rural traditions of cucina povera, or poor cooking, similar to Tuscan cuisine. In contrast, others originated in the noble Court of Savoy.
The Savoy family first ruled the Kingdom of Sardinia, which included Sardinia, Liguria, and Piedmont. Subsequently, in 1861, the Savoy were appointed to the Italian monarchy. Often hosting extravagant banquets, the Court of Savoy developed Piedmontese dishes like fritto misto, bollito misto, decadent chocolates, and more. At the same time, poor Piedmontese farmers developed recipes like panissa, bagna cauda, and finanzeria. These were a result of their efforts to maximize what meager ingredients they had available.
Merenda Sinoira
Around two centuries ago, peasants in the rural Piedmontese countryside initiated the merenda sinoira tradition. Spending all day working the fields, the peasants had no time to return home for lunch. They'd stop work in the late afternoon for merenda sinoira.
Merenda means snack in Italian, and sina is dinner in the local Piedmontese dialect. So, merenda sinoira was like a big snack before dinner, which often included salami, an omelet, fruit, and wine, of course. The trend caught on, and even the nobility began offering merenda sinoira in their countryside villas. Over the years, this ancient peasant tradition transformed into a form of aperitif enjoyed at local taverns.
In Carpione
During the Middle Ages in Piedmont and other parts of Italy, a cooking method known as in carpione evolved as a means of preservation. Savvy cooks learned to extend the shelf life of vegetables, fish, eggs, and meat by marinating them in vinegar and spices. In Piedmontese cuisine, zucchine in carpione was a common Medieval preparation that is still popular today. The dish involves deep-fried, thinly sliced zucchini, which are then preserved in vinegar, white wine, onions, and sage leaves.
Grissini – Breadsticks of Piedmont
Just as there's a typical bread for each Italian region, the Piedmontese have their grissini breadsticks. The Royal Savoy family baker, Antonio Brunero, invented grissini in 1679. The breadsticks were created for baby Vittorio Amedeo II, who had difficulty digesting bread because of its crumbs. Brunero developed grissini to have fewer crumbs and a longer preservation time. The name derives from ghersin, or small bread, in the Piedmontese dialect.
Piedmontese Cuisine: Antipasti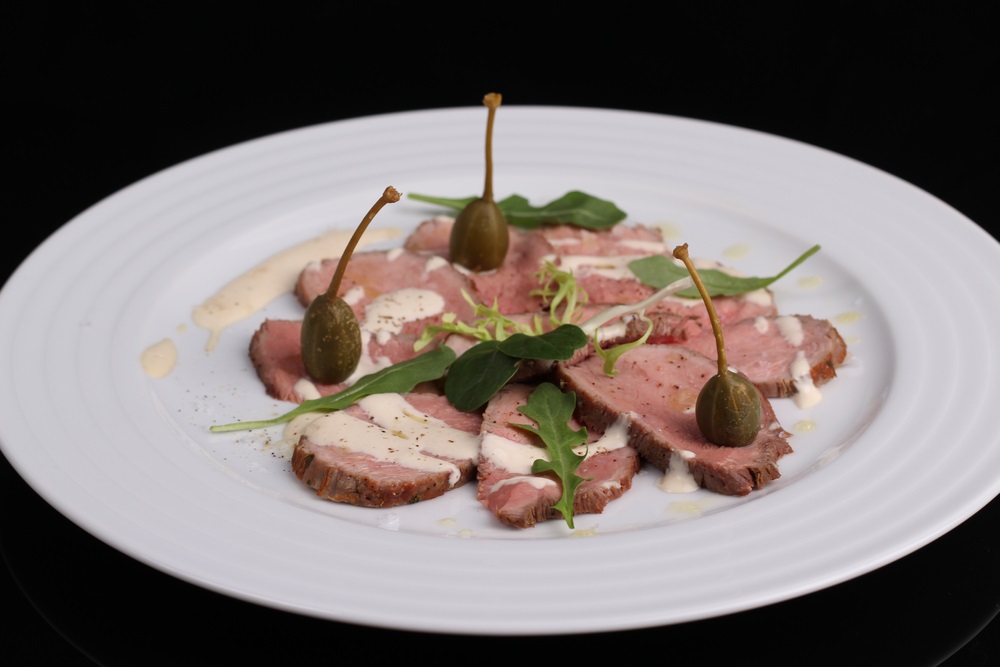 Vitello tonnato
Tonno di Gallina
Tonno di gallina is popular in the Province of Cuneo, especially in Saluzzo and Bra. Though tonno means tuna in Italian, this antipasto has nothing to do with seafood. Instead, it's a chicken preparation in which the chicken is boiled with carrots, celery, onion, cloves, and garlic. Next, the cooked chicken is de-boned. The meat gets layered into a jar with sliced garlic, bay leaves, sage, and peppercorns. Then, the jar is filled with olive oil, thus extending the shelf life of the chicken.
Tonno di Coniglio
Tonno di coniglio is rabbit prepared in a similar method as tonno di gallina. This antipasto from Monferrato and Alta Val Tannaro is mainly consumed during summer and originated in rural peasant cooking. The rabbits' preparation in oil causes it to resemble tuna meat, hence the name.
Insalata Russa
This Russian salad consists of boiled eggs, carrots, peas, potatoes, and occasionally other vegetables. Insalata Russa is dressed in mayonnaise and optionally garnished with pickles, parsley, or vegetables. One legend states a member of the Romanov family taught the court cooks how to make this Russian salad while visiting the Court of Savoy.
Vitello Tonnato
Vitello tonnato is a classic antipasto of Piedmontese cuisine consisting of thinly sliced veal with a sauce made from tuna, capers, lemon, and mayonnaise. Though the 19th-century version differs from vitello tonnato cooked in Piedmont kitchens today. Traditionally, this cucina povera dish was prepared with the remains of meat boiled for a long time until tender. The canned tuna, which made its way to Piedmont by way of coastal Liguria, was pounded with herbs, oil, lemon, and capers to resemble a creamy sauce. Today, cooks will often brown the veal before simmering it with onion, celery, and carrots, while mayonnaise completes the sauce. Vitello tonnato is served cold and can be prepared days in advance, as it accumulates flavor while resting.
Carne Cruda All'Albese
Hailing from Alba, carne cruda all'albese is Piedmont's version of steak tartare. Finely chopped raw beef is flavored with olive oil, lemon, salt, pepper, and garlic. Traditional carne cruda all'albese is chopped by hand with a knife and made with Fassona meat, a breed only found in Piedmont. Various versions may incorporate white truffles from Alba or chopped, toasted hazelnuts popular throughout the region.
Tomini
Fresh cheese rounds called tomini are another classic antipasto of Piedmontese cuisine. The region offers different takes on this antipasto, such as tomini al verde; grilled tomini are topped with a green sauce of Medieval origins called bagnet verd. This sauce is prepared with parsley, garlic, anchovies, soaked bread, egg yolk, vinegar, and olive oil.
Additionally, there's tomini eletricci, once a staple of peasant cuisine. In this version, fresh tomini is topped with olive oil and vinegar, seasoned with chile pepper, paprika, salt, pepper, and garlic.
Bagna Cauda
Depending on the serving size, bagna cauda is a typical antipasto or piatto unico of Piedmontese cuisine. Historically, the poor enjoyed bagna cauda as the nobility detested the excessive use of garlic. It's typically served in the colder months of autumn and winter, traditionally consumed during the grape harvest. To make bagna cauda, chopped anchovies and garlic are simmered in olive oil until they turn into a sauce. Then, it's served warm alongside an assortment of raw, boiled, or roasted vegetables and bread for dipping.
Capunet
Another dish with humble beginnings in peasant kitchens is capunet, savoy cabbage rolls stuffed with meat. Originally, the cabbage rolls were prepared with leftover meat after holiday celebrations. Today, capunet are more versatile and may include minced veal, pork, ham, speck, or mortadella from Emilia Romagna, depending on the family recipe. These may also be served as a secondo in Piedmont.
Piedmontese Cuisine: Primi Piatti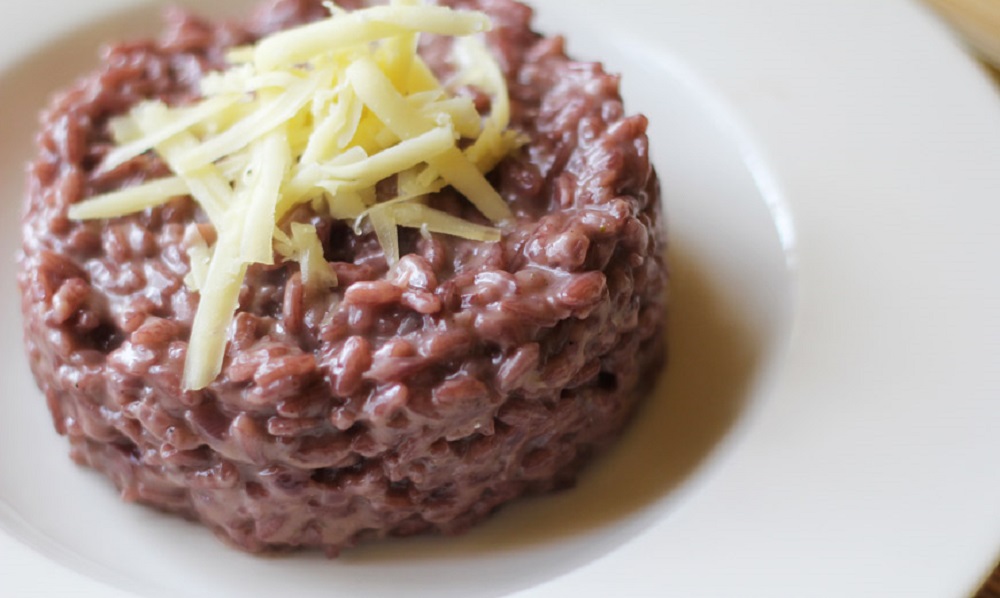 Risotto al Barolo – courtesy Armando Gambera
Panissa
Typical of the Vercelli area, panissa is a hearty filling dish eaten on cold winter nights in Piedmont. Panissa is a risotto made with beans and salam dia doja, a traditional Piedmont sausage. It's cooked with wine, onions, butter, cheese, tomato, and olive oil.
Zuppa Valdese
This piatto povero of Piedmontese cuisine comes from the Alps. Zuppa Valdese is a simple soup made from grissini breadsticks, broth, cheese, butter, and spices like cloves, cinnamon, nutmeg, and salt. The grissini are sauteed in butter and spices, simmered in the broth, then topped with grated cheese. Finally, the zuppa valdese can be placed in the oven until golden brown for extra flavor.
Cagliette Piemontesi
Another recipe from the Alpine traditions, specifically the Waldensian and Occitan valleys, cagliette, is gnocchi made with stale bread, eggs, cheese, flour, and seasonings and served simply with butter and sage.
Gnocchi al Castelmagno
For a decadent taste of Piedmont, order gnocchi al Castelmagno. A typical dish in the province of Cuneo, this gnocchi is made with potato, milk or cream, butter, and the local Castelmagno DOP cheese. Occasionally, you'll find them garnished with toasted hazelnuts.
Risotto al Barolo
In Italian cuisine, risotto is typically cooked with white wine. Yet, in the land of Nebbiolo, the Piedmontese put their own spin on this Italian classic with risotto al Barolo. This dish is quintessential Piedmontese cuisine, as Barolo and rice are two key products of the region. The rice cooks with onions, Barolo wine, butter, stock, and Parmigiano Reggiano, culminating in a flavorful and colorful dish.
Agnolotti
Agnolotti is a typical Piedmontese pasta savored throughout the region. Like ravioli, these rectangular-shaped stuffed pasta are filled and seasoned with various ingredients depending on where they're made.
Tortona – agnolotti has an herb-based filling.
Novara – filled with borage
Monferrato and the province of Alessandria – served drowned with red wine, typically Barbera or Dolcetto.
Morengo – filled with brains and sweetbreads
The fagottina della Bella Rosina are lesser known agnolotti of Piedmontese cuisine. These are filled with fondue and were created in honor of Rosa Vercellana, the morganatic wife of the Savoy King Victor Emmanuel II.
Agnolotti del Plin
Traditional of the Langhe and Monferrato, agnolotti del plin are named for how they are pinched together to seal the pasta. Plin describes the action of pinching the pasta in the local dialect. This egg-based pasta was initially created to consume leftover meat and was historically served in a napkin to retain its softness after cooking. Today, agnolotti del plin are often filled with veal, pork, or rabbit.
Tajarin
Another pasta typical of Piemontese cuisine is tajarin. Also known as tagliarini or tagliolini, tajarin are fresh egg pasta noodles made predominantly with egg yolks. Typically served as tajarin al tartufo bianco d'Alba, the pasta is flavored with butter, pepper, and freshly grated white truffles. You'll also find tajarin served with a salsiccia di Bra ragù made from a traditional beef sausage hailing from Bra in Cuneo. When not cooked in the sauce for tajarin, salsiccia di Bra is eaten raw and is tied to the area's Jewish community, who did not eat pork.
Secondi Piatti in Piedmontese Cuisine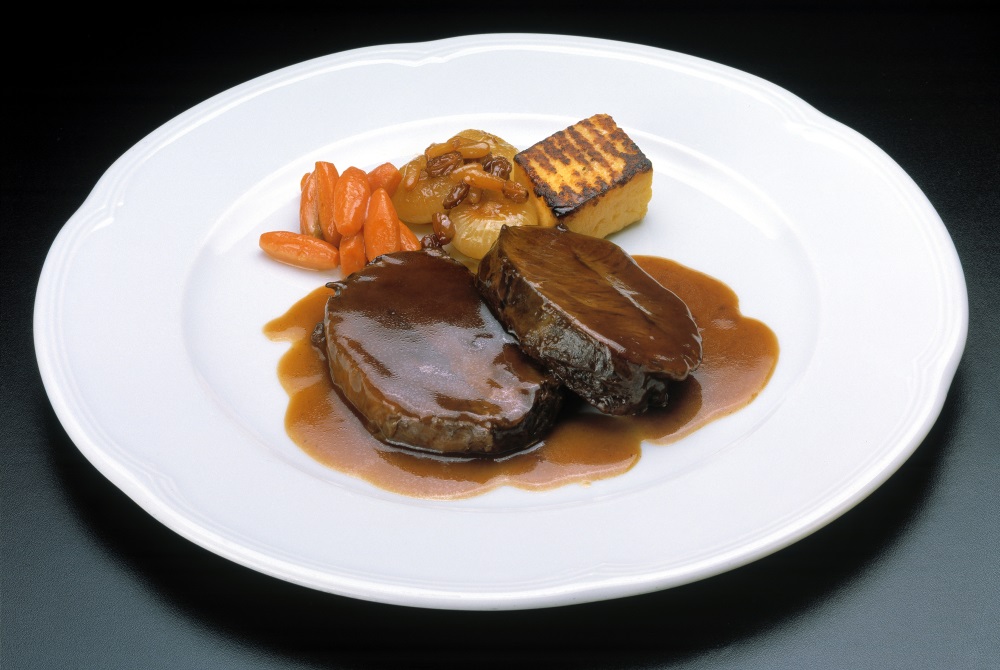 Brasato al Barolo
Brasato al Barolo
Another regional favorite, brasato al Barolo, marinates beef with onions, carrots, celery, herbs, spices, and Barolo wine:
The meat is browned.
All ingredients braise together until super tender.
The braising sauce is made into a purée, spooned over the meat, and served with polenta.
Finanziera
With humble beginnings in cucina povera, finanziera was created in the 18th century. The dish utilizes the remains of butchered animals, such as offal and entrails. They're slowly simmered with garlic, rosemary, bay leaves, giardiniera, chicken broth, and Marsala wine. Finanziera is either served on its own or with risotto.
Bolitto Misto
Bollito misto, or mixed boil, is a hearty meat dish often served during the winter months in Piedmont. The mix may include different types and parts of meat, including beef shoulder, veal neck or tongue, cotechino, pork sausage, calf's head, and more. Plus, bollito misto is accompanied by vegetable sides and bagnet verde, mostarda di Cremona, or bagnet ross. The latter is a red sauce made from tomato, pepper, celery, carrot, anchovy, mustard, parsley, and onion.
For authentic bollito misto, check out the Bue Grasso festival in Carrù.
Fritto Misto alla Piemontese
Also known as fricassà mëscià in the local dialect, fritto misto alla Piemontese is a mixed-fried Italian dish. The regional specialty was created as a way to use all parts of the animal after slaughter. Fritto misto alla Piemontese includes a range of meat, offal, semolina fritters, mushrooms, apples, pears, zucchini, eggplant, and artichokes. It's primarily known for sweet and salty flavors, as the semolina provides a sweet contrast to other salty elements in the mix. To prepare the dish, each ingredient is dipped in eggs, breaded, and fried until golden and crispy.
Trippa di Moncalieri
Also known as Tripa d'Muncalé in the local dialect, trippa di Moncalieri is a type of tripe sausage from Medieval Piedmontese cuisine. The sausage is made from various animal stomachs and served thinly sliced, seasoned with oil and spices.
Lumache alla Piemontese
Piedmont is an Italian region well known for snails, especially in Cherasco:
The snails are gathered and fed aromatic herbs.
They're cleaned and cooked with broth, wine, thyme, butter, and onions.
The snails are served with a walnut, garlic, parsley, and anchovy pesto.
Pollo alla Marengo
Pollo all Marengo is a braised chicken stew made by first browning the chicken meat in butter. Then, the chicken slowly simmers with mushrooms and Madeira or Marsala wine. The dish is finished with lemon and chopped parsley. Legend has it that pollo all Marengo was invented to honor Napoleon's victory at the battle of Marengo in Italy circa June of 1800.
Desserts in Piedmont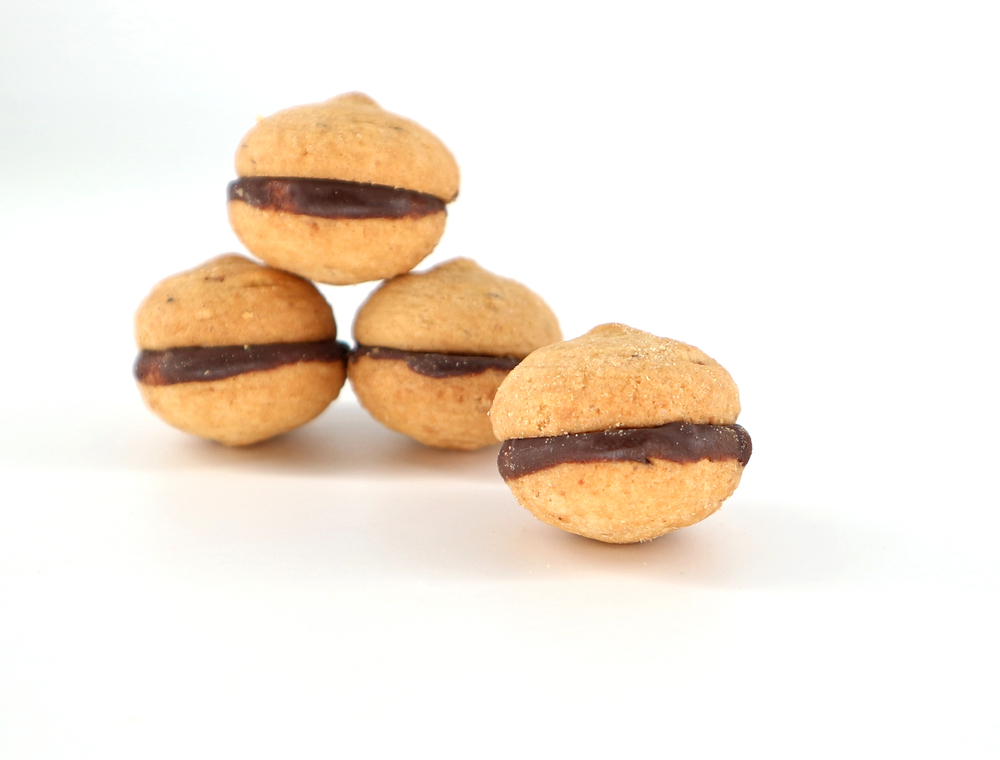 Baci di dama
Cookies and Sweets
This Italian region is home to a plethora of sweet treats. Baci di dama, or lady's kisses, are small cookie sandwiches featuring chocolate cream between two hazelnut cookies.
In the 18th century, bakers developed torcetti, meaning twist, while baking bread. The twisted dough is shaped into a crunchy cookie covered in sugar. Krumiri is another cookie from Piemontese cuisine created in 1870. King Victor Emmanuel II's mustache is thought to have inspired their rough, cylindrical shape.
Additionally, ossa da mordere, or dead bones, are crumbly cookies made from sugar, flour, eggs, and sweet almonds or hazelnuts. While brutti ma buoni, or ugly but good, are oddly shaped meringue cookies with vanilla, cinnamon, and toasted hazelnuts. Finally, paste di meliga are cornmeal shortbread cookies typical of Piedmont, named after meliga, the local name for polenta.
Marron Glacé
Marron Glacé are a sweet delicacy of Cuneo. These are candied chestnuts made from the larger and more flavorful marron variety. The chestnuts are cooked in a syrup with vanilla, which gives them a candied, sugary glaze.
Turin – Italy's Chocolate City
Turin is both the capital of Piedmont and Italy's capital of chocolate production. The city started producing chocolate in 1560 when the Ducal capital transferred to Turin from Chambéry. Emmanuel Filiberto of Savoy served the whole city a cup of hot chocolate to celebrate.
Later, in the 18th century, bicerin was created in Turin. Caffé al Bicerin created the chocolate, coffee, and cream beverage, which should be enjoyed without mixing the three ingredients together.
Lastly, gianduiotto is an iconic chocolate from Turin made with chocolate and hazelnut paste known as gianduia.
Must-Try Piedmontese Desserts
Typical of the Langhe, bonèt or bunet is a dessert that potentially originated in the 13th century. The dessert is a rich and creamy mixture of amaretti cookies, hazelnut cookies, eggs, cocoa powder, milk, sugar, and rum. To serve, bonèt is drizzled with a luscious caramel sauce.
Finally, torta di nocciole is a simple hazelnut cake from the Langhe made with hazelnuts, sugar, flour, eggs, butter, and sometimes cocoa. The cake is dusted with icing sugar to finish.
Liqueurs in Piedmont
In 1786, Antonio Benedetto Carpano developed the original Italian Vermouth in Turin. Still a benchmark for quality, Carpano showcases concentrated bitter-sweet flavors with spice, vanilla, and dried fruit aromas. Other famous sweet and dry Vermouth brands hailing from Turin include the likes of Martini and Punt e Mes.
In Piedmont, Ratafia is frequently enjoyed as a digestif as well. This liqueur is made from a neutral base spirit macerated with aromatics and fruit. Ratafia is strong, sweet, and a great accompaniment to dried fruits, nuts, and other desserts.
About Nicole Dickerson
WSET certified international wine writer with a passion for rare varieties and cellar hand experience in both hemispheres. Join me in the vineyards and cellars of the wine world at palmandvine.com.
Related Blog Posts: