Insiders Guide to Truffles in Italy- By Simona Piccinelli, Italy Specialist
Truffles are a gourmet delicacy, one of the most expensive and desired in the world. Foodies swoon over them, international top chefs search them out and bid for them at auction, and truffles are without a doubt one of the priciest and most precious foodstuffs on the planet.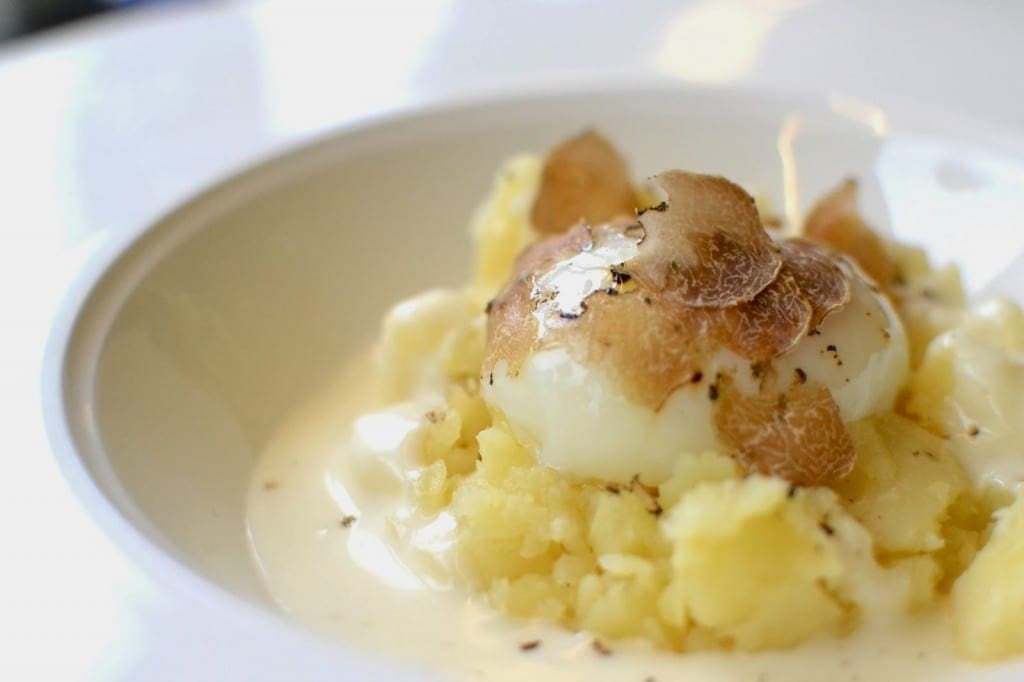 Although truffles are in such high demand and so appreciated, they are still shrouded in mystery for many. So we decided to chat with some of the professional truffle hunters and producers we work within different regions of Italy to ask them the numerous questions we get regularly asked by our "tartufi" loving guests. We spoke to Natale and Giorgio Romagnolo in Piedmont, Cristiano Savini in Tuscany and Saverio and Gabriella Bianconi in Umbria.
You can see more information here about Cellar Tours Truffle Tours in Italy.
Herewith, our FAQ and TRUFFLES 101>
CELLAR TOURS- What are truffles?
Truffles are an underground Ascomycete fungi. They grow symbiotically with specific tree roots, called in Italian  "simbionti," and require unique microclimatic conditions. They have an external part, called the "peridio," which may have different textures and colors depending on the kind of truffle, and an inner, pulpy part, called the "gleba."
The word "truffle" has a Latin origin. It comes from the word "tuber," which means "lump." Over the centuries, it evolved to become "tufer," and all the European terms derive from that: tartufi (Italy), trufa (Spain), truffe (France),  Trüffel (Germany), trufa (Portugal), trufel (Poland), tryffle (Sweden), only to name a few.
CELLAR TOURS- How are truffles created, and how do they grow?
We need to dust off those biology books we studied at school! Like all fungi, truffles come from spores. In spring, the spores in the soil germinate and produce fragile filaments around the roots of specific trees. At the end of spring/summer, these filaments colonize the plant's roots and grow special "organs," called mycorrhiza, which provides the fungus with relatively constant and direct access to carbohydrates and glucose, and sucrose from the plant. In return, the plant gains the benefits of higher absorptive capacity for water and mineral nutrients. In fall/winter, mycorrhizas push the vegetative part of the fungus, called mycelium, to grow, and this will become the fruiting body of the fungus, namely the truffle.
As truffles are underground, they cannot spread spores in the air; that's why they have a distinctive and strong scent. This aroma attracts some animals (pigs, dogs, squirrels, rats, foxes, moles, etc.); they eat the truffle, and spore dispersal is guaranteed.
Trees species that "produce" white truffles include poplar, oak, linden, sometimes also hazel. Truffles prefer argillaceous or calcareous soils, which are well-drained. They require a chilly, humid microclimate, with average temperatures of 6°C/42.8 F.
CELLAR TOURS- Where do you find truffles?
White truffle, the precious Tuber Magnatum Pico,  is not common nor easy to find; the only places in the world where you can find it are Northern Italy (Piedmont),  Central Italy (Tuscany, Marche, Umbria), and in small areas of Istria and Slovenia. The best, most coveted white truffles are the ones from Alba, Acqualagna, and San Miniato.
You can find Black truffles in Europe (Italy,  Spain, France, Greece, Turkey), in Northern Africa, in New Zealand, in Asia, and America.
CELLAR TOURS- How many kinds of truffles are there? At what times during the year can you find truffles?
All over the world, you have many kinds of truffles, of which 63 are the ones classified as Tuber. You have about 25 different truffles in Italy, but only 9 of them are cataloged as edible. Each kind of truffle has its own season.
The truffles you can usually find in the market are the following 6; for each one, you can see its season (it can change depending on specific region):
Tuber magnatum Pico – precious white truffle – from the middle of September to the end of January
Tuber melanosporum Vitt. – the precious  black truffle or Norcia black truffle – from the middle of November to the middle of March
Tuber aestivum Vitt.  – Summer black truffle – from the middle of June to the end of August; from the beginning of October to the end of November
Tuber borchii Vitt. – "whitish" truffle – from the middle of January to the end of April
Tuber brumale Vitt. – winter black truffle – from the middle of December to the end of March
Tuber macrosporum Vitt. – black truffle- from October to December
Usually, you are not allowed to hunt truffles from the end of August to the middle of September.
CELLAR TOURS- What are the differences between the black and white truffles?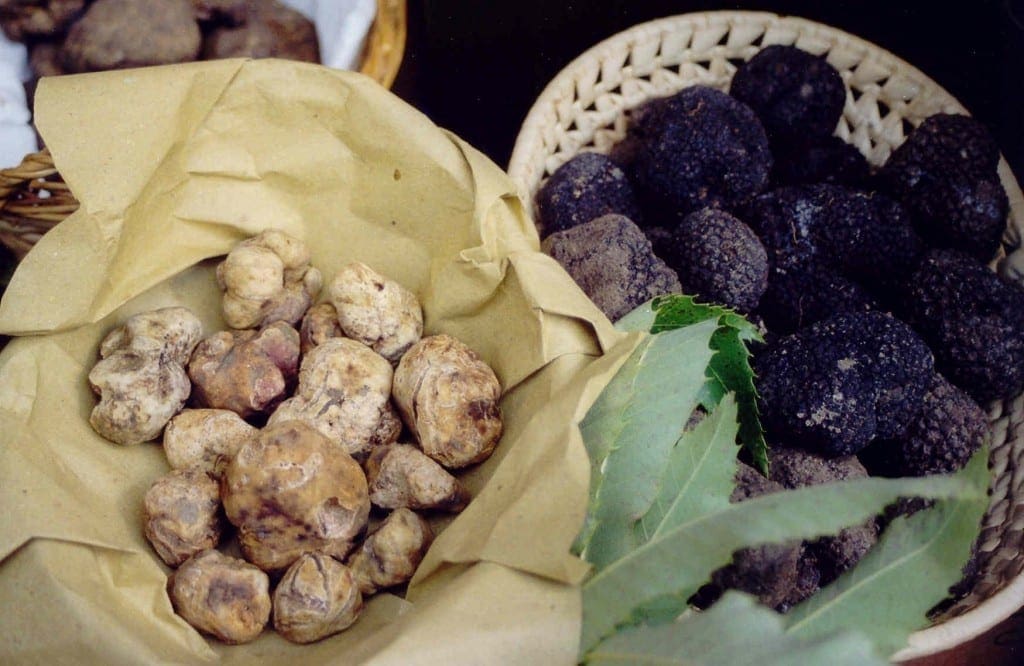 The main difference you can see is, of course, how they look. White truffles have a smooth layer, from white to ochre color outside and white- hazelnut color inside. Black truffles have a rough, black, or dark brown rind. Inside it is white – hazelnut if it is summer black truffle, black or dark grey if winter black truffle.
But the most important difference is their aroma.  White truffles have a stronger aroma, a wider range of perfumes, and a "symphony" of scents: garlic, honey, spices, hay, to name a few. Black truffles have a less powerful smell and are less complex, more reminiscent of mushroom, soil, underbrush.
Do not forget that white truffles are less common than black ones and can be found in a very limited area because they need a precise microclimate and tree roots to grow. That's why the price is also very different. White truffle can cost up to 7 or 10 times more than the black one.
CELLAR TOURS- Do you use pigs to truffle hunt?
In previous centuries, pigs were used to go truffle hunting, especially female swine, particularly attracted to the truffle´s heady scent. They were hard to control, though, as being pigs, it was difficult to stop them from gobbling up the precious truffles.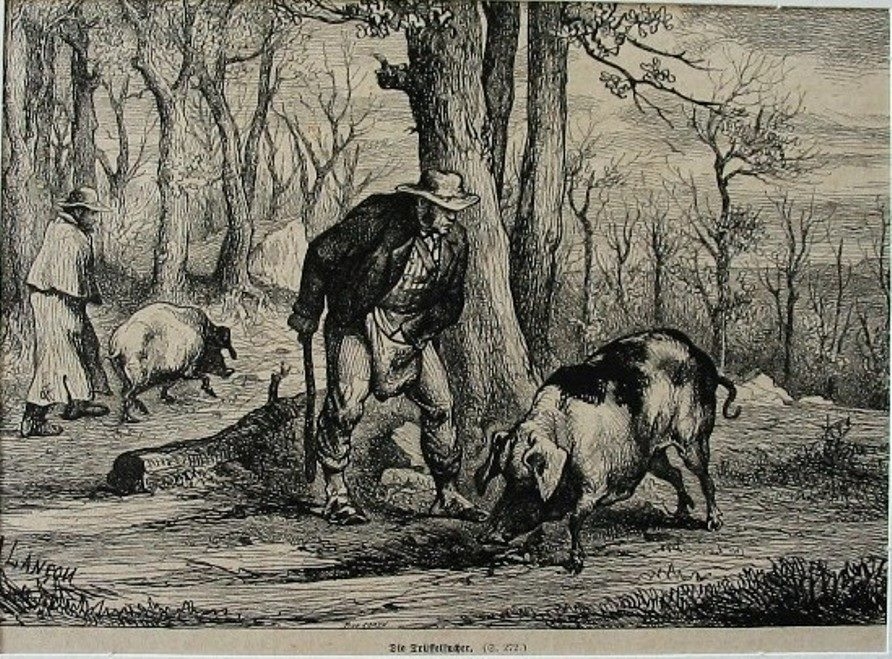 Truffle pigs have now generally been replaced by truffle dogs, as dogs are easier to manage, train, and more disciplined.
CELLAR TOURS- Which dog breeds are the best for truffle hunting?
You don't really have truffle hunting dog breeds as such, but some feature qualities particularly suitable for this activity. Pointing breeds –  such as a pointer, Italian Bracco, Italian Spinone, Setter, Cocker Spaniel –  are perfect, even more so if the dog comes from a crossbreed. Recently, the Lagotto breed and the Labrador breed have also proven very popular in Italy.
To be a good truffle hunter, a dog needs an excellent sense of smell, endurance, intelligence, learning ability, and adaptability.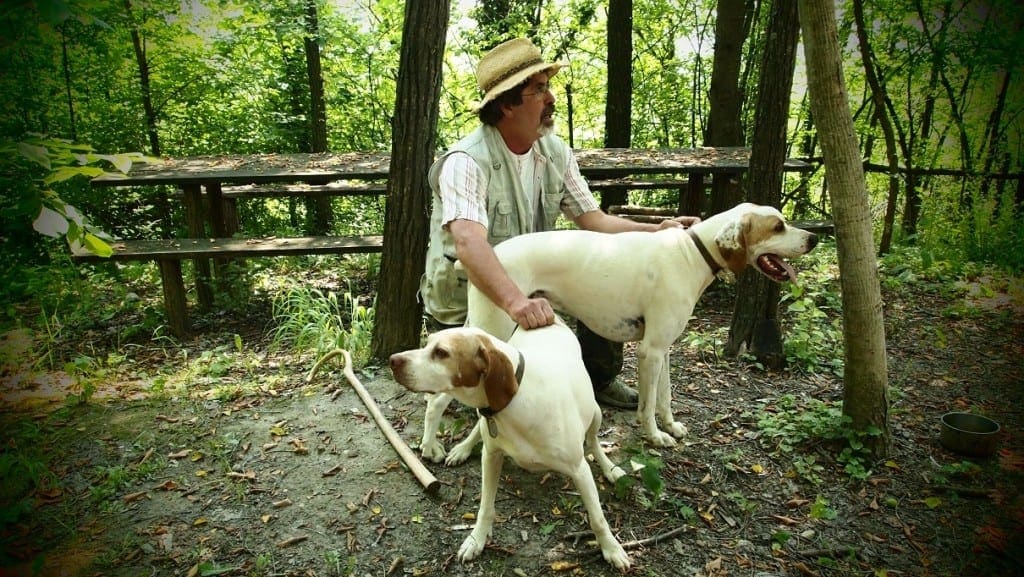 CELLAR TOURS-  What do you need to know before buying truffles, especially precious white ones?
The best way to be sure to buy a good truffle is to know the truffle hunter or the truffle trader and to trust his honesty and accuracy, as we can do now, after many years of cooperation with our "truffle partners"! This, of course, is not always possible, so here some guidelines: first of all, try to buy fresh truffles at well known, certified markets, fair, and auctions and check the average price on the market for that specific year and kind of truffle you want to buy; then check the truffle with your sight, touch, and smell.
Visual examination:
Truffle has to be clean and intact. It is not whole; it could have hangers-on or be ruined by the dog during the hunt. If it has dark spots, it might be rotten. Be sure that holes are not filled with soil and that the color is not altered with cornflour or anything similar.
Physical examination:
If you gently press the truffle, it has to have a good level of consistency. If it is gummy or elastic, it is not fresh.
Nasal examination:
Precious white truffle has a pleasant, agreeable, well-balanced aroma. If you smell ammonia, methane, or fermented notes, this suggests it is not fresh.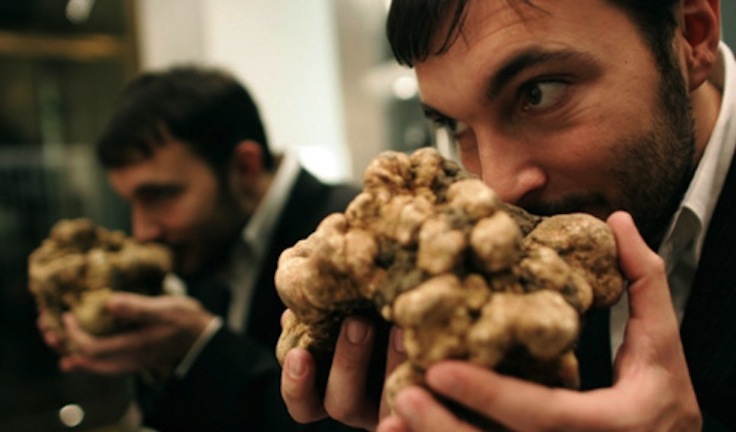 At a restaurant, always ask to see the truffles before they slice them on the food and check them as described above. If the price is per gram, ask to check the weight. An average portion is usually 10 grams and costs about 40 euros.
CELLAR TOURS- How do you store truffles? How long can you keep them?
Fresh truffles have to be eaten as soon as possible, especially white ones. You can store them for a limited length of time, wrapping them individually in a humid cloth, putting them in a glass jar with airtight closure, at 3-6°C (37.4/42.8 F), like the fridge. If you change the cloth every day, you can keep white truffles for about a week and black ones for about 2 weeks.
Generally speaking, the white truffles found in November and December usually last longer than those at the beginning of the season (September and October).
Black truffles (usually not the precious Norcia black truffle, but the summer black ones) can be frozen once sliced, but never do this with white truffles!
You can also process truffles to preserve them.
You can grind black truffle or slice white truffle and mix it carefully with butter and a pinch of salt. You can use this butter to add a truffle flavor to all your recipes and food, and it will last for about a month.
With black truffles (summer and winter ones), you can cut them and whirl them in a blender with extra virgin olive oil and a pinch of salt to get a thick sauce that you can put in a glass jar. It lasts about 40 days, or you can even freeze it.
You can do pretty much the same with the whitish truffle (Bianchetto, NOT with the Magnum Pico): you slice it, scald in extra virgin olive oil, and then put it in a glass jar to be sterilized in hot water for about 15 minutes.
The easiest alternative to buying fresh truffle is buying preserved truffle or truffled food, but only from professional and trustworthy merchants and transformers and always check the percentage of truffle in each product. Excellent producers are Savini, Bianconi, Boscovivo, Tartuflanghe.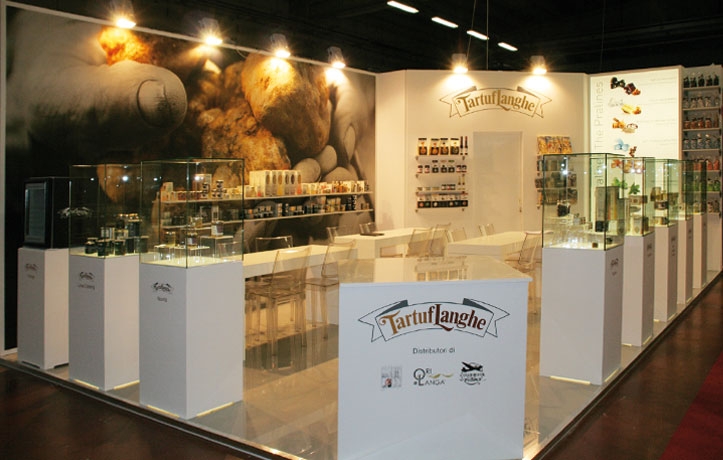 CELLAR TOURS- What are the best ways to eat truffles?
The best way to eat the precious white truffle Magnum Pico (and also Bianchetto) is, without any doubt, to have it fresh – as fresh as possible – and sliced. You can use it on hot dishes, like risotto, handmade egg pasta, fried egg, fondue, or cold dishes, like tartare or salad of raw Caesar's mushrooms.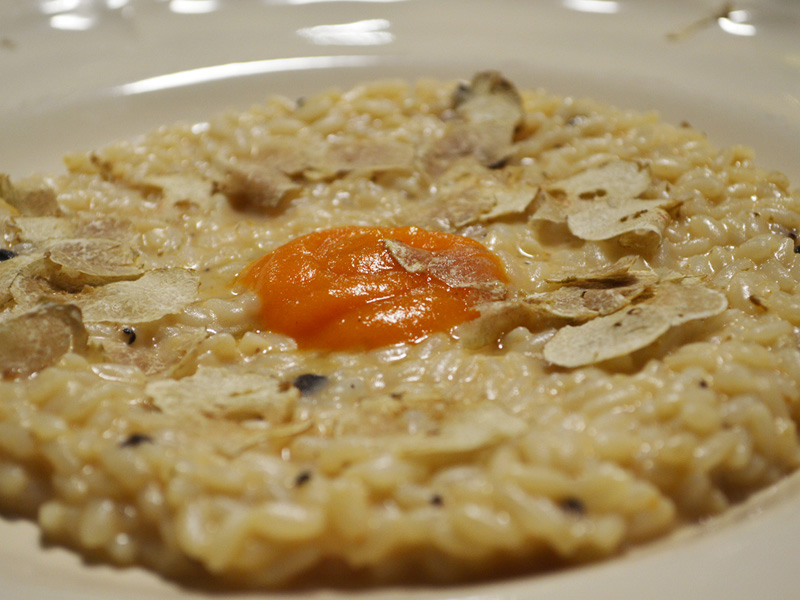 Norcia black truffle can be used raw (but ground and not sliced) on food or cooked.
Other black truffles express their best if heated, so you should briefly cook them. A great match is with anchovies in the sauce.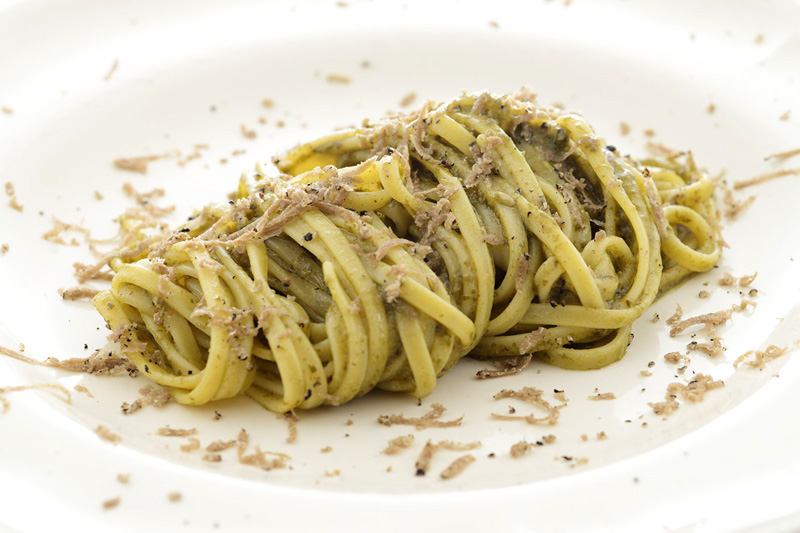 CELLAR TOURS- How much do truffles cost?
Truffles are seasonal products, so their availability, quality, and therefore the price can vary from year to year, depending on rainfall, temperature, and climatic aspects. Also, the shape and size affect the price.
The precious white truffle, the Tuber Pico Magnum, is the most expensive one; this 2013 season, you can find it from 1000 to 3000 euros per kilo (2.2 pounds), depending on the size and region of origin.
Here you can check the average price of the precious white truffle of Alba.
Is there anything else you want to know about truffles? Have we peaked your curiosity? Don´t hesitate to drop us a line!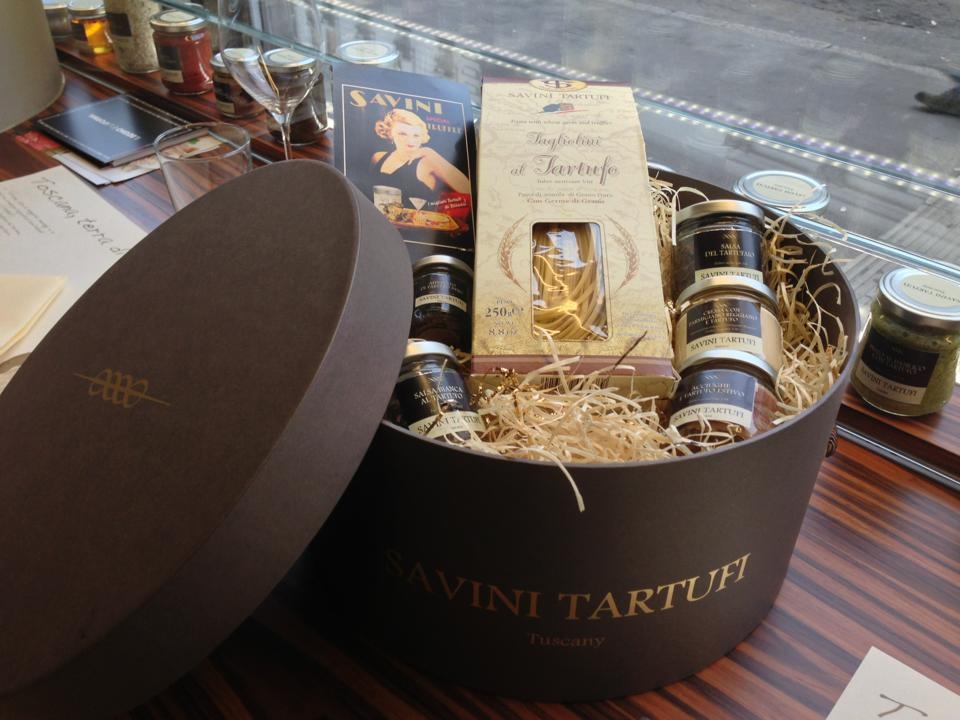 Related Blog Posts: