What lovelier town to dine, Al Fresco, than the mythical wine hub of Bordeaux, a mini Paris!
Bordeaux is far more than just the world's most renowned wine region. It competes with the city of Lyon for the title of France's most important gastronomic center, after Paris of course. Locals are justifiably proud of their wines but are equally as keen on showcasing their superlative cuisine and numerous restaurants, built on centuries of prosperity from exporting fine wines across the globe. Make no mistake, dining out is a serious business in Bordeaux and the Bordelais are very picky about their food! As a key hub of the fine wine trade, Bordeaux unsurprisingly offers a vast array of memorable (and expensive) dining experiences – the city and wider region currently boast over 12 Michelin starred restaurants and many more highly coveted venues. However, the prevalence of Michelin-starred dining does not mean that all of Bordeaux's restaurants revolve around stuffy, fine dining formality. Some of the best places across the city and beyond have lovely terraces and gardens, perfect for alfresco dining and sipping white Bordeaux as the sun sets over the city. As a guide for visitors keen to sample one or two of the finer points of Bordeaux cuisine in the sunshine, we have selected our top outdoor dining restaurants below:
More information on luxury, private chauffeured Food & Wine Tour of Bordeaux
Bordeaux City
Le Gabriel
10, Place de la Bourse, 33000, Bordeaux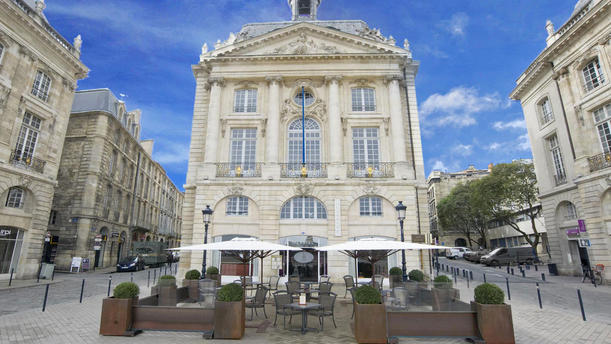 Situated on the stunning Place de la Bourse, Le Gabriel offers unrivaled opportunities for people-watching in Bordeaux's most spectacular square. The restaurant is actually split into 3: a ground floor cafe and terrace, a 1st-floor bistro and 2nd-floor gastronomic restaurant. The gourmet dining experience, as you'd expect, is excellent, but visitors and locals in the know come for the outdoor dining and delicious brasserie-style food, updated for the 21st century. Enjoy such delights as succulent beef brisket steak, grilled sea bream and the finest smoked salmon around. The terrace also doubles up as bar and cafe, serving afternoon tea, cakes, cocktails and of course great Bordeaux wines by the glass, depending on the hour and your mood.
---
Oiseau Bleu
127 Avenue Thiers, 33100, Bordeaux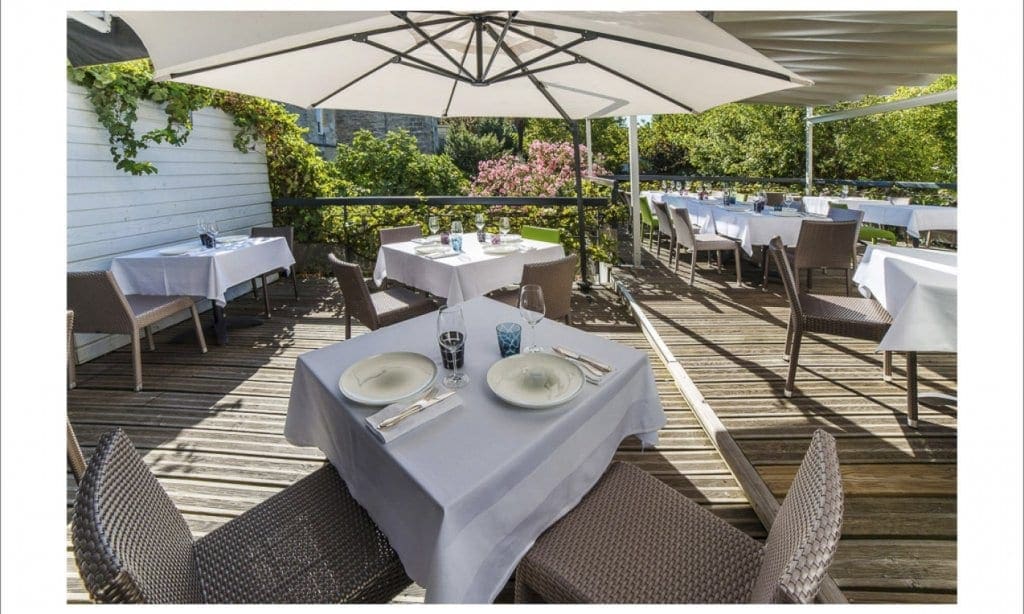 Located on the outskirts of the city center, Oiseau Bleu is more than worth the trek with its superlative cuisine, great wine selection, and arguably the city's finest outdoor eating space. A selection of tables fills a gorgeous terrace, overlooking the surrounding gardens, which are some of the prettiest in Bordeaux. Lovingly tended to by Sophie and Frederic Lafon, who clearly put as much care into their food as their beloved garden, you are guaranteed a gastronomic feast wherever you sit! A former police station, today Oiseau attracts both discerning locals and visitors for its modern take on classic Gascon food, without any signs of pretension. Start with foie gras and port reduction, followed by our favorite dish, the veal fillet, and morel sauce. Desserts are good, but the cheese selection is even better. The wine?: has to be fine old Margaux or Pauillac with this quality food.
---
Le Pavillon des Boulevards
120, rue Croix-de-Seguey, 33000 Bordeaux
www.lepavillondesboulevards.fr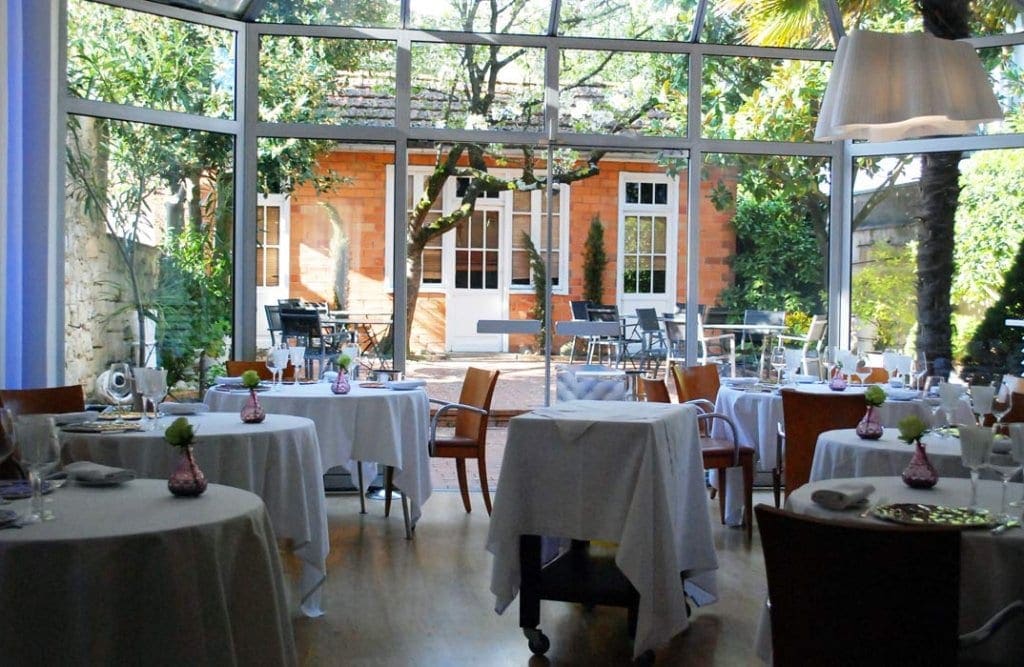 An impeccable restaurant in every respect: wonderful food, service, and garden terrace which oozes charm and intimacy – welcome to our favorite restaurant in Bordeaux! Head chef Denis Franc runs a faultlessly professional establishment, the perfect venue for a romantic evening sat outside in the restaurant's courtyard on a warm summers evening. The Michelin starred cooking of Franc is bold, innovative and makes the best use of the region's superlative produce. There is a la carte option, but we recommend one of the tasting menus, allowing you to get a real idea of what this kitchen can do. Highlights include the sea bream, the lobster medallions with sauternes sauce and Franc's divine turbot and langoustine salad. The wine list is one of the grandest in Bordeaux, with a very knowledgeable sommelier on hand to help with your pairing choices. You could easily spend a fortune, or drink more reasonable wines by the glass, either way, prepare for a gastronomic feast.
---
Fernand
7 quai de la Douane, 33000 Bordeaux
No self-respected guide to Bordeaux dining can omit Fernand, a restaurant famous for its amazing atmosphere and outdoor dining area, one of the largest alfresco spaces in the city. Every weekend the place is packed with both locals and tourists enjoying the delicious, brasserie-style 'tried and tested' cooking and convivial atmosphere. The restaurant faces the Garonne river promenade, with a large undercover terrace, perfect for drinking great Bordeaux wines until well after sunset. The specialties include mouth-watering seafood and oysters, but the classic L'Entrecote bordelaise (rib-eye steak with a red wine and bone marrow sauce) is not to be missed either. Fernand also offers one of the most reasonably priced wine lists in the region. Open every day for lunch and dinner, you are advised to book for dinner as Fernand is incredibly popular.
---
La Tupina
6, rue Porte de la Monnaie – 33800 Bordeaux

The greatest Bordeaux restaurants are often secret gems, hiding on small side streets and keeping their delicious cooking reserved for those in the know. La Tupina, however, is a Bordeaux name, despite its charming location on a tranquil city street, just off the center. The interior is warmly decorated, with vintage furniture and a large open fireplace. But, in the warmer months, the most coveted tables are on a quiet pedestrianized street, where you'll enjoy some of the best home-cooking in Bordeaux. Chef Jean-Pierre Xiradakis has brought rural south-west France cooking traditions to Bordeaux, so expect classics like a slow-roasted lamb, spit-roasted beef, foie gras and the best entrecote and duck fat chips in France. La Tupina is massively popular with both locals and celebrities (Nicolas Sarkozy is reputedly a fan) so booking is not only advised, it is essential. Particularly if you want to enjoy alfresco dining. Service is spot on and the wine list formidable, but affordable options do exist in addition to the 82 Lafite and Margaux.
---
Brasserie l'Orléans
36, Allées d'Orléans 33000 Bordeaux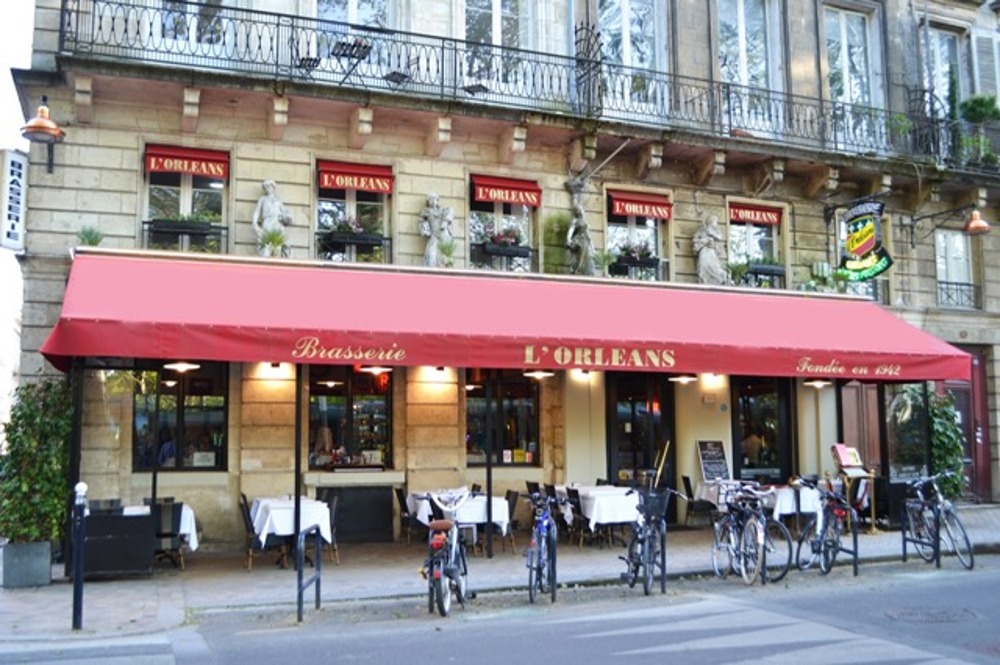 A Bordeaux landmark, L'Orleans has been serving inexpensive, bistro-style food since 1942, modeled on a classic Parisian brasserie. Although the restaurant only has a few outside tables, they are nicely appointed for people watching on a street in central Bordeaux. The emphasis is on unpretentious, homely and thoroughly delicious cooking, with tables close together and a lovely warm atmosphere. Highlights include their signature rib-eye steak with Bordelaise sauce, fresh oysters, a superlative duck confit and calf liver. Their crème brûlée is to die for, and the service is lively and always warm. But what of the wine at this established space? Brasserie L'Orleans has one of the oldest wine cellars in the Bordeaux restaurant industry and is well stocked with affordable and famous names. 1998 Chateau Margaux can be yours for a snip at €520.
Montagne St-Emilion (right bank)
Le Clos Mirande
D122, 33570 Montagne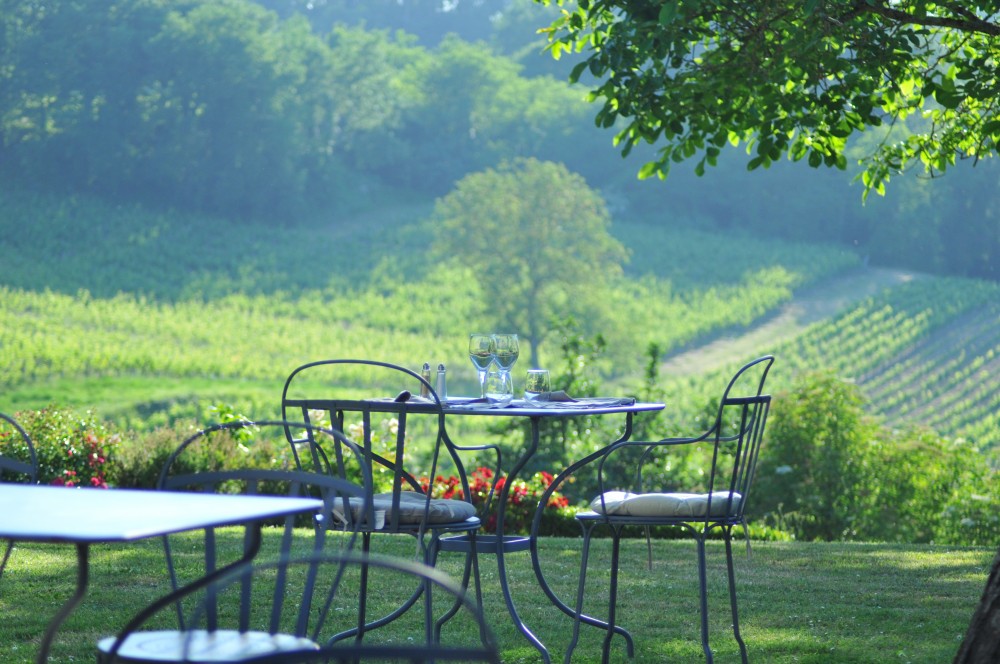 Le Clos Mirande must be one of the Bordeaux region's prettiest and most idyllic restaurants, situated at the heart of the Montagne St-Emilion appellation. The wonderful setting alone is worth the trip out to this corner of France: on a warm summer's day, guests dine on the leafy terrace at the back of the restaurant, overlooking the vineyards of Montagne. However, this slice of heaven on the right-bank doesn't just rely on its good looks, the food is both creative and nourishing – a feast for all the senses! Le Clos offers two menus and two distinct dining rooms, one reserved for the bistro menu and a more formal venue befitting of the gastronomic menu.  The bistro menu is all heart and soul, using the best local produce and ingredients in local traditional cooking executed with flair, while the gastronomic menu allows the kitchen to flex its creative muscles and concoct inventive combinations. Escargot salad, filet of beef in a mustard sauce with moreish duck fat chips hit all the right notes, as does the warm, engaging service ad extensive wine list. Desserts are an unmissable highlight too, try their raspberry tiramisu just once and you'll become a regular customer of Le Clos Mirande for life!
Pauillac (Medoc)
Cafe Lavinal
Place Desquet – Hameau de Bages, Pauillac, Bordeaux

Another terrific find for lovers of great bistro food and alfresco dining is that of Cafe Lavinal. With its large outdoor dining terrace, lively bar, great value menu options (especially at lunchtimes) and delicious cooking, it's not hard to understand why Lavinal is a favorite of local winemakers and tourists. It is as far removed from the fine dining dictum as can be, the atmosphere is lively and the terrace usually packed during the summer months. A relatively recent addition to the Medoc dining scene, Lavinal opened in 2006 and perfectly captures the energy of local passion for food and wine in Bordeaux. The food is straightforward, honest local cooking without a smidgen of pretension – classics like confit de canard, entrecote and lamb shoulder all present and correct. But other than the star attraction of the terrace, you must sample the Lavinal's many excellent cellar selections, which include a decent list of wines by the glass. Being in one of the world's most famous wine areas, you can count on drinking something very memorable.
Medoc
Restaurant Thierry Arbeau
Hotel Le Pavillon de St. Aubin, Route de Picot, D 1215 – 33160 Saint Aubin de Medoc
Everyone who loves good food and wine should visit Thierry Arbeau's brilliant restaurant at least once in their lifetime. Although this hub of fine gastronomy is somewhat of a long drive from the city of Bordeaux, it is definitely worth it for the sublime cooking, lovely outdoor dining space and top-notch service. Located in the northern tip of the Medoc region, the restaurant is attached to a charming hotel, making it a great option if you're exploring this part of the wine land. Theirry offers three menus to suit your mood and budget, but for an unmissable gastronomic adventure, we'd recommend the menu printanier. Start with Thierry's delectable duck foie gras, then move on to the veal fillet with white Bordeaux sauce, and perhaps finish with his trilogy of desserts, showcasing the house specialisms. Service with a smile, great wines, and memorable outdoor dining are all guaranteed at this gem of a restaurant.
Related Blog Posts: