What is a typical Tuscan Food Dish?
As a world-renowned travel destination, Tuscany has stolen the hearts of many. Located in Central Italy, idyllic landscapes of verdant hills and valleys encompass the region. Arts and culture abound in Florence, the birthplace of the Renaissance. While some of Italy's most famous wines come from the region's bountiful vineyards in Chianti. For nature lovers, art aficionados, and wine enthusiasts, Tuscany is a must. Yet, there is one aspect of this charming Italian region that captivates and influences beyond the rest — Tuscan cuisine. So, which flavors of Tuscan cuisine are you craving?

The Basics of Tuscan Cuisine
Similar to all Italian food, Tuscan cuisine emphasizes fresh, seasonal, and local ingredients. The Tuscan diet is Mediterranean in nature, focusing on fruits, vegetables, legumes, cheeses, and pasta. Pure locally made olive oil is the foundation of all Tuscan dishes, which are simple and easy to prepare. Yet, thanks to high-quality, seasonal ingredients, Tuscan cuisine is richly flavored even in its simplicity. Explore how we can help you capture a taste of Tuscany on a food & wine tour.
Local Tuscan Produce
Tuscan markets flourish with fresh, locally grown, seasonal produce. Naturally, vendors sell typical Mediterranean fruits and vegetables, such as tomatoes, eggplant, zucchini, and more. Beyond the expected, there are ingredients unique to Tuscany which are worth seeking out. These include:
Tuscan black cabbage – cavolo nero
Certaldo onion – cipolla di Certaldo
Four seasons lettuce – lattuga quattro stagioni
Florentine tomato – pomodoro costoluto fiorentino
Cherries from Lari – ciliega di Lari
Peaches from Londa – pesca regina di Londa
Dottato fig – fico dottato
Nesta apple – mela nesta
Picciola pear – pera picciola
Moreover, beans are a staple in the Tuscan kitchen. Tuscans eat so many beans they're known as mangiafavoli or bean eaters. Cannellini beans are most prominent. However, red beans from Lucca, zolfino beans, and countless other varieties are commonly used.
For herbs, sage and rosemary reign supreme in Tuscan cuisine, though others like basil, fennel, and thyme are also incorporated. Plus, a variety of umami-driven Tuscan truffles are available throughout different seasons of the year.
Cucina Povera
Cucina povera, which means poor cooking, is the basis of Tuscan cuisine. The concept began when Tuscany was an impoverished, rural region. With access to limited ingredients, Tuscans got creative in the kitchen to make the most of what they had by embracing a no-waste philosophy. The magic of cucina povera lies in the frugal Italian cook's ability to transform humble ingredients from the Tuscan countryside into simple, flavor-packed dishes.
Tuscan Bread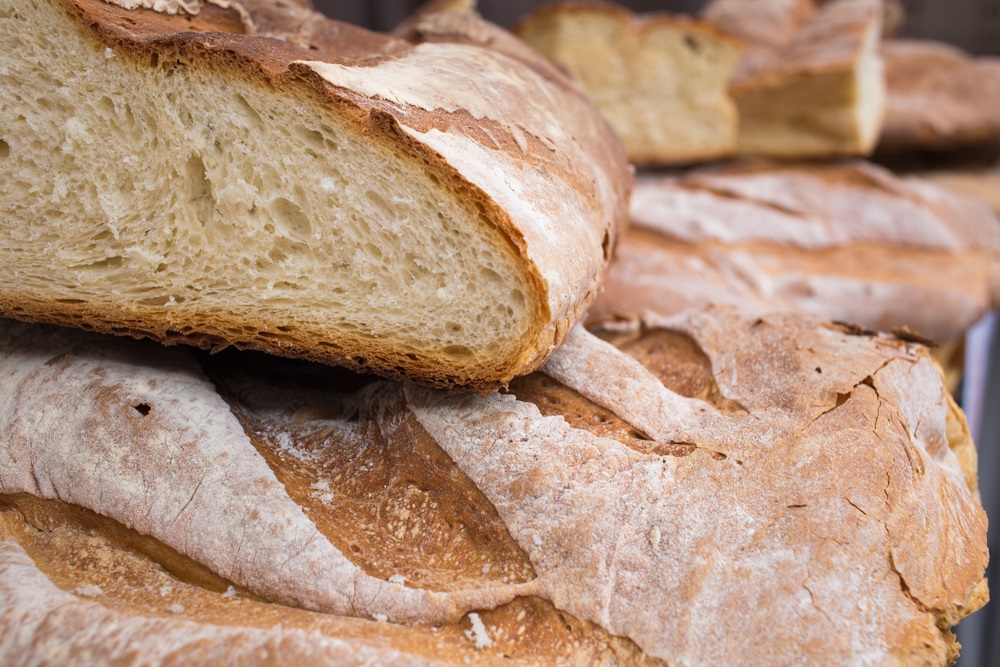 Pane sciocco
As with any Italian region, Tuscany has its signature bread called pane sciocco. The name translates to silly or stupid bread, referring to the large, crusty loaf's saltless nature. Pane sciocco was developed in the 12th in Florence out of necessity. Pisa, which controlled the ports where salt ships arrived, decided to block Florence's salt supply. Unwilling to cave to their neighbors, the Florentines began baking their bread without salt. The tradition of unsalted bread carried on through the centuries. Today, pane sciocco is a staple at the Tuscan table and is included in many regional Tuscan recipes.
Regional Cured Meats & Cheeses
As with other Italian regions, locally made cheeses and cured meats are a Tuscan staple. In Tuscany, cured meats are distinctly flavored and savory, like regional favorite Colonnata lard seasoned with pepper, sage, and rosemary. Coppa seasoned with fennel or robustly enriched Biroldo blood sausage are popular as well. Tuscans also enjoy finocchiona, which is a salami enhanced with fennel seeds.
Pecorino Toscano, adored for its delicately sweet flavor, has been made throughout Tuscany since the 15th century. Today, many subregions of Tuscany also have their local spin on Pecorino, such as Pecorino di Pienza and Pecorino Senese. Other notable Tuscan cheeses include Marzolino Rosso del Chianti, a sheep's milk cheese with a rind washed in tomato juice, Accasciato, a semi-hard cheese of sheep's and cow's milk.
Crostini Toscani
The epitome of Tuscan simplicity, fettunta are grilled slices of Tuscan bread rubbed with garlic, drizzled with olive oil, and sprinkled with salt. The name is derived from "la fetta unta," which means "the oily slice" in Tuscan dialect. Fettunta offers the ideal way to savor fresh, locally made olive oil.
Crostini di fegatini is another flavorful antipasto exemplifying the cucina povera tradition. These crostini are topped with pate made from chicken liver, celery, carrot, onion, garlic, white wine, chicken broth, and anchovies. Also known as crostini neri, they were traditionally made to utilize stale bread.
Extending the Life of a Loaf of Bread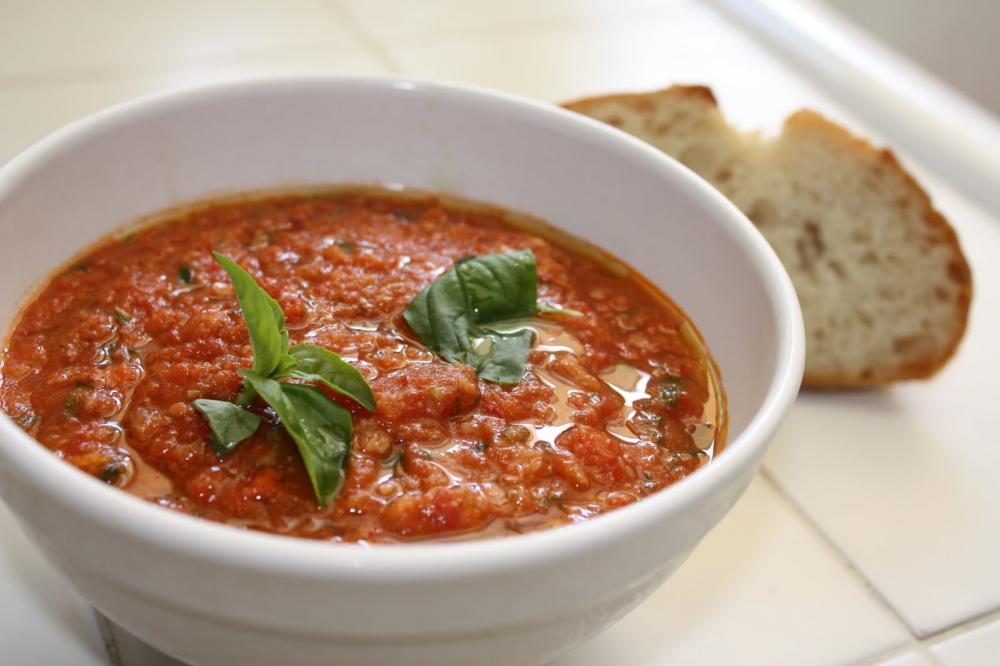 Pappa al pomodoro
Many Tuscan recipes were created to repurpose stale old bread within the no-waste philosophy of cucina povera. For example, Ribollita is a comfort food classic made using a sofrito of celery, carrots, onion, cannellini beans, and extra virgin olive oil. The soup is thickened with cubes of old bread and is often savored over a few days. Hence its name, which translates to "reboiled."
Next, pappa al pomodoro is a traditional Tuscan dish with distinct Italian flavors. This thick soup of Tuscan bread, tomatoes, garlic, basil, and extra virgin olive oil can be served warm, tepid, or chilled. Traditionally, the recipe calls for local costoluto fiorentino tomatoes. However, many Tuscan cooks also use San Marzano tomatoes today.
Then, there's panzanella, a traditional piatto povero perfect for summer when tomatoes are juicy, cucumbers are crunchy, and basil is fragrant. This Italian bread salad originated in the 16th century when Tuscan farmers and peasants would soak their day-old bread in water. They'd squeeze it dry and mix the bread with garden vegetables, like onions and cucumbers.
Fagioli al Fiasco
Fagioli al fiasco is another popular side dish, in Tuscany. Historically, Tuscan farmers cooked beans, water, garlic, and sage in an empty Chianti bottle called a fiasco. They'd set the bottle in the hot ashy embers of the fireplace to slowly cook overnight. Then have freshly cooked beans the following day.
Secondi Piatti Toscani
While there are a variety of main courses, or secondi piatti, within Tuscany, a few dishes are commonly cooked throughout the region. Rosticciana offers an authentic, rustic taste of Tuscan cuisine. These tender pork ribs from locally raised pigs are dry-rubbed with rosemary, fennel seeds, and garlic. Then, the ribs are grilled and brushed with red wine vinegar to keep them tender and juicy.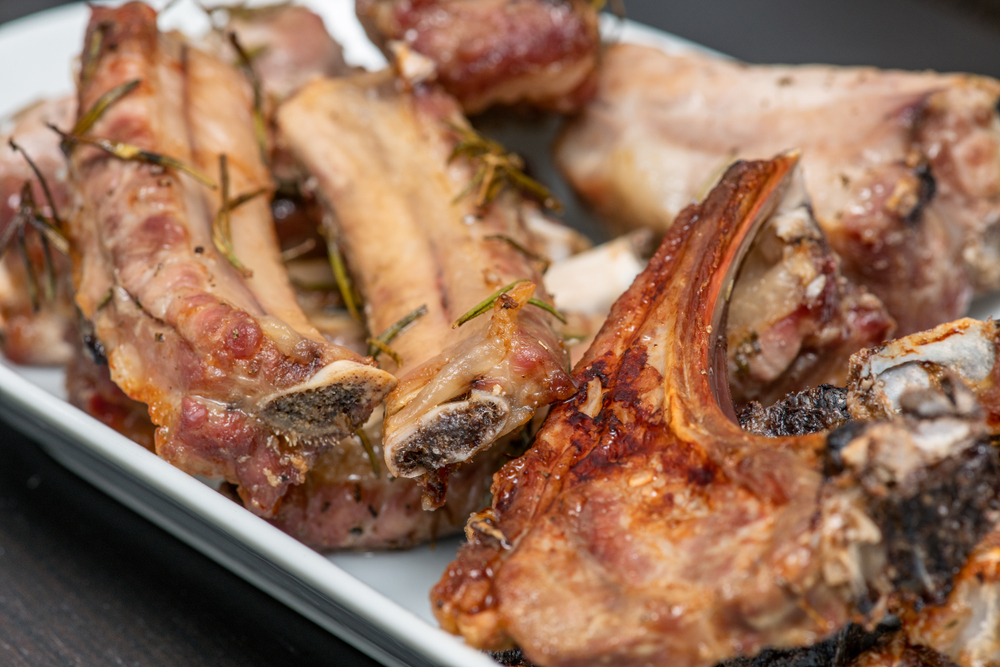 Rosticciana, pork ribs

Arista di maiale al forno is another popular pork-based secondi throughout Tuscany. This is a pork loin seasoned simply with salt, olive oil, garlic, rosemary, and sage, then roasted in the oven. Coincidentally, a Greek cardinal named the dish. Upon tasting the maiale al forno, he exclaimed "Aristos!" meaning excellent or the best in Greek.
Popular in Tuscan cuisine and an emblem of the region, wild boar, is also revered in Tuscany. In Florence, the "Il Porcellino" wild boar statue can even bring luck to those who touch its bronze nose. Cinghiale in umido is a sumptuous wild boar stew and a favorite dish of many Tuscans. Cinghiale is simmered with red wine, tomatoes, garlic, and vegetables, then served over creamy polenta for a hearty taste of Tuscan cuisine.
Castagnaccio – A Unique Tuscan Dessert
Castagnaccio season arrives when roasted chestnut vendors begin to dot the street corners of Tuscany in the fall. This traditional Tuscan dessert is an unleavened cake made with chestnut flour from the Farina di Neccio della Garfagnana DOP. Typically, castagnaccio is a savory with raisins, pine nuts, and rosemary, though every Tuscan family has its own recipe.
Medici and Noble Cuisine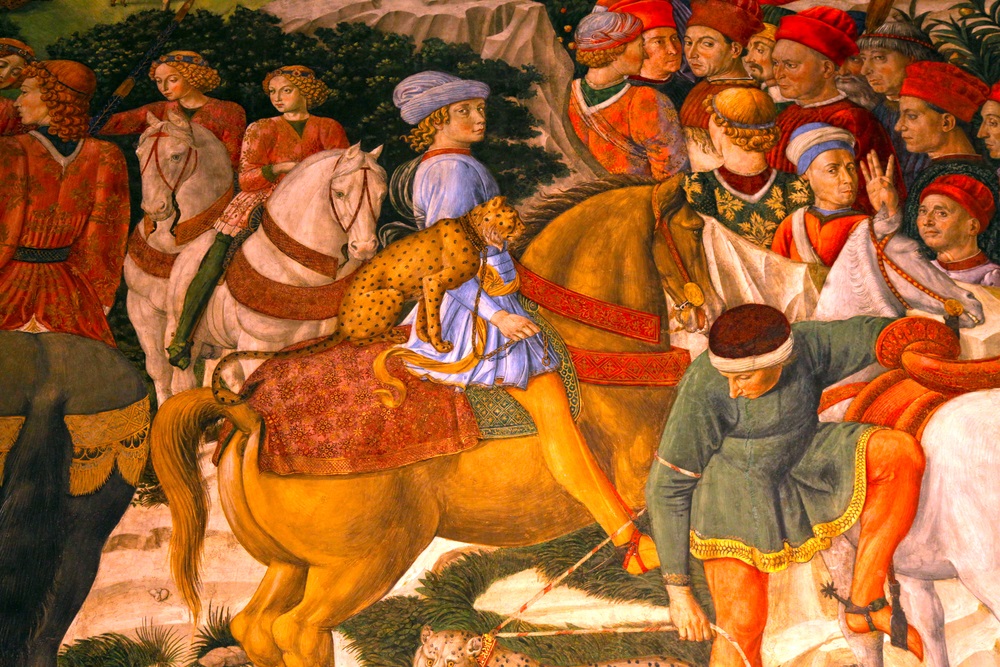 Though cucina povera is the foundation of Tuscan cuisine, Florentine nobility also contributed culinary influences. Starting in the 14th century, Florence became the cradle of the Renaissance, and as arts, culture, and science blossomed, so did the appetites of nobility. The Medici family, who had risen to power through banking and commerce, became one of the most important houses in Florence.
In the noble court of the Medici, dining also became more refined and elaborate. Nobility gathered for excessive banquets and feasts with entertainment. Table manners, such as handwashing with a cloth and water before a meal, became more common; eating utensils like the fork was also popularized. And meals were held in a designated dining room for the first time. Moreover, meals commonly incorporated up to ten or twelve courses.
Food became a cultural center of life for Tuscan nobility. Every meal was an opportunity for entertainment. For example, wealthy banker Agostino Chigi commissioned the painter, Raphael, to decorate the ceiling of his villa with frescoes. Consequently, his guests had something beautiful to admire while they dined.
Venice opened the doors for the spice trade to Europe in the Middle Ages, and spices like black pepper were included in noble recipes. And by the 16th century, cinnamon, nutmeg, and cloves were frequently incorporated into noble dishes. Additionally, sugar made its way to Italy and became omnipresent in Renaissance recipes. Noble courts would even flaunt the ingredient by making elaborate sugar sculptures a centerpiece for their feasts.
The Foodie: Catherine de Medici
In 1533, Catherine de Medici, the great-granddaughter of Lorenzo the Great, married King Henry II of France. Just fourteen years old at the time, Catherine insisted on bringing her Tuscan chefs, ingredients, and even table manners to her new home. Some of Catherine's favorite dishes from Tuscan cuisine supposedly inspired many French cuisine classics.
Carabaccia
Carabaccia is one such Tuscan recipe that Catherine brought with her to France. There are many versions of carabaccia. Two of which exemplify the contrast of cucina povera and noble cuisine perfectly.
The Renaissance carabaccia recipe is a soup of sliced onions cooked in vegetable broth with vinegar, sugar, ground almonds, and cinnamon. A favorite of Leonardo da Vinci, this version has a sweet and sour contrast popular in Renaissance cooking.
While a traditional Tuscan carabaccia consists of onions cooked with olive oil and vegetable broth, served over toasted bread. Some consider Catherine's carabaccia as the ancient origins of French onion soup adored worldwide today.
Cibreo
Another favorite of Catherine de Medici, Cibreo, is a classic recipe of Tuscan cuisine. Catherine adored this dish so much, and legend has it she risked dying from an indigestion attack after overindulging on cibreo. This Italian dish is made by cooking chicken livers, hearts, and testicles with tomato paste, garlic, onion, parsley, and an anchovy. Then, egg yolks, flour, and lemon juice are added to the pot until a thick stew forms. Although cibreo seems to come from humble origins, it was a favorite Tuscan dish of the wealthy. Cibreo is traditionally served hot accompanied by Tuscan crostini.
Papero All'arancia
In Tuscan cuisine, game birds are commonly savored from autumn to winter as the hunting season commences. Duck often made an appearance on the tables of nobility during this time. Papero all'arancia was one of Catherine's favorite preparations. First, the duck is roasted in the oven with onions, celery, carrots, and orange and then doused in a sauce made from the drippings, chicken stock, brown sugar, and orange juice. This Tuscan dish is considered to be the original interpretation of France's famed canard à l'orange.
Crespelle alla Fiorentina
Florentine crepes, or crespelle all Fiorentina, are enjoyed throughout Tuscany. The savory crepes are filled with ricotta, pecorino, and spinach, then placed in a baking dish with bechamel and tomato purée. The result after baking is a rich, savory Tuscan dish perfect for Sunday lunch. Perhaps crespelle alla Fiorentina also inspired the French crepes in bechamel sauce via Catherine de Medici.
Regional Dishes
Typical Dishes of Florence
Home to many cultural treasures, Tuscany's capital city of Florence also boasts many culinary gems. Fagioli all'uccelletto is a beautifully simple Tuscan bean dish full of comforting flavor, cooked with tomatoes, sage, garlic, and olive oil. The name uccelletto means little bird in Italian, though the dish is vegan, the use of sage gives it a similar flavor to that of game cooked on a spit.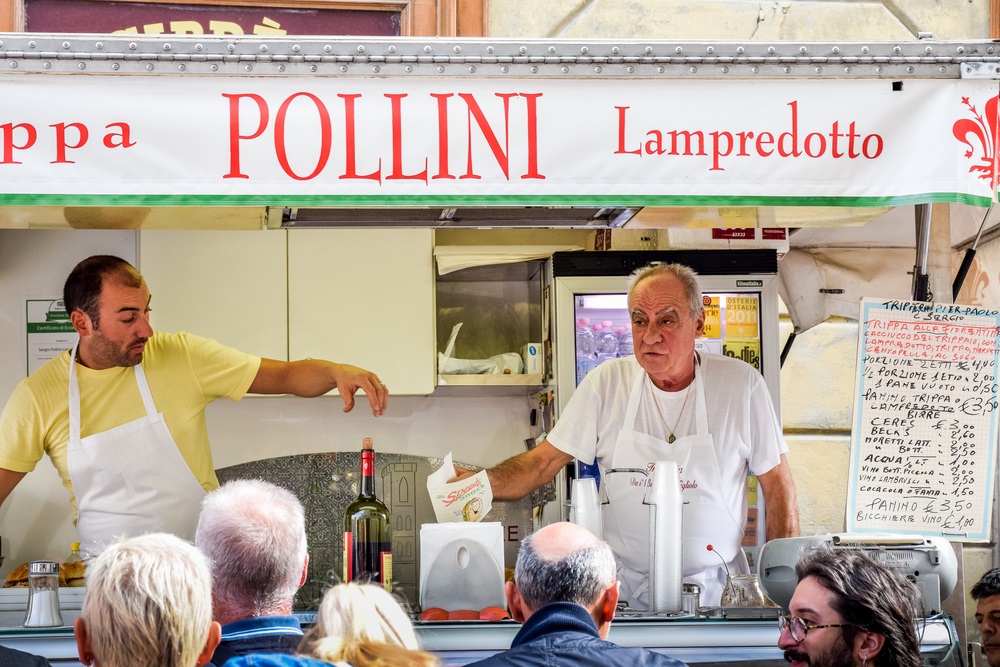 Food stall selling lampredotto
For street food in Florence, look to the classic lampredotto or trippa. Unique to Florence, lampredotto is a cow's fourth stomach that's slowly cooked with tomato, onion, parsley, and celery until it's super tender and served with the vegetable broth it is cooked in and served with salsa verde. While trippa, or tripe, is the edible lining of a cow's stomach prepared similarly. Both are typical examples of cucina povera in Tuscan cuisine.
Schiacciata is a typical flatbread of Florence worth seeking out. The name means pressed or squashed, referring to the breadmaking process, which involves pressing the dough down with your fingers. Schiacciata has a crunchy exterior with a moist interior and can be topped with tomatoes, savory herbs, or salt.
For meat lovers, Florence's hearty beef stew called peposo is a must-try. The beef slow-cooked with garlic, a ton of pepper (hence the name), and a whole bottle of Chianti. Often served with polenta, peposo is the perfect Tuscan comfort food.
No trip to Florence is complete without devouring a Bistecca alla Fiorentina popular at many Florence restaurants. These massive steaks are three to four fingers high and meant to be shared. The steaks come from the Chianina Tuscan breed of cattle and are extra tender thanks to the 15-to-21-day aging process.
The Best Desserts in Florence
While gelato options proliferate the city of Florence, there are a few other local specialties to consider. Zuccotto is a much-adored classic originally created during the Renaissance for Medici party guests. This domed cake is one of the first Italian semifreddi or semi-frozen cakes made from ricotta, cocoa, citrus, and Alchermes liqueur.
Otherwise, cantucci and Vin Santo are an ideal way to end a Tuscan meal. The almond biscotti perfectly accentuate the sweet and nutty flavors of this famous Tuscan dessert wine. Cantucci are commonly dipped in Vin Santo like a Tuscan version of cookies and milk.
To celebrate Carnival, Tuscan families make a fried dough dessert topped with icing sugar called cenci, which translates to rags. The name for this Italian Carnival dessert refers to the shape in which the dough is casually cut. Fritelle di riso, or rice fritters, are another popular dessert traditionally made during Carnival. The dough is made of flour, rice, citrus zest, sugar, eggs, and a liqueur of choice, then fried until addictingly crispy. Local bakeries also make schiacciata alla Fiorentina, a vanilla and orange laden cake, for Carnival. It's typically dusted with powdered sugar outlining the Florentine fleur-d-lis on top and sometimes filled with custard or cream.
A Classic Dish from Chianti
Tonno del Chianti is a bit of a misnomer. In Italian, tonno means tuna. Yet this Tuscan classic will not be listed under the seafood section of a restaurant menu. Tonno del Chianti is a preparation of suckling pigs created by the famous butcher Dario Cecchini. The pigs are deboned, then slowly cooked in white wine with aromatics like laurel and juniper. Next, the meat is preserved under olive oil. Traditionally, terra cotta pots preserved the meat 'sotto olio,' so it could be enjoyed through the winter months.
Must-Try Livorno Cuisine
Livorno is situated where Tuscany meets the Ligurian Sea. Cacciucco is a Tuscan fish stew typical of the region. The traditional recipe calls for as many as thirteen different types of seafood, from mussels to octopus to cuttlefish. Today, octopus, cuttlefish, prawns, and mussels are commonly used. The fresh seafood is cooked with white wine, olive oil, tomato paste, and parsley or sage. The locals enjoy this fisherman's stew ladled over garlic-rubbed Tuscan bread.
Triglie alla Livornese is another flavor-packed yet straightforward seafood dish of the region. Red mullet fish are pan-fried in olive oil and garlic, then cooked in tomato sauce and topped with parsley to serve.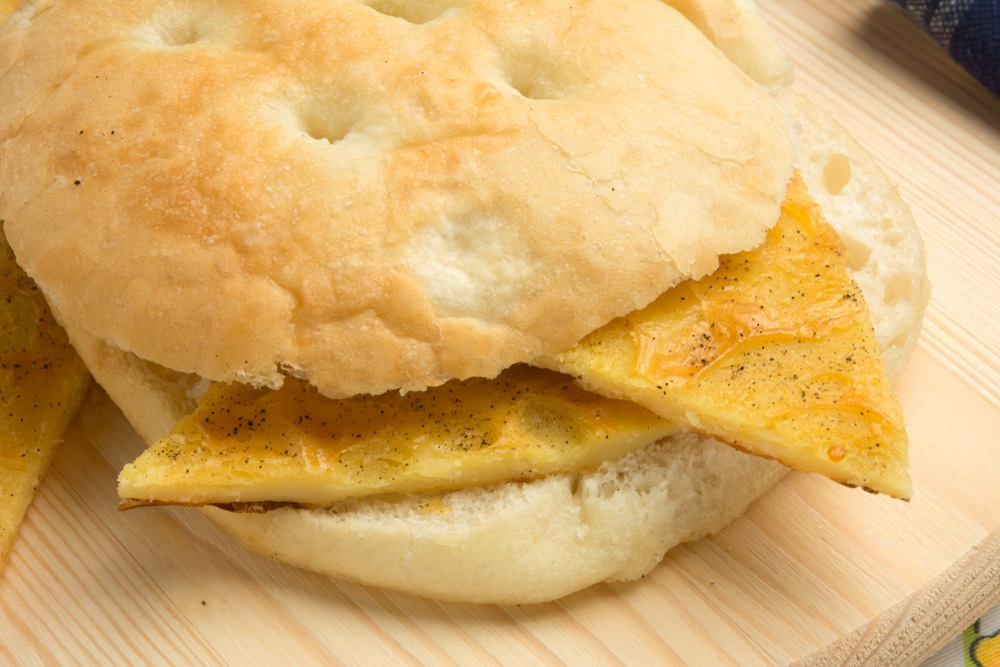 Cinque e cinque, Livorno
Notably, Torta di ceci is an irresistible street food in this Tuscan port city. Made from chickpea flour, the torta di ceci is a thin, crispy pancake that is the ultimate, savory bite. In Livorno, it's traditionally eaten as a "cinque e cinque" with the torta di ceci served in bread. The name refers to the original five lira cost of bread and five lira of torta.
Tuscan Cuisine in Maremma
Maremma extends along the coast from south of Livorno to Rome and inland to the Apennines. Historically a poor area, Maremma is known for its rural farmlands. Dishes like aquacotta reflect such a history. Aquacotta, meaning cooked water, is another representation of cucina povera. This simple vegetable soup enriched with stale bread was a means for locals to make a tasty meal with what they had on hand. Farmers needing a heartier meal enhanced the soup with a poached egg.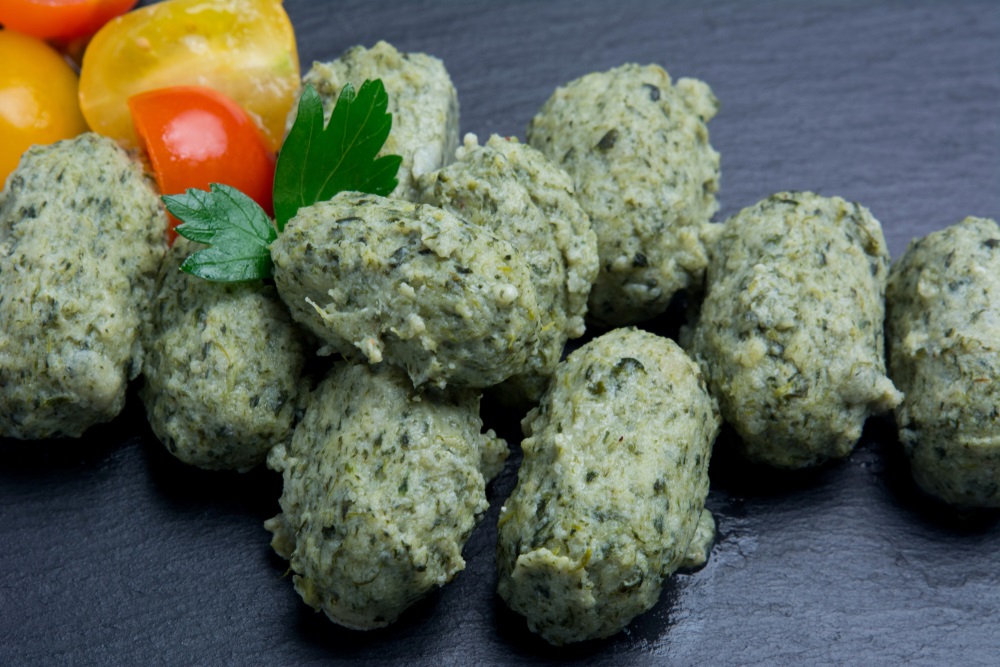 Gnudi spinach, and ricotta dumplings
Gnudi or malfatti are another typical dish of Maremma and are served throughout Tuscany as well. These are richly flavored spinach, and ricotta dumplings often served in tomato sauce or butter and sage. They're called gnudi, meaning naked, as they resemble ravioli without the pasta exterior. While malfatti means poorly made for their irregular, lumpy shape.
Additionally, tortelli maremmani is a popular Tuscan dish from the region. These tortelli are like ravioli but larger in shape and with a higher pasta to dough ratio, typically filled with ricotta, wild greens, spinach, and nutmeg.
As might be expected from rural Maremma, cinghiale, or wild boar, is also savored here. Cinghiale alla maremmana is a strongly flavored dish enjoyed in the region for centuries. The wild boar meat marinates overnight, then slowly cooks with onions, celery, carrots, laurel, juniper, and wine until super tender. The meat frequently tops a mound of creamy polenta.
Finally, for dessert in Maremma, seek out Sfratti di Pitigliano, a sweet treat with Jewish origins, as Pitigliano was always a refuge for the Jewish community. Sfratti di Pitigliano is made with unleavened pastry dough shaped like a stick filled with a delicious mixture of walnuts, honey, spices, and orange.
Signature Dishes of Lucca
Northwest of Florence lies Lucca, another Tuscan city rich in culture and well-preserved history. Lucca has many signature dishes with origins in cucina povera and noble cuisine. First, garmugia is a Tuscan soup traditionally prepared in the spring and thought to cure winter illnesses. Historically a recipe of noble cuisine, garmugia is packed with spring vegetables like peas, fava beans, asparagus, artichokes, and spring onions. Plus, the soup incorporates ground beef, pancetta, and stale bread for heartiness.
Next, tordelli Lucchese make for a comforting primo piatto in Lucca, luxurious fresh egg pasta filled with ground beef or pork, pine nuts, raisins, swiss chard, grated cheese, and bread. Semi-circular in shape, the tordelli are served with a rich ragù spiced with sage, cinnamon, and nutmeg.
For an old peasant dish of the region, look to matuffi. This robust Tuscan recipe is made with mushrooms, sausage, red wine, carrots, onions, celery, and tomato. The mixture is traditionally served with polenta for a wholesome meal.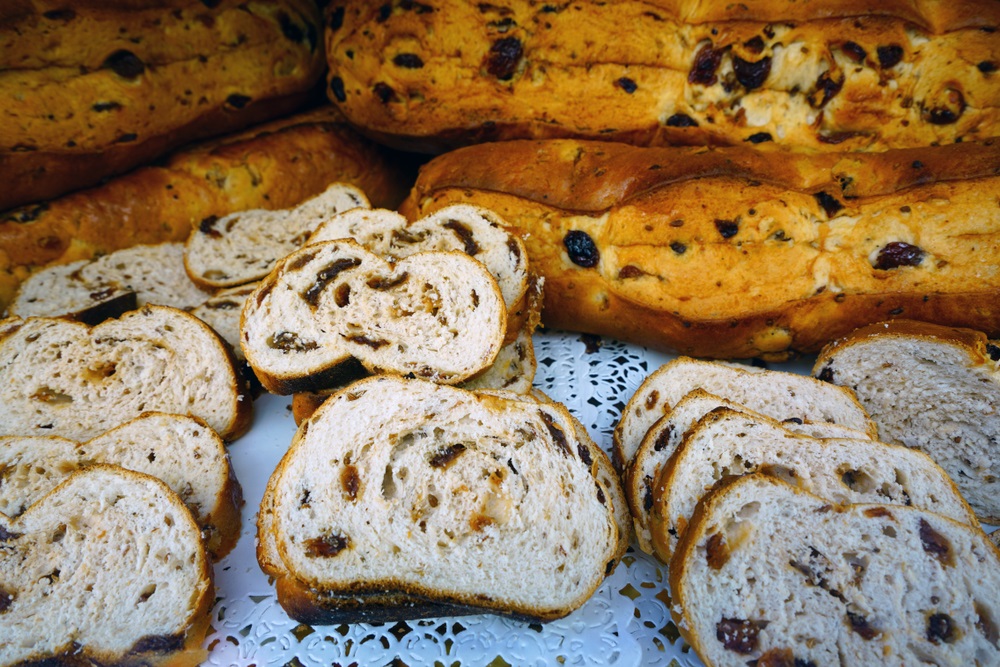 Buccellato di Lucca
Lastly, buccellato, the typical sweet bread of Lucca, cannot be missed. This bread takes its name from buccellatum, referencing the bread of ancient Roman soldiers. Today, locals can buy the bread, enlivened with nuts and sugars, daily at bakeries throughout Lucca.
Recipes from Garfagnana
Garfagnana is the land of chestnuts nestled in the north of Lucca. The aptly named 'lasagne bastarde' is made here with a mixture of regular flour and chestnut flour. The lasagne noodles are served with olive oil, pecorino, and black pepper. Additionally, Minestra di farro della Garfagnana is a flavorful dish from the area. Farro grains simmer with vegetables, potatoes, and pancetta for a hearty local soup. For dessert, enjoy crepes made with chestnut flour, filled with fresh ricotta called necci.
Massa Carrara Italian Specialties
In northwestern Tuscany, just 5km from the coast, sits Massa Carrara. Known for marble production and cured meats, Massa Carrara is home to Lardo di Colonnata. This Tuscan specialty is made from the pig's back fat, which has been salted and cured. Lardo di Colonnata is covered with salt, herbs, and spice; its delicate, fresh flavor is enjoyed throughout Tuscany.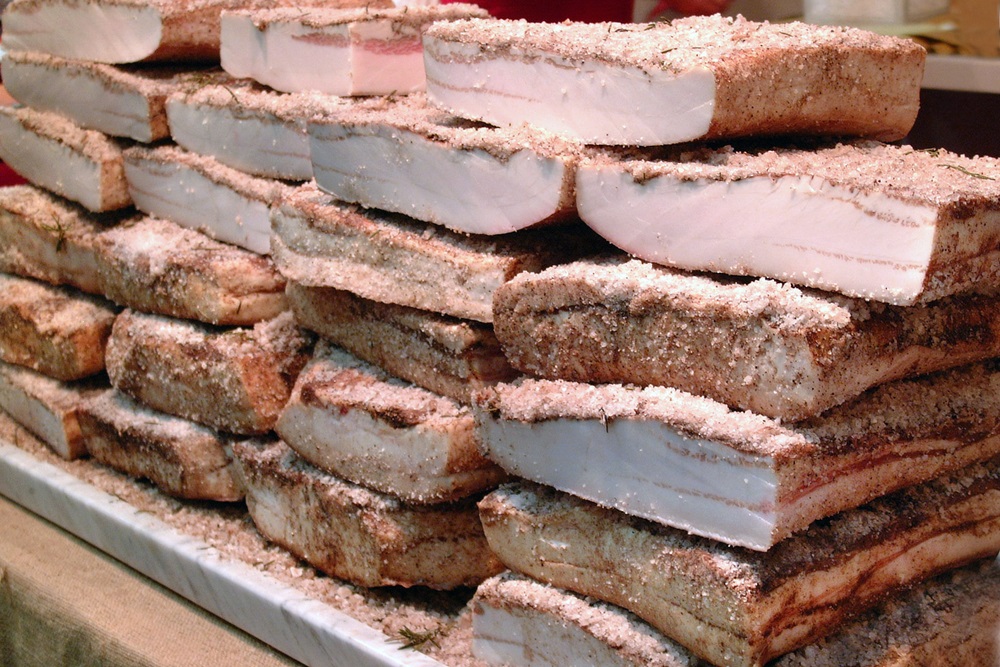 Lardo di Colonnata
Unique to the region, testaroli are a crepe-like pancake made from flour and water. However, the dish is eaten like pasta, doused with basil pesto. Herbs harvested in the spring are used in torta d'erbi. For this Tuscan dish, water, flour, and olive oil make the dough of a savory cake. It's filled with wild herbs and pecorino cheese.
For dessert in Massa Carrara, try the torta di riso all carrarina, a cake made with rice, custard, and sugar.
Tuscan Cuisine in Pisa
Remembered for its iconic leaning tower, Pisa also has exceptional Italian food. Bordatino alla Pisana is a simple soup of yellow flour, beans, and black cabbage typical eaten in the winter. These ingredients are cooked with carrots, celery, onions, parsley, and olive oil to make this delicious soup.
For pasta in Pisa, look to trenette alla renaiola. Turnip greens, herring, garlic, and some tomato make the sauce for the pasta. This dish is unique to Pisa and named for renaoli, the men moving sand and gravel from nearby rivers to the Arno.
Plus, seafood lovers can enjoy anguille in ginocchioni, fried eels cooked in tomato sauce, or muscoli ripieni. Pisa's version of stuffed mussels varies from others in Italy, as they're filled with ground pork, stale bread, pecorino, nutmeg, garlic, parsley, and olive oil.
Finally, satisfy sweet tooths in Pisa with torta co'bischeri, a regional classic. This cake is a shortbread pastry crust filled with rice, chocolate, pine nuts, candied fruit, and raisins.
Try This Pasta in Cortona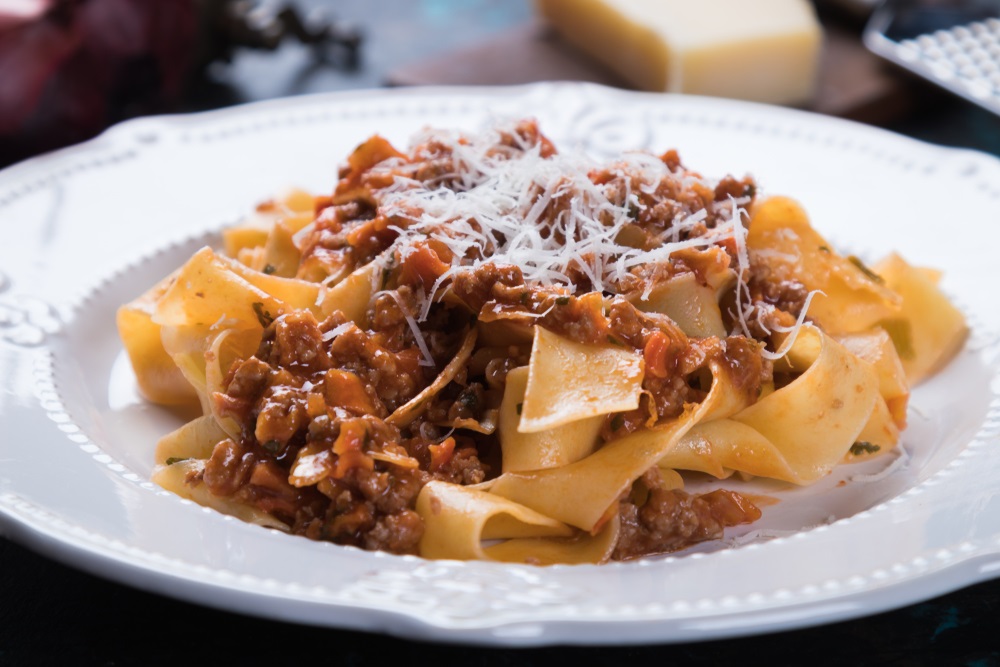 Pappardelle alla lepre
Pappardelle alla lepre makes mouths water in nearby Cortona, located south of Florence in the province of Arezzo. A time-consuming dish, this Tuscan pasta involves marinating a hare with wine, vinegar, and herbs. The process helps to remove the gamey flavors from the meat. Then, the hare is slowly simmered with carrot, onion, celery, wine, and bay leaves. The tender meat is served with pappardelle pasta.
Best Italian Foods in Siena
Prosciutto di Cinta Senese is a cured ham typical of Siena. Made from the Cinta Sinese breed of pigs, this prosciutto is characterized by its bright red color and lower fat content.
In Siena province, pici is a tasty regional pasta. Pici are local handmade noodles that have several local variations. Pici all'aglione is covered in a vibrant sauce of tomatoes, garlic, and olive oil. In contrast, pici alla briciole is flavored with garlic ( the best garlic to be used for pici is aglione, also called the lover garlic due to its mild odor), olive oil, chili peppers, and breadcrumbs from day-old bread. Plus, pici is sometimes served with ragù di cinghiale.
Notably, acciughe sotto pesto is found throughout bars and restaurants of Siena. Anchovies marinate under oil, garlic, parsley, and chili peppers for at least twelve hours. Then, they're often eaten as a snack or on crostini.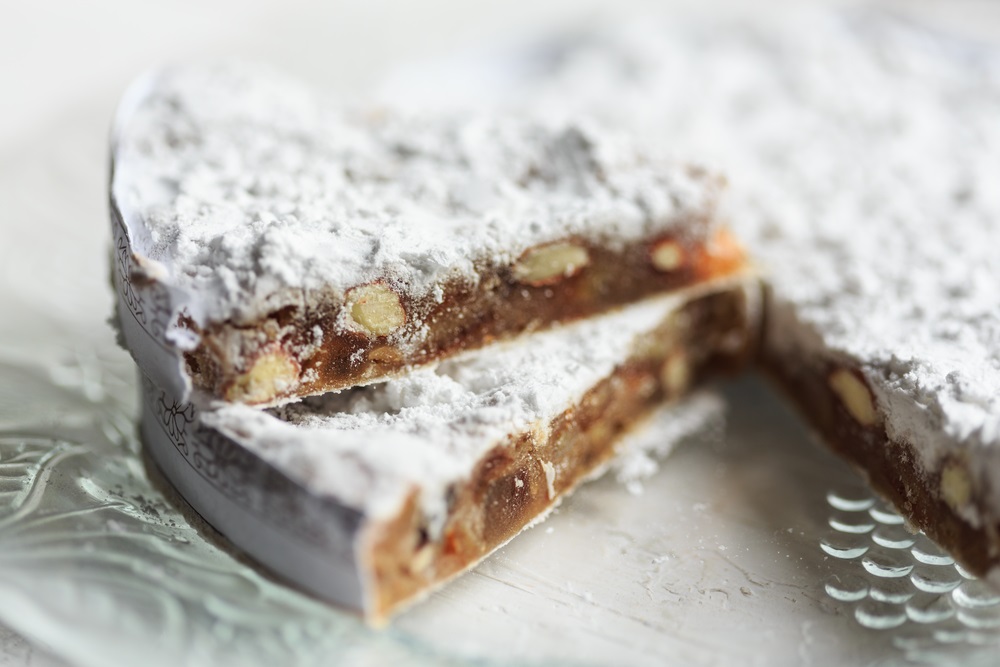 Panforte cake
Lastly, panforte makes an appearance for Christmas in Siena. It's a dense cake of medieval origin, traditionally gifted for special occasions. Panforte is made from sugar, almond, dried fruit, and spices, then dusted with powdered sugar. Cardamom, nutmeg, cinnamon, and cloves make panforte such a special treat.
About Nicole Dickerson
WSET certified international wine writer with a passion for rare varieties and cellar hand experience in both hemispheres. Join me in the vineyards and cellars of the wine world at palmandvine.com.
Related Blog Posts: