Umbrian Cuisine Essentials: Must-Try Dishes Revealed
August 5, 2021
Estimated reading time: 11 minutes
Known as the green heart of Italy, Umbria and its forest-laden landscape are nestled in the center of the country. As the only Italian region lacking a coastline, Umbrian cuisine encompasses a plethora of vegetables, legumes, and meat-based dishes. Lake Trasimeno, the fourth largest lake in Italy, contributes plenty of freshwater fish and fertile soils for olive groves and farmland. As a tourist destination, Umbria has been overshadowed by neighboring Tuscany, Lazio, and Marche. Nevertheless, Umbrian cuisine inspires many adventurous foodies to discover regional culinary treasures year after year.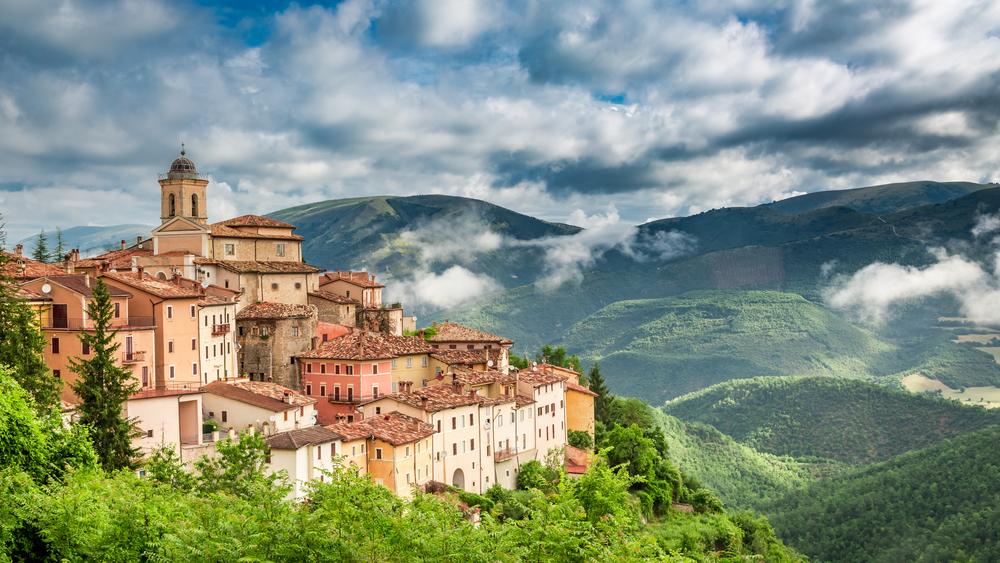 Guide to Italian Gastronomy and Cuisine: Read more
The Basics of Umbrian Cuisine
Like many Italian regions, food traditions in Umbria originated in cucina povera, or peasant cooking, which emphasized making the most of available fresh, local ingredients with simple preparations. As a result, grains, seasonal vegetables, pork, cured meats, and local olive oil are staples in the Umbrian kitchen.
Umbrian Vegetables
Locals cultivate a bounty of vegetables around Lake Trasimeno, including asparagus, mushrooms, fava beans, and, more particular, produce like the black celery of Trevi and prized red Cannara onions. Farmers known as cipollari have passed down their cultivation methods from one generation to the next to produce red Cannara onions, known for their sweetness and digestibility.
Legumes are also popular in Umbrian cuisine and are featured in several dishes. The Castelluccio Valley is internationally recognized for producing the best lentils in the world. Grown at high altitudes and known for their intense nutty flavor, these Castelluccio lentils have a fine outer layer that doesn't require soaking before cooking. Additionally, Fagioline del Trasimeno has grown near Lake Trasimeno since Etruscan times. Adored for their tender texture and buttery flavor, these beans are especially laborious to produce as they require manual cultivation. Thankfully, a handful of family-run farms are still willing to plant, sow, and harvest these nutty beans, ideal for salads and soups or seasoned with Umbrian olive oil and salt.
Black Truffles in Umbria
Umbria should be at the top of your bucket list if you love truffles because this region produces more truffles than elsewhere in Italy. Consequently, truffles are typically hunted year-round. Pigs were traditionally used to sniff out these earthy gems, but today, expertly trained dogs are more common. Truffle hunters will keep their treasured hunting grounds secret, only passing on the best locations within their family trade. Unlike other Italian regions where truffles are costly and reserved for special meals, Umbrian cuisine uses truffles as an everyday ingredient.
Umbrian Olive Oil
Olive groves abound in Umbria, and the region is known for producing high-quality, PDO-protected extra virgin olive oil. Umbria PDO oils can be made with Leccino, Frantoio, Moraiolo, San Felice, Rajo, and Dolce Agocia olive varieties. The PDO designation must be accompanied by a named geographical location where the olives were cultivated. These include Colli Assisi-Spoleto, Colli Martani, Colli Amerini, Colli del Trasimeno, and Colli Orvietani. Each designated area requires different ratios of olive varieties, though all Umbrian olive oil is known for its fruity aromas and mild bitterness.
Umbrian Cheeses
Caciotta, Pecorino di Norcia, and Raviggiolo are a few of Umbria's most well-known cheeses. Caciotta cheese is made from sheep's milk, cow's milk, or a combination of the two, depending on location. Norcia, Gubia, and Cascia are made with sheep's milk. While cow's milk is used in Assisi, and a combination of the two is used for caciotta from Foligno. The cheese is semi-cooked and matured for only twenty days to achieve a light texture. You'll also find caciotta flavored with the regional black truffles in Umbria.
Next, Pecorino di Norcia is a sheep's milk cheese aged for at least two months, resulting in a firmer texture. It's often grated over pasta or other dishes and is occasionally aged with local herbs for added flavor.
Finally, raviggiolo is a fresh, creamy cheese made from cow's milk with a mild taste.
Norcia: The Pork Capital of Italy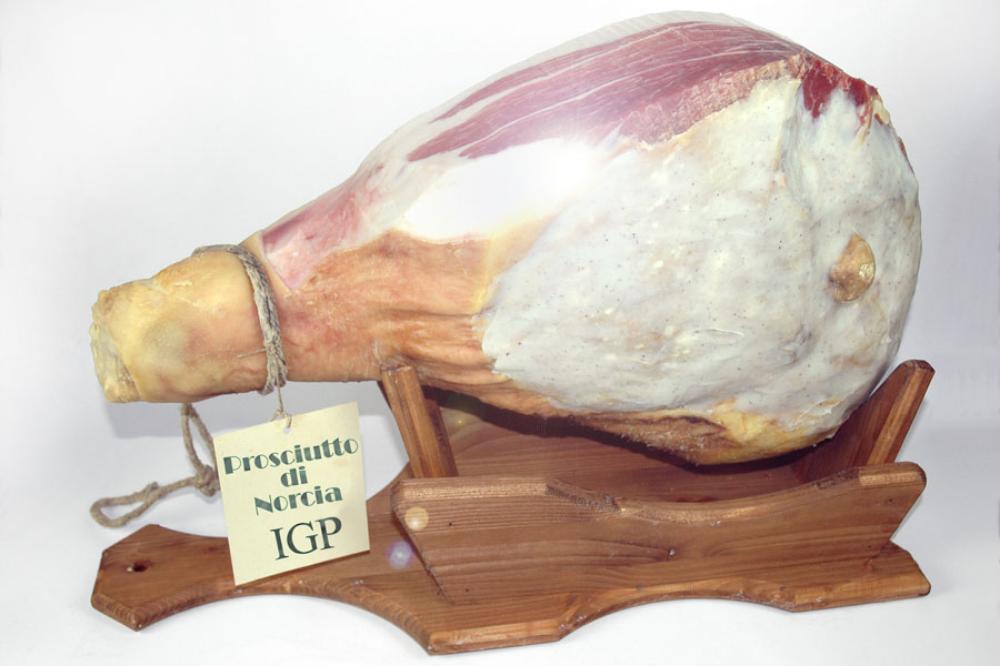 Norcia is a small town in Umbria famous for pork, cured meats, and expert pork butchers known as Norcinos. The town's reputation for pork excellence dates to Roman times when the skilled Norcinos were held in such high regard that they were occasionally called upon to perform operations on humans! The town has several norcinerie, family-owned shops specializing in pork products. Notably, the expert butchers of Norcia use every part of the pig for their delicious cured meats.
Prosciutto di Norcia PGI
Since 1997, Umbria's most prized ham has held a protected PGI status with a delineated production process. The regulations require the pork thigh to be dry salted, coated with lard and rice flour, then seasoned with black pepper. In addition, the prosciutto must age for at least one year, during which it develops intense aromas and flavors.
Corallina
Corallina, named for its resemblance to a curvy branch of coral, is another savory Umbrian salami made with pork, salt, pepper, and wine-marinated garlic. The salami matures in rooms with wood-burning stoves, contributing a slightly smoky flavor to the final product.
Capocollo
Also known as coppa, capocollo is a tubular cured meat made from the upper back muscles of the pig. First, the meat is seasoned with salt, pepper, and coriander and washed in white wine. Next, it is folded into a natural casing, wrapped in wax paper, and set in a net to mature for thirty days. The result is dark red meat with marbled fat, which becomes firmer as it ages.
Coppa di Testa
This specialty is not made solely with the pig's head, as the name suggests, but rather with offcuts of meat like the nose, ears, and more. These offcuts are boiled, seasoned with salt, pepper, pine nuts, sultanas, and citrus zest, then chopped and stuffed into a natural casing. After maturation, coppa di testa becomes a firm salami, often sliced and eaten on bread.
Mazzafegato
Mazzafegato is a spicy salsiccia made from pork liver flavored with pine nuts, salt, and pepper. The mixture is stuffed into a natural casing seasoned with wine and tied on the ends to form the sausages. Mazzafegato can be eaten fresh or aged, and there's also a sweet version incorporating raisins, sugar, and orange zest.
Torta al Testo
Umbria's specialty cured meats are often sandwiched within torta al testo, an unleavened bread for which the region is known. The flatbread's dough is made from flour, salt, baking soda, olive oil, and warm water. It's cooked in a cast iron pan known as a testo in Roman times. Frequently served as an antipasto with local cured meats and cheeses, you'll also find torta al testo served alongside regional soups and stews.
Crostini al Tartufo all'Umbria
Crostini al Tartufo all'Umbria is a popular antipasto in Umbrian cuisine that showcases the region's prized black truffles. To make these flavor-packed crostini, toasted slices of bread are topped with a paste made of truffles, anchovies, and local olive oil for an umami-driven specialty.
Popular Pasta in Umbrian Cuisine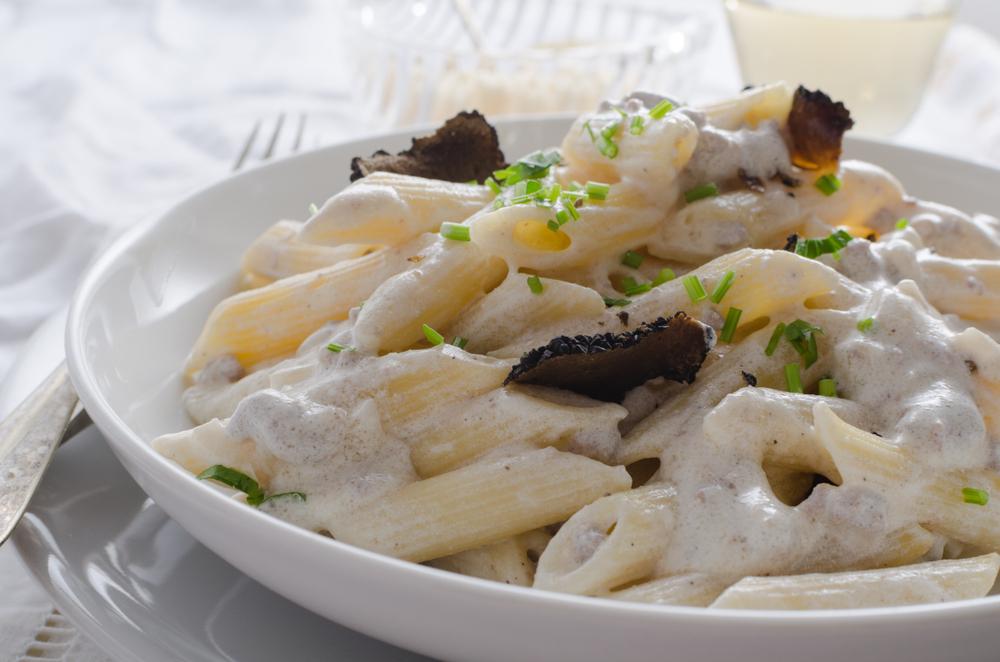 Umbria boasts a handful of pasta uniquely its own. First, be sure to try strangozzi, handmade fettuccine noodles made from a dough of flour, semolina, oil, and water. Next, enjoy strangozzi covered in a hefty grating of local black truffles, served in a spicy tomato sauce, or with ragù D'Angelo, a flavorful lamb ragù.
Typical of the province of Terni, keep an eye out for ciriole, square-shaped noodles made with a similar eggless dough. It's often served as ciriole alla ternana with a fresh sauce of garlic, basil, and tomato.
Pasta alla Norcina
A popular regional pasta hailing from Umbria's city of pork, pasta alla norcina features pork sausage meat with a cream-based sauce enhanced with a splash of white wine. The dish is topped with a hefty amount of grated Pecorino cheese and occasionally grated black truffles for extra local flavor. Though the classic recipe does not include truffles, opting for a delicate balance of flavor instead.
Fettucine con la Ricotta
Another elegantly flavored Umbrian pasta dish, fettuccine con la ricotta, is made with olive oil, ricotta, heavy cream, grated Parmigiano Reggiano, salt, and pepper. These ingredients form a creamy sauce in which the cooked fettuccine is tossed before serving.
Umbrian Soups & Stews
From the countless legumes of the region to the freshwater fish from Lake Trasimeno, Umbrian cuisine offers several delicious soups and stews featuring the local bounty.
Zuppa di Lenticchie di Castelluccio
Zuppa di lenticchie di Castelluccio is an Umbrian soup featuring lentils, a staple ingredient of the region. This lentil soup originated in the Sibillini Mountains; preparation begins with a soffrito of onions, garlic, celery, carrot, and potato. Tomato concentrate, salt, and pepper add flavor, but the nutty Castelluccio lentils are the star of this dish.
Imbrecciata
Often enjoyed in autumn, imbrecciata is a hearty soup of lentils, corn, beans, and chickpeas. It's typically topped with croutons and a drizzle of Umbrian extra virgin olive oil, offering an authentic taste of many of the region's staples.
Tegamaccio del Trasimeno
Umbria's vast Lake Trasimeno provides diverse freshwater fish, such as perch, eel, carp, and pike, either grilled whole or made into a mouthwatering fish stew called tegamaccio. In addition to various lake fish, the stew is made from red cannara onions, garlic, tomatoes, tomato concentrate, chile, parsley, olive oil, and dry white wine. The stew is served with torta al testo to soak up the flavorful broth.
Other Must-Try Umbrian Dishes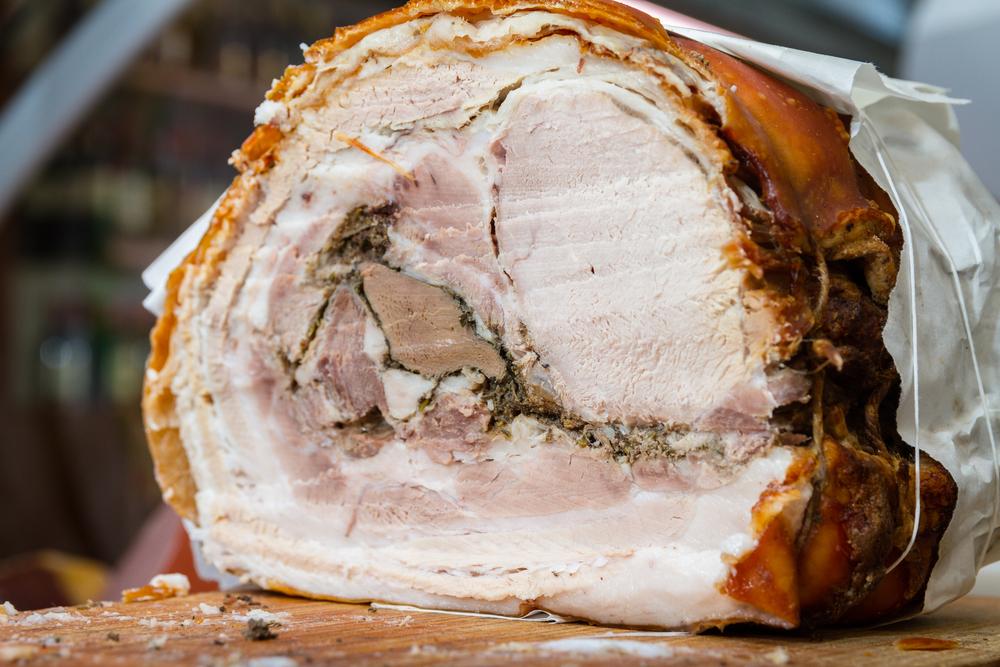 Impastoiata
In Umbrian kitchens, a dish with humble origins in cucina povera, impastoiata is prevalent in winter. It features a hearty polenta perfect for warming up in winter. Whereas other Italian regions frequently serve meat with polenta, Umbrian cuisine utilizes legumes instead. Stewed beans with onion, garlic, tomato, olive oil, and herbs are stirred into the creamy polenta for a filling dish.
Porchetta
While this famous Italian specialty is savored throughout the country, Porchetta originated in Umbria. A whole gutted pig is stuffed with pork offal seasoned with salt, pepper, garlic, and fennel to prepare. The latter of which is a crucial ingredient in the Umbrian recipe. The meat is rolled up and tied, then slowly roasted on a spit for hours until the exterior is crispy and the meat is tender. Finally, the Porchetta is sliced and sandwiched between two slices of bread to serve.
Palomba alla Ghiotta
Game birds are also common in Umbrian cuisine, and Palomba alla ghiotta features a regional favorite—pigeon. Palomba is a wild pigeon, and in this greedy (ghiotta) preparation, the pigeon is roasted and served with a flavorful sauce of wine, vinegar, garlic, olive oil, rosemary, sage, and the pigeon livers. Thus, Alla ghiotta is a preparation of different types of game birds in Umbria involving a similar loose sauce flavored with the livers of the dish's bird of choice.
Umbrian Desserts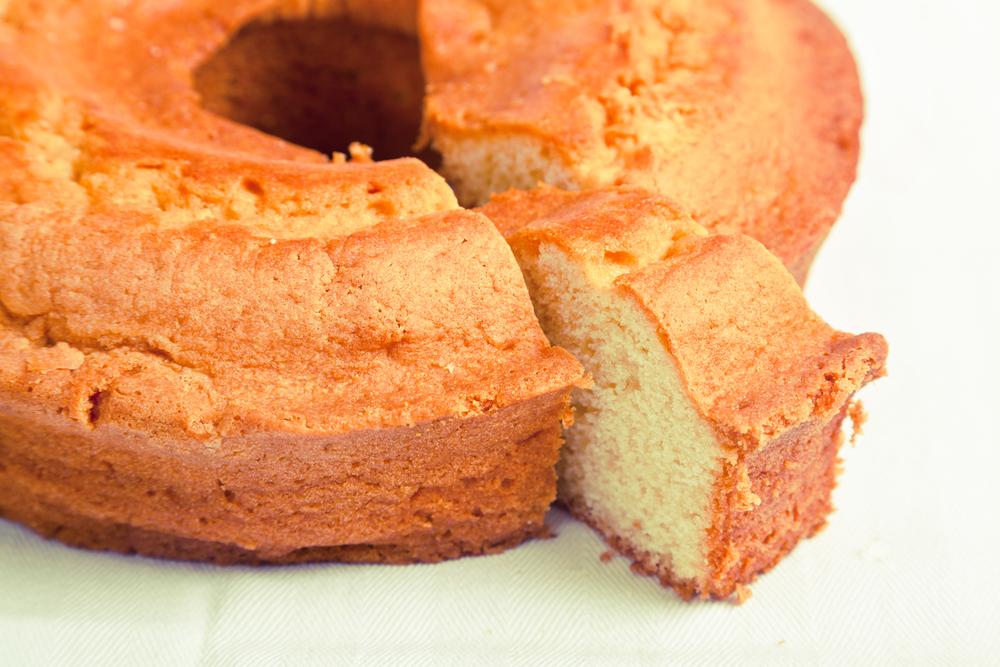 Torcolo
This popular, ring-shaped Umbrian cake originated in the seventeenth century. Torcolo is made from eggs, sugar, flour, baking soda, butter, milk, and lemon zest. The torcolo of the past, which originated in peasant cuisine, was made with oil instead of butter. After baking, torcolo remains crunchy on the outside and soft on the inside, making it an ideal treat for breakfast, a snack, or dessert.
Pampepato di Terni
Pampepato di Terni is an IGP-protected cake made with cooked grape must, flour, and cocoa powder. Several other ingredients are used for this sweet treat, including cinnamon, pepper, coffee, honey, raisins, candied orange, dark chocolate, pine nuts, almonds, hazelnuts, and walnuts. Pampepato di Terni is traditionally made as a Christmas specialty in Umbria, especially in the province of Terni.
Crescionda
Another festive cake, crescionda, hails from Spoleto and is a favorite sweet treat around Carnival. This chocolate cake is made with eggs, sugar, flour, lemon zest, milk, salt, and dark chocolate. Sambuca and crushed amaretti biscuits enrich the cake.
Rocciata
Finally, rocciata is a dessert from Assisi whose name refers to its rock-like shape. Somewhat resembling a strudel, this Umbrian dessert consists of a thin dough wrapped around a filling of apples, raisins, walnuts, cinnamon, lemon zest, sugar, pine nuts, cocoa powder, and rum. The dough-filled roll is shaped into a coil and drizzled with Alchermes liqueur or dusted with icing sugar.
Wines of Umbria
Umbria is renowned for its unique wines. The region's winemaking dates back to the Benedictine monks and features a climate conducive to vine growing, similar to Tuscany's. Umbria is known for Orvieto, a popular white wine, and its capital, Perugia, is surrounded by hills producing fine red wines, especially the revered Sagrantino di Montefalco. The area's terraced vineyards give rise to several important red wine DOCs. Notable Umbrian wine producers include Lungarotti, Caprai, and Falesco, with some influence from Tuscan winemakers like Antinori.
More information
If you would like us to customize an exclusive luxury tour, contact us and let us know your travel plans. We offer luxury food and wine tours for private groups of a mininium two guests. In addition, all of our private, chauffeured tours are available year-round upon request.
Cellar Tours
Welcome to Cellar Tours, the premier Luxury Travel Specialist since 2003. Our goal is to provide you with the ultimate food and wine vacation experience, with exclusive Mercedes chauffeured tours that showcase the best of local cuisine and wines.
Our team specializes in crafting bespoke, custom-designed vacations, events, and incentives tailored to your unique tastes and preferences. Travel is not just about seeing new places - it's about creating unforgettable memories and indulging in the finer things in life.
As members of Slow Food, OTAVA (Travel Agency Association in Spain), and the IACP (International Association of Culinary Professionals), we promote sustainable tourism and support local communities. We work closely with top-rated hotels, restaurants, and wineries to provide you with the highest level of service and attention to detail.
Whether you're planning a romantic getaway, a family vacation, or a corporate retreat, let Cellar Tours be your guide. With our passion for food and wine, extensive knowledge of local culture, and dedication to exceptional customer service, we're confident we can exceed your expectations.
Contact us today to start planning your dream vacation – we can't wait to hear from you!