Chianti Classico Wine Region
Evolved Elegance, Redefined - From Rustic Roots to Refined Richness
EXPLORE ALL OUR TUSCANY WINE REGION GUIDES
Introduction
Chianti Classico is Tuscany's authentic wine celebrity: there is scarcely a social media feed that doesn't contain a few snaps of this iconic and idyllic region. At times, it even feels like a tourist destination that occasionally permits some hard work – Chianti's blend of villas, hilltop villages, cypress trees, vines, and olive groves is ancient and beguiling. Yet don't let appearances fool you. This is, first and foremost, a working vineyard with a vital economic agenda; Chianti Classico is one of Tuscany's biggest commercial success stories, alongside the venerable Super Tuscans. An export powerhouse that enthralls every time.
Winemaking and regional classifications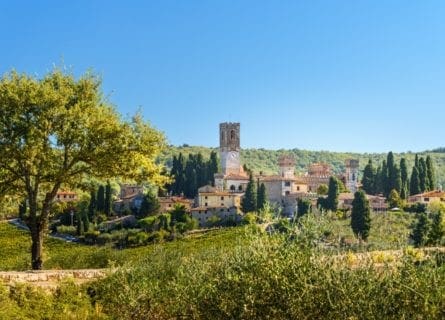 Winemaking in Chianti Classico has changed out of all recognition over the past 45 years. When the DOC laws defined Chianti in 1963, they insisted on 10% and allowed up to 30% – far too much – white grapes into Chianti of any style. The result was acidic dross with little merit, best consumed in desperation after the cellar has run dry! Thankfully, the rules were updated in 1996 to allow 100% Sangiovese wines, and adulteration with Trebbiano was finally outlawed in 2006. As a result, Chianti Classico is now a high-quality red made substantially (80-100% of the blend) from low-cropped Sangiovese – a dash of Cabernet Sauvignon, Merlot, and/or Canaiolo can improve the wine's depth and color. Too much, though, can spoil the style. Nevertheless, the days of anemic mouthwash are largely over.
However, adding white grapes – and grossly inflated yields – were only part of the problem. The traditional approach to making Chianti Classico involved a long fermentation and maceration in wooden botti (vats), extracting every available particle of tannin. These astringent concoctions were then matured in Slavonian oak vats for several years, with oxidation helping smooth the rough edges. But, all too often, what emerged in your glass was a dry red that lacked either flavor or character. It was utterly charmless.
Yet the introduction of French barriques forced a complete change. Shorter macerations yielded a less tannic and more fruity expression of Sangiovese, while maturation in new wood (12-18 months) introduced another dimension of flavor and complexity. Meanwhile, fermentation (often including a percentage of whole bunches) is now routinely conducted in stainless steel, taking advantage of inbuilt temperature control and greater accuracy. Whether the wine is then aged in barrique (new or otherwise) or the traditional Slavonian botti will depend on the winemaker. Using amphorae and concrete eggs for wine fermentation/ maturation has also become trendy, particularly among younger winemakers.
Geography and terroir
Chianti Classico is made in the hills between Florence and Siena: a mosaic of vineyards planted to indigenous and French grape varieties. They bask in the region's agreeable Mediterranean climate, characterized by long, warm summers and relatively mild winters. In the best vintages, red and white grapes will achieve full ripeness relatively easily, producing aromatically expressive and fruit-forward wines. Indeed, very hot weather has been the norm in recent years, so the main concern has been excessive sugar rather than poor ripeness!
However, there are great variances in aspect and elevation in Chianti Classico: vineyards can rise 500 meters above sea level or even higher. Historically, it was a challenge to ripen the sugars and tannins of the late-ripening, light-colored, and high-acid Sangiovese, particularly at these elevations. But, as elsewhere, global warming has engendered a reassessment of the most favored sites in the appellation. The zone's lower and more protected vineyards, often south-facing, increasingly yield wines of 15% alcohol – totally undesirable. Fortunately, many fine, more balanced red wines are grown at altitudes of around 600 meters, and white wines will thrive even higher than this: barrel-fermented Tuscan Chardonnay is a rising star in central Italy. But Trebbiano Toscano, the workhorse white grape grown in Sangiovese wine country for centuries, is now forbidden in red blends.
The region's soil varies, but the two more common types are Galestro (a local variant on clay-limestone) and the more solid, heavier Albarese. It is said that Galestro soils are responsible for Chianti's most concentrated wines, while Alberese is renowned for delivering savory reds that have a distinct note of wet stone.
Key Grape Varietals

Explore the evolution of Chianti Classico: from dated white grape blends to refined, predominantly Sangiovese reds, showcasing modern winemaking.

Find out more

Explore the evolution of Chianti Classico: from dated white grape blends to refined, predominantly Sangiovese reds, showcasing modern winemaking.

Find out more

Explore the evolution of Chianti Classico: from dated white grape blends to refined, predominantly Sangiovese reds, showcasing modern winemaking.

Find out more

Explore the evolution of Chianti Classico: from dated white grape blends to refined, predominantly Sangiovese reds, showcasing modern winemaking.

Find out more

Explore the evolution of Chianti Classico: from dated white grape blends to refined, predominantly Sangiovese reds, showcasing modern winemaking.

Find out more

Explore the evolution of Chianti Classico: from dated white grape blends to refined, predominantly Sangiovese reds, showcasing modern winemaking.

Find out more
Colorino

Colorino, a black-skinned grape from Tuscany, is used mainly for adding color to wines due to its deep pigmentation and high tannin levels. Popular in the 1990s for enhancing the hue of Sangiovese-based wines, its importance has waned with improved winemaking and vineyard practices.

Explore the evolution of Chianti Classico: from dated white grape blends to refined, predominantly Sangiovese reds, showcasing modern winemaking.

Find out more

Explore the evolution of Chianti Classico: from dated white grape blends to refined, predominantly Sangiovese reds, showcasing modern winemaking.

Find out more

Explore the evolution of Chianti Classico: from dated white grape blends to refined, predominantly Sangiovese reds, showcasing modern winemaking.

Find out more
The lowdown
Tuscany is no different from any other Italian region; several seismic shifts in viticulture, regulatory oversight, and winemaking have occurred over the past few decades. Understanding the importance of these changes will give you a decisive advantage when selecting your favorite wine.
Ironically, the most important development of the 21st century has been the return to grace of a historic wine style. When the Antinori family launched Tignanello in 1975, the Tuscan establishment foresaw an unstoppable revolution: this Sangiovese and Cabernet Sauvignon blend was infinitely superior to anything produced in the zone before that date. To strengthen their cause, Antinori released Solaia a few years later, a Cabernet-dominant red that ages into graceful beauty after ten years in bottle. Within a few years, a rash of copycat brands were being marketed to consumers tired of austerity and astringency. The appellation was in danger of becoming woefully unfashionable while Super Tuscans marched to victory.
But as the character of these rebel wines became increasingly homogenized, producers seized their chance to reinvent Chianti Classico as a fine wine to be taken seriously. Their mission was aided by a welcome change in the regulations and the identification of higher-quality clones of Sangiovese; a massive replanting program took place in the 1990s, much to the region's advantage. The introduction of the Gran Selezione category was another boon for Tuscany – Riservas, meanwhile, now represent about 20% of annual production. Nevertheless, Gran Selezione remains at the top of the pyramid: all wines are aged 30 months before release and must be sourced from vineyards belonging to the estate. The best examples can rival any Brunello di Montalcino in structure, complexity, and finesse. And they keep getting better.
This is partly due to a more sensitive aging regime. Maturation in 100% new French oak was the last word in Chianti fashion in the 1980s; wines constructed around the flavor and aroma of new barrique can become monotonous with their glossy tannins and cedar/vanilla bouquet. However, as Chianti Classico has learned from its past mistakes – and taken advice from consultants – most of the clumsy and excessive oak influences have been toned down. In 2023, Chianti Classico is an expression of grape and terroir, not wood.
Meanwhile, introducing the Unità Geografiche Aggiuntive (Additional Geographical Units) has answered calls for more terroir stratification in the zone. Today, winemakers can proudly display the name of their vineyard source(s) on the front label, including Castellina, Castelnuovo Berardenga, Gaiole, Greve, Lamole, and Vagliagi. After many years of soul-searching and debate, Chianti's confidence has been fully restored.
Facts & Figures
Key wine styles
Chianti Classico red wines; IGT Super Tuscans
Appellation structure
DOCG Chianti Classico/IGT
Average annual production
2.8 million cases per annum
Approximate number of wineries
Chianti Classico gastronomy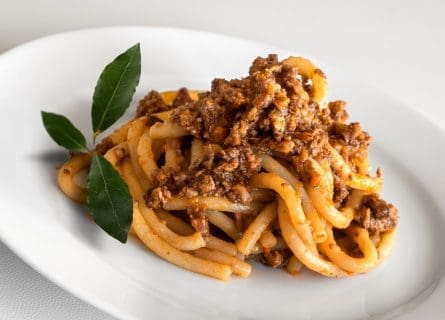 In Chianti Classico, food and drink command equal respect in the region's bucolic landscape, so expect only the freshest seasonal ingredients in the vineyards between Florence and Siena – master butcher Dario Cecchini is something of a celebrity in the village of Panzano. His prized cuts of beef and pork, rubbed with olive oil and fennel seeds, are the stuff of legend in the summer; meat cooked over vine embers has a depth of flavor that cannot be replicated. But there are also the superlative Chianti Classico olive oils, Bistecca Fiorentina, and pici (a type of hand-rolled pasta) to get to grips with. In Tuscany, your food journey never ends.
A Guide to the Gastronomy and Cuisine of Tuscany: Read more
History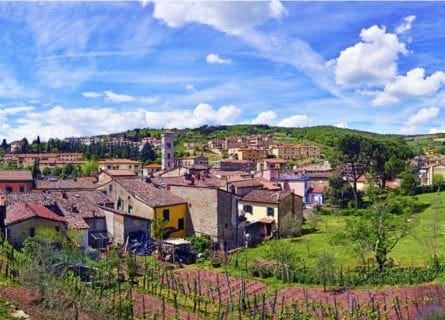 Chianti Classico has been growing vines for centuries since the Etruscans colonized Tuscany in the 9th century BC. For over six hundred years, viticulture and olive plantations flourished in central Italy; historical evidence suggests that the Etruscans built up a thriving export business as early as the 7th century BC, transporting amphorae of sweetened wines (unrecognizable to modern consumers) to the cities of southern Italy and Gaul (France). However, Rome's power reached its zenith in the latter part of the ancient era, and the Etruscan city of Etruria was forced to surrender in 265 BC. Yet this sophisticated civilization refused to be subjugated by Roman bully boys. Feigning compliance, the Etruscans secretly conspired with the Carthaginian General Hannibal, leading to Rome's defeat at the battle of Lago Trasimeno. After that, the Romans were forced to acquiesce to their demands: administrative autonomy in central Italy and the right to self-determination.
In the post-Roman period of the 6th century, Tuscany was conquered by the Germanic Lombards. They held power until the Holy Roman Emperor Charlemagne ejected the Lombards at the behest of the Papacy. At this point in history, winegrowing became a focus for the monasteries throughout Western Europe, although Chianti was seldom consumed outside Italy in the Middle Ages. This is for two reasons: the Alps hindered the transportation of wine to France and Austria, while Italy's neighbors had thriving domestic wine industries of their own. Its heyday came during the Renaissance, the artistic and cultural reawakening of the 15th century. The buildings of Brunelleschi and the paintings and sculptures of artists such as Botticelli and Michelangelo turned Florence into a great artistic capital; many of Chianti's most iconic families, including the Antinoris and Frescobaldis, established their businesses during this period.
Chianti Classico's territorial demarcation was officially established in the 18th century, encapsulating the region stretching between the villages of Radda, Gaiole, and Castellina; the town of Greve was subsequently included. But it was not until the 1800s that Baron Bettino Ricasoli laid down the 'recipe' for making Chianti Classico, advising that a small percentage of additional varieties, including Malvasia and Canaiolo, would help to soften the natural astringency of Sangiovese. The former Italian Prime Minister also distinguished between two forms of Chianti: an easy drinking light red and a more structured version aimed at your cellar.
By the mid-1900s, Chianti Classico was firmly established on the European export map. Yet cash-strapped growers, financially destitute after the Second World War, understandably shifted the emphasis from quality to quantity; Chianti adulterated with Trebbiano Toscano was sold in the eye-catching Fiaschi (straw baskets) that tourists still love. Unfortunately, the wines were often acidic, pallid dross. It became clear that the rules must change, or the zone's producers must make their best wines in their way. This gave rise to the Super Tuscan phenomenon – Cabernet Sauvignon/Merlot blends and Sangiovese matured in new barrique. This led to a massive controversy and the rewriting of the Chianti Classico framework. Thus, its reputation was saved, and today, Chianti Classico is taken as seriously as any Super Tuscan, a fine marriage of terroir, variety, and innovation.
Nearby Charming Towns and Cities
Further Reading: Discover More Related Blog Content
More information
If you would like us to customize an exclusive luxury tour, contact us and let us know your travel plans. We offer luxury food and wine tours for private groups of a mininium two guests. In addition, all of our private, chauffeured tours are available year-round upon request.
Cellar Tours
Welcome to Cellar Tours, the premier Luxury Travel Specialist since 2003. Our goal is to provide you with the ultimate food and wine vacation experience, with exclusive Mercedes chauffeured tours that showcase the best of local cuisine and wines.
Our team specializes in crafting bespoke, custom-designed vacations, events, and incentives tailored to your unique tastes and preferences. Travel is not just about seeing new places - it's about creating unforgettable memories and indulging in the finer things in life.
As members of Slow Food, OTAVA (Travel Agency Association in Spain), and the IACP (International Association of Culinary Professionals), we promote sustainable tourism and support local communities. We work closely with top-rated hotels, restaurants, and wineries to provide you with the highest level of service and attention to detail.
Whether you're planning a romantic getaway, a family vacation, or a corporate retreat, let Cellar Tours be your guide. With our passion for food and wine, extensive knowledge of local culture, and dedication to exceptional customer service, we're confident we can exceed your expectations.
Contact us today to start planning your dream vacation – we can't wait to hear from you!