Perhaps one of the most beautiful wine regions in the world, Chianti Classico Wine Region is an area that has miles and miles of hill topped medieval villages and valleys covered in vines, all between the two beautiful cities of Florence and Siena. The three principal villages in Chianti Classico are "Gaiole in Chianti," "Castellina in Chianti," and "Radda in Chianti," Radda being the most boutique region in terms of upmarket wines (and a lovely quaint village to visit). The region has been making wine for centuries, indeed, since the Etruscans' epoch (over three thousand years ago). During the medieval period, there were vicious battles between the lordships of Florence and Siena, and hundreds of castles and fortresses were built. These historic buildings gradually became luxurious private residences and villas in more peaceful times, and many of them house wineries today.
Visiting
Cellar Tours organizes exclusive luxury Chianti Classico Wine Tours, featuring top producers, privately chauffeured, dining in the best local restaurants, and staying in charming countryside hotels.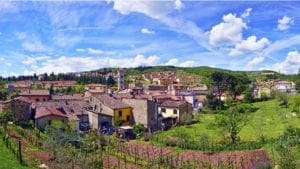 A brief history
The vines and olive trees that cover the region of Chianti Classico now are quite a few hundred years old (there are plenty of 600-year-old olive trees to be found on private estates, monasteries) but interestingly before they were planted, the region was covered with cast oak forests. There are documents dating back to 1398, describing the commercial nature of wine production in the Chianti Classico zone! However, it wasn't until the 17th century that Chianti really gained a name for itself abroad. Most European foreigners even then became familiar with the straw-covered flasks of this rich, red wine. But Chianti has come a long way from those dusty old flasks!
Modern Times
These days, there is seriously stylish Chianti Classico produced, which bears no resemblance to those old straw flasks (used to decorate Italian restaurants across the planet). Wineries such as Badia a Passignano, Isole e Olena, Badia Coltibuono, Felsina, Capannelle, San Felice, Montevertine, Castello di Ama, and San Fabiano Calcinaia are making exquisite wines, predominantly with the Sangiovese grape, one of Italy's noble varietals.
Even Super Tuscans are being produced in this subsection of Chianti (for example, in Castello di Volpaia), uncommon as most Super Tuscans are made in the coastal Maremma region. Chianti wineries gained a bad reputation in the '70s for mediocre wines, and it is true that some wineries still live off the DOCG classification. Still, the wineries mentioned above are true stars and making very inspired wines. The region is a dream come true for those looking for wine tours; it's exactly what one imagines a wine region- ancient cellars, medieval villages, and peaceful scenery.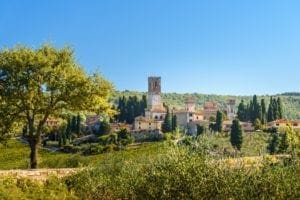 Climate
The climate of Chianti Classico consists of long summers and bitter winters. In summer, it's not uncommon to have blinding heat followed by a nippy evening, and this is said to have huge benefits for winemaking. The soils are tough, perfect for making quality wines. Like in Bordeaux, in Chianti Classico the vines have to fight for nutrients, sending the roots deeper and improving the quality of the grapes yielded. There are approximately 170,000 acres (70,000 hectares) under vine that are registered for DOCG status and over 5,000 producers!
Technical Information
Climate: Continental with cold winters and long, dry hot summers.
Altitude and Aspect: 250-600 meters (with 800 meters in the mountains of Chianti)
Soil Types: Calcareous clay (particularly around Greve), Marl (around San Casciano in Val di Pesa), Limestone (in the central and southern districts of the appellation) and Tufa (mainly around Castelnuovo Berardenga).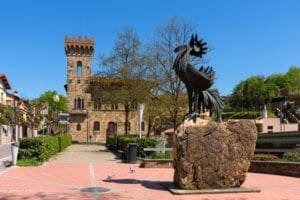 Recommended Wine Producers in Chianti Classico Wine Region