It's a heady experience to be in the center of a bustling French food market – the jostling crowds, good-natured banter, and most importantly, the tables sagging under piles of every conceivable type of product available. From Provence to Burgundy, the Loire to Bordeaux, France has retained its reputation as a gourmet's paradise: Visitors far and wide queue up all year round to sample some of the best meat, shellfish, wild vegetables and herbs, olive oil, truffles, and, of course, wine in the world.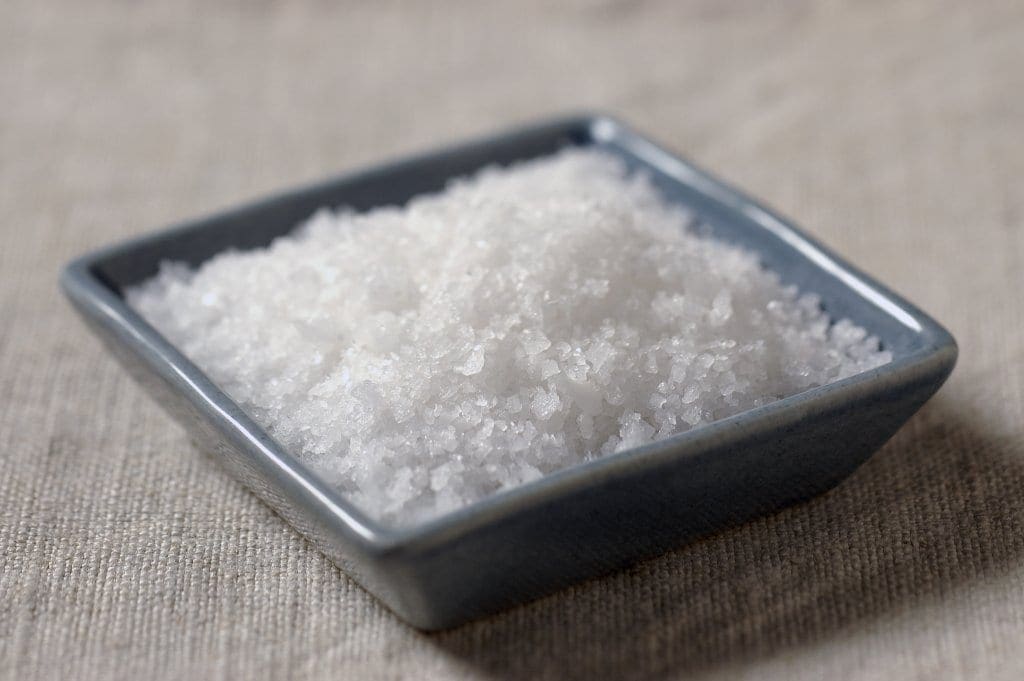 Sea salt from Camargue
But wait – there is an important omission from the list above, for a French product that is also justly revered but perhaps not as famous outside France is the Fleur De Sel de Guérande – the undisputed champion of sea salt. Fleur de Sel, or flower salt in French, is renowned because it is hand-raked and harvested from the salt bed's top layer that collects in large salt pans or marshes in northern France. In contrast, most rock or common table salt is mechanically harvested under industrial conditions, ensuring a low price but little to recommend in high-end culinary terms. Indeed, chefs worldwide regard French Fleur Del Sel as a fine artisan food product, which more than justifies its higher price due to the painstaking labor involved, and perhaps, more importantly, the relative scarcity of the product itself.
If you are interested in discovering more French gourmet delights, check out our French Food & Wine Odyssey Tour.
Today, France has increasingly been given competition from Spain, Portugal, Canada, and even Brazil, who all produce good quality sea-salt from both mechanical and hand-harvested methods. However, the heartland of fine sea salt production remains in the town of Guérande in Brittany, northern France. Other towns in France, including Noirmoutier, Arles, and Camargue in Provence, also make super high-quality salt. However, locals in Guérande would snort that the often mechanically harvested salts from Carmargue are a pale imitation of their beloved Fleur De Sel. And who are we to argue?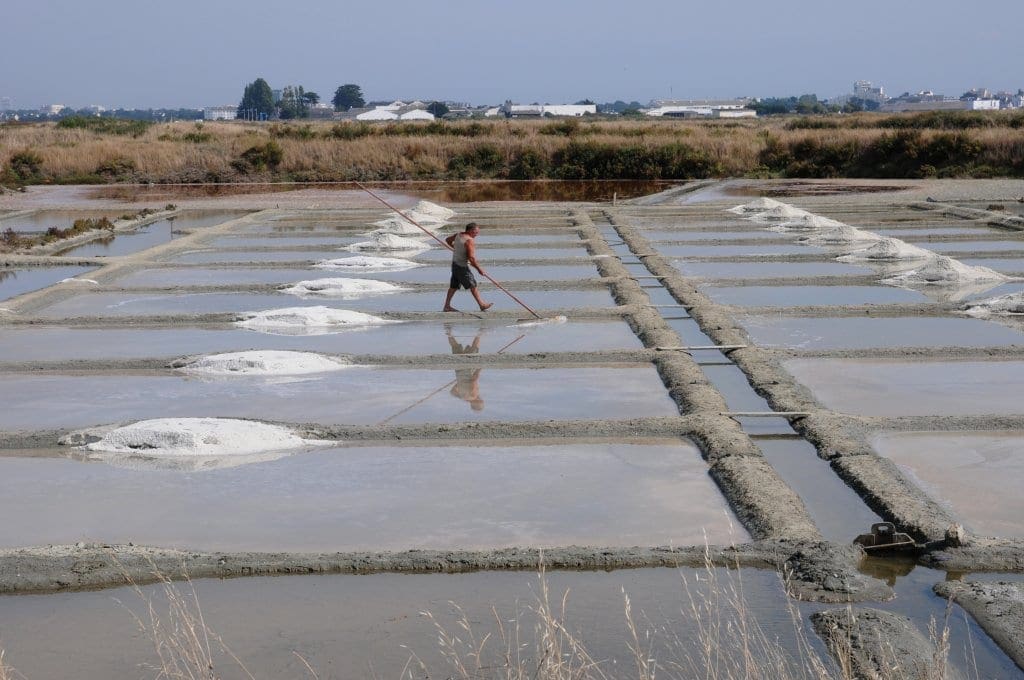 Salt evaporation pond in Guérande
The method by which the Fleur de Sel is harvested has remained largely unchanged over the centuries, albeit modern technology has made mechanical harvesting possible. However, Fleur de Sel De Guérande is strictly hand-harvested; the process starts with Atlantic ocean water being guided into shallow marshes through a series of waterways. Before the raking starts, the water is held in a basin, or vasière, where solid material is removed from the water before it is guided into the marshes – the œillets.
Then, weather permitting, the sun will evaporate the water until it reaches a depth of about ½ inch, and a fine layer of salt will congeal on the surface, ready to be raked. Traditionally, only women known as paludiers were entrusted to carry out this delicate work, but today gender equality has prevailed! When the salt is ready, the paludiers gently skim the water surface with an instrument known as a lousse à de fleur, which should only pick up the purest, lightest salt flakes from the upper layers and not the coarser sel gris which forms in, the lower levels of the marshes. And voila – wonderfully delicate, flavorsome Fleur De Sel is ready for the final drying and packaging stages.
Fleur De Sel has been described as the 'caviar of salts' by leading chefs, and it's certainly true that its flavor and texture is unsurpassed. That said, chefs rarely employ Fleur De Sel directly in cooking; its most common usage is finishing salt on red meat dishes, salads, grilled fish, and as a piquant addition to some desserts. It is simply a wonderful and not particularly expensive way to really enhance your dishes with minimum fuss. For make no mistake, once you try the exquisite taste of good Fleur de Sel, you'll never go back to table salt!
Cellar Tours' Pick of Top Producers:
Fleur De Sel Sac Isle De Re – L Courre
Fleur De Sel de Camargue – Le Saunier De Camargue
Fleur de Sel De Guerande – Le Guerandais
Fleur de Sel de Guerande – Reflects De France
Related Posts: