Wandering through cobblestone streets, lined with royal palazzos and Renaissance palaces, you'd never imagine that many Italian towns artfully disguise vineyards right in the middle of the city. Many of these urban vineyards have managed to survive for centuries, and more and more, they are being rejuvenated and brought back to life. These fascinating and beautiful city vines testify to the historical and cultural importance of winemaking in Italy.
We hope you enjoy our selection of the best and most renowned urban vineyards in Italy:
Vigna della Regina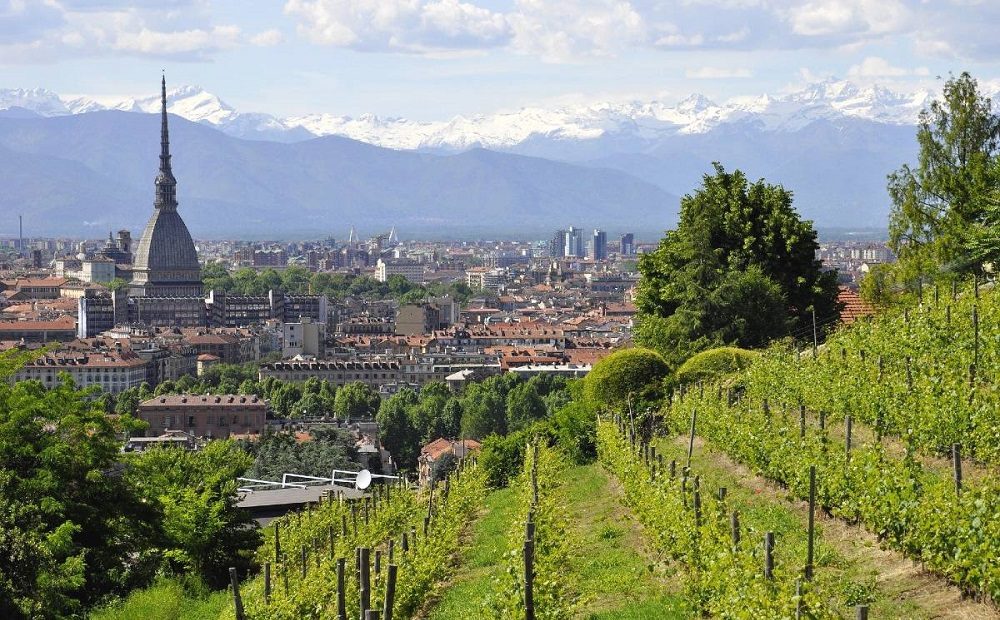 city: Turin, Piedmont
website: www.vignadellaregina.it
Vigna della Regina was created at the beginning of the seventeenth century for Prince Maurizio di Savoia, as part of the park and gardens of the Villa Regina (now a Unesco Heritage site), and is located within walking distance of Turin's historical center, with stunning views of the city as the backdrop. It was donated to the National Institute for the Daughters of the Italian Soldiers in 1867 but was eventually abandoned, fell into disrepair, and became completely overgrown. However, in 2003 a renovation project in cooperation with the Balbiano winery brought the vineyard back to life by planting over 2700 Freisa vines on 0.73 hectares. The first official harvest took place in 2009, and since 2011 the vineyard has been included in the Freisa di Chieri DOC appellation.
Freisa is a native Piedmont grape that you can find in Monferrato and on the hillsides surrounding Turin, and in the northern part of the region. The first evidence of Freisa grape production dates back to the 1500s when it was included in almost all red wine blends, thanks to its rustic and vigorous character. Genetically, Freisa shares a lot in common with the Nebbiolo grape, and you could say it is Nebbiolo's parent. Fun fact: Freisa comes from Latin, meaning strawberry, and Ernest Hemingway wrote about it in Farewell to Arms, calling it a 'clear, red, tannic and lovely' wine.
Vigna della Regina is rich in red fruits, spices, tobacco and licorice aromas, mouth-watering acidity, and tannins that allow long life. Elegant, intense, and structured, it pairs well with game, red meats, aged cheese, and it also goes well with spicy Asian foods.
---
Vigna di Leonardo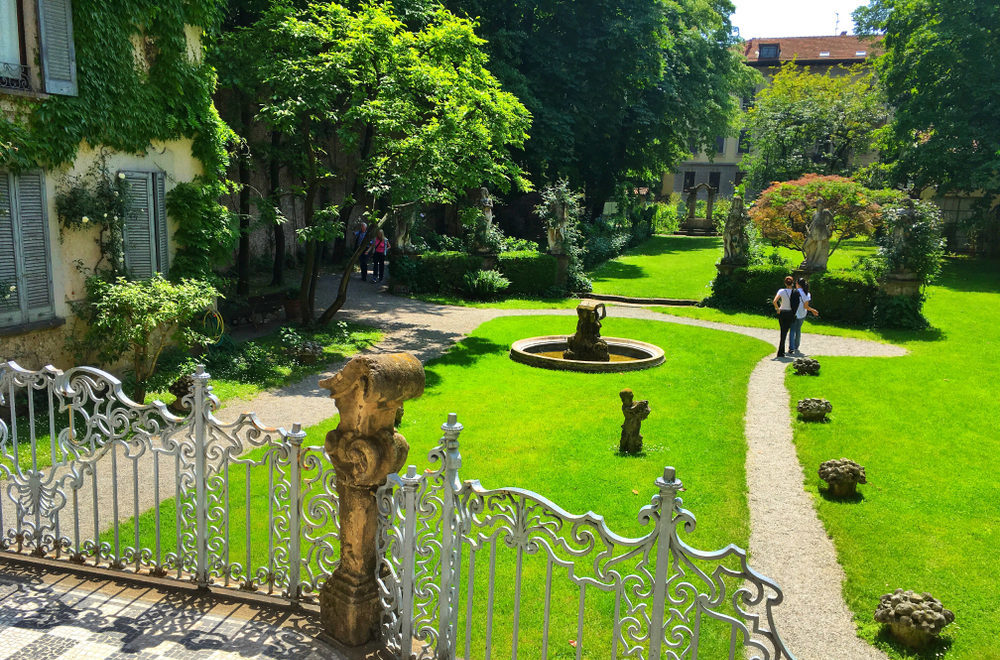 city: Milan, Lombardy
website: www.vignadileonardo.com
In 1483, the one and only Leonardo da Vinci left Florence and the court of Lorenzo the Magnificent for Ludovico Sforza's patronage (called "Il Moro," the Moor, for his dark complexion). Ludovico was the Duke of Milan, and under his rule, he would eventually transform the court of Milan into one of the main cultural hot-spots in Europe. The Duke sponsored Leonardo Da Vinci as the court painter, and in 1495 he commissioned Leonardo to paint his version of The Last Supper. Da Vinci's painting is now one of the world's great art masterpieces and is housed in the Convent of Santa Maria Delle Grazie.
Upon completion of his work, the Duke gifted Leonardo with a vineyard just steps away from the convent where he painted this cultural icon and a short walk from the Duke's castle (Castello Sforzesco)- in the heart of Milan. After the French king Louis XII invaded Milan and staked his claim to the duchy (he was a descendant of the first duke of Milan), Ludovico was imprisoned, and Leonardo fled for Venice. In Da Vinci's will, he bequeathed the vineyard in two parts to his most faithful servant and his favorite pupil. The vineyard survived, and 5 centuries later, it is making wine again, following ancient winemaking methods (such as fermentation and long maceration in underground clay amphora) and using the same grapes grown by Leonardo (including the Malvasia variety of Candia Aromatica). The first harvest since rejuvenation was in 2018 in conjunction with the University of Milan and the Castello di Luzzano winery. La Vigna di Leonardo runs the museum you can visit right at this extraordinary urban vineyard.
---
Vigneto Pusterla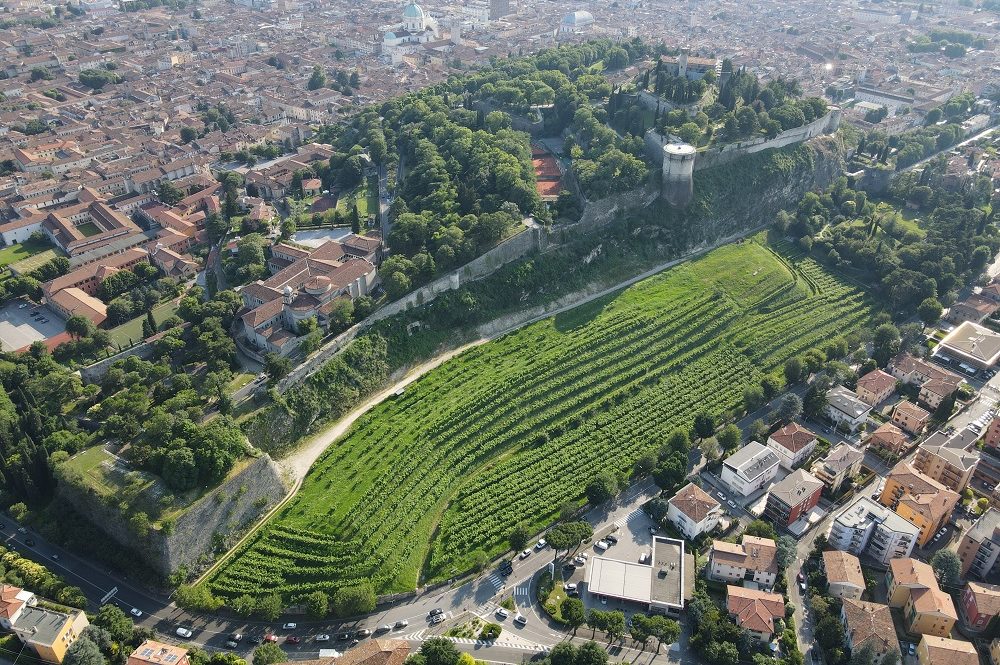 city: Brescia, Lombardy
website: www.vignetopusterla.com
This is the largest working urban vineyard in Europe (almost 4 hectares), and Winston Churchill was purported to be a great enthusiast of the wine produced here. The vineyard is located in pretty Brescia on the hillside surrounding the medieval castle, near the city's historic center. The vineyards date back to the 11th century when the cloistered Monastery of Santa Giulia was granted the rights to grow vines by Emperor Conrad II.
Over the years, the vineyard's wines have won many awards, including the International Exhibition of Vienna in 1873, the gold medal at the Exhibition of Brescia in 1904, and a gold medal at the oenological competition of Asti in 1966. The vineyard is cultivated with the original 80 to 100-year-old Invernenga white grape vines, using a pergola training system.
In 2020 Monte Rossa Winery of Franciacorta purchased the vineyards from the Capretti family, who were involved in the vineyards since the 1940s. Monte Rossa is now producing a unique wine called Bastione Pusterla in magnum-sized bottles.
---
Vigneto Venissa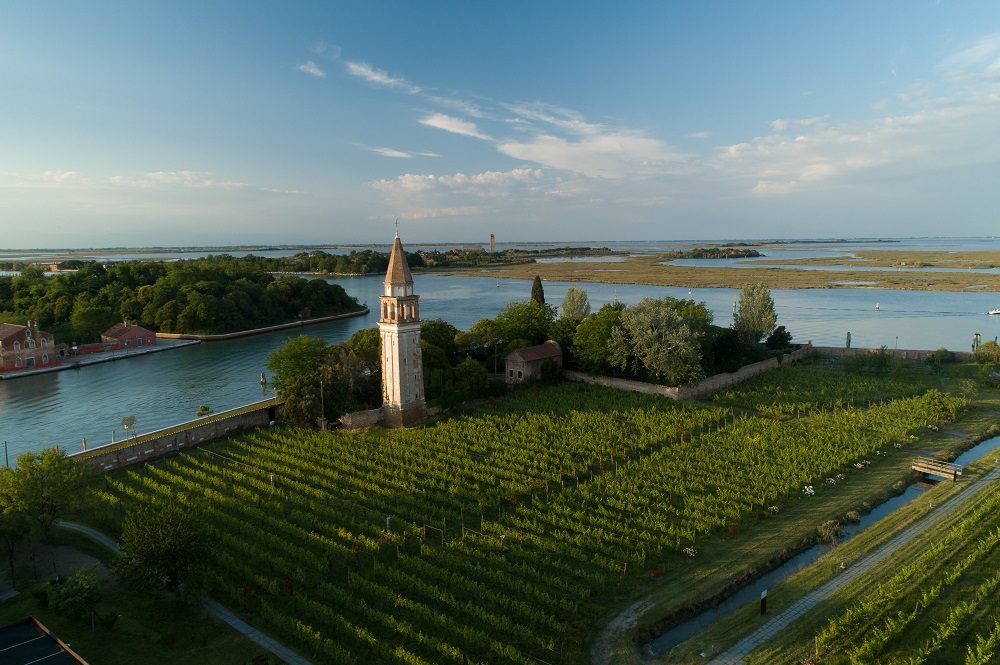 city: Mazzorbo island, Venice
website: www.venissa.it
Venice has a great winemaking tradition. Many of its small squares were cultivated, and that's why the name campo (Italian for field) is used in Venice to mean "piazza." St Marks square had vineyards right up to the 12th century, and many of the lagoon islands had working vineyards up until the great flood of 1966.
In 2002 Gianluca Bisol, owner of the Bisol winery, an award-winning produced of Prosecco, rediscovered an indigenous white grape variety, Dorona di Venezia, that has adapted to the salty conditions of the Venice lagoon. In cooperation with Gastone Vio, a local farmer and winemaker, they planted 88 Dorona di Venezia vines on the island of Mazzorbo in the Venice lagoon. With winemakers Roberto Cipresso and Desiderio Bisol, they created the white wine Venissa with a red wine's body and structure. Their first vintage was in 2010, with a limited production of 3500 bottles, made by the famous glassworks of Murano and adorned with inlaid gold leaf. Also of note is the vineyards on Santa Cristina's island, producing wine using Cabernet and Merlot grapes.
---
Gastone Vio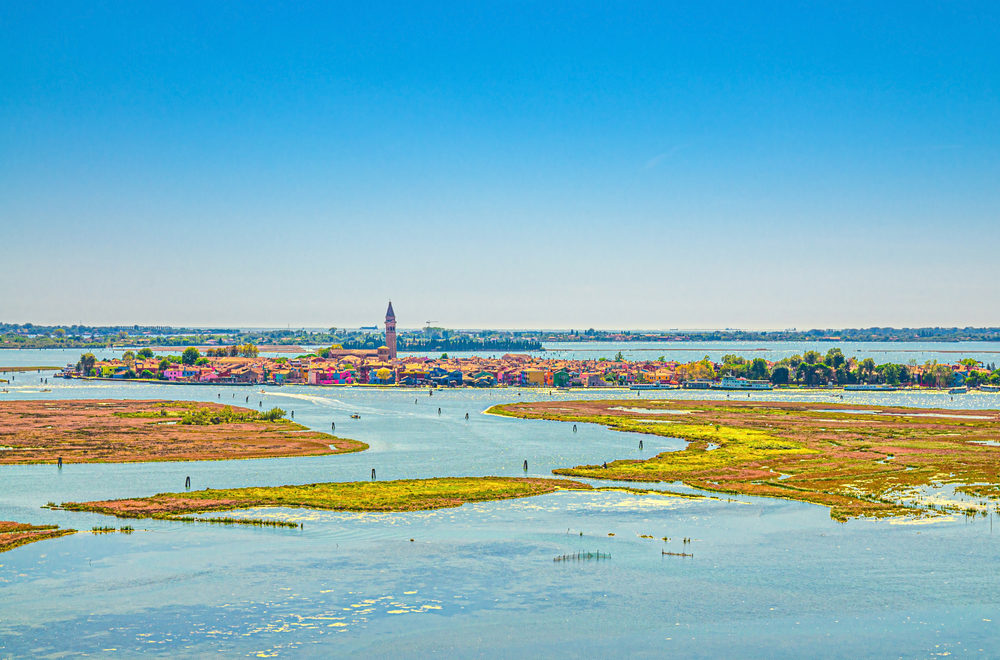 city: Sant'Erasmo island, Venice
The aforementioned Gastone Vio is known locally in Venice's lagoon islands as the "King of native grapes." He is the only vintner whose plants survived the 1966 floods. He cultivates the Dorona grape (mentioned above) and Riesling, and several variations Malvasia, Glera, Verdisio, and Boschera. He has 100 plus-year-old pre-phylloxera vines in his vineyards on Sant'Erasmo island, called "Venice's vegetable garden." This island is famous for the Carciofo Violetto, a local dark purple variety of artichoke, tender, spiny and elongated in shape, and its apical buds called castraure, a real Venetian delicacy. Gastone's wines are hard to find, but you can taste them at La Mascareta wine bar in Venice or by contacting the association Laguna nel bicchiere .
---
L'Orto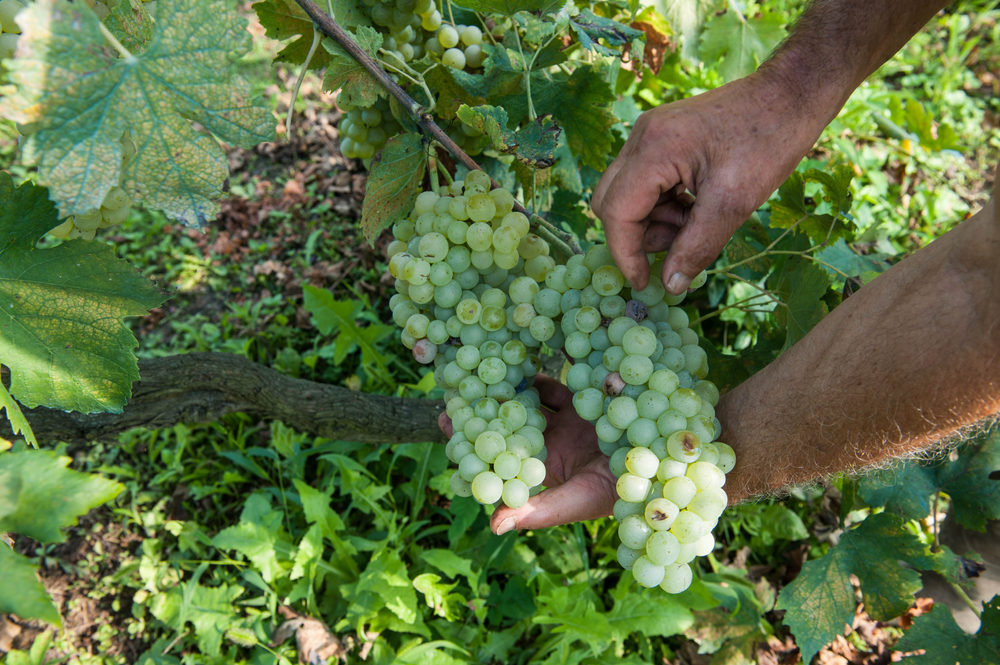 city: Sant'Erasmo island, Venice
website: ortodivenezia.com
Michel Thoulouze, from the Languedoc in France and with a background in television production, fell in love with the Venetian lagoon about 15 years ago. Over five years of using traditional local farmers' methods for drainage, Michel worked together with the mythical Burgundian Romaneè Conti's agronomist (soil scientist) Claude Bourguignon and Crozes Hermitage's Alain Graillot to prepare the soil for the cultivation of ungrafted Italian native grapes Malvasia Istriana, Vermentino, and Fiano.
Michel makes one white wine, L'Orto, mainly made with Malvasia Istriana. Elegant and opulent, it has intense saline and mineral characteristics. Rich in texture, it also has hints of tropical white fruit, orange blossom, and white pepper.
---
Vigna di San Martino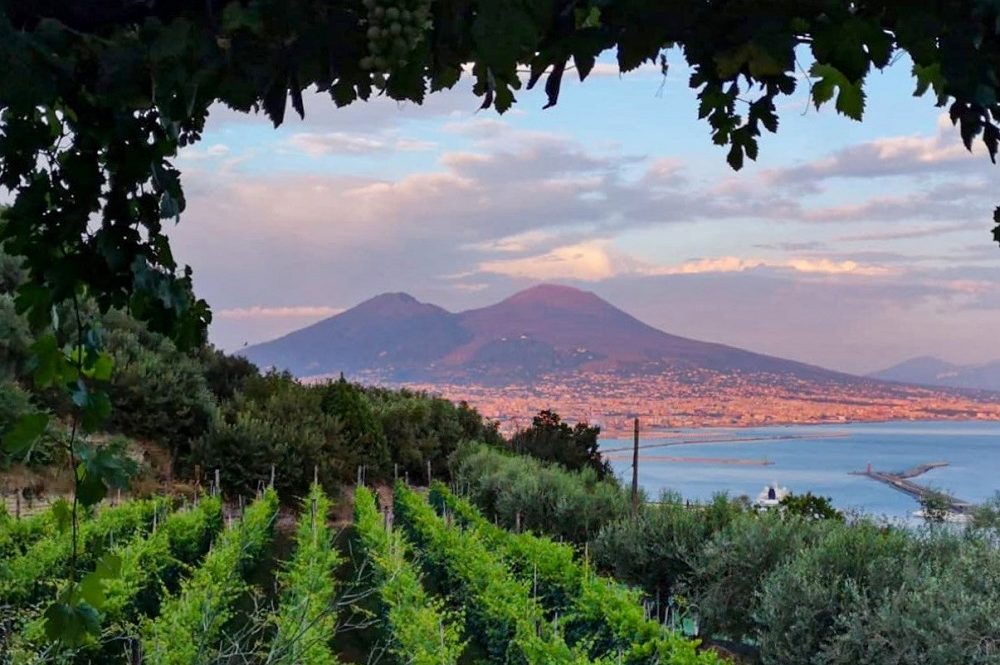 city: Naples, Campania
website: www.facebook.com/piediperlaterra.it | www.piediperlaterra.com
Behind an ordinary gate on bustling Corso Vittorio Emanuele 340, walk up a gentle hill and be transported to another world. You'll find the amazing, peaceful San Martino vineyard incredibly right in the heart of the intense, chaotic, and wonderful metropolis of Naples!
Dominated by the twelfth century Certosa di San Martino (former monastery, now a museum) and the sixteenth-century Castle Sant'Elmo, the vineyard is part of a 7 hectares estate cultivated with citrus and fruit.
After the unification of Italy, it was confiscated from the monks and sold; however, in 1988, the estate was purchased by Giuseppe Morra and is now managed by the nonprofit organization Piedi per la Terra.
The grapes cultivated are all local, including Falanghina, Aglianico, Piedirosso, and Catalanesca. The estate makes one red and one white wine, plus a terrific olive oil.
The views from here are amazing. On a clear day, there are spectacular vistas of the dazzling Bay of Naples, Mount Vesuvius, Capri, Posillippo- all from the unique perspective of silver-green olives trees and vines.
Check out their website or Facebook for organized vineyard trekking, events, tastings, and a fun harvest experience.
---
Vigna Villa dei Misteri
city: Pompeii, Campania
website: mastroberardino.com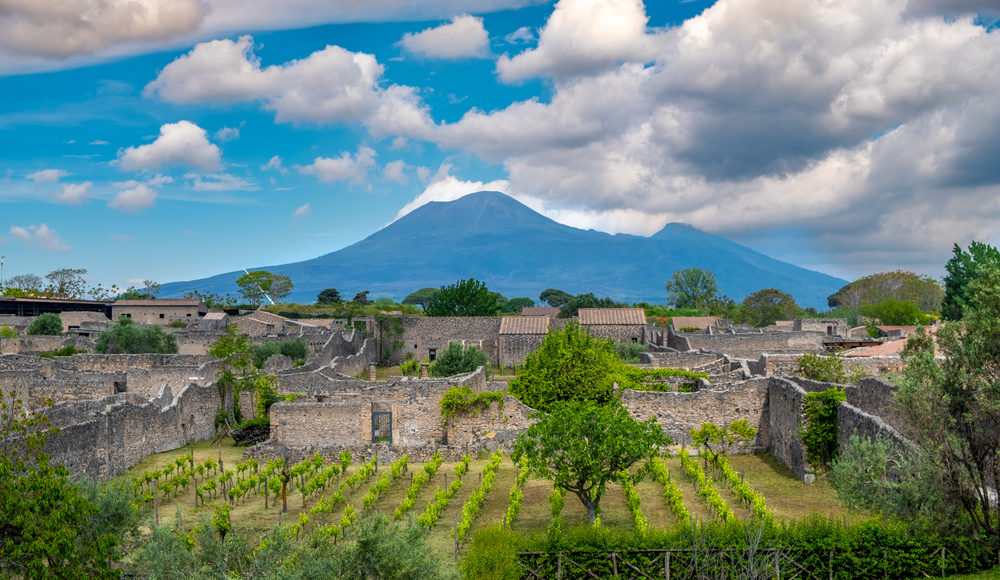 The Villa dei Misteri project started in 1994 when some grape seeds and vine roots cast were discovered while excavating in the amphitheater area of the archaeological site of Pompeii. Thanks to advanced DNA research, Falanghina, Coda di Volpe, Greco, Aglianico, Piedirosso, and Sciascinoso grapes were all identified, confirming that vines were cultivated and wine produced right in this Ancient Roman town.
In cooperation with the prestigious Mastroberardino winery, an experimental vineyard was planted in 1996, using the red grapes, totaling one hectare. Several research projects have been undertaken over the years, especially about the training systems used before Mount Vesuvius's eruption in 79 b.c.
The first harvest was in 2001, and 1721 bottles were produced and auctioned in Rome, with all the proceeds going back into the project. The project was expanded, and today there are over 1.5 hectares under vine. Mastroberardino still manages the vineyards and has restored an ancient cellar true to its original structure.
Villa Dei Misteri wine – named after one of the most famous Domus of Pompeii  – is part of Mastroberardino's wine range. Until 2010 it was 90% Piedirosso grape and 10% Sciascinoso grape, and starting from the 2011 vintage, the blend has become 40% Aglianico, 40% Piedirosso, and 20% Sciascinoso. The wine is bold, rich, and complex, with elegant and fine tannins. On the nose, spicy notes, red berries, vanilla, tobacco, and ripe prune. It pairs well with game, pot roast, aged cheese and can stored for a very long time.