Collectors and oenophiles would place Hermitage in the same category as Latour and La Tache; gloriously complex reds that justify their hype. The vineyards, situated on the eastern bank of the Northern Rhône, yield Syrah wines of incomparable strength, virility, and power.
Yet Hermitage has a very close neighbor that also merits further inspection. Crozes-Hermitage may lack the fame of its older sibling, but the wines are both excellent and wonderfully affordable. The appellation is far more than simply a pale imitation of Hermitage. It is worthy of the same respect.
Geography and terroir
Located in southeastern France, the spectacular Northern Rhône region is home to several important red wine appellations, including Crozes-Hermitage. With the exception of Condrieu, Syrah is the key grape variety, occasionally blended with a dash of Viognier or Marsanne/Roussanne. Vines are cultivated on both sides of the river, flowing from the Swiss border to the Mediterranean sea. The continental climate, defined by warm summers and cool winters, suits Syrah down to the ground.
Winegrowers increasingly chase phenolic ripeness, but not excessive maturity levels, as this can cause the pH to skyrocket. The result is a forgettable, soapy, and blowzy wine. Fortunately, this only occurs in the most anomalous hot vintages, like 2003. In most years, winemakers harvest a healthy crop of grapes with savory tannins and good acidity. Freshness, balance, and poise are the key objectives in the Northern Rhône, rather than high alcohol and lush concentration.
Crozes-Hermitage is no exception to this rule. The vineyards extend 10 miles north and south of the villages of Tain and Hermitage itself – Crozes is found to the north of the Hermitage appellation boundaries. The area under vine has expanded considerably in the 21st century, as exorbitant land prices encouraged investors to target less prestigious appellations. As of 2022, there are over 1700 hectares planted, surrounded by pretty cherry orchards that give the landscape a timeless and uniformly tranquil quality.
However, the terroir is far from homogeneous. Generally, the most fruit-forward, structured, and bright styles are made in the loess soils in the northern half of the zone, while further south encounters flatter terrain and lower altitude. The alluvial plain south of the village can occasionally be too fertile for high-quality wine production, although certain growers are regrettably happy to overlook that fact. The trademark style of the southern half of Crozes-Hermitage is soft and approachable red wines with black fruit and moderate acidity. A small amount of white wine is also produced in the appellation, based on a marriage between Marsanne and Roussanne.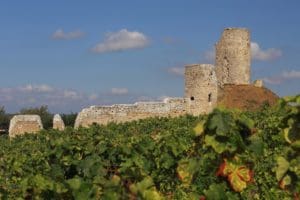 Visiting
Explore the Rhône valley region with Cellar Tours on a Luxury Food & Wine Vacation. You will dine in the best local restaurants and enjoy VIP tastings at the top wineries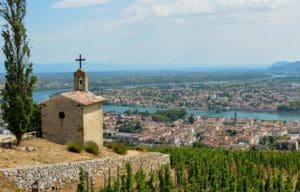 Wine Style
It isn't easy to pin down red Crozes-Hermitage, due to the variances in terroir and winemaking. Tasted blind, the best labels can fool critics into believing that Hermitage is sitting in their glass. Top cuvées will balance approachability with structure, offering aromas of dark fruit, garrigue, pepper, and a touch of damp earth. The palate should be generous but not one-dimensional, supported by firm yet ripe tannins. Freshness and vibrant acidity are obligatory elements in all good Crozes-Hermitage.
However, many growers are marketing very soft and fruity red wines for early drinking – this is no bad thing. However, not every wine style has to be 'serious,' and, more importantly, the emerging generation of oenophiles are not necessarily endowed with endless patience. Infused with youthful, supple red fruit, this style of Crozes-Hermitage can be enjoyed slightly chilled. Try it with grilled lamb chops and charcuterie. Then, your evening will be complete.
White Crozes-Hermitage can also be exceptional, albeit it can be challenging to find, as relatively little is exported. Jean-Luc Colombo produces a very good example, typically based on equal parts Marsanne and Roussanne. Its decadent flavors of honeysuckle, white flowers, and tarte au citron are moreish beyond belief. The style is rarely expensive.