The destinies of Vermentino and Sardinia have long chartered a parallel course. Until recently, this beautiful island (widely adored for its spectacular landscape and pristine beaches) had little clout in the fine wine department. Indeed, a flurry of government-subsidized plantings in the 20th century did little for the island's reputation; Sardinia was covered in high-yielding red varieties, used to provide alcoholic firewater that was shipped to mainland Italy, France, and even Germany! If tourists wanted a crisp, dry white to offset the balmy summer heat, their options were limited. The small volume of Vermentino wine produced was stale, rustic, and utterly forgettable.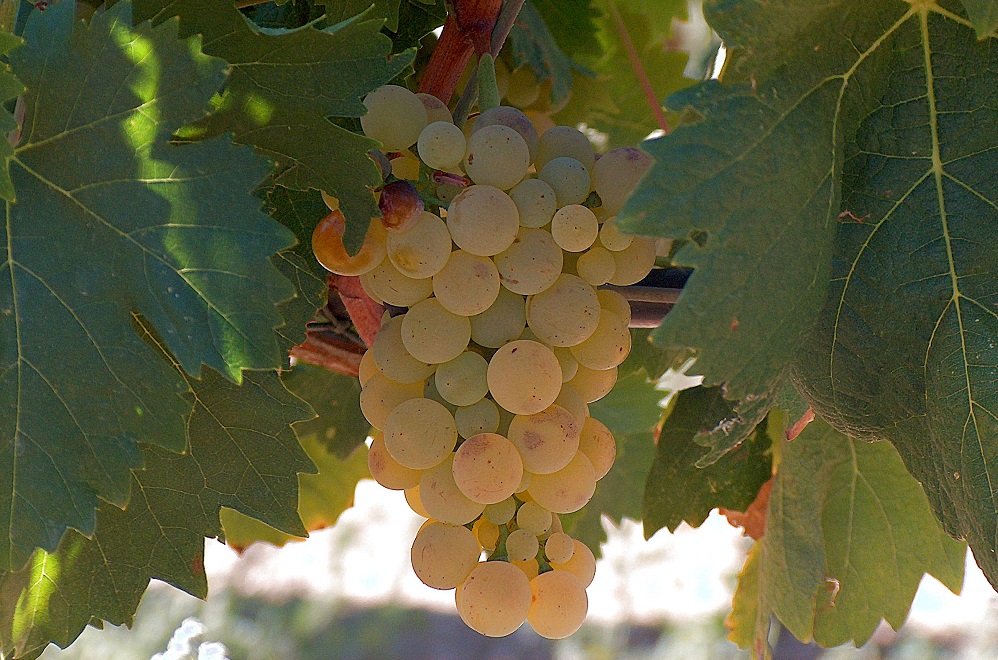 But no longer. A combination of significant investment and an influx of new talent has bequeathed Sardinia with one of Europe's finest dry whites: Vermentino. Seductively textured, crisp, lemony – Vermentino is Sardinia's greatest gift to the wine world. Increasingly popular in the bars of London, New York, and San Francisco, Vermentino is now made – with great skill and panache – in Tuscany, Liguria, and the hills of Piedmont. It is just what Italy needs to prosper in a fiercely competitive and demanding age. A white wine for all seasons, occasions, and gastronomic eventualities.
History and viticulture
Sardinia is one of the Mediterranean's most enchanting islands. Its verdant forests, perfect beaches, and undulating vineyards cannot fail to make an impression on the millions of visitors who arrive each year. However, first and foremost, Sardinia is all about the good life. So when your waiter presents a fresh plate of sea urchins, followed by spit-roasted suckling pig and a chilled glass of Vermentino, you'll know this to be true.
The island is also blessed with a rich and fascinating history. Before the Mediterranean's first civilizations set foot on the island, Sardinia hosted a thriving neolithic community of nomadic tribes who probably emigrated from Italy several centuries earlier. These tribes enjoyed their isolation until the arrival of the Phoenicians in the 9th century BC. A great civilization of independent city-states – the Phoenicians never regarded themselves as a single nationality – they were responsible for establishing lucrative trading colonies across western Europe, north Africa, and the Levant. Meanwhile, one of their most successful colonies, Carthage, grew into a major civilization in its own right. The Carthaginians took Sardinia for themselves in the pre-Roman era; however, they were severely weakened following the bloodshed of the Second Punic War. When the mighty Romans conquered mainland Italy in the 3rd century BC, they also took over Sardinia. Winegrowing played a central role in island culture during this period, a legacy that endured even despite the collapse of the Western Roman Empire in 476 AD.
However, it is impossible to say whether the Romans introduced Vermentino to the island or whether it is indigenous to Sardinia. For many decades, there has been a fierce debate about the grape's origins; many different theories are touted, including the belief that ancient Greeks introduced the variety to Italy after extracting it from the Middle East. Other viticulturists, meanwhile, insist that it is an autochthonous grape of Spain. Nevertheless, we know for certain (thanks to DNA sequencing) that Vermentino is identical to the white grapes Pigato and Favorita – found in Liguria and Piedmont, respectively. Vermentino is also found in the south of France, although growers prefer to use the local synonym Rolle to describe the grape. By the Middle Ages, Vermentino is thought to have been a common sight in Sardinia and western Europe – the church strictly controlled wine growing during this era.
Nevertheless, the political situation remained volatile. After the fall of the Roman Empire, Sardinia was divided into four independent kingdoms known as giudicati in Italian. Yet by the 1200s, the Pisans of Tuscany and the Genoese laid claim to the rich fertile lands of Sardinia. But, even their combined might could not stop the armies of Aragon from conquering Sardinia, in addition to southern Italy. For four centuries, the island was ruled as a Spanish territory following the unification of the Spanish kingdom in 1479. This is why many of Sardinia's vine varieties are Spanish in origin, not least the local hero Cannonau (Grenache Noir). Unfortunately, as Spain's power dwindled and the nation lost control over its colonies in the New World, so too did Sardinia's fortunes crumble. Sensing a golden opportunity, the House of Savoy took control over Sardinia in the 18th century. However, over a hundred years before, the island became part of a united Italy, following the campaign spearheaded by Vittorio Emanuele, King of Sardinia, from 1849 until he became king of Italy.
Yet, although Sardinia benefited from an enhanced trading relationship with mainland Italy, a premium-orientated wine industry did not develop until the late 1900s. A rash of new plantings in the 1950s flooded the market with super-ripe red wines: about as subtle as a fluorescent BMW! However, as international competition increased exponentially in the latter half of the century, the Sardinians realized that focusing their efforts on cheap plonk was not sustainable. During the 1980s, the local government 'bribed' growers to rip out their productive vines and replace them with smaller quantities of high-quality grape varieties, such as Vermentino. Over time, Sardinia's total vineyard shrank by approximately 70%, much of it concentrated in the fertile south.
Today, regions such as Gallura and Argiolas are hotbeds of innovation – both in the vineyard and winery – and excitement. Growers have mastered the Vermentino grape in Sardinia, although it is not particularly difficult to cultivate. According to the winemaking team at Tablas Creek, "It is vigorous, productive, resistant to drought, and ripens early in the harvest cycle." Yet it can be sensitive to spring frost attacks, as the variety tends to bud early in Sardinia. Vermentino is also susceptible to downy mildew, a malady that is only really an issue during wetter vintages.
Winemaking
Vermentino asks very little of the winemaker, yet it delivers a great deal. The grape is celebrated for two main reasons: it maintains good acidity in warm climates and is very malleable and flexible. As a result, the styles of Vermentino can vary dramatically; however, winemaking is only part of the equation. The harvest date will also have a decisive impact on the final wine style: early-picked berries tend to deliver light-bodied wines of real charm and finesse. The fruit is typically fresher and leaner, with citrus, melon, and grapefruit notes. Therefore, many of Sardinia's finest Vermentino wines are fermented in stainless steel to maintain aromatic potency and freshness. It is a winemaking philosophy adopted worldwide: grapes are harvested and treated with sulfur to prevent oxidation, usually when pressed. This is always done with gentle precision to release only the purest free-run juice. This must is then transferred to a settling tank, where the temperature is lowered, and solid material will sink to the bottom.
The wine is then subject to cool fermentation in stainless steel. This is the most reliable method of producing a fruit-driven and aromatic white wine – the antithesis of the rustic plonk that defined Italian whites in the 1950s and 60s. Certain producers, such as Tuscany's Montecalvi, age their wines on the fine lees for a short time to enhance the structure and mouthfeel. A carefully timed period of skin contact is also practiced by the winemaker at Montecalvi, macerating a percentage of the juice on the skins. This can greatly increase a wine's complexity if done with skill. However, it is a controversial technique when handling aromatic varieties, as excess skin contact leads to rank and oily mediocrity in the cellar. In addition, some producers favor a very late harvest when making Vermentino. The berries often picked in October, tend to yield a richer fruit profile, with tropical notes of guava, pineapple, and a touch of garrigue on the finish. Finally, the most expensive cuvées may be fermented and/or matured in barrique, bringing a whole new dimension to Vermentino. But, as ever, too much new oak will spoil the wine.
A grape for all seasons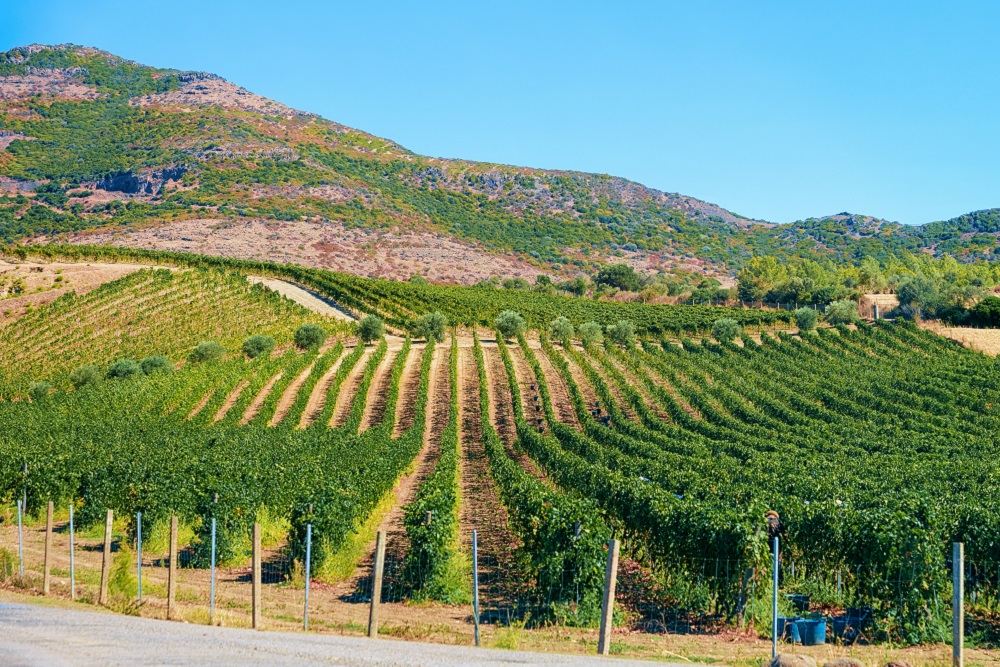 Sardinian vineyards
In the rocky, arid plains of northeast Sardinia, a small firmament of growers create bottled poetry; granted, the island does not have a monopoly on superlative Vermentino wines – Bolgheri, Piedmont, and Liguria can all lay claim to a tradition of cultivating this grape. Yet there is something very special about the vineyards of Gallura. Local producers will tell you that it is a unique combination of the summer heat and Mistral winds that are behind it all: the most concentrated and saline Vermentino in western Europe is made here. Such is the renown of the terroir that Vermentino di Gallura was bestowed the honor of a promotion to DOCG status, awarded in 1996.
Today, there are approximately 1100 hectares under vine, with noticeable variances in elevation across the zone. The vineyards are situated within the province of Olbia, planted on free-draining sandy soils that share the landscape with granite outcrops and olive, cork, and fig trees. Some of the most celebrated wines come from high altitude sites, endowed with a favorable position that benefits from the vital cooling sea breezes. It is the primary reason Vermentino di Gallura, despite the torrid summer heat, is so reliably fresh and brimming with ripe acidity. Moreover, the timing could not be better: the style's revival coincided with a global demand surge for aromatic dry whites.
But when should I open a bottle, you may ask? The clichéd answer calls for summer drinking, the perfect aperitif; as a precursor to a banquet of fruit de mers. However, if truth be told, Vermentino is a grape for all seasons and contexts. Friends of ours like to drink this marine-scented nectar in the depths of winter, served with roast chicken and parsley sauce. Others prefer to quaff glass after glass in the heat of July before reaching for a second bottle to accompany their Cruxionis de Arrascottu: ravioli filled with sheep ricotta, saffron, and lemon zest. Thus, there is never a wrong time to open a bottle of Vermentino. The only problem is knowing when to stop enjoying this wonderfully moreish and inimitably refreshing piece of Italian magic. Be warned: it is as addictive as Sardinia itself.
Top producers of Vermentino wines: