The world of wine is not a democracy: certain varieties produce heavenly nectar, while others can only deliver a mouthful of acidic dross. Fiano lies in the former category – this piece of Campanian history continues to seduce critics and sommeliers with its complex bouquet, racy acidity, and silky texture. It could even be said that Fiano is the greatest white grape of southern Italy, although advocates of Falanghina may well disagree.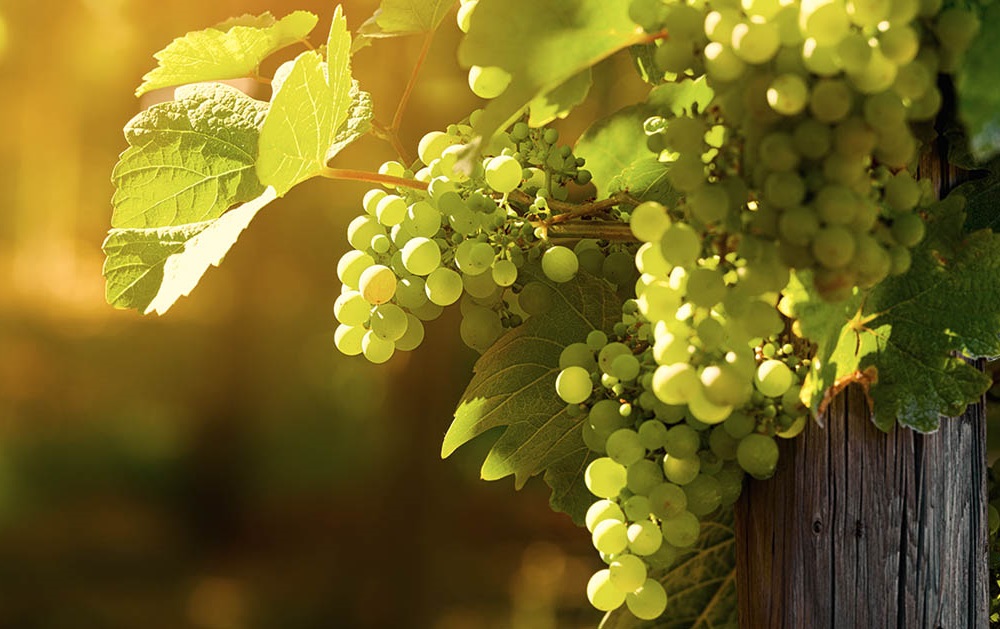 All of which makes it difficult to understand the apathy that defined local attitudes to indigenous varieties 50 years ago. Indeed, to sip a glass of chilled Fiano on a warm summer's evening in Positano is to enter paradise; who could feel indifferent to this marvelous grape? Yet a confluence of economic and cultural factors pushed Fiano to the brink of extinction in the late 1900s. Thankfully, a small band of progressive winegrowers decided to champion the variety, increasing the area under vine and taking advantage of modern vinification methods and equipment. Campania has not looked back since – Fiano is the height of fashion in 2022.
History and viticulture
There is a reason why historians find Campania irresistible; the province is one big outdoor museum with countless reminders – including amphitheaters and temples – of Italy's ancient past. Inhabited by the Etruscans, Greeks, and Romans, viticulturists believe that many of the region's autochthonous grapes, such as Fiano, were introduced by Greek settlers. In this pre-Roman era, viticulture thrived across the western Mediterranean, and a practice continued by the Romans after they consolidated their hold over Campania Felix (the fertile land). Adopting Fiano as one of their most prized vinous treasures, the Romans used the variety to make a sweet wine called Apianum, based on vines grown above the village of Avellino. Or, at least, this is the theory propagated by several historians; Apianum was based on a grape known as Vitis Apiana, derived from the Latin word for bees. This is believed to be the ancient word for Fiano, a variety today renowned for attracting large swarms of bees in the vineyards of Campania and Sicily. According to growers, Fiano's sweet smelling must send them wild with excitement!
However, the stability of the Roman Empire was fated to collapse. Campania was a strategically important prize in southern Italy, attracting several competing powers after the Fall of Rome in 476 AD. In the wake of countless skirmishes and turf wars, the Normans finally claimed ownership of southern Italy, creating the Kingdom of Sicily. However, their hold on the island was always tenuous due to the rebellious and proud nature that continues to define Sicilians today. In the 1200s, Sicily broke away from this relatively nascent political entity, while Campania was eventually subsumed into the Kingdom of Aragon. As a privileged member of the emerging Spanish Empire, the region benefited from enhanced trade and other economic favors. For the agricultural community, times were good. This period of (overall) peace and prosperity lasted until Campania was absorbed into the Italian state in 1861. In the second half of the 19th century, the phylloxera louse did untold damage to the wine industries of western Europe, particularly in Bordeaux and the Rhone Valley. Accidentally imported from the US – unwitting botanists transported the first insects via plant cuttings – it soon spread from southern France into Bordeaux, Rioja, and beyond. Yet from one perspective, Campania emerged relatively unscathed in the early 1900s. This is due to the natural advantage of volcanic soils – phylloxera cannot survive on this sandy terrain.
Yet the early and mid-20th centuries saw a period of dramatic cultural change in the vineyards of Campania. For all its virtues, Fiano is a variety that generally produces a small crop, especially if the vines are of advancing years. As a result, cash-strapped growers ripped up large swathes of Fiano in the 1950s and 60s, replacing it with the high-yielding Trebbiano and even Sangiovese. Meanwhile, the advance of international styles like Cabernet Sauvignon was continuing apace; indigenous grapes fell out of fashion during this time. Fortunately, pioneers such as Antonio Mastroberardino saw this as folly – the late winemaker was instrumental in saving the reputation of Fiano and other varieties, later joined by the owners of Feudi di San Gregorio. Harnessing all the benefits of temperature control and stainless steel, Mastroberardino produced a style of Fiano that delighted critics and shocked Campanians. This became the catalyst for a surge of interest in the grape, inspiring growers from Sicily to McLaren Vale to import Fiano cuttings.
Nevertheless, cultivating Fiano is not for everyone. In difficult vintages, mature vines will deliver a yield considered economic suicide among volume-led producers; even young plants seldom crop at high levels. But, of course, there is an upside to this reticence: small, thick-skinned berries packed full of aromatic compounds and ripe acidity. This is the real beauty of Fiano: the grape can maintain good acidity levels even at full ripeness. In the hot climate of southern Italy, that attribute is indispensable. Moreover, the vine's loose bunches allow plenty of air circulation, ensuring that fungal diseases are a rare commodity in this part of Europe.
Winemaking
Like Falanghina and Vermentino, Fiano is a most adaptable and malleable grape variety. But while much depends on the terroir and climate, winemakers also have an important role in defining what emerges in your glass. Some adhere to a philosophy emphasizing primary fruit flavors – achieved via a cool fermentation – while others prefer to bring Fiano's structure to the fore. The only point of (overall) agreement coalesces around the use of new wood – the critical mass regard barrique as detrimental to the wine's aromatic profile and terroir character. But, of course, there are always exceptions to the rule.
Feudi di San Gregorio leads the way in advocating a 'fruit first' winemaking panacea. After arriving at the winery, the bunches are sorted and chilled to preserve freshness. The berries are then gently pressed to release fragrant and colorless grape juice, which is fermented in stainless steel tanks. Sulfur will have usually been added by this point to prevent spoilage and oxidation; a slow fermentation, undertaken at low temperatures, yields a very fruit-driven and aromatic style of white. After the primary fermentation has concluded, malolactic (converting malic to lactic acid) may occur if the producer is worried about excessively high acid levels. The wine is then matured on its fine lees for several months, benefiting flavor and texture. These dead yeast cells are full of amino acids and peptides that impact the style of still and sparkling wines. The result: a racy and saline white, with aromas of citrus, stone fruit, and fennel. Meanwhile, bottle age will bring forth all tertiary flavors – honeysuckle and pine nuts are the most attractive.
Yet some growers eschew freshness for complexity, typically by employing a certain degree of skin contact. This increases phenol extraction from the skins, creating a more robust and fuller style of Fiano with an exotic bouquet of blood orange, pineapple, and guava. Such wines can offer more body and depth, but excess skin contact can lead to bitter flavors and astringency. However, the best examples are powerfully structured white wines, able to match various dishes. Our top choice? Fiano with langoustines cooked in coconut milk, fenugreek, and tamarind.
Flying in all directions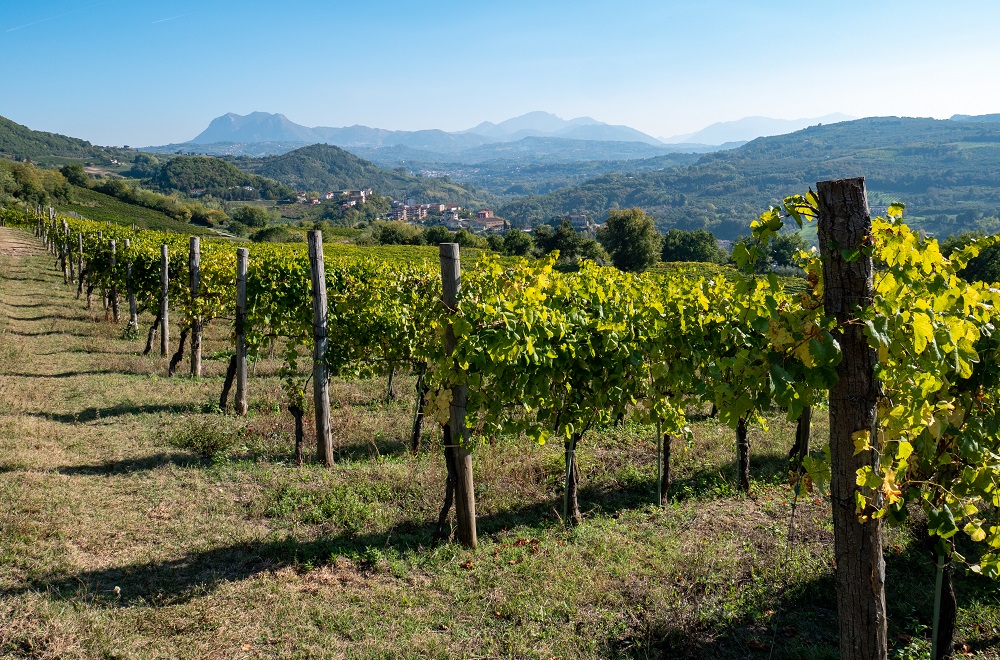 Beautiful vineyards near Irpinia near Naples

After a slow start, this wonderful grape is making waves across Europe and the New World. Increasingly championed by growers in Australia and California, Fiano's 'magic trick' is its ability to seduce all that come into contact with it. Producing minerally, firm, dry whites with an abundance of floral notes, Fiano has an obvious class that sets it apart from other varieties. The grape's incredible versatility is part of the attraction: there is a bottle of Fiano for every context and occasion. Younger wines showcase an apple-peel and citrus fragrance combined with mineral depths. So it is hard to imagine a finer warm weather aperitif. Yet older and/or more structured wines have a deeper color, richer texture, and exotic flavors of spice and garrigue; very few Campanian dishes would not work with a glass of Fiano. One could even describe it as Italy's leading gastronomic white wine, although you'll discover Fiano on wine lists across the US, Europe, and further afield.
However, despite the grape's willingness to travel, few critics would challenge the notion that the finest wines are made in southern Italy. Campanian sommeliers and restaurateurs know the name: Fiano di Avellino. One of its most famous historical aficionados was the King of Naples, Charles d'Anjou, who reportedly ordered his staff to plant over 16,000 Fiano vines to supply the royal household. Awarded DOCG status in 2003, the zone is located in the district of Irpinia, northeast of Naples. It encompasses over 25 pretty villages in a mountainous landscape centered on the town of Avellino. Due to a potent combination of volcanic/limestone soils, high altitude, and favorable aspect, the appellation produces wines of impeccable freshness, balance, and poise. Of course, we don't want to be accused of hyperbole – there are plenty of regions in Italy making high-quality whites today. But if you seek flawless perfection in a glass, Fiano di Avellino comes very close.
Top producers of Fiano wines: