Learning about Malvasia can be a recipe for confusion. It is a very well-traveled variety, cultivated in Italy, Spain, Croatia, Greece, Australia, South America, and the US. That would be bad enough; however, there are 70 different genetic variations or sub-varieties of the Malvasia grape and a plethora of regional synonyms. Moreover, the grape is adaptable and versatile, used to make various styles, including dry whites, dessert wines, and fizz. Unfortunately, it's enough to induce a headache!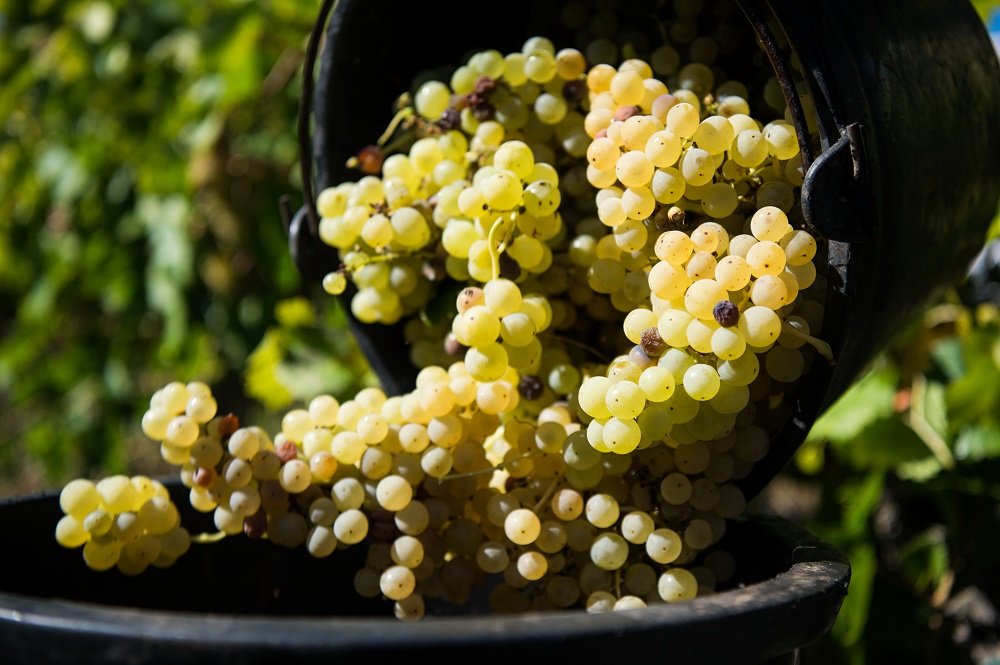 So let's simplify things. For our purposes, we're concerned with Malvasia Bianca and its role in shaping the wine cultures of Italy's beautiful – and unspoiled – Aeolian islands. Although the sumptuous passito wines of Lipari are hardly known outside of Italy, they are nonetheless one of Europe's true classics. So if you seek familiar grapes and ubiquitous flavors, look away now. But those with a curious palate, open mind, and thirst for knowledge should read on.
History and viticulture
It is a historical irony that one of Europe's seminal grape varieties is hardly recognized by consumers today. Nevertheless, while Malvasia's global renown – and popularity – is dwarfed by Pinot Grigio and Sauvignon Blanc, it has been cultivated in the Mediterranean for over 2000 years. Historians believe that Malvasia's genesis occurred in ancient Greece, quite possibly in the coastal town of Monemvasia, which is situated on a tiny island flanked by the Peloponnese. In the 8th century BC, the Greeks expanded beyond their borders, establishing colonies in mainland Italy and the islands. So it is highly likely that Malvasia Bianca was introduced to Sicily and the Aeolian islands during this point in time. However, their civilization was subjugated by the Romans, who seized control of Italy in 210 BC. Yet viticulture, one of Greece's most important cultural totems, continued to thrive across the western Mediterranean.
Over the centuries, Malvasia vines proliferated in all corners of western Europe, aided by the grape's tendency to mutate at random. The advantages of this genetic instability were that each sub-variety of Malvasia, such as Malvasia de Rioja, would quickly adapt to its native environment. However, the true catalyst for Malvasia's international success was the marketing clout of the Venetians. During the Middle Ages, the Venetian Empire amassed great wealth and influence by controlling trade between Europe and the Levant; several overseas possessions were under its dominion, including Greece, Slovenia, and Montenegro. As major advocates of Malvasia wines – almost invariably sweet – the Venetians actively encouraged their consumption; 'Malvasie' was adopted as a generic title for all wines shipped to their maritime outposts. This is why Malvasia has long been associated with island culture in the Mediterranean, particularly in the Canary Islands, Sicily, and Greece. By the late 1700s, Malvasia was ubiquitous across the Aeolian islands, used to make darkly-colored passito wines that are not a gift to dentists! The center of production was Lipari – the largest of the eight islands that make up the volcanic archipelago. However, viticulture was also an important part of the economic and cultural life of Basiluzzo, Filicudi, Panarea, Salina, Stromboli, and Vulcano.
Unfortunately, a perfect storm of phylloxera, shifting demographic patterns, and the worldwide rejection of dessert wines significantly damaged the archipelago's wine industry in the 20th century. Phylloxera arrived in Italy in the second half of the 1800s after it was accidentally imported from the US. This poisonous louse did untold damage to the vineyards of several major European regions, although certain parts of the mainland escaped relatively unscathed. However, Lipari and the other islands suffered massive losses as the parasite laid waste to entire plantations. Even in the 21st century, the acreage has yet to recover, partly due to the vagaries of fashion and mass migration from the islands to mainland Italy in the 20th century.
But Malvasia, or its numerous sub-varieties, is far from irrelevance to the vineyards of Europe today. It appears in several guises and plays a number of roles: Malvasia is used in Rioja to add perfume and weight to the region's white wines. It also appears in the Douro, Sardinia, and Tuscany – Malvasia blended with Trebbiano in Chianti Classico to make Vin Santo. So one might assume that it is easy to cultivate. Not so: Malvasia can be quite challenging to grow successfully, particularly if the terroir is unsuitable. The grape needs a warm and dry climate – fungal diseases can rear their head in wet weather, especially powdery mildew and grey rot. The vines are also prone to excessive vigor if they're allowed to grow unchecked, delivering an inflated crop of large berries. The resulting wine is almost always dilute and flabby, with negligible acidity and a lack of freshness. Constant and judicious pruning is therefore advised.
Winemaking
On the island of Lipari, a small number of winegrowers continue to produce delectable passito wines from the Malvasia grape. It is a technique that has been used for over a thousand years – passito wines were the height of fashion during the Middle Ages. Yet the initial goal was to fortify Malvasia for travel rather than an attempt to create a particular wine style. Pioneered by the Greeks, it involves air-drying bunches of grapes to desiccate the berries and increase their sugar content. In addition, this unctuous, rich must produces a wine that is more stable and resistant to oxidation. Ergo, it could withstand the long sea journeys without turning rancid.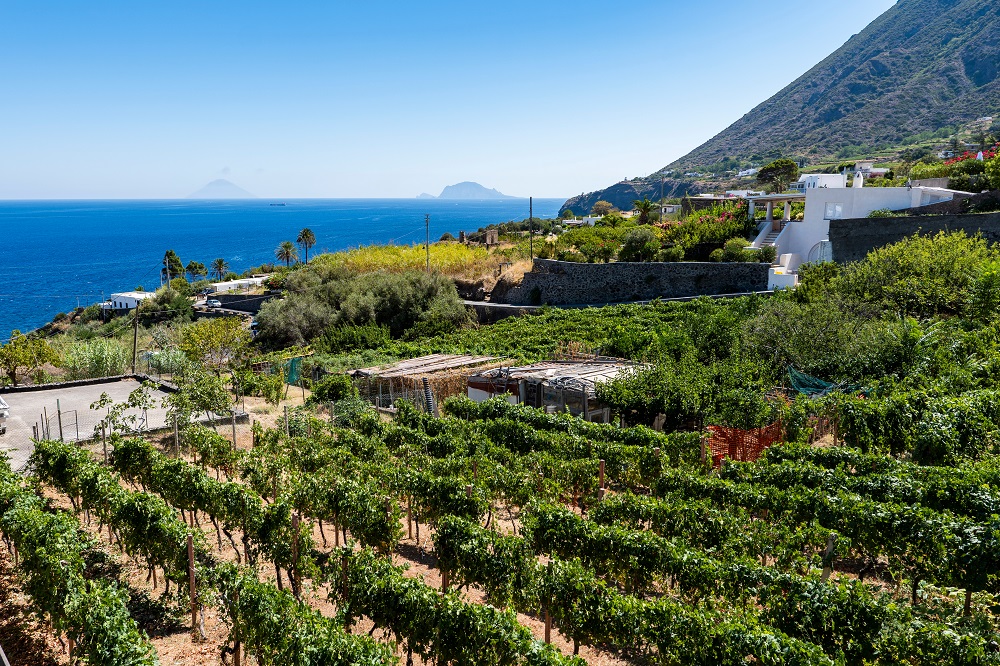 Vineyards on the Aeolian Island of Salina
Historically, the ancients encouraged the berries to desiccate on the vine. Today, however, winemakers in the Aeolian islands tend to harvest the grapes when they're on the cusp of attaining full physiological ripeness; Malvasia can lose its acidity quite rapidly if left on the vine. These berries are then dried, typically indoors, on large mats for a period that ranges from several weeks to six months. Nonetheless, approaches to making passito wines vary – traditional growers in Lipari and Vulcano prefer to dry their grapes under the autumn sun.
A mass of shriveled grapes emerges, losing up to 60% of their water content. Then, with great precision and care, they are pressed to release the most concentrated and 'thick' juice imaginable. Fermentation often occurs in used oak barrels, although concrete is also employed. The vinification will stop when the desired amount of residual sugar remains in the wine – usually, the yeast is exhausted by the volume of sugar, terminating the fermentation naturally. Alternatively, the winemaker can chill the wine or add sulfur to halt the process. The best wines are then matured in barrel – or tank – for several years, gaining depth and complexity. They are then sterile filtered and bottled.
Of course, the critical mass of Malvasia wines are fermented dry, as this is what the market demands. Here, approaches and attitudes can vary wildly: cool fermentation in stainless steel produces a very clean expression of the grape, with crisp acidity and stone fruit flavors. However, the antithesis of this 'play it safe' philosophy is becoming more popular among Italy's younger oenologists. Zidarich, nestled in the mountains of Friuli-Venezia, is a poster child for this movement. In the deep limestone cellars of this magnificent winery, Benjamin Zidarich carries out fermentation and aging in machine-carved pieces of the local stone. Hand-harvested berries are crushed (but not pressed) and allowed to ferment spontaneously in these stone vessels, with prolonged skin contact and maturation on the fine lees. The maceration is long, and the use of sulfur is minimal. After maturation on the fine lees in Slavonian oak, the wines are racked and bottled. Rich in phenolic extract, it is an interpretation of Malvasia that will not appeal to everyone. But the wine's complexity and depth cannot be questioned.
A grape for all seasons
Malvasia cannot be pigeonholed. It comes in various guises and styles, from the unoaked saline whites of contemporary Sicily to the inimitable dessert wines of Lipari. Indeed, there is a bottle – and price point – for a range of occasions and celebrations. But most importantly, Malvasia provides the ideal pairing for every season, whether that's a bitterly cold December morning or the beauty of a July evening.
Spring
Sicilian dry whites are custom-built for spring, that wonderful part of the year when winter recedes, and our thoughts turn to lighter days, warmer weather, and seasonal gastronomy. As a result of the declining market for dessert wines, a growing number of producers fashion dry styles from Malvasia, marketed under the Sicilia IGT designation. With their crisp fruit and ripe acidity, they will match brilliantly with the cuisine of primavera.
Specialties of the season include:
Fresh tuna and swordfish were captured during May's annual mattanza (fish harvest).
Aubergine caponata.
Torte Pasqualina (Easter pie), and pasta con le sarde.
Our favorite is the last one: fresh pasta cooked with sardines, saffron, pine nuts, and fennel. It is exquisite.
Summer
There is only one thing better than a warm summer's evening in the Mediterranean – enjoying it with a sundowner. Believe it or not, Malvasia can produce exceptional sparkling wine in the hills of Emilia Romagna. Otello ferments its Malvasia wines in stainless steel and then undertakes a secondary vinification in tank. The result is a beautifully fresh sparkler with pungent aromas of white flowers, lime, guava, and white peach. So enjoy it with friends, with or without food; it cuts right to the heart of spaghetti alla puttanesca.
Autumn
What does autumn mean to you? We anticipate heartier dishes and gastronomic pleasures that warm the soul: roast meats, game, risottos, rich soups, and pies – in other words, decadent comfort food. This smorgasbord of direct, punchy flavors needs a wine with structure, depth, and body. One option is the skin-contact Malvasias of Friuli-Venezia; macerating the grapes on their skins is in vogue among the region's more progressive winemakers. These nutty, oxidative whites are packed full of tertiary notes – their weight and power offer a strong counterpoint to the richness of autumn cuisine.
Winter
Christmas pudding, panettone, strudel: seasonal desserts are a nightmare to pair with wine. Sauternes is often suggested but rarely works – most dessert wines, ironically enough, are overwhelmed by the sugar content of the final course. However, there are one or two exceptions. Lipari's gorgeous (and sorely underrated) passito wines can stand up to anything. Malvasia delle Lipari Liquoroso is virtually indestructible. After the passito method has been used to concentrate its sugars, the wine is fortified with grape spirit and matured for a minimum of six months in wood. It is a monument to strength and potency – a voluptuous mix of sweetness, body, and alcohol—a triumph of winter winemaking.
Top producers of Malvasia wines: