On the beautiful Atlantic coast in northern Spain, the production and consumption of cider has a history that stretches back to the first century B.C. Particularly in the region of Asturias (and to a lesser extent the Basque country) cider is considered far more than a simple drink.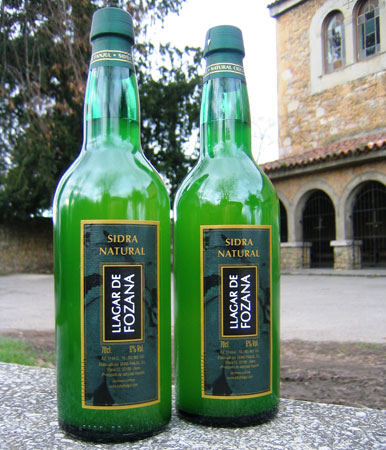 Cider is a central part of the local history and folklore – its enjoyment has been part of the Asturian culture for many centuries. In its most basic form, cider is simply fermented apple juice, however, many different forms of cider, known as "sidra", are produced in northern Spain- from artisan, hand crafted still ciders to slightly sparkling generic varieties. Drunk on a warm evening, chilled with a selection of Basque tapas or pintxos, it is one of Spain's greatest gastronomic pleasures, just waiting to be enjoyed by discerning visitors.
The first mention of cider production comes from the Greek Geographer and visitor to Spain, Strabo, who noted during the 1st century B.C that "the Asturians have a drink they call Zythos, made from fermented apple juice." Many centuries later, by the mid-1800s cider was an important part of the Asturian economy and there were over 250 apple presses across the region.  Today, Asturias produces more than 80% of the total production in Spain and consumption in the region runs at over 50 liters per person, each year.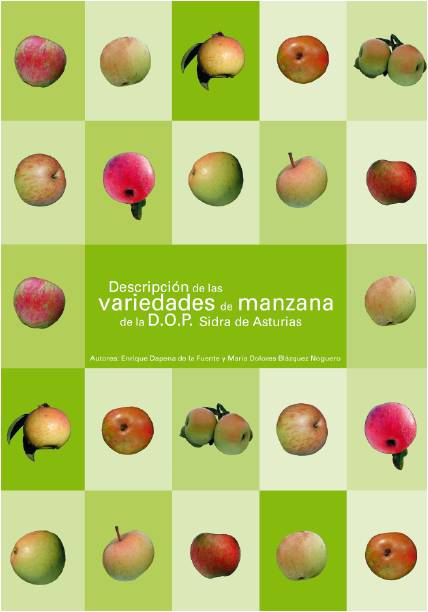 Traditionally, a distinction is made in Spain between Sidra natural and Sidra gasificada. Sidra natural is usually made in small-scale operations and is fermented without any additional additives. Only the finest, locally grown apples should be used as the Atlantic coast has over 30 different varieties of apples grown in market gardens. A skilled cider maker will blend the juice of different apples – sour crab apples and sweeter varieties for example – to attain the perfect balance of richness of fruit and acidity. A good Asturian cider should have a strong, sharp flavor and good acidity. It is best consumed young, the alcohol will usually range from  4–8% strength, making it the perfect drink to enjoy alone or with various tapas dishes. In addition, some producers are now making bottle fermented, Champagne-style sparkling ciders, a wonderful alternative to Cava.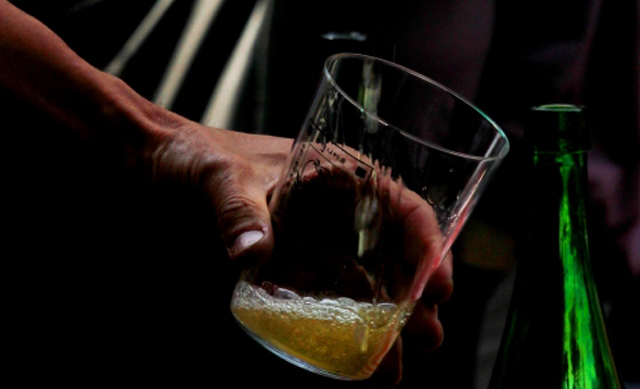 In contrast, Sidra gasificada is industrially manufactured cider, usually quite sweet as sugar is added during the production process. It is fermented in large-scale stainless steel tanks and although pleasant as an aperitif, lacks the finesse and favor of an authentically made sidra natural. However, it is inexpensive and usually keeps longer than its artisanal counterpart. Popular all over Spain, but less so in Asturias as locals tend to prefer the definite article!
The fermentation process for Sidra natural is relatively straightforward. The ripe apples are washed and diced, softened in water and then pressed. This unfermented must is then typically fermented in chestnut barrels and not bottled before the spring of the following year, before which it must be filtered to remove any solid residue. It is sold across bars, restaurants, and shops in the region, but its traditional home is the Sidreria or Chigres, bars specializing in cider and delicious tapas to wash down with a glass (or 6)
Now, you may think that the process of ordering a glass of delicious cider is easy, surely the bartender simply open a bottle and pours? I'm afraid not: the Asturians take their traditions quite seriously and there is an important ritual that must be observed when serving sidra. The bartender will raise the bottle above their head and the cider cascades from the bottle into the glass which he is holding below. Only one or two inches of cider is poured, which must be drunk immediately, before the glass can be refilled. This technique is known as escanciar un culin and it is said that it develops the flavor and aerates the drink, giving it a slight fizz and pleasant, effervescent texture. It can also be drunk straight from the barrel in some bars, served with such Asturian delicacies as bean stew, baked sardines or salt cod tortilla or omelet. Divine!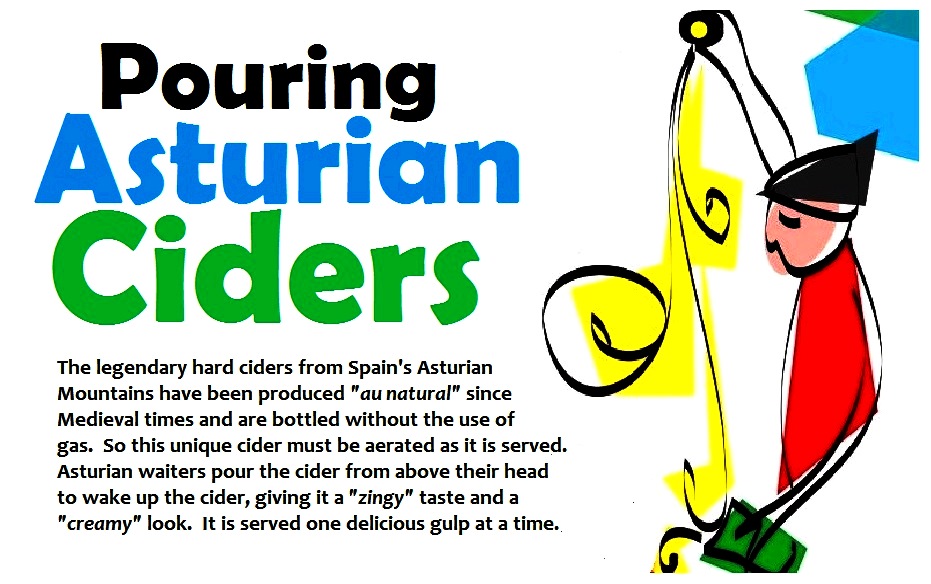 In addition to its natural homeland in Asturias, Sidra also has quite a popular following in the neighboring Basque country, particularly in the province of Gipuzkoa, around gorgeous San Sebastian! The Basques are very fond of drinking cider straight from chestnut barrels, which works fantastically well with their variety of pintxos (Basque tapas). Of course, many different brands compete for your attention so we have done the hard work and selected our top 5 cider drinks below.
Recommended Spanish Ciders:
Asturvisa – Ciders of Spain´s special inaugural release, Sidra Fanjul – Sidra Natural Ribanora, Sidra Viuda – Sidra Brut Viuda de Angelón, Sidra Fanjul – Sidra Llagar Fozana, Guzman Riestra – Sidra Brut Nature, Sagardoa sidra natural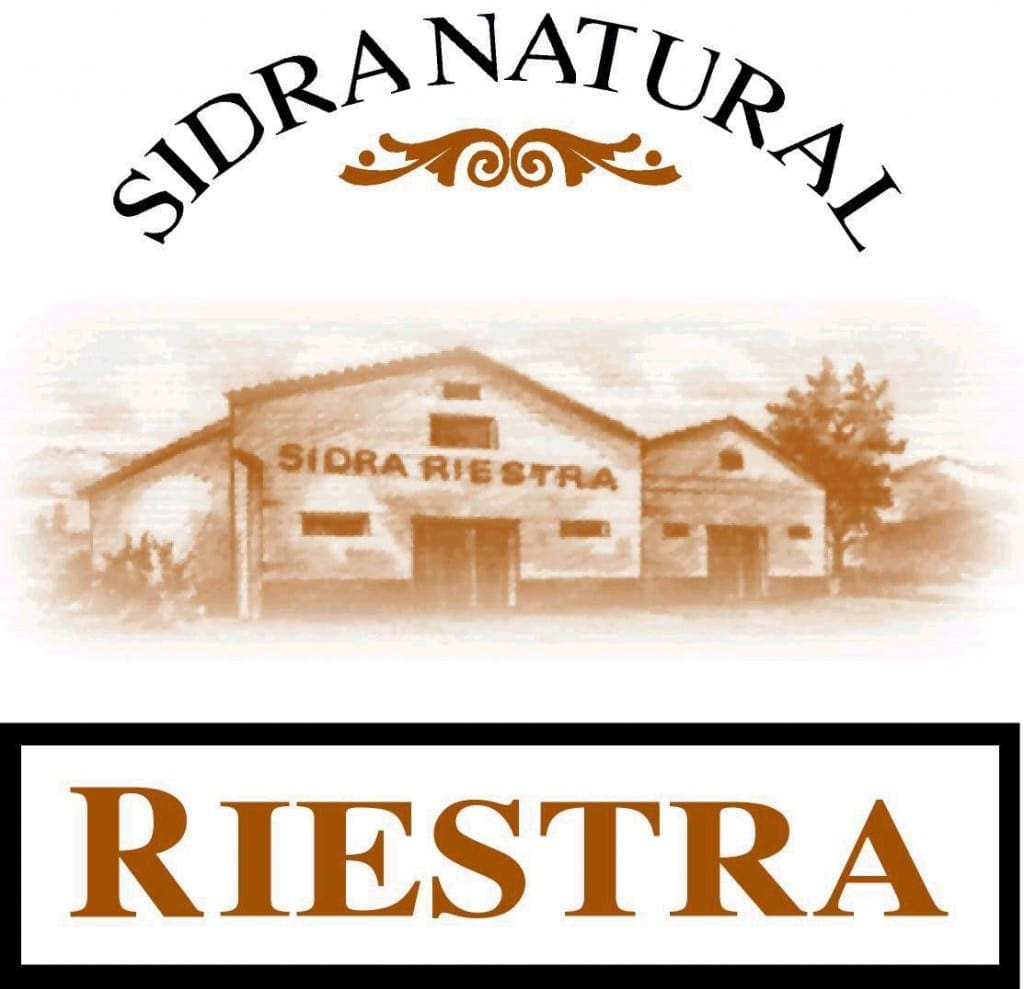 Taste Cider in Northern Spain! Known as Green Spain the northern coast is absolutely gorgeous and you could enjoy a cider tasting tour starting near the French border in Getaria, heading west weaving your way through lovely Basque Country (San Sebastian is a must), Cantabria (elegant Santander, darling San Vicente de la Barquera) and Asturias (Villaviciosa is the epicenter of cider production and you can visit many sidrerias, also taste cider in the elegant town of Oviedo and lively Gijón, not to mention the adorable hamlets of Tazones and Lastres.
Here are some good resources for your cider tasting travels:
The excellent database of cider houses in Spain
Basque Cider Info Sagardoaren Lurraldea
Cantabria Tourism
Cider and the Sea in Euskadi (Basque Country)