Madrid, Spain's exciting and beautiful capital city, offers a smörgåsbord of world-famous art museums and historical landmarks, but for us, the biggest attraction is the food and wine. Located at the country's exact center, Madrid has always been a crossroads attracting Spaniards from all the other regions to live and work, meaning you have restaurants from every "Comunidad" and sub-region around the country, from Bierzo to Murcia to Rioja and the Canary Islands. You will find the best anchovies from the Cantabrian coast in Madrid, the freshest hake which arrives from the Atlantic Ocean to Madrid's fish markets daily, the best olive oil from Andalucía and, needless to say, the best wines from around Spain. As there are hundreds of shops specializing in food and wine around the city, we have narrowed down the list for you of our truly favorite, unmissable gourmet shops. So enjoy Madrid, and enjoy the read!
WINE SHOPS
Reserva y Cata (The best wine shop in Madrid)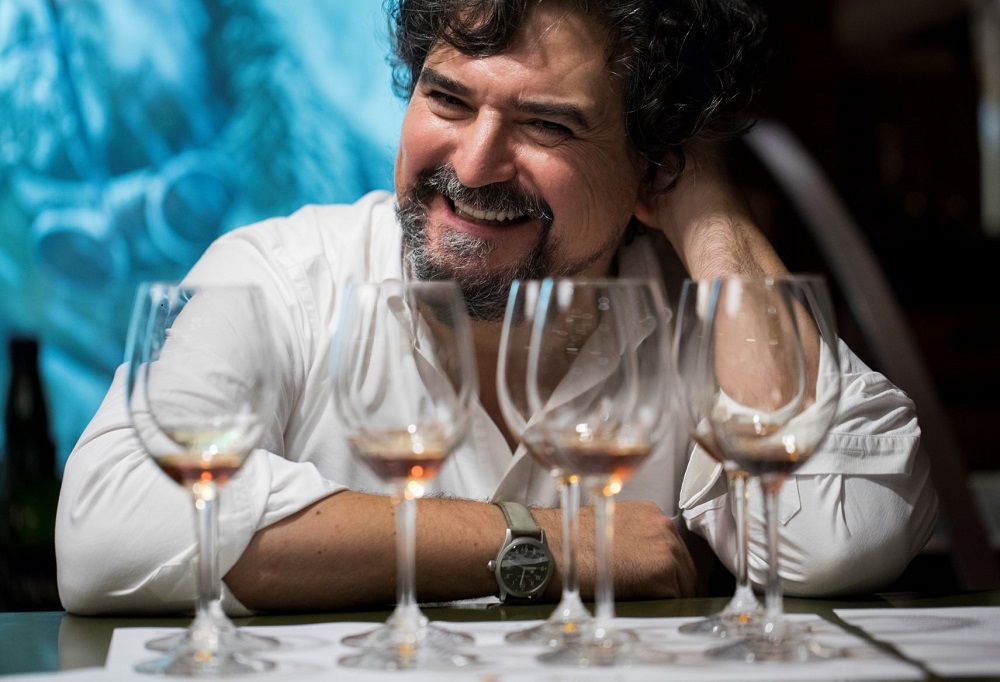 Reserva y Cata is a wine lover's dream! This small, stylish gem is located on one of the city's loveliest streets, Conde de Xiquena, steps from the wonderful Church of Santa Bárbara (Salesas Reales Convent). Founded in 1997, this wine merchant has built up a faithful clientele of locals and international visitors over the last two decades who appreciate the always rotating, fascinating wines on offer (between 800 and 1000 different wines at any given time). Ever-smiling owner Ezequiel Sanchez-Mateos has an effervescent personality and infectious energy, and he will convince you to try an unusual wine that you would never have reached for on the shelf yourself. Prepare to be surprised by Reserva y Cata's collection of limited edition wines and cult Spanish winemakers like Josep Foraster (Conca de Barberá), Daniel Ramos (Sierra de Gredos), Anónimas Viticultoras (Galicia), and Gratias Familia y Viñedos (Manchuela). About 80% of the wines are Spanish, and the rest are from around the world. "Vermut" lovers are well served here, too, with terrific vermouths on offer, including Atamán (Jerez), Pérez Barquero (Montilla-Moriles), El Palique de Reus (Reus), and Francisco de Cala (Vermut espumoso) to name a few.
Apart from wine, they have an excellent small gourmet section with super premium goodies like olive oils Aceite Cortijo Suerte Alta (D.O. Baena), Aceite Mestral (Tarragona) and Aceite ecológico Unolivo (Jaen); yummy olives stuffed with blueberries from Jaen; prized salt "Sal de Añana" (Álava); and of course Sherry vinegars like Vinagre de Jerez Valdespino and Vinagre de Montilla-Moriles Flor de Genil. Ezequiel also runs "Galgo Wines," co-producing wines with interesting boutique winemakers from a number of regions. The idea is to make great, gastronomic wines at great prices, branded and sold by Galgo. These include Místicos from Calatayud (Garnacha dominated, with about 20% Tempranillo), Uva Attack from Conca de Barberà (made predominantly with Trepat on slate soils), and Ínsula Barataria from Sierra del Gredos (the white here is made with 100% Jaen grape and the red with 90% Garnacha and 10% Jaen). Reserva y Cata have a wide range of fun wine tastings and also specializes in private wine tastings (in English, too) with whatever focus the client is interested in (Rioja Vs. Ribera, Wines from the Atlantic to the Mediterranean, "Weird" Wines, Sherry Lovers, and many more ideas). They ship wine all over Spain and can assist with shipping abroad; check with Ezequiel for details, and why not sign up for their newsletter.
Website: Reserva y Cata
---
CHEESE SHOPS
Poncelet – Cheese Bar

Poncelet has recently celebrated their 16th anniversary in Madrid, and they continue to be one of the best-specialized cheese shops in Spain. Always celebrating and promoting the most select, small cheesemakers from Spain and around Europe, their philosophy is authenticity, quality, and education. They created the first cheese affineur aging "caves" in Spain. These caves are specialized, high-tech installations where they mature their fantastic range of cheeses before selling them in their shop and cheese bar once each cheese is at its optimum ripeness and deliciousness. Speaking of their cheese bar, it is FAB, and they offer fun cheese tastings in a relaxed setting and cheesemaking workshops. Poncelet regularly organizes fun in-house and online events; check out their Facebook and Instagram to keep up to date. A "must" while in Madrid.
website: poncelet.es
Quesería Cultivo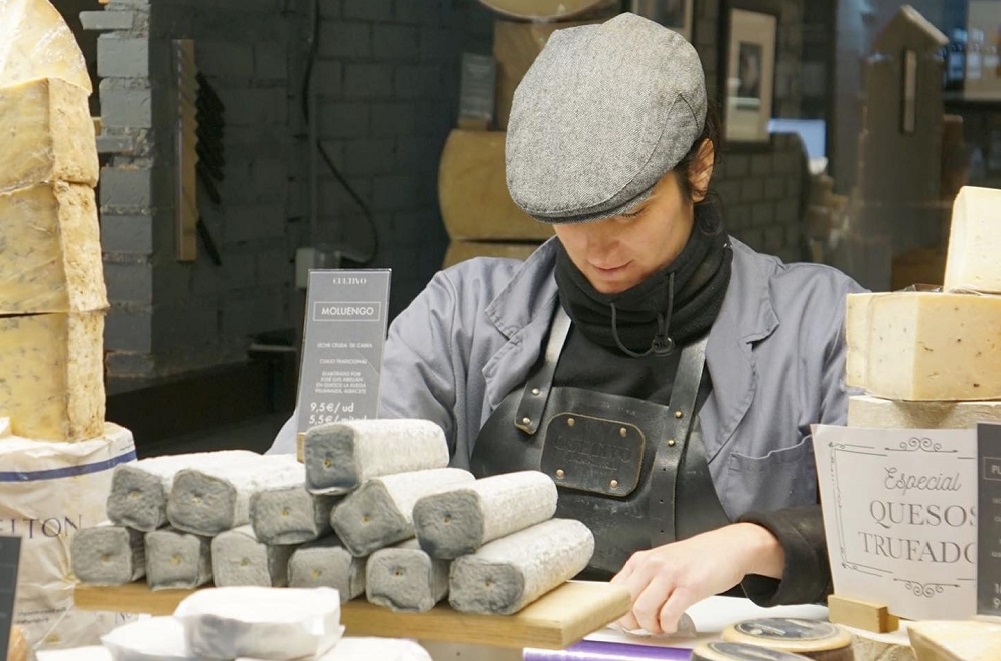 Quesería Cultivo is a company founded by artisan cheesemakers specializing as cheese affineurs and cheese merchants. Their Calle del Conde Duque shop is a cheese "wonderland" with friendly and knowledgeable staff and a great offering of small-batch, premium cheeses from Spain and abroad. Great spot to come for the cheese element of your gourmet picnic. You can even buy sourdough bread right next door at the trendy bakery "Panic." Like Poncelet, Quesería Cultivo sell their cheese at its best level of maturity. They offer private cheese tastings for small groups, which is such a fun idea for a group of friends. If you are interested in making cheese in situ, they organize professional courses at their farm in Cantagrullas, Valladolid. And finally, they ship nationwide. Our fave purchase here would be the smoked Idiazábal, for sure 🙂
website: queseriacultivo.com
Qava de Quesos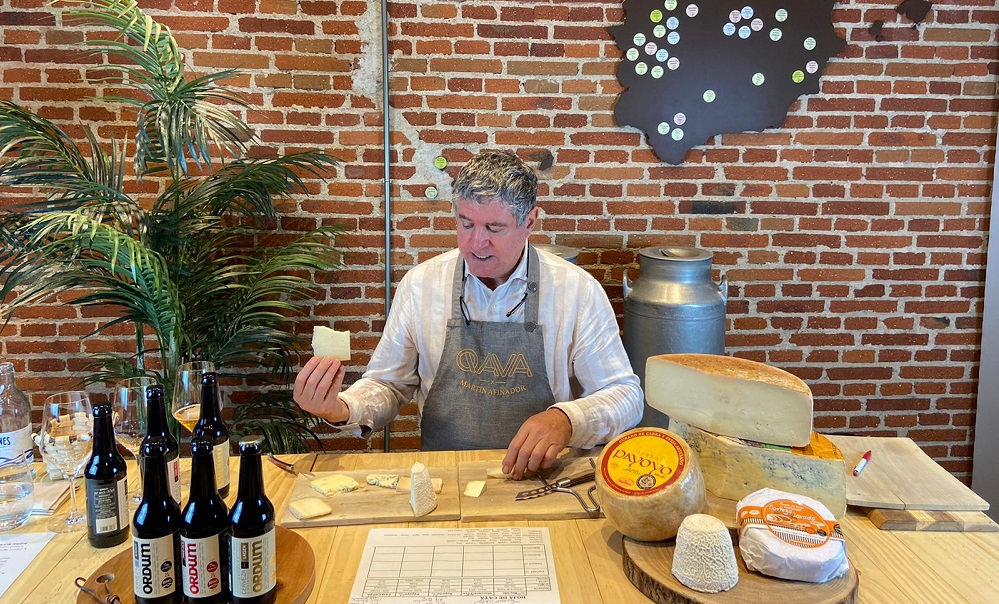 In the heart of the beautiful Retiro neighborhood on chic Calle Doctor Castelo, Qava de Quesos is a stellar find! Owner Jose Luis Martín is a maestro cheese affineur with over 30 years of experience who has created a small Mecca for cheese lovers. If you want to enjoy their spectacular cheeses in situ, plop down with one of their fantastic cheese platters with wines right in their elegant shop (they have a few cozy tables). The Retorta Pascualete cheese is to DIE for. Martín also organizes professional and amateur cheese tastings. After a long walk in the beautiful Retiro Park, a cheese and wine stop here is an absolute pleasure. They ship and offer online cheese-tasting courses as well.
website: www.qavadequesos.com
---
JAMÓN & CHARCUTERIE SHOPS
Jamonería López Pascual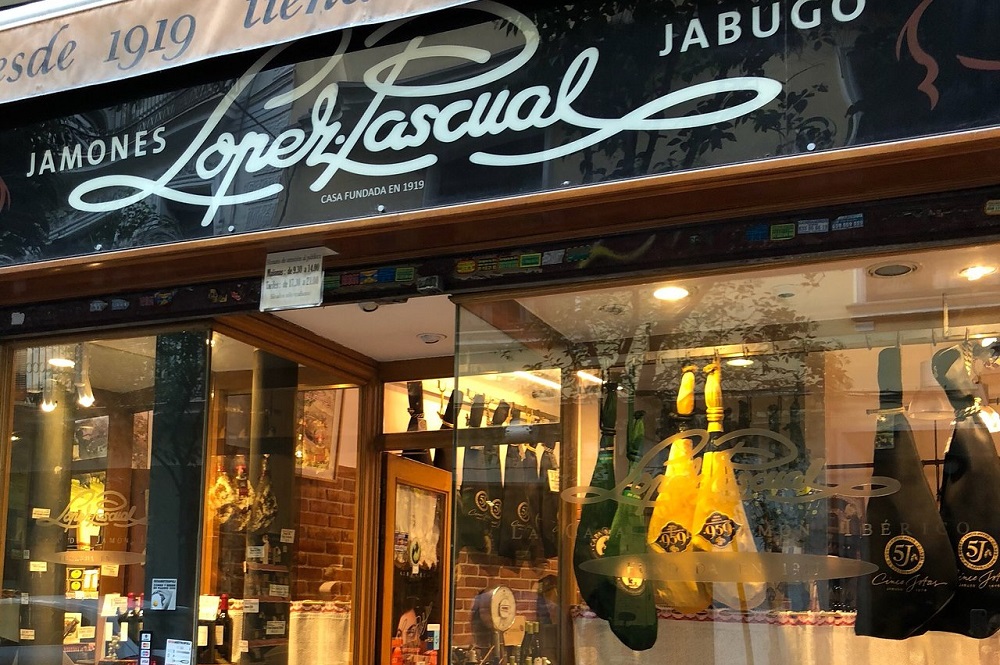 Third-generation owner Alberto López runs this cherished and centennial cured ham shop specializing in free-range Iberian ham cured in Jabugo, Cumbres Mayore's mythical Guijuelo. Their acorn-fed cured hams are stunning, and Alberto's tienda has quite the celebrity following. Singers Andres Calamaro and Alaska are clients who casually pop in for his super high-quality ham, for example. Located in the buzzing, hip Malasaña district, Madrid's version of London's "Shoreditch," the shop is trapped in time in a lovely way. Cured hams hang from the brick interior tiny shop ceiling, lined with wine barrels, champagne, and kitsch piggie décor. Alberto speaks English, and apart from helping you select the best Iberian hams in his shop, he also organizes professional ham-cutting courses.
website: jamonesibericosmadrid.com
La Charcuteria de Octavio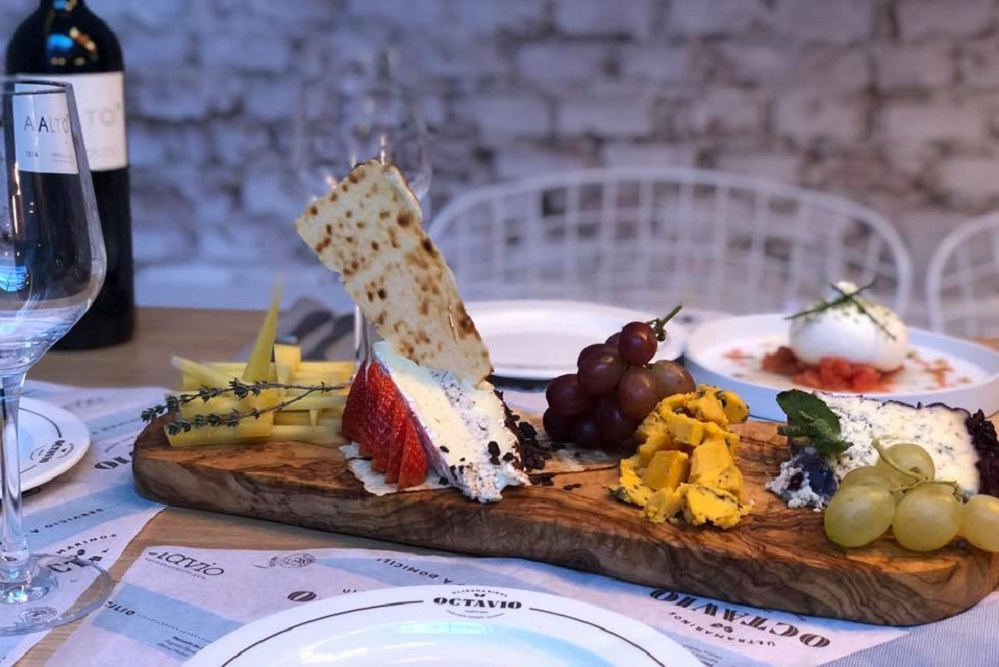 This exceptional small group of charcuterie market shops has some of the best ham in town! Their main base and oldest stall is in the Mercado San Antón in the Chueca quarter, dating back to 1970. This market was completely renovated in 2012 and is now one of Madrid's best markets, with top-quality stalls and a sensational, tropical-themed restaurant. You can pick up a dazzling array of gourmet goodies at Octavio, like jamón "Pata Negra," Iberian ham from Huelva, truffled mortadella trufada, and even duck foie. The second market stall Octavio have is in the Barceló market in the Tribunal neighborhood. And our favorite venue is the recently opened (2018) "Ultramarinos Octavio." Putting an upmarket, fresh spin on the old-fashioned "ultramarinos" small neighborhood grocery shop, this branch of Octavio is a complete gourmet shop with a darling patio where you can graze on jamón, queso, and vino.
website: lacharcuteriadeoctavio.com
---
OLIVE OIL SPECIALISTS
Chinata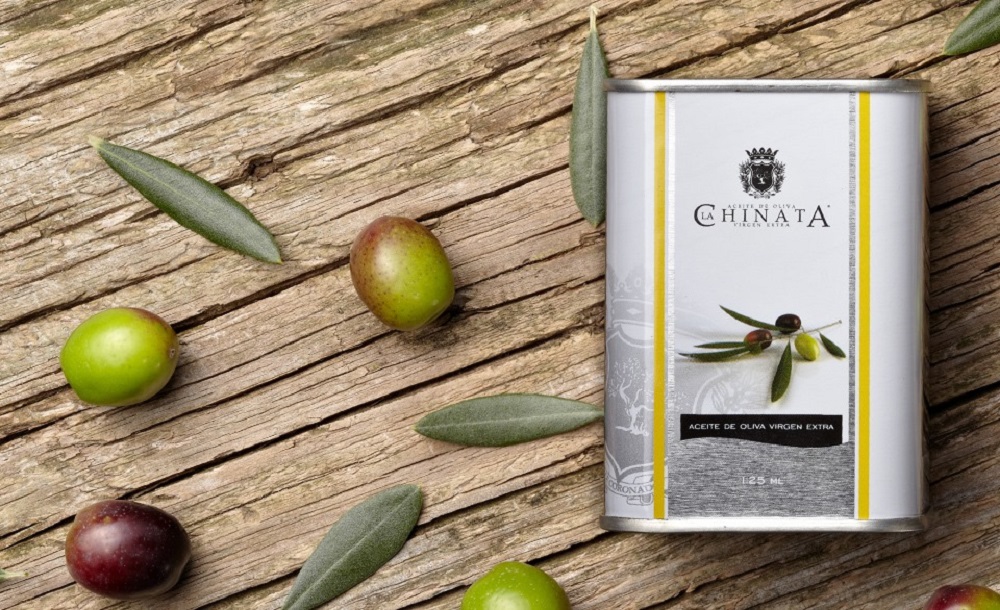 La Chinata is our favorite olive oil brand in Spain, not only for the wide range of flavored olive oils and olive oil-themed dips and preserves but also for their olive oil cosmetics line. This olive oil empire was founded in Plasencia, Extremadura, in 1932, and now they have their own shops (and they sell their products in many other shops) all over Spain and in Madrid Chinata has a darling little shop in the Chueca neighborhood where they offer olive oil tastings for private small groups and couples. Come here with a big shopping bag as you will want to buy everything! Great gifts include their exceptional value, signature olive oil soaps, their "mini-box" of miniature olive oils, "miracle oil" made with olive seeds, and their olive oil-based travel pack. Quirky products we love here include their olives stuffed with jalapeños, their olive oil truffle sauce, and their orange jam with chocolate and olive oil. In this Covid era, they also have the best hand sanitizer in Spain, made with olive oil naturally and soft on the hands!
website: lachinatadechueca.com
La Fundación Patrimonio Comunal Olivarero
One of Madrid's oldest olive oil shops, Patrimonio Comunal Olivarero, is a non-profit government-funded entity dedicated to promoting Spanish olive oil at home and abroad. The foundation creates and executes olive oil sector-related grants, scholarships, and countless educational initiatives. The shop itself is a treasure trove of olive oils! If you are looking for the broadest selection of olive oils in Madrid, we think this is one of the best. We adore this neighborhood, too; you are a hop, skip, and a jump from the Reserva y Cata wine shop, the whimsical art nouveau Palacio Longoria, and the Cacao Sampaka chocolate shop.
website: www.patrimoniolivarero.com
---
ARTISAN BAKERIES

El Horno de Babette
20 years ago, Madrid was a bit of a dead zone for good bakeries, and the standard "Pistola" baguette (which was nearly hollow and flavorless) was not inspiring, to say the least. Good bakeries were few and far between and generally specialized in one bread, like the famous Galician bakery near Plaza Mayor, which had a permanent long line. What a difference a decade or 2 makes, as Madrid now has fantastic artisan bakeries in nearly every neighborhood! A great one we really like is El Horno de Babette, with four bakeries around the city. Pick up freshly made sourdough, croissants, sweet and savory empanadas, bagels, and so much more. They offer "Masa Madre" bread-making classes, too!
website: elhornodebabette.com
Panod
"Breadmakers by vocation" is Panod's motto, and my goodness, the selection of delicious carbs on offer here is limitless. They have several shops, some with onsite cafés, and our favorite branch is on Calle Prim (also coincidentally near the Reserva y Cata shop; this is a super gourmet neighborhood). The philosophy at Panod is that industrial bread is terrible for digestion; it contributes to weight gain and can cause dietary intolerances. On the other hand, bread made truly naturally, like the Ancient Romans made, with organic grains and a long fermentation, is a daily, necessary component for good health, offering essential amino acids, minerals, fibers, proteins, and magnesium, calcium, zinc, and iron. Panod makes 20 different incredible varieties of bread daily, and we dare you only to buy one 🙂
website: www.panod.es
---
BACALAO/ SALT COD SPECIALISTS
La Casa de Bacalao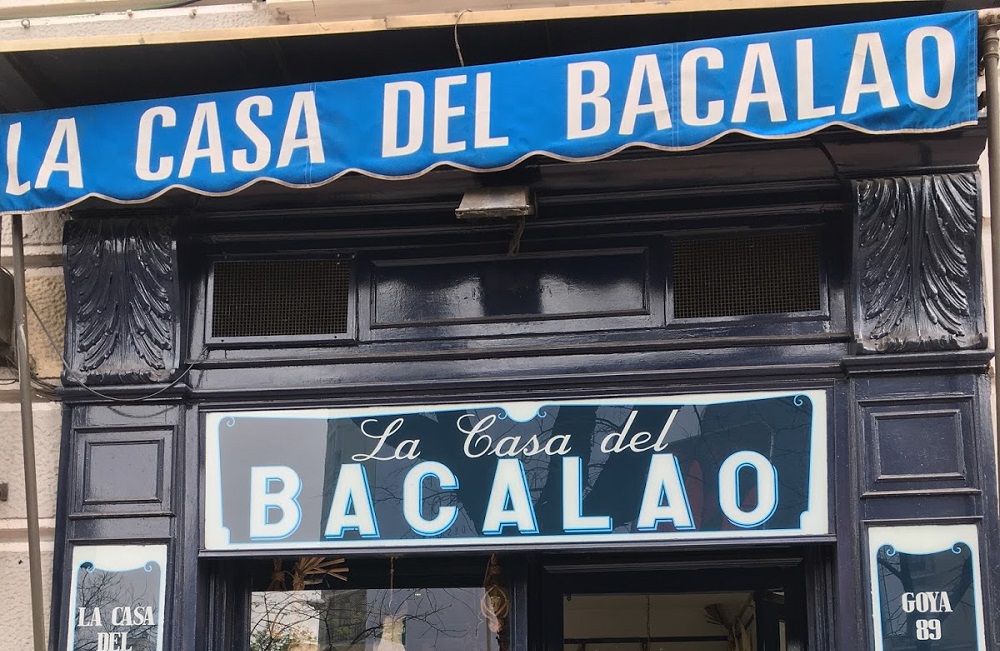 The practice of salting cod in Spain dates back to when Spain was "Hispania" and part of the Roman empire. Salting fish allowed it to last longer and travel; Roman soldiers were often paid in salt. Indeed this is the origin of the word "salary" (salario). Called "salazón" in Spanish, the technique for salting cod is covering it in salt until it is completely dehydrated. Later, soaking the fish to release the salt and use for cooking (cod croquettes, brandade, "Bacalao a la Vizcaína," Cod gratin, etc.). There is a chain of gourmet salt cod shops in Spain (Madrid, Bilbao, Zaragoza, and Barcelona) called "La Casa de Bacalao." We love the nautical-vibed blue and white shopfronts and their first-class fishy wares. Pick up high-welfare salt cod, Danish herring, Norwegian smoked salmon, Galician "conservas" of mussels and goose barnacles, smoked trout more. Our favorite branch in Madrid is on Calle Goya; their first one dates back to 1981.
website: lacasadelbacalao.es
---
ANCHOVIES
Doña Tomasa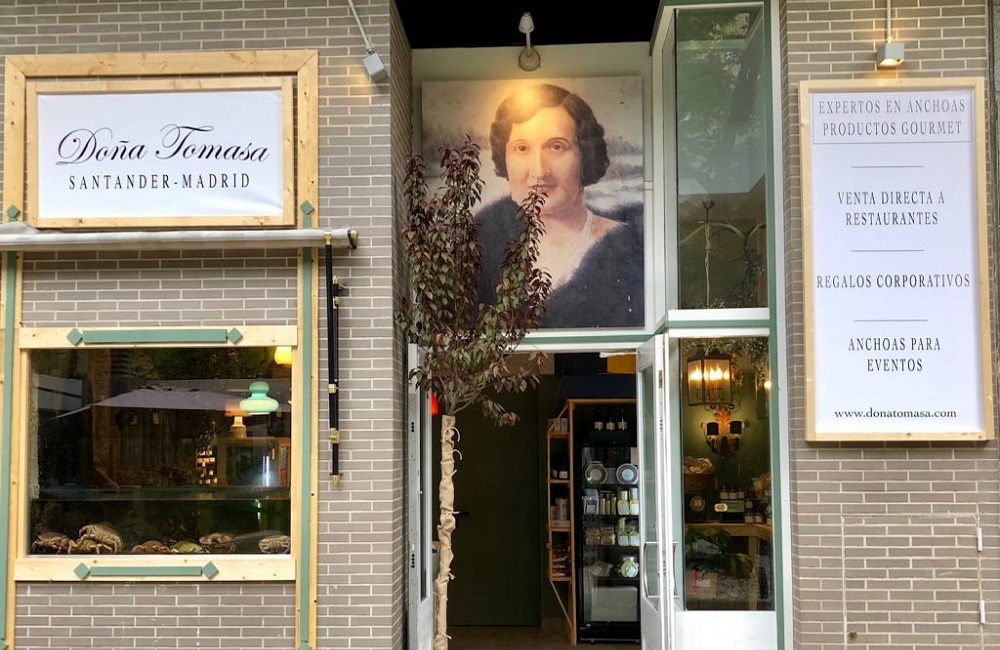 For those of you who think you "hate" anchovies, we understand and used to be you. Desiccated, cooked, super salty anchovies on college student pizzas did not make a positive culinary memory for many of us! However, ultra-fresh anchovies from the Cantabrian sea, marinated in olive oil and served on a chunk of good bread…well, this is a game-changer and will completely change how you feel about anchovies. The best anchovies in Spain are from Santoña, Cantabria; they are highly prized by chefs and foodies alike, pretty expensive, and absolutely mouth-wateringly delicious. There is a charming shop on Calle General Pardiñas called Doña Tomasa. Hailing from Santander (where they have their original shop), this place is excellent! The specialty, of course, is the Santoña anchovies, and you can find different quality grades (basically A, A++, and A+++) in extra virgin olive oil. They also have an ample range of other gourmet products, many from the north of Spain.
website: donatomasa.com
---
GOURMET SHOPS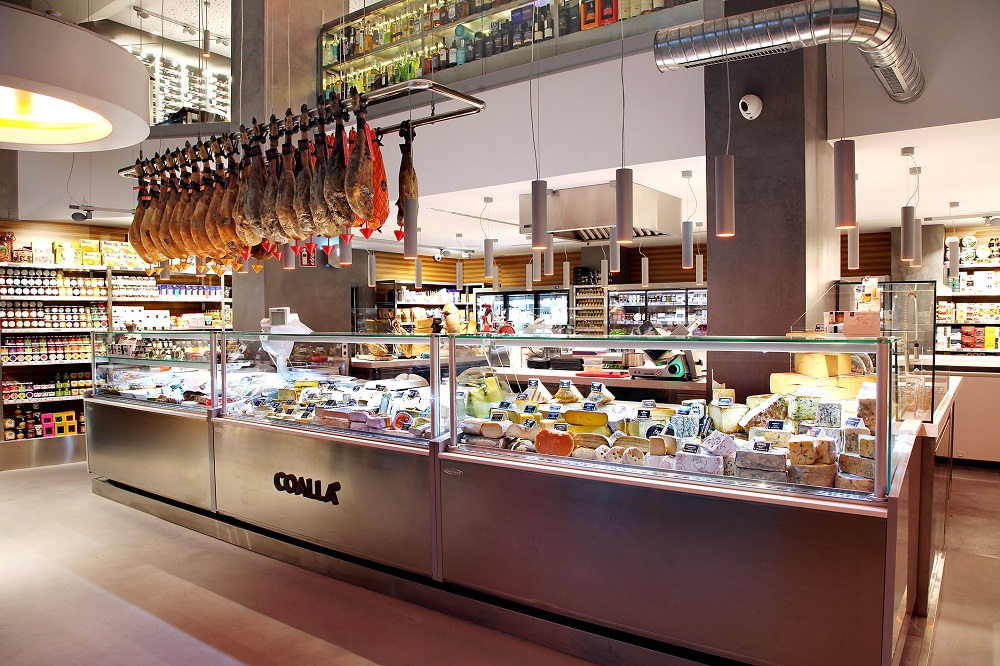 Coalla
One of the hottest gourmet shops/gourmet bars is the recently opened Coalla on Calle Serrano. This massive (400 square meters, in the "Beverly Hills" of Madrid) shop is magnificent! Owned by Asturian-born businessman Ramón Coalla (who already has renowned gourmet shops in Gijón and Oviedo), this shop is tremendous. Employing over 20 people and with an initial investment of 800,000 euros, this is a serious venture, with seriously interesting food and wine on offer. You will find more than 1500 wines and spirits and a considerable gourmet food range. They have relaxed tables on a lovely terrace (also inside) where you can enjoy wines and dishes made by their consultant chef (Jose Antonio Campoviejo of Michelin-starred El Corral del Indiano in Asturias). And there is a private space in the cellar for wine tastings onsite.
website: coallagourmet.com
EsDeRaiz
As a total contrast, but equally impressive from the point of view of being in an authentic Madrileño market (Mercado de Santa María de la Cabeza), we love EsDeRaiz. This small company, run by passionate owners Pedro and Esther, sells only organic products from small artisan producers. You can buy olive oil, cheese & dairy, wines, and fresh produce- all 100% "Bio" (organic). This is a "real" market where people buy everyday fish, meats, fruit, veg, etc. The area is very popular with the locals and is a fun area near Madrid Río and the Centro Cultural El Matadero. If you live in Madrid or plan to have an extended stay here, keep in mind they also deliver and offer weekly "baskets," highly recommended.
website: esderaiz.com
We hope you enjoy an unforgettable food and wine experience in Madrid!
Related Blog Posts: