Burgundy Wine Hotels
Visitors to this enticing wine and gastronomic paradise have never had it so good in terms of accommodation choices. Over the past 15 years, both Burgundians and outsiders have invested considerable sums in modernizing and updating the region's hotels for the 21st century, offering luxury and comfort to rival any top 5-star hotel in Paris and beyond. Pioneers, like Francine Picard, have successfully redefined the very meaning of luxury: her Chateau de Chassagne Montrachet B&B provides world-class service, food, amenities, and accommodation, without the stiff formality and pretension that can often plague up-market venues. And with an increasing number of people finding themselves enjoying a long weekend in the Cote d'Or, hotels realize they have to stay at the top of their game to compete with the raft of excellent hotel choices.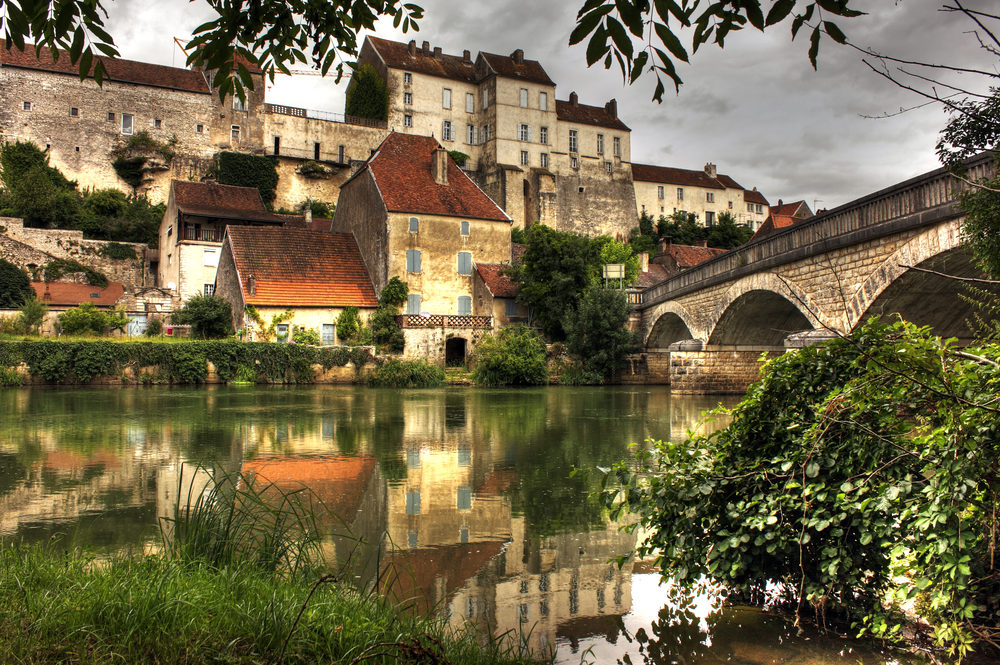 As with other famous wine regions, accommodation in Burgundy runs the whole gamut from historic Chateaux with magnificent furnishings and food to small family-run guesthouses. But, in recent times, the popularity of small, luxury hotels has soared: boutique venues, often with state-of-the-art spa facilities and a Michelin-starred restaurant into the bargain, are commonplace. But whatever takes your fancy, one thing is now certain. Visiting wine lovers cannot complain that their luxury options in Burgundy are limited to the fingers on one hand. Today, the dilemma is where to start – so, to help the discerning traveler, we've selected our top choices for a glamorous Burgundian adventure below.
More information on luxury, private chauffeured Food & Wine Tours in Burgundy
Le Clos du Cèdre
2 Boulevard Maréchal Foch, 21200 Beaune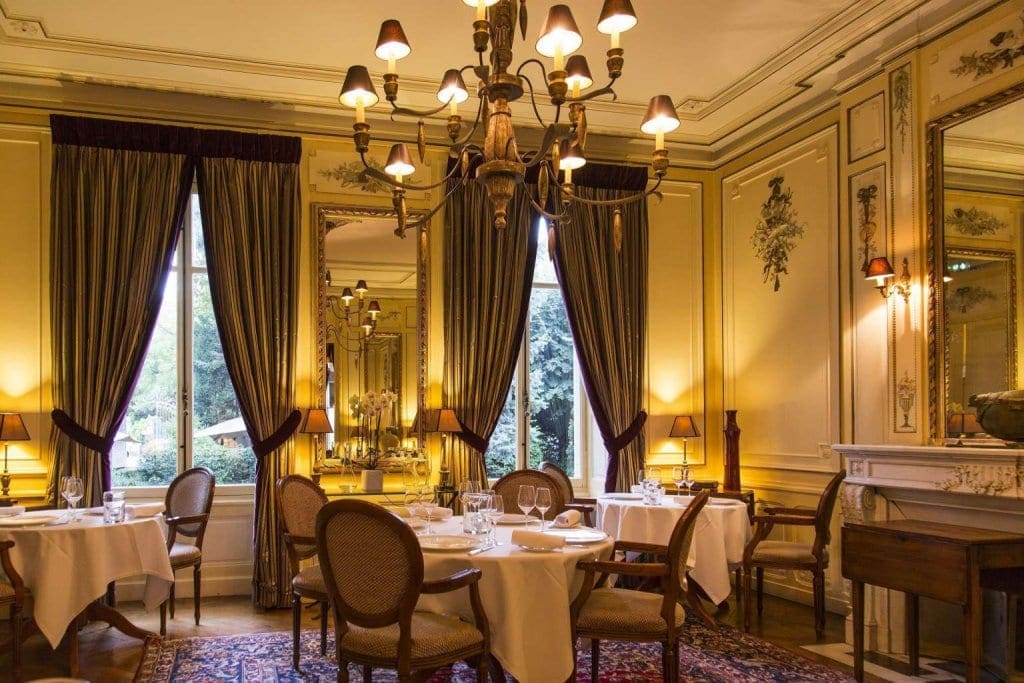 Why can't all boutique hotels be like this? Everything in this gorgeous manor house hotel is spot on – from the individually tailored rooms to the outstanding cooking of head chef Christophe Canati, who was appointed in 2012 and has since earned the restaurant its first Michelin Star. In keeping with the general trend of luxury today, service is engaging and friendly rather than stuffy. However, the atmosphere remains one of timeless elegance – the drawing-room and gorgeous outdoor terrace lends Le Clos du Cedre a distinctly regal air. While certainly not massive, the rooms are decorated and furnished to the highest standard, whilst the suites have lovely views and gorgeous warm interiors. The star attraction is the ornate, classical dining room, which serves mouth-watering local cuisine and boasts a plethora of fine vintages. Food and wine lovers dream!
---
Le Cep
27 rue Maufoux, 21200, Beaune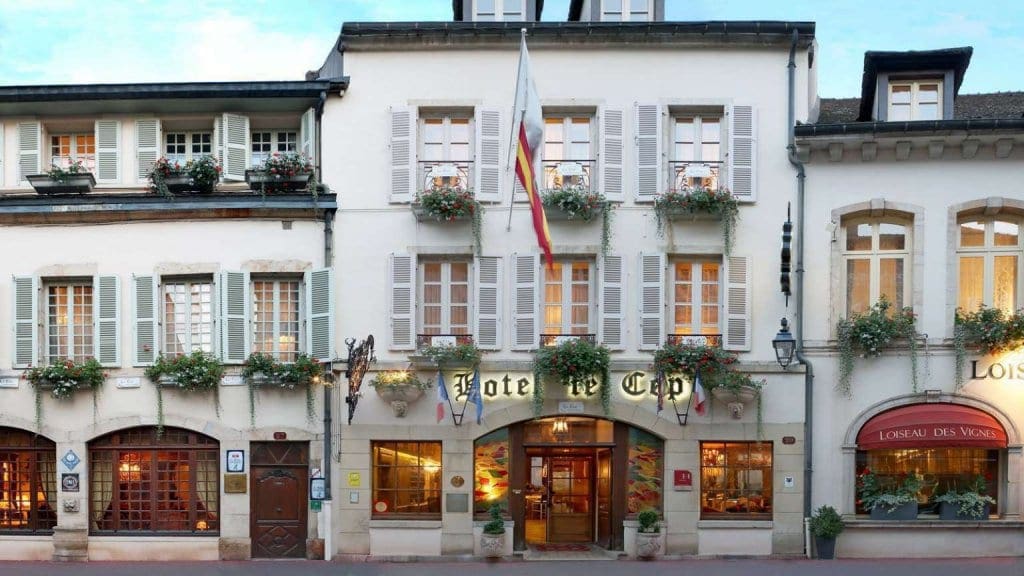 There are quite a few contestants for Beaune's top boutique hotel prize, but we can assure you that Le Cep is ten leaps ahead of the rest. A sophisticated cut above most of the competition, Le Cep oozes charm and style without a hint of pretension. It's also a hotel with heart and soul, run on quite informal yet professional terms, and each guest is given a thoroughly warm and genuine welcome. Located in the historic Beaune center, the hotel manages to be both modern and traditional; the decor is classical rather than hip, but the amenities and approach are thoroughly 21st century. The hotel is perfectly situated for just about anything, including dining at the renowned Loiseau des Vignes Michelin-starred restaurant next door. The rooms are cozy and traditional in design, with the two highlights being the Nectar and Grand Cru Suites – welcome to one of our favorite boutique hotels in France.
---
Chateau de Chassagne-Montrachet
5 Chemin du Chateau, 21190, Chassagne Montrachet
www.chateaudechassagnemontrachet.com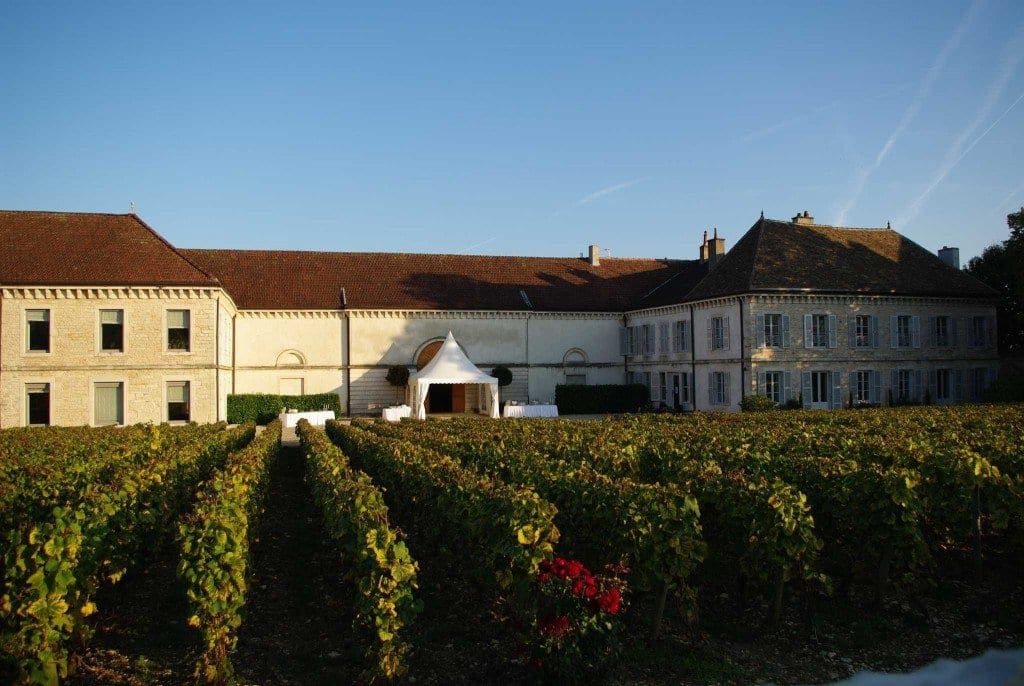 Chateau de Chassagne Montrachet is one of the key venues that have redefined what luxury country accommodation should offer its guests, establishing a new breed of smart, sophisticated, yet relaxed venues for discerning travelers. Based in the famous white wine village of Chassagne Montrachet, with gorgeous views of the Premier and Grand Cru vineyards, the Chateau is easily accessible from Beaune but far enough away from civilization to provide an unparalleled haven of rest and relaxation.
The Chateau has quite a history: originally a residence for several nobles, it subsequently entered into the Picard family's control in 1997. After spending several years improving the winemaking facilities, visionary director Francine Picard decided to open just 5 luxury guest rooms in the Chateau. Individually named and designed, the rooms were restyled in a modern, clean way with all the modern amenities today's traveler expects from premium accommodation. The Chateau itself is a delight to spend time in: from the gorgeous, super high-spec rooms that fit perfectly in with their surroundings to the sumptuous yet cozy living spaces and numerous log fireplaces. But the ultimate crowning glory of this slick and yet totally unpretentious space is the location itself, ideal for exploring the picturesque villages of the Cote de Beaune – from a hedonistic perspective, pure bliss.
---
L'Hotel de Beaune
5 rue Samuel Legay, 21200 Beaune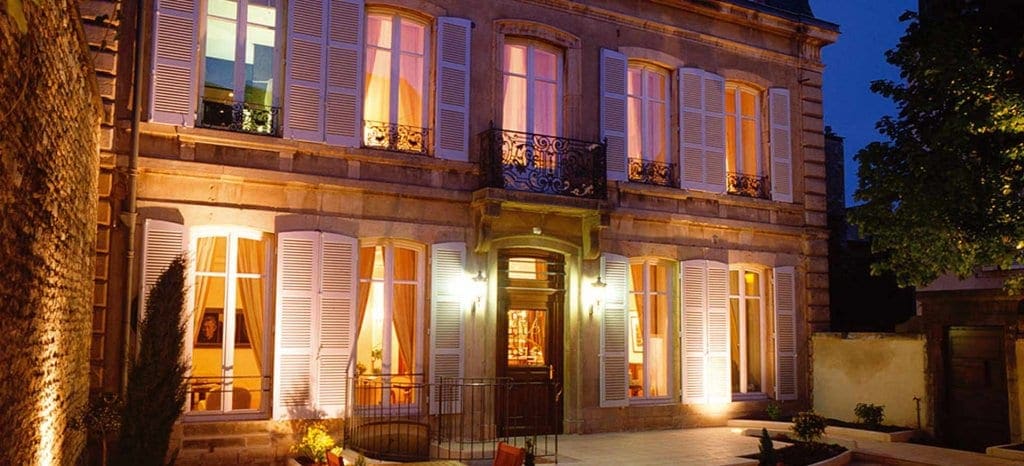 Located in a renovated 19th-century manor house, this gem of a hotel in Beaune's historic medieval quarter is effortlessly welcoming and luxurious. A mere few minutes walk away from the center of Beaune, L'Hotel de Beaune is perfectly positioned to appeal to both gastronomes and culture lovers and has become a firm favorite for discerning visitors who don't enjoy impersonal, large hotels. From the inviting courtyard to the ornate dining room, this is comfort bar none; if you're looking to relax in glorious surroundings, you have come to the right place. Each of the 10 bedrooms is individually furnished and designed to an unparalleled standard; insanely comfortable beds, stylish decor, and copper freestanding baths that demand to be used. The bar and bistro area is a similar haven of relaxation after a busy day's sightseeing – there is also a delightful cafe and deli store attached to the hotel.
It would be so easy for L'Hotel de Beaune to cash in on its location and the surface sheen – but if you dig deeper, you'll discover an expertly designed and well-run hotel committed to cocooning its guests in luxury and making your stay as enjoyable as possible. Service with a smile indeed.
---
La Cueillette
18 Rue de Cîteaux, 21190 Meursault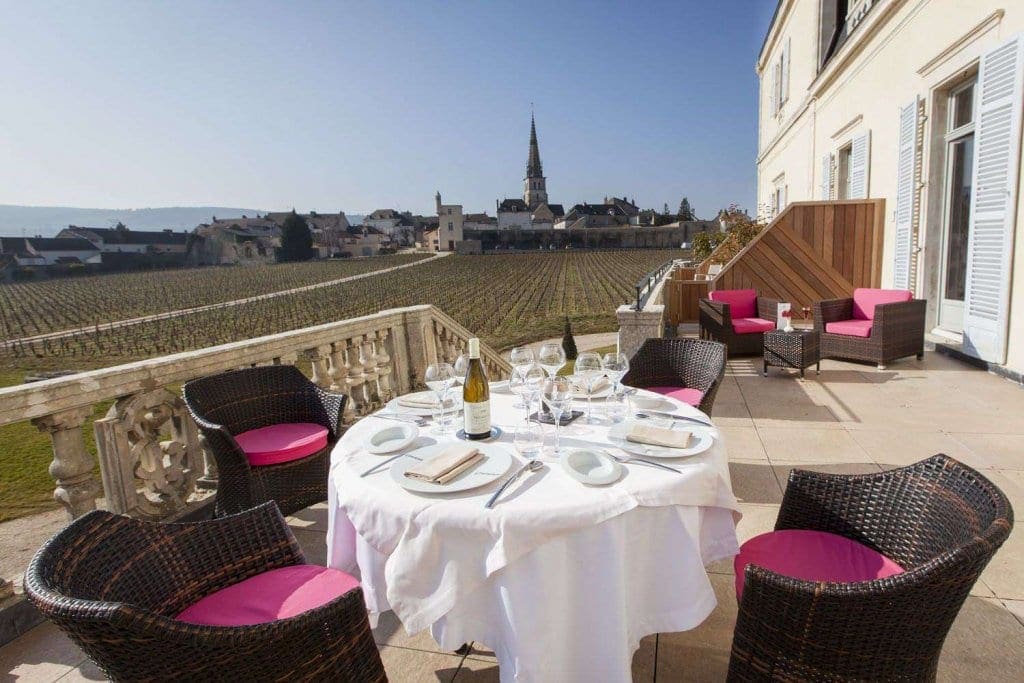 Welcome to Burgundy's finest spa hotel! La Cueillette offers decadent luxury and comfort, with the bonus that you're in the middle of one of the most famous white wine villages in the world.  An imaginative modern design has been put to spectacular use, with a glass-fronted spa easily merging into the landscape next to a historic Chateau. Grandiose communal spaces with antique furniture complement the spacious, high-spec, and airy rooms, the suites being the major highlight. Service is in keeping with the ethos of today's consumers and is engaging and warm rather than stuffy.
Indeed, relaxation is the name of the game at La Cueillette; chill on the terrace with a glass of wine in tow or make use of the superb vineyard facing spa and multiple treatment rooms. The USP of the Chateau is its 'fruit therapy' treatments, utilizing the compounds found in grape skins for several specialized face and body treatments that cannot be found anywhere else.  A large, heated indoor swimming pool allows guests to work off dinner, a particular highlight as head chef Alexandre Bellini will only use locally sourced ingredients to craft a menu that changes according to the flavors of the month. Fresh, perfectly cooked fish and game dishes, local specialties, and an extensive wine list full of Meursault vintages are all present and correct. And, of course, there are utterly divine vineyard views. Dragging yourself away from La Cueillette is going to be a nightmarish proposition!
---
Hostellerie de Levernois
Rue du Golf, 21200 Levernois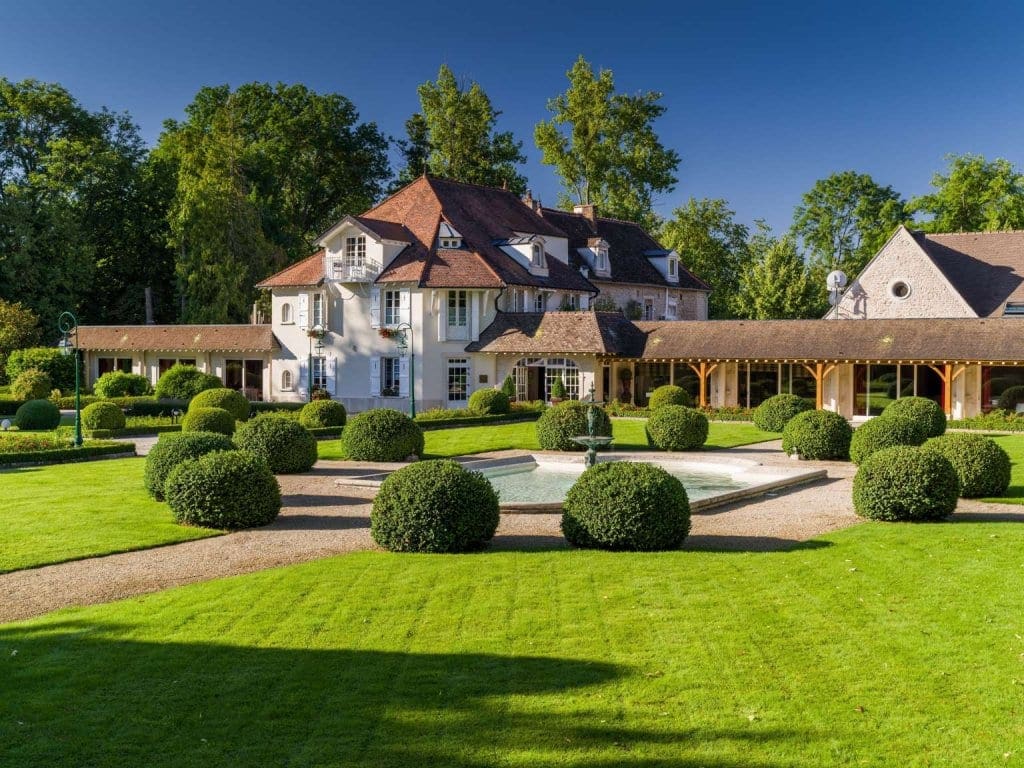 At the heart of Burgundy's gorgeous countryside, you'll find one of the most idyllic and charming country hotels in France. Expertly run by husband and wife team Jean-Louis and Susanne Bottigliero, this luxury small hotel has established a mighty big reputation for its food, service, and surroundings. It offers luxury and history under one roof, with the added bonus of a world-renowned Michelin-starred restaurant on your doorstep. The grounds alone are worth the price of a room; an idyllic garden and central fountain area are thoroughly looked after by a team of friendly, professional staff. Indeed, nothing is ever too much trouble at his hotel, and the welcome that each guest receives is commendable. Philippe Augé handles gastronomic duties; understated super-star chef Auge has joined forces with owner Jean-Louis to bring you mouthwatering, classic Burgundian dishes in portions that are the antitheses to irritating, undernourished nouvelle cuisine. Yet, a touch of the modern flows through the menu; foie gras ravioli with a mushroom infusion, fillet of Charolais with Pinot Noir jus, pigeon breast cooked three ways with white truffle infusion, and the Grand Marnier soufflé are just some of the highlights. The wine list is suitably grand and extensive, with several vintages of legendary bottles like DRC available for those with deep pockets – more affordable options, incidentally, are also plentiful.
---
Chateau de Vault de Lugny
11 Rue du Château, 89200 Vault-de-Lugny, France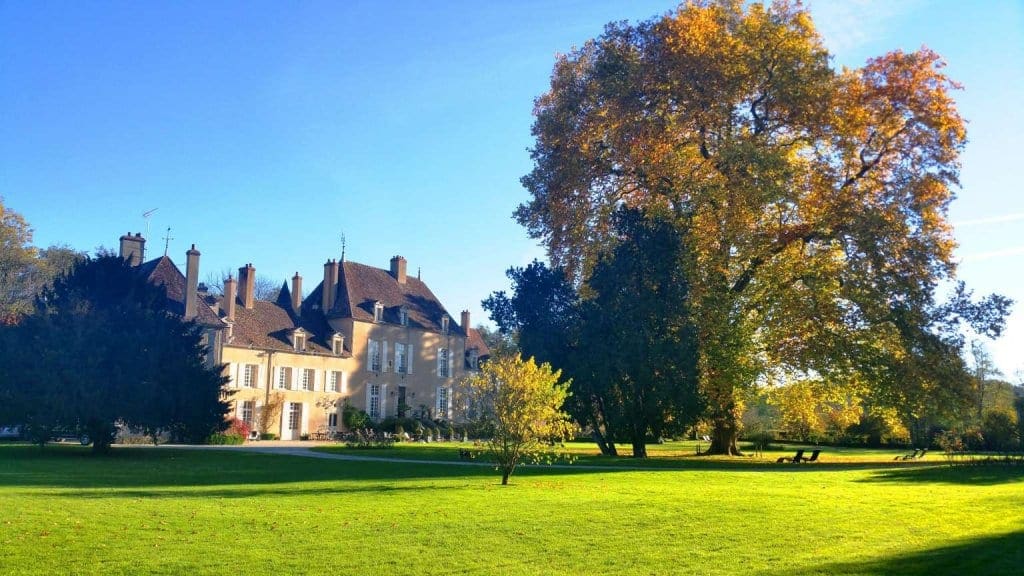 Based in gorgeous parkland outside the famous white wine village of Chablis, this perfectly restored Chateau hotel is something quite special.  Since its restoration by the current owners, Vault de Lugny has successfully redefined the concept of an upmarket Gallic retreat: offering superlative gastronomy, amenities, and accommodation without a hint of snobbery. First-time visitors to this country paradise are always gobsmacked as the Chateau boasts an unparalleled location – even by the standards of the idyllic Burgundian landscape. Based near the charming village of Vezelay, guests who care to dine alfresco enjoy sweeping panoramic views of the parkland and wider region. And if that wasn't enough, the Chablis region is quite close by, as are the Cote d'Or's legendary vineyards.  But first things first – what are the rooms like? Well, spacious, traditional, and insanely comfortable spring to mind. There is also an underground spa and extensive wine cellar with enough fine labels to get even the most well-seasoned wine lover excited. For dinner, take a leisurely stroll from your room to the superb in-house restaurant, presided over by Franco Boowanee, who trained on the tropical island of Mauritius and did a stint at Paul Bocuse's famous restaurant. Enjoying the finer points of his cooking, either on the terrace or under the Gothic vaulted ceilings of the Chateau's former kitchens, is an extraordinary experience indeed – a must-visit haven for all food and wine lovers!
Related Blog Posts: