Luxury Castle Retreats in Italy
Staying in a castle in Italy is one of the most romantic and unforgettable experiences you could imagine. Having the whole castle to yourself is happiness at an entirely higher level! We have compiled a list of some of our favorite Italian castles available for exclusive rental, from Trento's mountains, to the gentle vineyard-covered hills of Tuscany and beyond, to the sunny island of Sicily. This is a mix of different sized castles. There are smaller, intimate ones for couples and groups of friends and larger, spectacular castles suitable for larger groups and exclusive, private events. Live out your fairytale in Italy, staying at one of these gems!
1. Villa Borghese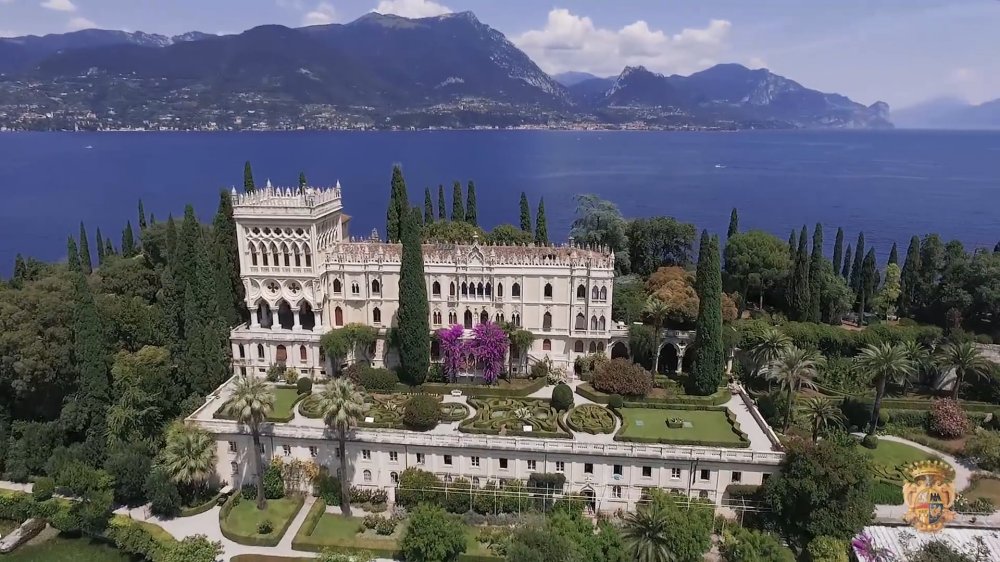 Website: www.isoladelgarda.com
The castle is situated on a private island in the middle of Lake Garda. It has a magnificent Venetian neo-Gothic style villa and lush Italian gardens: a true paradise, owned since 1927 by the Cavazza family. Its rich and complicated history began in the XI century when St Francis built a hermitage here, which was then turned into a monastery in 1429 and into a theology and philosophy school in 1470. Napoleon abolished the monastery in 1797, and, in the following years, the island had several owners, including count Lechi who started significant construction and restoration works. In 1860 the island was sold to Duke Gaetano de Ferrari of Genoa and his Russian wife, the Archduchess Maria Annenkoff. They built the park, the Italian garden terraces, and improved the existing palace to become the villa in Neogothic-Venetian style we know today. When the Archduchess passed away, her daughter Anna Maria, married to the Prince Scipione Borghese of Rome, inherited the villa and the island. In 1927 Prince Borghese died; his daughter Livia became the owner, with her husband Count Alessandro Cavazza of Bologna.
You can rent the venue for a special celebration like a wedding or a milestone birthday, for a business event, or solely for a private family vacation.
Related tours:
---
2. Castello Orsini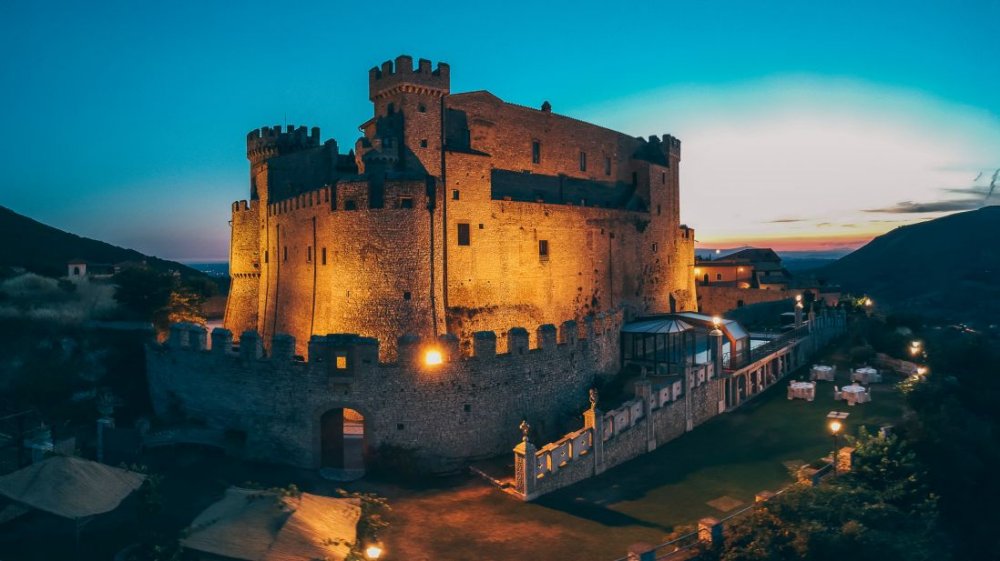 Website: www.castellorsini.it
Castello Orsini is less than a one hour drive from the center of Rome. The castle dates from the 11th century and has had many different owners, including William III of England, and has hosted several Popes (from Urbano II to Pio VI), Napoleon Bonaparte, and Galileo Galilei! In 1939 famous football player Giuseppe Meazza bought it. Still, when he refused to join the fascist party, Benito Mussolini gave the castle to the CADL company and the Marquee Ferrari-Frey. In 1994 the castle was transformed into a luxury hotel, wedding, and events venue. The rooms and lounges have modern comfort, medieval taste, and many feature original antique tapestries, paintings, armor, and paneled ceilings.
Related tours:
---
3. Castelbrando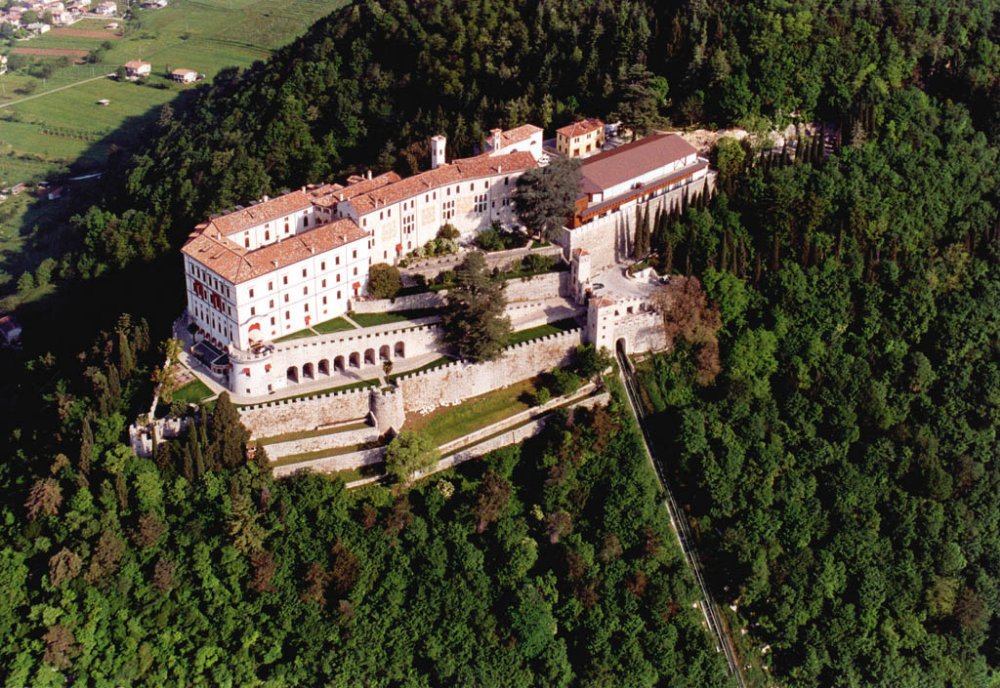 Website: www.hotelcastelbrando.com
Originally built as a fortress in Roman times, Castelbrando is a medieval castle on Mount Castello's slopes. Its name comes from the Brandolini family, lords of the castle, since 1426. They transformed the fortress into an elegant palace in the style of Venetian villas. The Austrians occupied the castle during WWI. After the war, it was restored and reopened as a residence in 1929. In 1959 it was sold to the religious order Society of Saint Francis de Sales, and in 1997, it was bought by a company that converted it into a hotel, theatre, museum, and 56 rooms. The castle's museum has many historical items, including weapons, costumes, and carriages. You can reach the castle with a unique funicular.
You can rent the entire castle for weddings or special private events. The venue has hosted many celebrities over the years, including Jeremy Irons and Dennis Hopper.
Related tour:
---
4. Castello di Tassara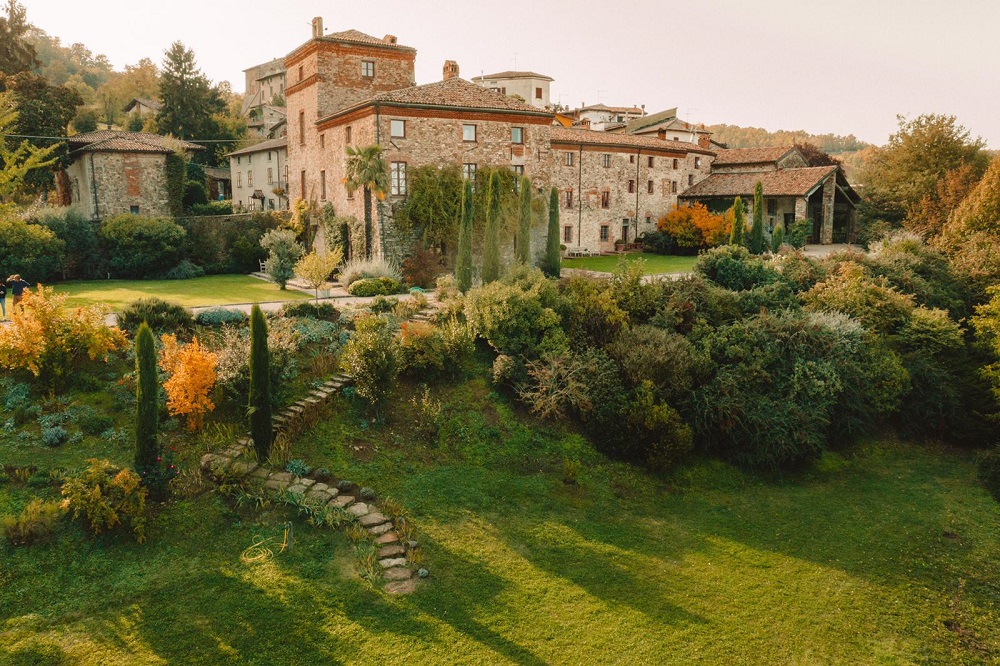 Website: www.castelloditassara.com
Built-in the XIII century, with a still-working church added in 1600, this is the perfect location for relaxing and getting pampered with idyllic views of the countryside, woods, and vineyards. Private and intimate, it offers five rooms and two suites, accommodating up to 17 guests.
Related tours:
---
5. Castello di Gabiano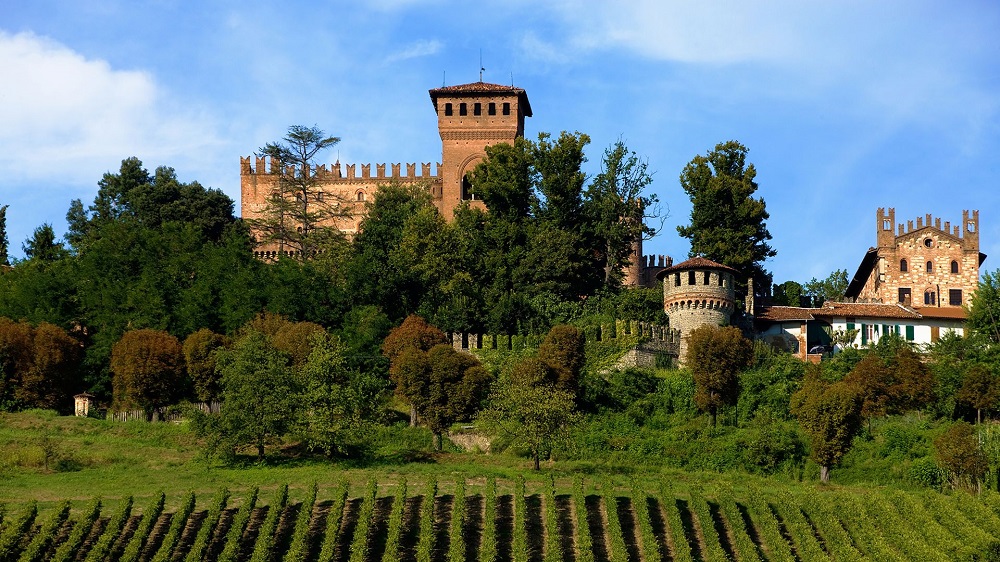 Website: castellodigabiano.com
Authentic castle, an on-site winery with XII century cellars, eight luxury suites relais: what else could Castello di Gabiano offer? What about a restored medieval village, a labyrinth garden created in 1930, a private lake to relax and fish? Not to mention the farm to table restaurant and the chance to go truffle hunting, biking, golfing in the surroundings. The long history of Castello di Gabiano is fascinating. In the IIX century, a document signed by Charlemagne talked about the castle, evidence of its importance and strategic location. Many prominent noble families have owned the castle, until 1622 when duke Ferdinando Gonzaga of Mantua gave it to Agostino Durazzo Pallavicini, named Marquis of Gabiano. Giacomo Cattaneo Adorno is the last Marquis of Gabiano and still manages the estate.
Related tours:
---
6. Castello Bevilacqua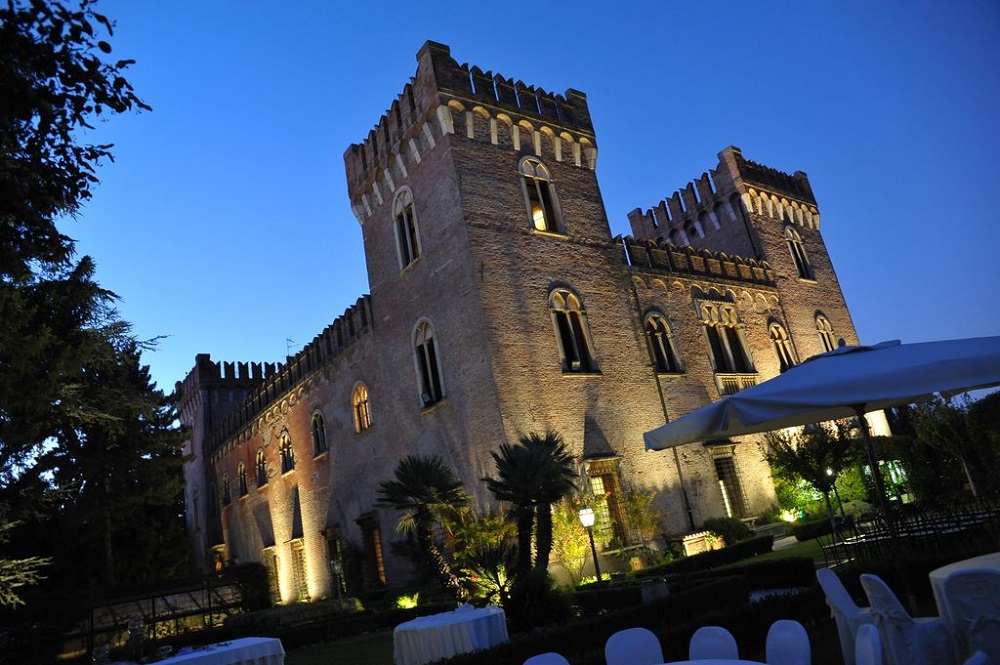 Website: www.castellobevilacqua.com
Built-in 1336 by Guglielmo Bevilacqua as a defensive building, the castle went through several renovations, particularly in 1532 and 1756. In 1848 the Austrian troops ransacked the castle; however, in 1860, Felicita Bevilacqua and her husband restored the building in a neogothic style. The Nazis occupied the castle during WWII, and after the war, it became a school. In 1966 the building was devastated by a fire and left to ruin. However, in 1990 Cerato family bought it and restored it to its former splendor.
The castle has seven romantic suites and an elegant fine dining restaurant. It is ideal for private family events or business meetings.
Related tours:
---
7. Castello di Monterone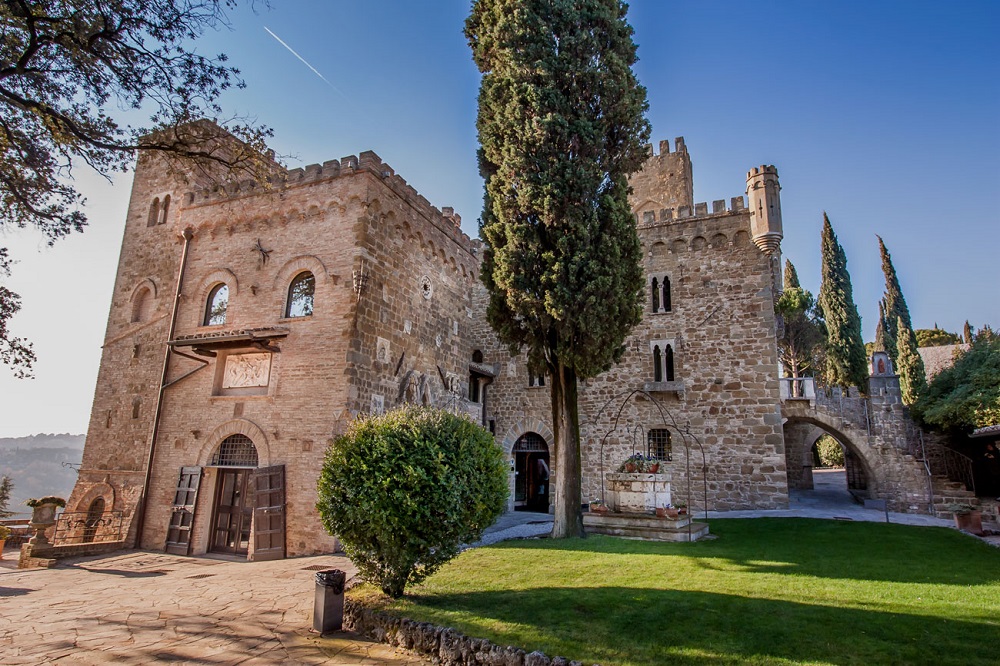 Website: www.castellomonterone.com
Historical archives show that Castello di Monterone already existed in the XI century, and Templar Knights occupied it until 1312. However, in the XV and XVI centuries, the castle was severely damaged in local feuds. Eventually, in 1849 the castle was restored, and Pope Leone XIII attended the grand re-opening.
In the heart of Umbria, located between historic Perugia and Assisi, Castello di Monterone is an excellent base to explore Umbria, Southern Tuscany, and Marche. You can stay in one of the 18 rooms, or rent the entire castle. There is an on-site gourmet restaurant that offers traditional cuisine prepared with locally sourced ingredients. Dishes include hand-made umbricelli pasta with sheep's ricotta, sausage, fresh Norcia black truffle, and many more delicious plates.
Related tours:
---
8. Castello di Guarene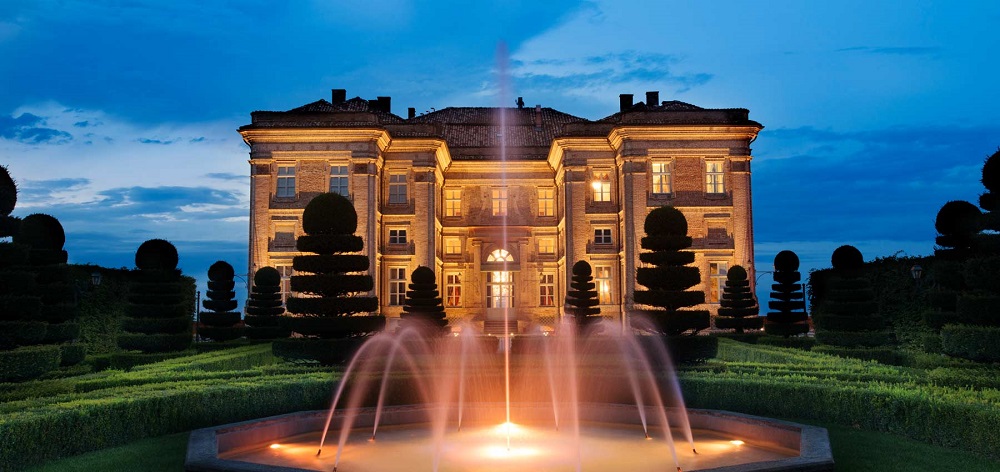 Website: www.castellodiguarene.com
Twelve decadently luxurious rooms with panoramic views over the sublime Langhe and Roero hills, scattered with villages and vineyards; a gourmet restaurant and bistrot; excellent spa; small museum and enchanting, manicured gardens: this is the Castello di Guarene. Almost 82 feet high, this beautiful three-story castle was originally built in the early 1700s by Carlo Giacinto Roero di Guarene. A funny anecdote is that it was built "by mail" because, in the winter, Carlo stayed in his Turin residence, and he would send letters daily with detailed instructions to his construction workers. Construction continued until after Carlo's death in 1749, and then the noble family Roero di Guarene, della Vezza e di Piobesi, until 1899 when the Provana di Collegno family inherited it. Famous visitors include King Vittorio Amedeo II, who visited in 1773. The castle was elegantly restored and transformed into a luxury hotel in 2011 and can now be rented out exclusively.
Related tours:
---
9. Castello di Spessa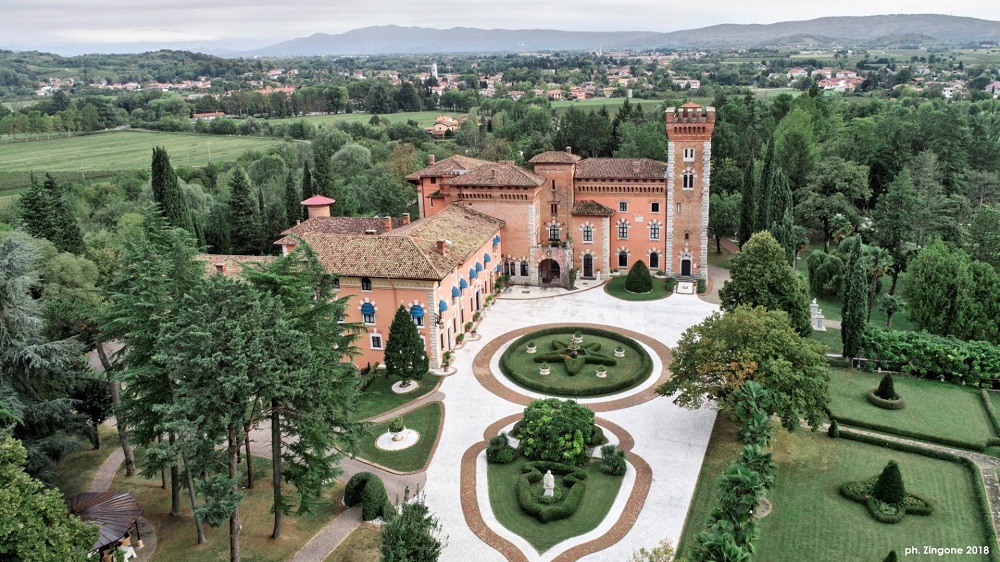 Website: www.castellodispessa.it
Castello di Spessa is in the beautiful countryside of the Collio wine region and has been producing wine since the 1950s. Built in the XIII century, it has been owned by several noble families over the centuries, and it hosted many distinguished guests, including Lorenzo Da Ponte, the librettist who worked with Mozart, and Giacomo Casanova (who had to leave hastily because of an affair with a maid of the castle). During WWI, the castle was requisitioned to the Italian military command and hosted both Marshal Cadorna and Marshal Diaz. Today it is owned by the Pali family, who bought it in the '80s. The castle has 15 rooms with excellent views of the vineyard-covered countryside and additional rooms in the adjoining chic renovated farmhouse. You can play golf onsite, indulge in the wine spa, walk Giacomo Casanova's path in the park, dine at one of the three restaurants, take a cooking class, and visit the farm and apiary. Also, the castle is a perfect location to visit the excellent Friuli Venezia Giulia wine region.
Related tours:
---
10. Castello di Vicarello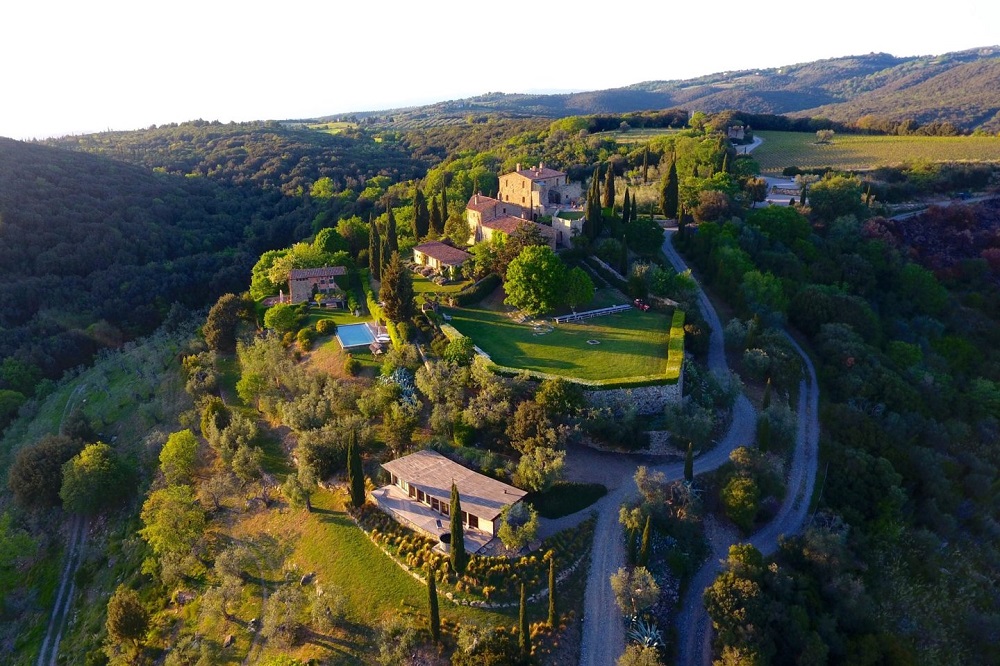 Website: www.castellodivicarello.com
Built-in, the XI century by the Siena Republic, bought and carefully restored in the 1980s by Carlo and Aurora Baccheschi Berti, Castello di Vicarello is a fairytale come true. In the heart of Tuscan Maremma, nine suites spread across 40 hectares estate, two luxurious infinity pools, and attentive staff is at your disposal. In this heavenly piece of Tuscany, you can experience an authentic and exclusive Tuscan experience, grapes and olives harvesting in the Fall, horseriding, taking cooking classes in the medieval kitchen, truffle hunting in the surrounding woods.
Related tours:
---
11. Castello di Ugento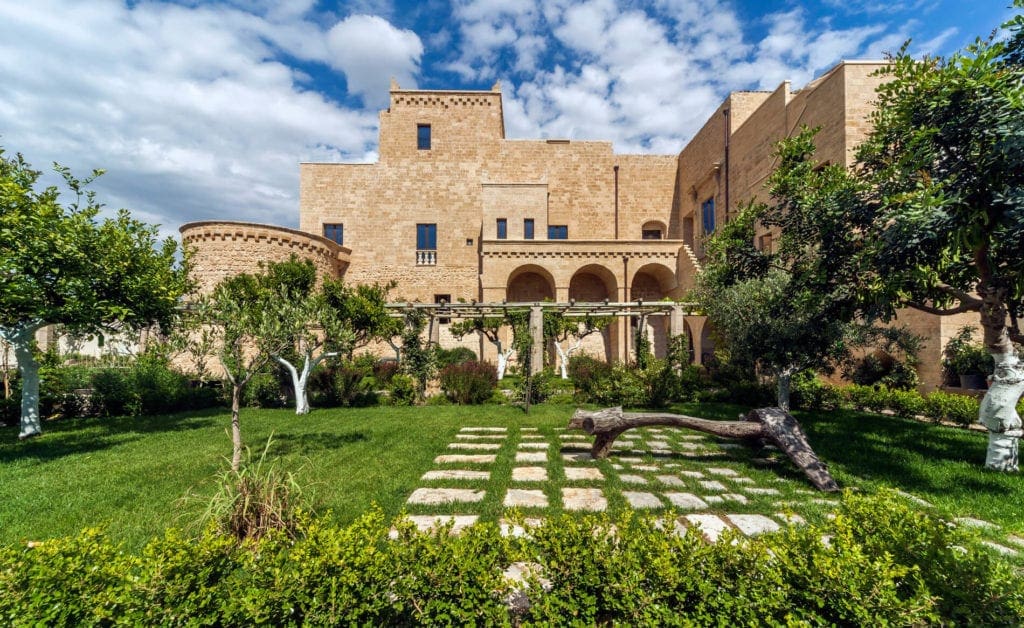 Website: castellodiugento.com
Nestled between the Ionian and Adriatic seas, Castello di Ugento is located in Salento, the "heel" of Italy. It is one of the most impressive castles in Puglia, built on a hilltop on Messapian ruins, destroyed and rebuilt many times over the centuries. There is plenty to do and see, from cooking classes to wine and olive oil tastings on-site, from boat excursions to bike tours in Regional National Park of Otranto, or you can relax by the pool or at one of the excellent Salento beaches.
Related Tours:
---
12. Castel Pergine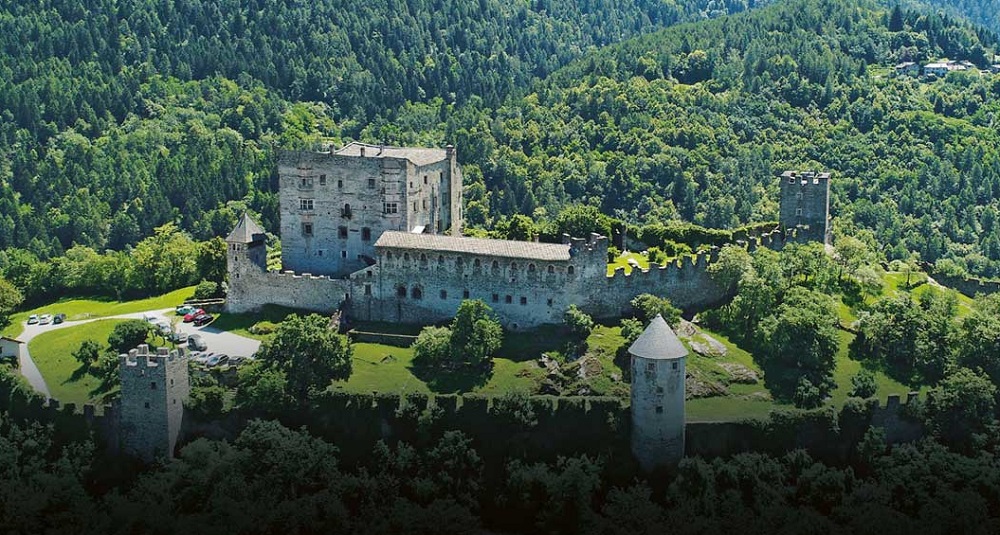 website: www.castelpergine.it
Built as a Roman settlement, Castel Pergine was enlarged and became a fortress in the XIII century. It turned into a hotel in 1956, with a restaurant and venue for cultural events. Today it is owned by a foundation, but it keeps the same hospitality values. Many distinguished visitors have lived or spent some time here: the Indian philosopher Jiddu Krishnamurti, the Duke of Austria Frederick IV, the Holy Roman Emperor Maximilian I, to name but a few. There are 17 rooms and three suites in the towers, where you can have complete privacy; our favorite is the Lake Suite in the squared tower, with a private terrace and outstanding views of Lake Caldonazzo.
Related tours:
---
13. Castello Tafuri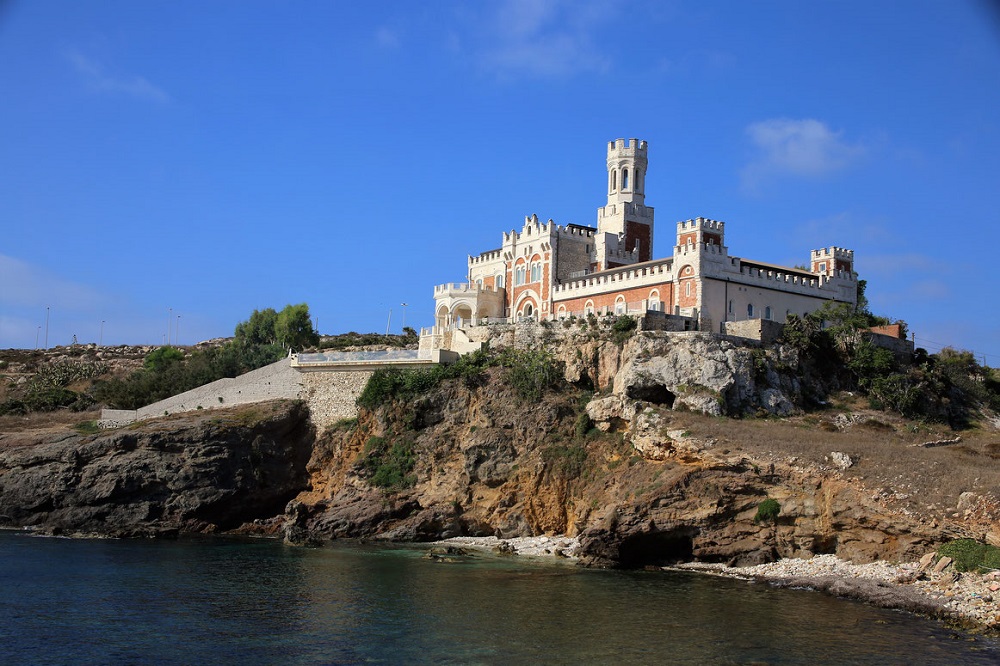 website: www.castellotafuri.it
Castello Tafuri is a liberty style castle on a rocky cliff in South West Sicily, overlooking the crystalline and blue Mediterranean sea. The construction was started in 1935 by Franzo Bruno di Belmonte; however, it was not completed until 1957. The Turi family converted the castle into a hotel, with 18 rooms and an outdoor swimming pool.
Related tours:
---
14. Castello delle Serre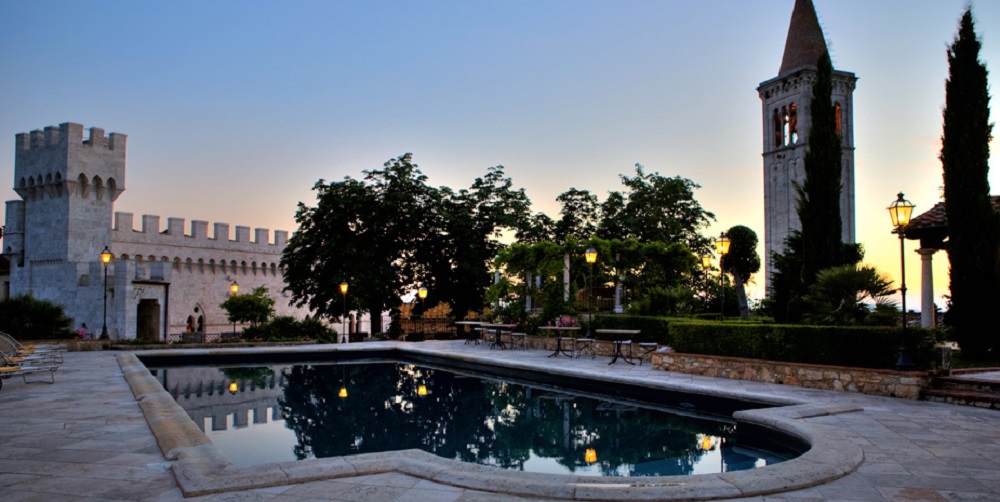 Website: castellodelleserre.com
Castello delle Serre is in the very heart of Tuscany, next to the medieval village of Rapolano (which features an excellent natural hot spring spa), between Siena and Montepulciano. The castle's history stretches back to the Byzantine era. Now owned by the Gangale family, they restored the castle and turned it into a hotel and private event venue in partnership with the Sattui Winery of Napa Valley, California. You can relax by the pool overlooking Crete Senesi or explore the outstanding surroundings, from Val d'Orcia villages to Siena, from Cortona to Chianti, Montalcino, and Montepulciano wine country. There are six different kinds of rooms, from standard to deluxe suites; we love the Upper Tower Suite with its private rooftop terrace and open views of the Tuscany idyllic countryside. You can rent the whole castle for your family or private events.
Related tours:
Related Blog Posts: