Classic Champagne Cocktail Recipes for Xmas

Tradition or experimentation? Classical dishes and drinks, or daring new ideas? Christmas is a season that celebrates the best of food and drink, but also poses that thorny question about whether to play it safe or venture into the unknown. Roast turkey with all the trimmings and a top-end Burgundy, or beef brisket and Vega Sicilia? The options at Christmas are almost endless, and nowhere is this more apparent than when planning your festive celebrations. Trying to keep everyone happy can be something of an ordeal.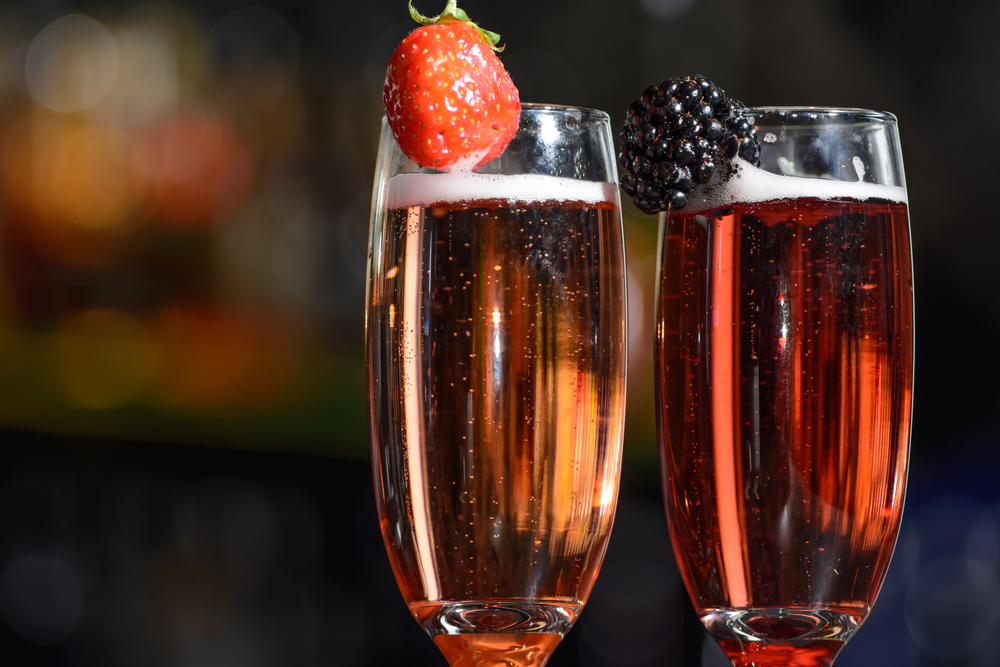 Yet it would be hard to imagine any party guest refusing an expertly crafted, refreshing Champagne cocktail. Sophisticated, elegant and timeless, Champagne cocktails have few peers. Even the most trend-conscious bartender would readily concede that at the heart of all great cocktails is both a respect for tradition and an overriding focus on the quality of ingredients. A Champagne cocktail ticks all the boxes; it's still relevant, despite changes in fashion, lending itself to a variety of interpretations and guises. Indeed, there is something decadent and irresistible about a Champagne cocktail – building a cocktail around the world's finest sparkling wine is surely a guaranteed recipe for success. Tradition dictates that Champagne cocktails are the ultimate Christmas and New Year's Eve party staple, and it's certainly true that there is something quintessentially celebratory about a hedonistic mix of liquor, bitters, and juice dressed up with bubbles.
However, this selection of bespoke Champagne cocktails and long-established classics are (we hope!) perfect for every occasion, and not just the holiday season. We've interviewed several bartenders to bring you the best of their signature creations – from white chocolate and strawberries to cherry blossom and chill, the following are a mix of the traditional and brave reinventions. Leading bartender Christophe Chilard – based at the Royal Automobile Club in London – offers this top tip when making these yourself: "Be sure to pour the Champagne very slowly when you top up the glass, as it reacts with the base and bubbles up more than you might imagine. Cheers!"
Join Cellar Tours for a Private Luxury visit of the best Champagne houses, dine in the top local restaurants and your own private chauffeured Mercedes
Bespoke cocktails
Champagne Dawn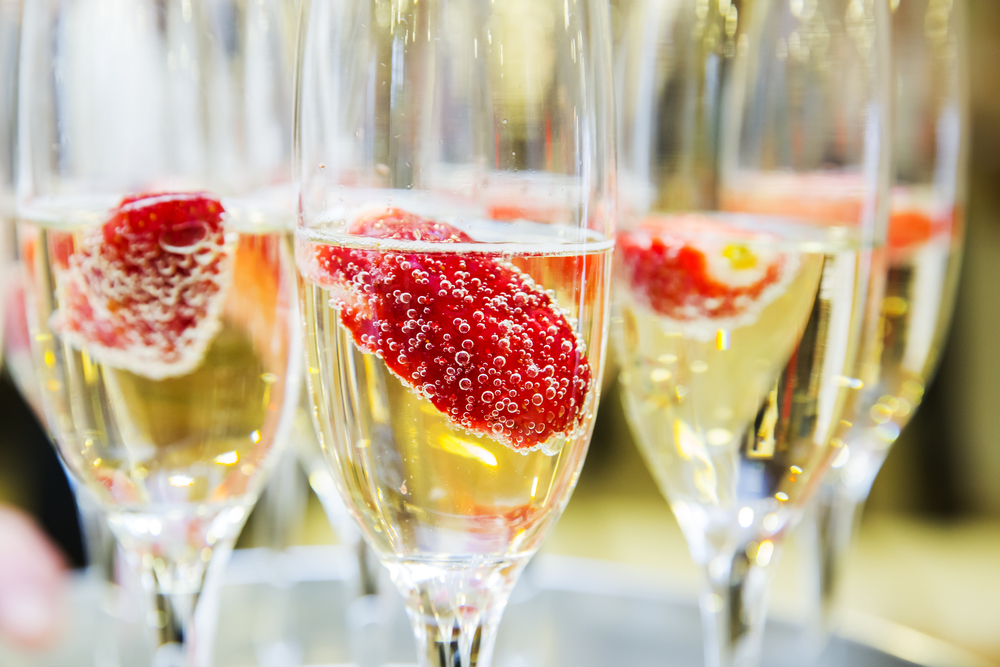 Source: Royal Automobile Club, London – Jelena Mariseva
Sweet raspberries, sharp lemon and a drop of Champagne make this elegant pink cocktail perfect for any occasion. A handful of ripe raspberries popped into a bottle of vodka and left for at least three days will give you the ideal result.
Ingredients
2cl home-infused raspberry vodka
2cl limoncello
1cl gomme syrup
4-5 raspberries
10cl Champagne
Method
Muddle and shake the first four ingredients. Double strain into Margarita glass. Top up with Champagne and place one raspberry on the surface.
---
Golden Rush

Source: Royal Automobile Club, London – Naveen Dias
A punchy reinvention of the classic Champagne cocktail. A mix of mild bourbon contrasts nicely with the dry spice of The King's Ginger and bitters. Opposites attract indeed!
Ingredients
2.5cl Bourbon
2.5cl The King's Ginger
1 sugar cube
4 drops of Angostura Bitters
0.5cl maple syrup
8cl Club Champagne
Method
Soak the sugar cube with Angostura Bitters and drop it into the Champagne flute. Add the rest of the ingredients. Top up with Champagne and present with a long orange twist.
---
Stolen Orchid

Source: Royal Automobile Club, London – Luna Gomes
When Luna Gomes first created this stunning pink cocktail, she couldn't help feeling something was missing. An orchid caught her eye in one of the Club's flower arrangements and she snuck it back to the bar to adorn her creation. It's a criminally good Champagne cocktail.
Ingredients
2.5cl vodka
1.5cl lychee liqueur
1cl lime juice
1.5cl elderflower liqueur
1cl vanilla syrup
3 drops of rosemary bittersweet
2 lychees
Rose Champagne
Method
Muddle and shake ingredients. Double strain. Pour into Champagne flute. Top up with rose Champagne. Garnish with edible flowers. Enjoy.
---
The Lovers

Source: Voodoo Reyes, Geneva – Katalin Bene
Arguably Switzerland's finest bartender, Katalin Bene's signature Champagne cocktail, is called "The Spirit of Love." It's a very refreshing, uplifting, floral drink with sorbet and bubbles and is her take on the French 75.
Ingredients
50ml Elderflower & Clary Sage infused gin
10ml Fresh Lemon juice
10ml Roasted fennel seed honey
1/4 spoon of finely ground Asparagus powder
Method
Shake the ingredients with ice, fine strain into a large flute glass over a scoop of cucumber sorbet, and top up with 50ml Brut Champagne.
After adding the champagne, gently slide a spoon down to the bottom of the glass and then gently lift it. The shaken ingredients will mix with the champagne, and the sorbet will float up to the top of the drink. Sipping the drink through the sorbet is fun as you get different flavors and textures and some lovely bubbles too. Divine.
---
Old School Classics
Grand Royal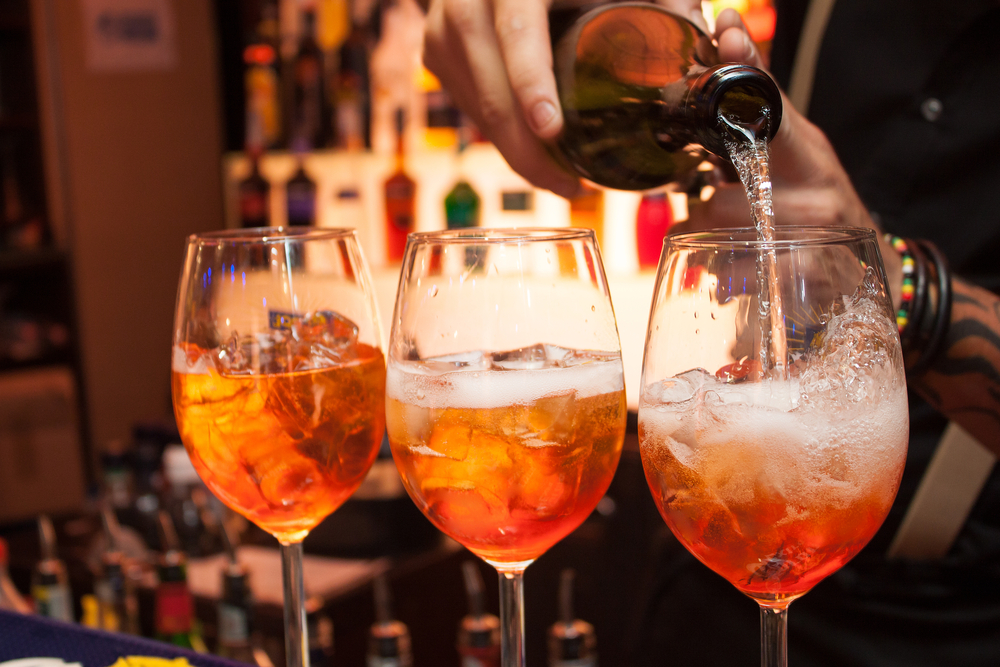 They say the old ones are the best – this heady concoction is guaranteed to start any celebration on a high note.
Ingredients
3/4 parts Grand Marnier
4 parts Champagne
Method
Simplicity itself: add the Grand Marnier to a champagne flute, then top with champagne. Garnish with an orange twirl.
---
French 75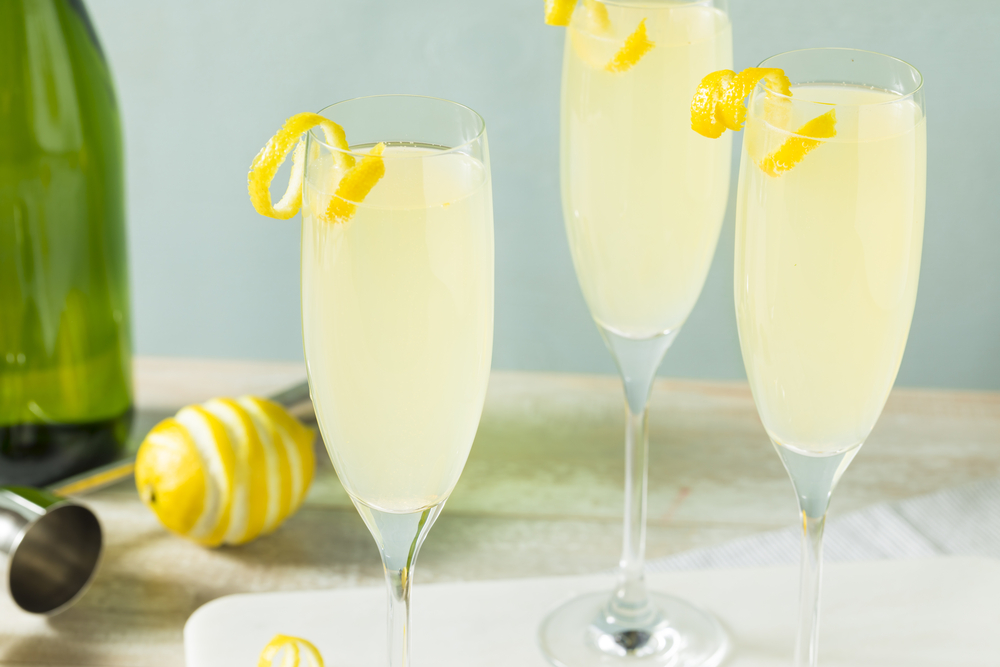 Gin is very much the spirit du jour – "It's the versatility that makes gin such a brilliant spirit," enthuses bartender Christophe Chilard. "The possibilities are endless." But gin's versatility doesn't begin and end inside gin and tonics. French 75 takes the best parts of Champagne and the inimitable white spirit to forge something far greater than the sum of its parts.
Ingredients
2 oz. gin
1 tsp superfine sugar
1/2 oz lemon juice
5 oz Champagne
Method
Mix the gin, lemon juice, and sugar well with cracked ice in a chilled cocktail shaker. Strain the mixture into a martini glass half-full of cracked ice and top off with champagne. Formidable!
---
Black Velvet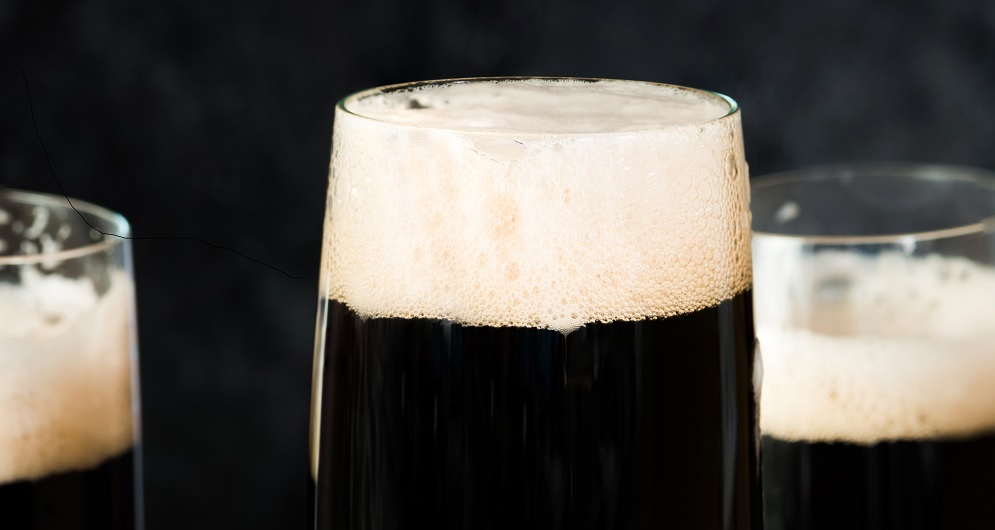 It doesn't get any easier or more festive than mixing a Black Velvet on New Year's Eve.
Ingredients
Method
Half-fill a Collins glass with stout and top up slowly with Champagne. Stir gently to perfection.
Related Blog Posts: