Pinot Noir excites, enthralls, and disappoints in equal measure. It is responsible for some of the most hauntingly beautiful wines on earth, including the Burgundy Grand Crus of La Tache, Chambertin, and La Romanée Conti. Collectors will pay almost any price for an opportunity to sample this legendary wine – bottles of Domaine de la Romanée Conti routinely sell for an excess of $20,000 at auction. For some critics, it stands head and shoulders above all other red grape varieties. And yet, far too often, Pinot Noir ends up becoming a woefully anemic and underwhelming wine. The question is: why?
Even the most passionate Burgundy nut will concede that Pinot Noir is a very temperamental, mercurial, and downright stubborn grape variety. It is susceptible to temperature–producing acidic dross one year and coarse alcoholic 'soup' the next. Indeed, Pinot Noir differs from all other noble red grape varieties in several key ways; the skins contain fewer coloring pigments, phenolics, and flavoring substances. The winemaking must be precise and nuanced, as the grape is prone to oxidation. Every decision made and every action taken can profoundly affect what emerges in the bottle. No grape makes the choices open to the winegrower more important than Pinot Noir. Only the greatest oenologists succeed with this capricious variety.
Read more about French Red Wine
You can explore the Burgundy Wine Region with Cellar Tours on a private Luxury Food and Wine Vacation, dine in the best local restaurants, and enjoy VIP tastings in the top wineries.

History and viticulture
The origins of Pinot Noir are shrouded in mystery. However, there is a longstanding and romantic tale involving a Celtic tribe called the Aedui; it is said that Burgundy's ancestors decided to invade Lombardy, taking Pinot Noir back to France as the spoils of war. The fable suggests that they fled from Northern Italy after the Roman conquest, although there is no hard evidence to support this claim. Yet there are clues to follow: Pinot Noir is an ancient variety, genetically close to wild vitis vinifera. Some have argued that Pinot Noir is a cross between Champagne's Pinot Meunier and Traminer, although few viticulturists have given credence to this claim. The most plausible scenario involves the propagation of domesticated vitis vinifera via the port of Marseille, which became a central commercial hub for Greek and Phoenician merchants in 600 BC. Yet, some historians insist that Pinot Noir was born in the Burgundy region, adapted from the wild by the Aedui. Roman records indicate that wine was first made in Burgundy in approximately 200 AD, although Pinot Noir was not mentioned in written documents until the late 14th century.
Interestingly, the red grape of Beaujolais, Gamay, was established in the Coté d'Or long before Pinot Noir got a foothold in the region. In the 1300s, Gamay became popular due to its ability to offer a generous crop – a major boon for growers recovering from the ravages of the black death. Unfortunately, the Dukes of Burgundy declared 'war' on Gamay and did much to encourage winegrowers to rip it out and replace the grape with Pinot Noir. Finally, in the 15th century, Philippe the Good issued a decree prohibiting the cultivation of Gamay, arguing that it was subordinate to Pinot Noir in quality. However, Gamay remained planted in the vineyards of the Coté d'Or for several centuries after the Dukes decided to banish it; the appellation of Morey-Saint-Denis maintained parcels of Gamay until the 1800s.
Pinot Noir is a chameleon, producing exceptional sparkling wine in Champagne and seductive still red wines in Burgundy and the Loire. There are also certain sites in the New World – New Zealand's Otago region would be a classic example – where it achieves greatness. But there is also an important caveat: there is still far too much bad wine being made, cultivated by inexperienced growers on the wrong terroirs.
Anthony Hamilton Russell, owner of Hamilton Russell Vineyards in Hermanus in South Africa, produces one of the finest New World examples made today. He captures the immense challenges facing the winegrower when he notes that "Pinot Noir is the most articulate communicator of the personality of site and soil. It unlocks all the ancient mysteries of a particular site with uncompromising honesty. If the site has little to say, so will the wine." read more The Best Pinot Noir from around the world
But, he adds, "If the site is a privileged one, then, in the right hands, the story the wine tells is a deep and intellectual one." Pinot Noir thrives on calcareous soils, particularly the marlstone of the Coté d'Or and chalk of Champagne. As a result, it tends to bud early, which increases the risk of frost damage in cooler climates. Moreover, the vine tends to grow tightly-packed clusters of berries, increasing the risk of rot during inclement weather.
Pinot Noir is a relatively early-ripening variety, requiring just the right amount of heat, sunlight, and moisture to produce premium-grade wine. Only in certain vintages and in certain climats (vineyard sites) will that balance be perfectly achieved. Above all, the vine must be pruned throughout the growing season; bunch-thinning is common among the top producers of Burgundy. The quality of Pinot Noir is mainly influenced by the final yield that enters the winery – excessive crops lead to dilute and flabby wine.
Winemaking
Producing exceptional quality still wine from Pinot Noir is a nerve-racking task. It tests all but the most experienced and talented winemakers.
The grower must decide what type of wine they seek to make from the outset. Certain producers favor whole bunch fermentation, while others use a mixture of crushed grapes, whole bunches, and possibly destemmed grapes. In ripe vintages, grape stems can enhance the structure and longevity of the wine – Domaine de la Romanée Conti and Le Roy are known proponents of whole bunch or 'whole cluster' fermentation. They argue that it increases complexity and depth in the final wine. Others believe that it can contribute bitter and astringent tannins if used to excess.
Many growers favor cold soak or pre-fermentation maceration, arguing that it gently extracts color and tannin from the grape pomace. However, most leading domaines prefer to rely on wild yeast, using the pigeage or punch down method at relatively high temperatures (generally between 30-25 degrees) to extract good color (but not excessive) tannin and flavor. But, again, the timing is critical; an unbalanced and 'top heavy' wine will emerge if the fermentation takes too long. Historically, the Burgundians would add sugar to the fermenting must (called capitalization) to enhance body texture and increase the overall alcohol level, particularly in difficult vintages. However, global warming has meant that it is increasingly no longer a necessary addition.
The subject of oak maturation is particularly divisive in Burgundy. Traditionalists fervently believe that Pinot Noir and new French oak should remain mutually exclusive; they argue that it spoils the style and destroys any hope of terroir expression. For sure, if handled clumsily, too much new oak can ruin the typicité of a good red Burgundy. Yet there are several domaines that successfully mature their wines in close to 100% new barrique with spectacular results. Moreover, if used intelligently, oak brings a welcome dimension to Pinot Noir, adding structure, weight, and mouthfeel.
Unfortunately, that isn't the end of the argument. If winemakers are tired of debating the relative merits of new oak, they'll bring the subject of filtration into the discussion. And boy, does this topic get their pulses racing! Some of Burgundy's leading growers argue that filtration is an abomination, a surefire way of stripping aroma and flavor from the wine. Others believe that it plays an important role in stabilizing the wine, ready for transport. Critics of this 'hands off' approach note that a lack of filtration can lead to cloudiness, and even spoilage in extreme cases, if a percentage of yeast such as Brettanomyces remains in the wine. Nevertheless, such concerns often fall on deaf ears.
Pinot Noir's standing ovation
If France has a viticultural celebrity, then it is undoubtedly Pinot Noir. Although Bordeaux has a long history of exporting fine wine to global markets, the top wines of Burgundy are currently the most sought-after and hyped in the world. Land prices across the region have reached astronomical levels – only inheritance or obscene wealth can open doors in the vineyards of Chambolle-Musigny and Gevrey-Chambertin. Although one may view the Burgundy craze with understandable skepticism – can these wines be that good? – it is inarguable that the best Pinot Noir is made in the Coté d'Or. Burgundy is extraordinary: the inimitable combination of climate, terroir, and know-how.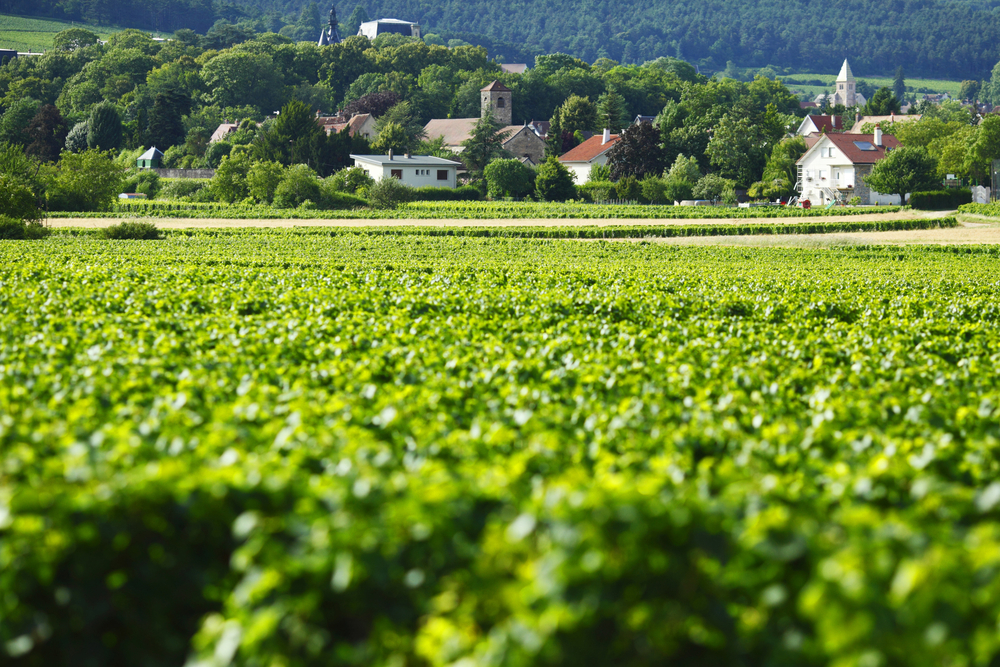 Vineyards in Gevrey Chambertin
Yet the Coté de Nuits and Coté de Beaune villages maintain a timeless, almost rustic atmosphere. Burgundy remains a very fragmented region – the church's significant land holdings were broken up after the French Revolution, distributed across many families and members of the aristocracy. Thanks to inheritance laws, many of the most famous Grand Crus are farmed by multiple growers who may cultivate vines in various climats. This all contributes to the mystique of red Burgundy.
Today, the Coté d'Or (Golden Slope) needs no introduction to Burgundy lovers. Pinot Noir thrives on the complex mix of clay/limestone and red marls, producing an astonishing variety of wine styles, from the ethereal charms of Chambolle-Musigny to the exotic voluptuousness of La Tache. One of the reasons that oenophiles are prepared to pay such generous sums for red Burgundy is the endless fascination of site variance. Tasting a line-up of wines from different climats, bottled by the same grower, is an eye-opening experience. They will come from the same vintage and are based on the same clone of Pinot Noir. Essentially, they have been made in the same way. And yet, one can discern clear variances between the character of each wine.
This is the eternal conundrum of Burgundy. Countless geologists and viticulturists have analyzed the complex soils of the region without reaching any definitive conclusions. We can infer that aspect and slope play a role; the Grand Crus all tend to boast a more favorable aspect, aiding the ripening process and leading to a greater concentration of flavoring substances. Meanwhile, less exalted vineyards are often planted on fertile soils on lower altitudes, encouraging higher yields and lower quality. But the essential mystery remains: why do certain climats produce exceptional wines, while others can only make good Pinot Noir, regardless of the vintage conditions?
In any case, the endless diversity of Burgundy's terroir makes generalizations almost impossible. Nevertheless, in broad strokes, it is generally agreed that the Coté de Beaune (with notable exceptions) tends to produce lighter Pinot Noir wines. At the same time, the villages of Gevrey-Chambertin, Vosne-Romanée, and Nuits-St-Georges are renowned for their powerfully structured and long-lived red wines.
Let us explore a quintessential great red Burgundy: 2005 Domaine Armand Rousseau Pere et Fils Clos Saint-Jacques. We first tried this remarkable wine a few years after the harvest – the nose was ripe and beguiling, offering aromas of crushed red fruits, damson, and a hint of vanilla. The oak was perfectly integrated, enhancing the wine rather than subverting the fruit. A decade later, however, the Clos Saint-Jacques was scarcely recognizable. The fruit had taken a back seat to a gorgeous and multi-faceted palate of coffee, cedarwood, and violets. At the core of the wine were a silky structure, ripe acidity, and gamey notes that invoked damp undergrowth in a wet autumn morning. It represented the very pinnacle of world-class wine. Indeed, red Burgundies like Clos Saint-Jacques are responsible for keeping collectors interested, despite the sometimes astronomical price tags. As long as Burgundy keeps making wines like this, they will not look elsewhere.
Of course, Burgundy does not hold a monopoly on the grape. It is cultivated in the Loire in several appellations, producing delicious rosé wine in Sancerre and fragrant light wines in appellations like Touraine and Menetou-Salon. It is also a key red grape variety in Alsace, making still and sparkling wines.
Speaking of bubbly, Pinot Noir is also a vital part of the Champagne equation; less than 35% of the region's vineyards are planted to Chardonnay, while Pinot Noir and its cousin Pinot Meunier continue to dominate across the zone. Many growers place Pinot Noir at the top of their viticultural hierarchy, claiming that it contributes much-needed richness and complexity to the standard three variety blends that have made Champagne famous worldwide. But single-vineyard (and mono-varietal) wines are starting to receive more attention from growers and the major houses. The most famous of these are undoubtedly Krug's Clos d'Ambonnay and Bollinger's Vieilles Vignes Francaises. You will not encounter two finer Champagnes made from 100% Pinot Noir. The depth and complexity always surprise the naysayers. But then again, that's Pinot Noir all over.
The future
Climate change deniers should visit Burgundy; the effects of global warming are there for all to see. Over the past decade, a string of very hot (by local standards) vintages has caused major headaches, not least the risk of unwieldy alcohol, coarse tannins, and even scorched berries. The critic Tim Atkin MW noted that "it's becoming harder and harder to make elegant Burgundies." This does not bold well for a region that states its reputation on elegance and finesse rather than brute force.
However, growers continue to adapt, modifying their viticultural techniques and planting later-ripening clones of Pinot Noir. Earlier harvests require constant vigilance to ensure that acidity levels do not fall to undesirable low levels, with an excess of sugar and richness.
Meanwhile, Champagne is starting to consider its future as a still wine region. Several houses have launched still wines, marketed under the appellation 'Cotéaux Champenois' over the past few years. They include Louis Roederer, Champagne Drappier, and a small domaine called Etienne Calsac. Rising temperatures are overturning perceptions about what can be achieved in the region, an area that was once considered too cold to produce still Pinot Noir wines.
But climate isn't the only factor driving change. Land prices in the Coté d'Or have forced growers to look further afield, investing heavily in the Coté Chalonnaise and Beaujolais in recent years. However, Burgundian Laurent Delaunay is convinced that the higher altitudes sites of Limoux in the Languedoc hold great potential for the grape. "As prices in Burgundy have reached astronomical levels, producers are, of course, searching for new opportunities in regions like Oregon and closer to home, Beaujolais," said Delaunay in 2017.
"However, Limoux is also now attracting the attention of Burgundy houses, as the higher altitude, cooler vineyards are some of the most suitable in the Languedoc for growing Burgundian varieties. Albert Bichot, for example, has recently invested in the Limoux region." Whether Delaunay's bold venture will attract a significant number of Burgundians to the Languedoc remains to be seen. We can only assume that as long as the insatiable global appetite for Pinot Noir remains, there will always be new sites to discover and new terroirs to exploit.
Top producers of Pinot Noir wines:
Jean Grivot
George Roumier