Champagne Wine Region Guide
Where Every Bubble Tells a Story of Luxury, Diversity, and Unrivaled Prestige
EXPLORE ALL OUR GUIDES TO FRANCE'S WINE REGIONS
Introduction
The name Champagne carries almost mystical properties for wine lovers. The world's most famous sparkling wines are made here: Krug, Dom Perignon, and Cristal are as prestigious – and sought after – as Burgundy's La Tache and Bordeaux's Lafite. Today, no luxury event can omit a bottle (or jeroboam) of a leading brand from this venerable region. Bubbles from elsewhere, however good, cannot be Champagne.
Yet, although the marketing would suggest otherwise, Champagne is not a monolithic category. Au contraire mon amis: a broad spectrum of styles and price points are available, including white, rosé, single varietal, single vineyard, super bling, and relatively affordable. Certain producers, such as Krug, favor maturation in wood and a period of exceptionally long aging, producing deeply complex and structured wines. At the other end of the spectrum are supermarket private labels – very drinkable but hardly earth-shattering. Indeed, many Champagne houses, cooperatives, and growers are bottling wine under their own labels in this beautiful region. And yet, they all fall under the auspices of just one appellation. How is it possible to keep such a diverse group of stakeholders united under one overarching banner? The answer is regional brand power: few destinations can invoke the mystique of the name 'Champagne.'
Winemaking and regional classifications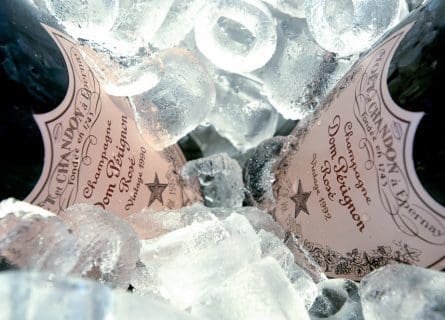 Terroir is important in Champagne, but it is not kingmaker. On the contrary, Champagne's uniqueness and magic lie not in the soil but in the variety of styles available and the skill and prowess of the master blender or 'chef de cave.' They are responsible for blending potentially hundreds of different wines once they have been fermented to achieve the quality and style consistent with the brand. Their individual choices and flair for the job can make or break Champagne.
Yet many processes used to make this iconic wine style are regulated and controlled to the nth degree. Every bottle of Champagne must be produced via the traditional method: after the wines have been fermented, they are bottled with the addition of sugar and yeast called the liqueur de tirage. This kickstarts a secondary fermentation, releasing carbon dioxide into the wine. However, it also produces dead yeast cells (lees) that must be removed eventually. Before that happens, though, this yeasty sediment will interact with the wine over months – or years – to increase its depth and complexity. The flavors imparted from this magical alchemy are wide-ranging: hazelnuts, coffee, vanilla, and brioche are all commonly detected. But, when the time is right, bottles are placed in racks and slowly twisted (this can be done by hand or mechanically) to ensure all the lees have collected in the underside of the cap. This process is called riddling – the best producers always rely on the human touch. After that, the upended bottles have their necks frozen in brine, and the cap is removed, ejecting the yeasty sediment. The Champagne is then topped up with a wine/sugar solution and corked. The topping-up wine is used to offset the acidity: about 9g/l of sugar (known as dosage) is typical in non-vintage Champagne.
However, before this can begin, the winemaker has a series of important decisions. We call this stage 'assemblage,' arguably far more important than the simple mechanics of producing traditional method fizz. As a rule, growers will work with three grape varieties: Chardonnay, Pinot Noir, and Pinot Meunier. The vast majority of NV (non-vintage) Champagnes are a blend of this trio; it is said that Pinot Noir contributes structure, Chardonnay brings freshness, and Pinot Meunier is responsible for the upfront fruit and spicy/flowery aromas. Nevertheless, there is no exact recipe: percentages used can vary wildly, depending on the vintage and preferences of the Champagne brand.
Meanwhile, older wines, called reserves, are added to NV Champagnes to 'fill the gaps.' For example, winemakers will select base wines from older vintages brimming with acidity in a warm year – and the reverse is true. There are also single-varietal Champagnes known as Blanc de Blancs (100% white grapes) and Blanc de Noirs (100% red grapes). There are also some rare single-vineyard expressions, such as Clos de Mesnil (Krug), that command very high prices.
Of course, any celebration will inevitably involve the flag-bearer: non-vintage blends. They can be excellent and affordable introductions to the wines of the region. The next category is vintage: white and rosé. The Champagne drinker should expect the vintage cuvées to be a significant step up from the generic blends. The pink rosés are often made by blending in a little red wine – the best result generally comes from Pinot Noir. Last but by no means least are the deluxe bottlings. These are the top end of the Champagne spectrum, uber-expensive and luxurious. There is a wide range of styles, and the best are among the world's finest white or rosé wines. Expect great complexity, elegance, and finesse. What are the names to look for? Dom Perignon, Cristal, Krug, Pol Roger, Sir Winston Churchill, Dom Ruinart, and La Grande Dame are the most famous brands. Their cachet is unbeatable, but you'll pay for the pleasure.
Geography and terroir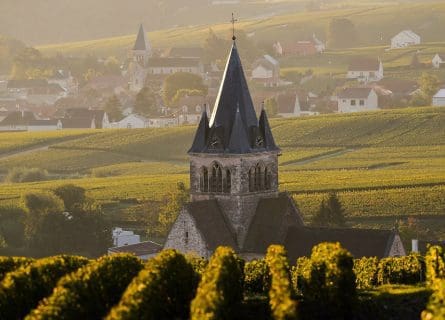 The vineyards of Champagne are found east of Paris (144 kilometers) in an area of outstanding natural beauty. The region has long been famous for its deep chalk soils and temperate climate – both ideal for producing superlative fizz. Moreover, Champagne's calcareous terroir is rich in lime deposits, which encourages a low pH in the berries as they ripen and an accompanying high level of acidity. The area's maritime climate ( cold winters and relatively mild summers) is another important factor in the local quality equation. It is a widely trusted axiom that the finest sparkling wines come from cool climates; overripe base wines will produce flat and anodyne bubbly that lacks bite and freshness. The truth is that you need a surfeit of lactic acid in sparkling wine: lots of it. It provides the structure backbone and gives Champagne its ability to age.
Today, the appellation is divided into five key subregions, each producing a unique style of base wine. These variances arise chiefly due to altitude, position, and latitude differences. The most famous of these viticultural zones is undoubtedly the Montagne de Reims. It lies just south of Reims and is famed for producing vibrant, full-bodied Champagnes. Pinot Noir and Pinot Meunier are the predominant varieties here; this is not a white wine country. The village of Bouzy is as well known for producing the still Coteaux Champenois reds as its sparkling wines.
Meanwhile, the Vallée de la Marne to the northwest of the Montagne De Reims stretches east along the River Marne. The district's center is the town of Epernay, a beautiful historical center full of famous Champagne Houses nearly back-to-back and delightful shops enticing you with their vinous wares. White grapes are predominant here, and the wines are a touch lighter than those from the Montagne de Reims, with more elegance and refinement. Further east, the Côte des Blancs is, as the name suggests, white wine territory. Chardonnay is virtually the exclusive grape variety with very few red plantings. The famous villages of Avize, Le Mesnil-sur-Oger, and Vertus are found here, the connoisseurs' choice of Champagne.
Moving to the southwest of the Champagne area, north of the town of Troyes, is the Côte de Sezanne, with the small town of the same name as its heart. The vineyards are dominated again by Chardonnay, which accounts for some seven out of every ten vines. Way to the south of Troyes and away from the main Champagne appellation boundaries is the Aube. The area is one hundred miles from Reims. At present, the Aube is mainly planted with Pinot Noir. However, there is a strong case for increasing the amount of Chardonnay, as the clay and limestone soil suit the variety well.
The lowdown
Every major appellation has experienced a series of dramatic shocks over the past 15 years, and Champagne is no exception. From the rise of Prosecco to climate change, this iconic vineyard has been forced to adapt to a rapidly changing world. Meanwhile, Champagne has had to accept that nations such as South Africa and Australia, while lacking its prestige, are exporting sizable volumes of premium fizz. They compete fiercely on price and, in some cases, offer better value for money. C'est vrai: Champagne does not have the quality market sown up. Only snobs would turn their noses up at the traditional method sparkling from the beautiful island of Tasmania – or Napa Valley.
Yet Champagne has retained its confidence and verve, safe in the knowledge that some collectors won't drink anything else! Indeed, in the luxury segment, no brand can rival the glamor of Krug and Dom Perignon – just ask the celebs. Some of these wines are so wildly expensive that they have no business being anything other than wonderful. But, with such slick marketing, it would be easy (and perhaps tempting) for producers to let standards slide. Fortunately, these long-aged sparkling wines are simply magnificent: their finesse and complexity have no equal.
Moreover, top Champagne is made to last, gradually revealing depth and dimensions that other sparkling wines can only dream of. For this reason, the Grandes Marques maintain their sedulous obsession with quality. They understand that their audience expects nothing less and is too sophisticated to purchase on reputation alone. Especially at these prices!
However, this deluxe end of the market is not the only place to look for Champagne that is a cut above. The region holds a secret: Vintage Champagne is an astounding bargain. Officially, a house's standard vintage cuvée is a step below the prestige bottling – Louis Roederer's Cristal, etc – but the reality is somewhat different. Vintage Champagnes are more expensive than NV, but often only slightly. They deliver some of the best value in Champagne; the quality is only slightly below the deluxe label, yet the price is significantly lower. We have sampled bottles of Cristal (tasted blind) alongside a portfolio of Roederer vintages. The results were very interesting: in many cases, the standard vintage received higher scores from the group.
They also offer a unique expression of the growing season. Do you seek the concentrated vinosity of 2015 or the elegance of 2013? Vintage will show it. Thus, a trade secret within Champagne is the real connoisseur's choice. You heard it here first: sybarites buy vintage and leave the bling to rock stars.
Facts & Figures
Key wine styles
Sparkling wine: a minute quantity of still wines
Average annual production
300 million bottles per annum
Approximate number of wineries
370 houses and 5,000 growers
Champagne gastronomy
The famous Champagne route weaves through vine-covered slopes between picturesque villages, where even the most isolated hamlet will offer a good restaurant or two. Yet most gastronomes head to Reims or Epernay to experience Champagne's finest cuisine. There are several exceptional Michelin-starred venues in the wider region. At the same time, a more casual vibe defines the brasseries and bistros that line brightly lit Drouet d'Erlon, the focal point of Reims' food scene. Escargots de Champagne (snails in a Champagne sauce) and pig's trotters à la Sainte-Ménehould are two standout local delicacies. But there are many more.
Champagne Gastronomy Guide: Read more
Top Champagne Houses Recommended by Cellar Tours
History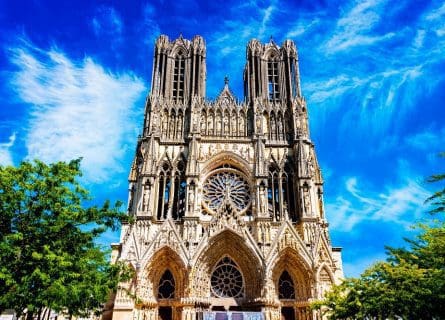 Champagne has been producing still wines since the days of the Romans; Caesar's armies conquered Gaul (France) in the last century BC. Heavily planted to vines, Champagne was known as Campania (plain) during this period, a rich agricultural province that became a vital part of the Roman economy in northeastern France. Peace and prosperity reigned for over four centuries; the Western Roman Empire, once a beacon of political stability, disintegrated in AD 476. In the aftermath, one of Champagne's most famous historical figures, the Merovingian king Clovis I, founded the Frankish kingdom in the 5th century. The Franks held power for six centuries and started the tradition of having royal coronations in the city of Reims – Champagne's capital. Throughout a millennium, over 30 kings and queens began their reigns in the city's glorious cathedral.
By the Middle Ages, Champagne had generated vast wealth by organizing commercial fairs: European merchants bought and sold goods of all descriptions at these lucrative exchanges. Meanwhile, the wines of Champagne were still and highly acidic during this period, served in the taverns of Paris and Reims as pale 'vin gris.' Nevertheless, the French navigator and explorer Binot Paulmier described the wines of Ay as "the ordinary drink of kings and princes." In the 1500s, Cardinal Wolsey ordered a barrel of 'Vin d'Ay' sent from an Abbey in Champagne. Yet the region's name was not widely associated with sparkling wine until the 18th century. Much to the chagrin of the Champenoise, the traditional method was discovered by an English scientist – Christopher Merret. In 1662, Merret delivered a presentation to the Royal Society in London. He said: "Our wine coopers of later times use vast quantities of sugar and molasses to all sorts of wines to make the drink brisk and sparkling, to give them spirit and to mend their bad tastes." The English, therefore, invented 'Champagne' long before the legendary monk Dom Perignon started blending different wines to create something far greater than the sum of its parts.
In the late 17th century, producers in Champagne started experimenting with the traditional method or, as they'd prefer, the méthode champenoise. According to wine historians, the French elite initially rejected sparkling white wines as faulty; this somewhat contradicts some of our romantic conceptions of Champagne! Still, the habit of drinking sparkling wines made in northeastern France began to spread in the 1700s; Champagne's oldest house, Ruinart, was founded in 1729. However, the critical mass of wines exported did not sparkle until the early 19th century, when Champagne became the toast of Europe's aristocracy.
So why the change of heart? Several pioneers helped to make Champagne trendy, including George Washington (he served Champagne to senators in 1790) and the great Charles-Camille Heidsieck. The founder of this eponymous house traveled across the US in the 19th century, proselytizing this fizzy beverage as the ultimate celebratory tipple. Alexander II, tsar of Russia, was another famous advocate of Champagne during this period. By the 20th century, high society regarded Champagne as de rigueur at any glamorous function. Its reputation – and international cachet – remains as potent in 2023.
Nearby Charming Towns and Cities

Uncover Reims's vibrant flavors and culinary gems with our expert guides. Plan an unforgettable trip now!

Read more

Uncover Paris's vibrant flavors and culinary gems with our expert guides. Plan an unforgettable trip now!

Read more

Uncover Epernay's vibrant flavors and culinary gems with our expert guides. Plan an unforgettable trip now!

Read more
Further Reading: Discover More Related Blog Content
More information
If you would like us to customize an exclusive luxury tour, contact us and let us know your travel plans. We offer luxury food and wine tours for private groups of a mininium two guests. In addition, all of our private, chauffeured tours are available year-round upon request.
Cellar Tours
Welcome to Cellar Tours, the premier Luxury Travel Specialist since 2003. Our goal is to provide you with the ultimate food and wine vacation experience, with exclusive Mercedes chauffeured tours that showcase the best of local cuisine and wines.
Our team specializes in crafting bespoke, custom-designed vacations, events, and incentives tailored to your unique tastes and preferences. Travel is not just about seeing new places - it's about creating unforgettable memories and indulging in the finer things in life.
As members of Slow Food, OTAVA (Travel Agency Association in Spain), and the IACP (International Association of Culinary Professionals), we promote sustainable tourism and support local communities. We work closely with top-rated hotels, restaurants, and wineries to provide you with the highest level of service and attention to detail.
Whether you're planning a romantic getaway, a family vacation, or a corporate retreat, let Cellar Tours be your guide. With our passion for food and wine, extensive knowledge of local culture, and dedication to exceptional customer service, we're confident we can exceed your expectations.
Contact us today to start planning your dream vacation – we can't wait to hear from you!