Reims may grab all the headlines, but it is a prosperous Epernay that is the Champagne Region's de facto capital (the drink, that is). Home to many of the world's most famous and celebrated Champagne houses, Epernay is the best place in Champagne for touring historic cellars and sampling bubbly. Yet there is more to Epernay and its environs than fizz – many of the region's best restaurants are found here in this charming small city, not to mention a surfeit of excellent hotels and charming boutiques.
Brief History
Epernay boasts a rich history dating back to Roman times, although little evidence remains of the city's origins, and its early years are shrouded in mystery. We know that the ancient Gallic tribe of the Remi controlled this part of France until Julius Caesar conquered Gaul in 52 BC. The region remained under Roman control for several centuries, during which it became an important outpost for the Roman Empire.
However, by 406 AD, Roman control was waning as the Western Roman Empire collapsed under the strain of attacks from northern tribes such as the Vandals and Visigoths. After that, the Frankish Merovingian and Carolingian dynasties ruled France from the 5th to the 10th centuries. The first historical reference to Epernay occurs in 545, when the Bishop of Reims, Saint Remi, mentions the settlement in his testament. He was famous for baptizing Clovis I, King of the Franks in 496, and founded a beautiful Abbey in Reims in the 6th century.
Epernay remained the property of the archbishops of Reims until the eleventh century. It prospered during this period and became a significant strategic settlement, equipped with thick walls and surrounded by deep ditches. Indeed, the Counts of Champagne were generous rulers and endowed the city with churches, a monastery, its first hospital, and a leprosarium – a hospice for people suffering from leprosy. Sadly this prosperity would be shattered during the Hundred Years War (1337-1453), and Epernay was severely scarred by the conflict between the English and French for control of France.
In the 15th century, Epernay came under the Dukes of Orleans's control, who made several improvements to the city, restoring some of its former glory. However, it wasn't until power was transferred to the Duke of Bouillon in 1651 that Epernay would know lasting peace and prosperity.
During the seventeenth century, the first sparkling wines started to make their appearance in Champagne, although the district had been making still wine since early Roman times. Indeed, by the early sixteenth century, the wine of Ay had become so highly prized that it was said to be "the ordinary drink of kings and princes." Yet, it was not until the early 19th century that Champagne came to be synonymous with fizz.
The 18th century, however, would be marked by social and political upheaval – the outbreak of the French Revolution cost many lives, not least King Louis XVI and his wife Marie-Antoinette, who was guillotined in Paris' Place de la Concorde. Epernay lost several religious buildings during the conflict; the Reign of Terror between 1793 and 1794 saw many churches closed, Cathedrals turned into 'Temples of Reason,' and thousands more beheaded. Honestly, these were dark times for Epernay and indeed France.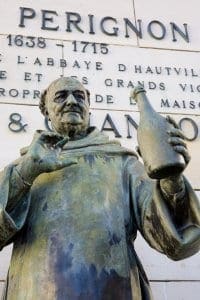 Modern Times
Thankfully, more prosperous times would return to Epernay, and the building of the region's first railway line in 1849 accelerated the development of the bourgeoning Champagne industry, allowing houses to more easily send their products to Paris and further afield. Many majestic chateaux were built as headquarters for the Champagne firms during this period, transforming the Rue du Commerce, today is known as Avenue de Champagne. New churches, hospitals, and schools were built, and the city's population multiplied.
Sadly, the outbreak of two world wars in the 20th century would do untold damage to Epernay and the Champagne region. Much of the First World War took place in northeastern France, with trench warfare sending many thousands of young men to their death. The outbreak of the Second World War in 1939 brought yet more suffering to the people of France; by June 1940, the nation had capitulated and was divided into the Nazi-occupied north and the puppet Vichy regime in the south.
Before the armistice was signed, the German army marched through Epernay, prompting Pol Roger owners to brick up their cellars. Then, realizing that the Wehrmacht might be vicious but weren't stupid, they employed a local artisan to 'distress' the brickwork to make it look like it had been there for hundreds of years. You can imagine the excitement after the war when the wall was taken down!
Today Epernay has regained its former confidence and prosperity, a charming city undoubtedly a must-visit destination for any lover of good food and wine. Each year, discerning visitors wind their way through the region's diverse vineyards, marveling at picturesque – and prosperous – wine-growing villages and beautiful châteaux before returning for a taste of local gastronomy. Yet the real excitement is waiting beneath your feet: under the streets of Epernay are 110km of subterranean cellars, full of millions of bottles of Champagne that are just waiting to be popped. And so the only question that remains is – what are you waiting for?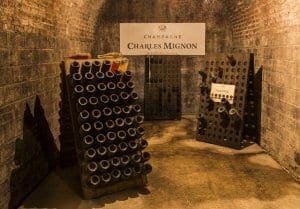 Gastronomy & Wine
There are many reasons to visit France, but our favorite is the country's rich and influential gastronomic heritage, which is today increasingly being challenged and redefined by a younger firmament of chefs who have worked abroad. Moreover, France's considerable population of immigrants have added a welcome dash of verve and diversity to French cuisine, ensuring that a night out in France is rarely anything less than memorable.
Of course, Epernay can't compete with the likes of Paris and other big cities. However, this small city boasts several excellent restaurants. Rue Gambetta has several informal options, but La Cava is hard to beat for an intimate vibe, gutsy, nourishing cooking, and friendly service. Locals well regard it for its Champenois cuisine – game features heavily – including potee a la Champenois (poultry and pork oven-baked with cabbage). Meanwhile, La Table Kobus on Rue du Docteur offers innovative and traditional French cuisine; all served amid fin-de-siecle décor. Their wine list is one of the finest around, with rare vintages of such iconic brands as Dom Perignon and Krug.
Speaking of Champagne, you obviously cannot leave Epernay without sampling the famous bubbly. It has been France's best-known wine since the 17th century when the innovative monk Dom Pierre Perignon perfected a technique for blending different base wines to forge something more significant than the sum of their parts. A blend typically of three varieties – Pinot Noir, Chardonnay, and Pinot Meunier – making Champagne is a long, complicated process involving a secondary fermentation in the bottle, which releases CO2 into the wine. These bottles of liquid gold are then aged for many months, sometimes years, in the case of prestige cuvees, the top drawer of Champagne. World-class names include Krug, Pol Roger, and Taittinger, although many grower Champagnes, made by close-knit families, are excellent too. Our top choice – Selosse Initial Brut. A majestic Champagne in every sense of the word.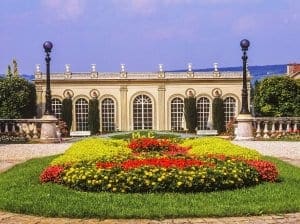 Highlights
Built between 1898 to 1915, this gorgeous piece of architecture had to be repaired in 1922 following a German bombardment in 1918. Today it is renowned for a display of religious art containing liturgical vestments, 15th- and 16th-century statues, and an elegant 15th-century tombstone.

Hotel de Ville

One of the most striking examples of 19th-century architecture, the Hotel de Ville formerly belonged to a founding father of Moet-Chandon – Auban-Moët. It dates back to 1858 and boasts luxury reception rooms inside and grounds designed by the Bühler brothers, creators of the Parc de la Tête d'Or in Lyon.

The Avenue de Champagne is a mecca for wine lovers; many of the Maisons offer exciting, informative cellar tours, followed by a tasting. Cellar Tour can help you discover the inside secrets of this venerable wine style.