Black Truffle from Perigord
Truffles, particularly the black truffles of Périgord, are considered by many to be the Holy Grail of fine dining, an epicurean's dream come true! Their incredibly refined aromas and flavors – often described as chocolate and earth – are as highly prized as any flavors found in a three Michelin starred kitchen, indeed the truffles have enjoyed a certain romanticism and almost mythical status for centuries. The Romans actually used to think that this subterranean fungus, called a tuber, was the fruit of lightening since it grew under or in the proximity of trees. They were happy with this explanation for something so delicious that even wild boar were intoxicated by their singular scent and taste. Make no mistake, the aura surrounding this delicacy is phenomenal.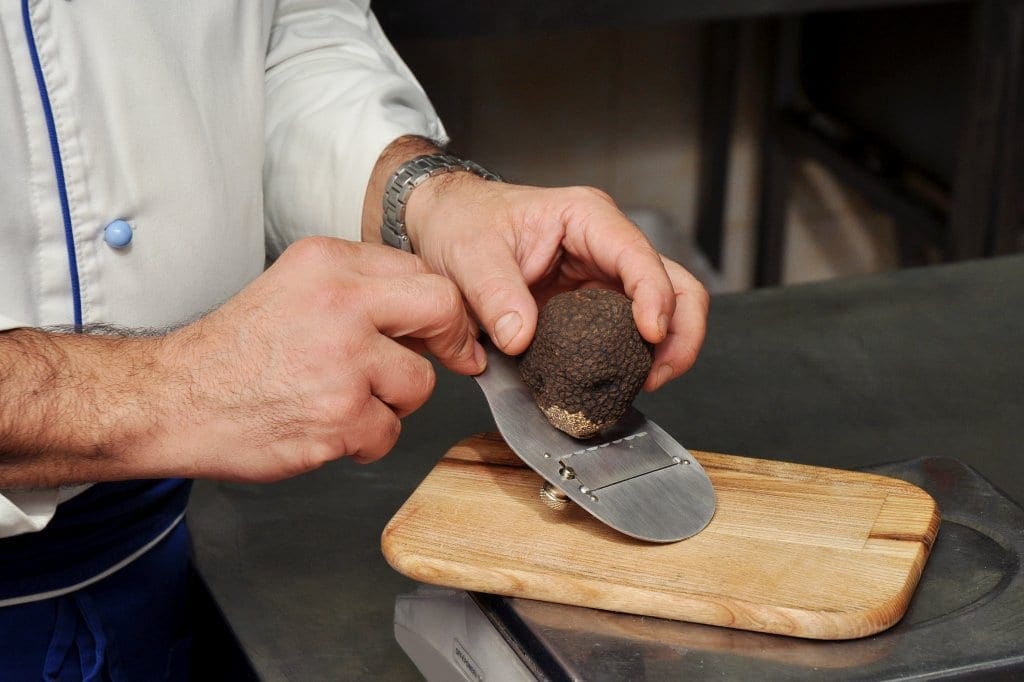 While the most famous white truffle in the world comes from Alba in Italy's Piedmont region, the world's most famous black truffle comes from the Périgord, in the immensely beautiful Dordogne region in south-west France. Other black truffles can also be found in Greece, Spain, and Italy, and new cultivation of truffles are being carried out in California and Australia. They grow from late autumn/ winter to early spring, beneath the soil among the roots of specific trees, but mainly oak and hazelnut. A species of subterranean mushroom produces a fruit body, and this body or truffle forms a symbiotic relationship with the tree. It will be available for harvesting, usually from late November onwards. They vary significantly in size, from 4 cm in diameter to 8cm, and can weigh up to 100g. Black truffles can be artificially cultivated by impregnating the roots of selected young trees with the spores, although connoisseurs would argue that they lack the flavor of wild truffles.
An essential aspect of understanding the mythology behind the legendary so-called Black Diamonds of Périgord is the role of the Rabassiers. These truffle hunters use the centuries-old tradition of training pigs or dogs to locate and unearth the truffles growing beneath trees in the Périgord forests. They start their foraging in late autumn; each rabassier (truffle hunter) will have a favorite spot to hunt for truffles and rest assured he will not share this information with anyone! Increasingly, however, dogs are used and rewarded with biscuits to prevent them from eating the bounty themselves. Historically, sows were used because of their acute sense of sense. These females were naturally attracted to truffles because they contain a compound similar to that which is secreted by sexually vivacious boars! Unfortunately, the pigs were so fond of them that it was difficult for the truffle hunter to keep his bounty – many lost fingers trying.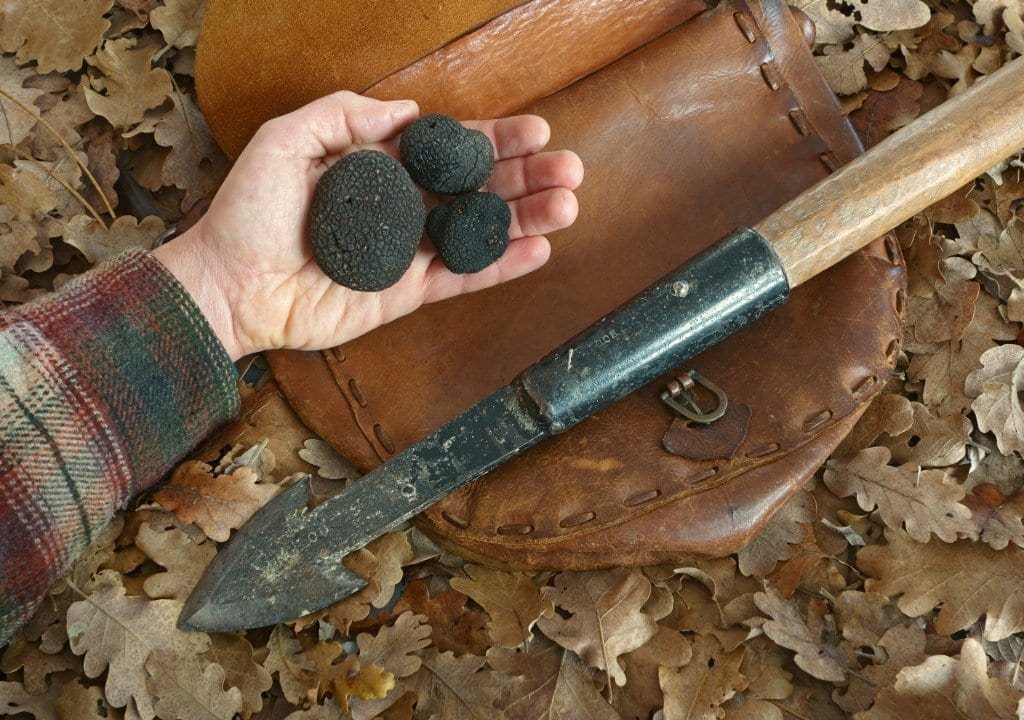 Fresh Black Truffles, Perigord
After the foraging expeditions that take place throughout the winter, the hunters then sell the fresh winter black truffles at markets through France. The largest truffle market is the market at Richerenches in southeastern France. Another key market is in Lalbenque, not far from the region of Perigord itself. Such is the demand for the Périgord truffles that prices readily exceed 1000 per kilo in the farmer's markets held in France, in January every year.
Those gourmets and chefs lucky enough to acquire some precious 'Black Diamonds' are the envy of chefs around the world, for the Black truffle is a most desirable culinary item, used to magical effect in the world's most expensive and exclusive restaurants. Chefs often shave the truffle and use it raw to enhance the flavor of pasta dishes, risotto, and salads – one Italian dish involves insetting thin slices of truffle under the skin of guinea fowl before roasting. In the Italian region of Umbria, they cook it chopped in butter as a delectable sauce for pasta. Most of all the Black truffle is an ideal accompaniment to sauces, pates, and dishes en croute, to keep the maximum flavor. For a unique travel experience, join Cellar Tours on an exclusive Gourmet French Food & Wine Odyssey.
Related Blog Posts: