Emilia-Romagna Cuisine: Home of a Thousand Gastronomic Treasures
June 17, 2021
Estimated reading time: 6 minutes
WHAT TO EAT IN EMILIA ROMAGNA
Nestled between Italy's Apennine Mountains and the Adriatic Sea, just south of the Veneto and Lombardy, sits Emilia-Romagna. This region has it all, from sun-soaked beaches on the Adriatic coast to Medieval cities and more. Besides being home to Ferrari, Maserati, and Lamborghini, the world's hottest sports cars, Emilia-Romagna also boasts Ducati motorbikes and collections of vintage cars. So, it's easy to see why the region is known as the motor valley. In addition to sports cars and motorbikes, this bountiful region is also responsible for Italy's greatest culinary hits. Parmigiano Reggiano, Prosciutto di Parma, Aceto Balsmico Tradizionale di Modena, tagliatelle alla Bolognese, and lasagne all originated here. Regarding the best food of Emilia-Romagna, there is so much more to discover beyond the world-famous dishes.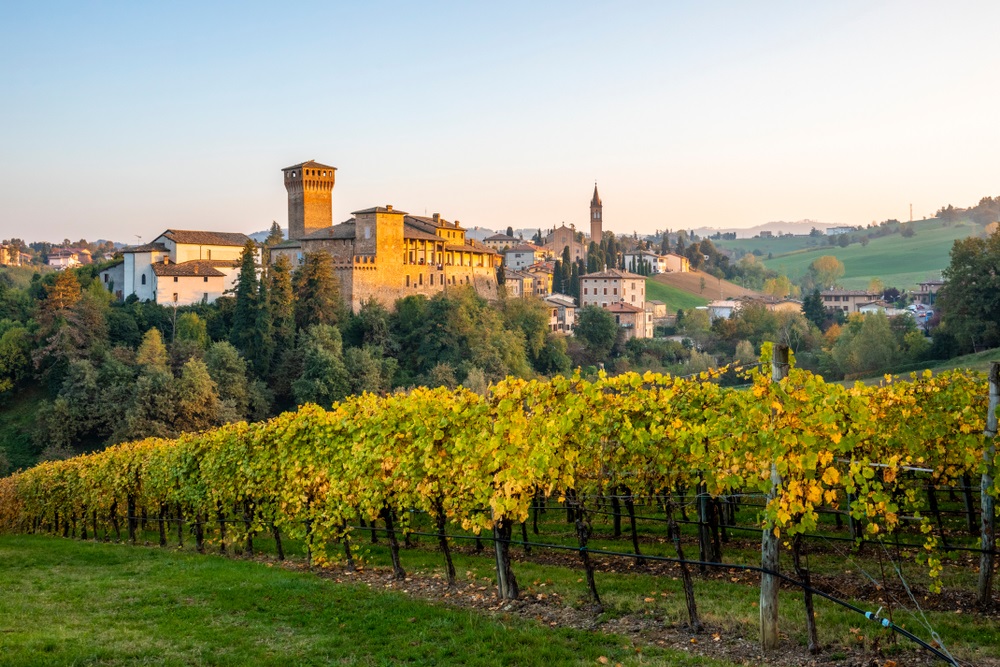 Guide to Italian Gastronomy and Cuisine: Read more
Regional Cuisine:
Bologna, Ferrara, Forlí-Cesena, Modena, Parma, Piacenza, Ravenna, Reggio Emilia, Rimini
GEOGRAPHY LEADS TO BOUNTIFUL CUISINE
Emilia-Romagna boasts over 200 food products, a wealth of which are protected with PDO and PGI status, guaranteeing quality and authenticity. Thanks to its thriving culinary traditions, the region is known as Italy's Food Valley. Geography largely influences this rich food culture, as the Po River runs through Emilia-Romagna, forming the Pianura Padana Valley. Today, these former marshlands are fertile soils ideal for cultivating various crops and raising livestock. Approaching the Adriatic Sea, the river turns into the Po Delta, where both water sources provide fresh seafood for the region.
TYPICAL INGREDIENTS IN EMILIA-ROMAGNA
The cuisine in Emilia-Romagna relies heavily on meats, cheeses, and a plethora of pasta dishes. As in Piedmontese cuisine, chestnuts and truffles are popular in Emilia-Romagna, too. However, each region's cuisines as a whole are drastically different. Fresh, seasonal produce is a dietary staple, while many fruits and vegetables are protected by PDO or PGI designations. Here are a few worth seeking out:
Chestnuts – Marroni di Castel del Rio PGI
Mushrooms from Parma – Funghi di Borgotaro PGI
Pears – Pera dell'Emilia-Romagna PGI
Asparagus – Asparago Verde di Altedo PGI
Sour cherries – Amarene Brusche di Modena PGI
Cherries – Ciliegia di Vignola PGI
Peaches and pears – Pesca and Nettarina di Romagna PGI
EMILIANA VS ROMAGNOLA CUISINE
The food of Emilia-Romagna illustrates the diverse history of a region ruled by different noble families, kingdoms, and the Papal States. Though it's considered one region, culinary styles vary between Emiliane and the Romagnole cities.
Emiliane includes Piacenza, Parma, Reggio Emilia, Modena, Ferrara, and Bologna. Pork heavily influences the cuisine here, primarily due to the region's production of Parmigiano Reggiano. The pigs are fed whey created during the cheesemaking process. Consequently, this Parmigiano Reggiano whey is thought to contribute flavor to Prosciutto di Parma.
On the other hand, Romagnola cuisine features a more significant Adriatic influence, though it's still rich and opulent. Together, they make Emilia-Romagna's food, the most legendary cuisine on the planet.
DISHES POPULAR IN EMILIA ROMAGNA
Cappelletti & Tortellini
Pasta in Emilia-Romagna is always pasta all'uovo, made with eggs and not simply water and flour-like in many other Italian regions. Despite countless regional pasta dishes, cappelletti and tortellini are two of the most prominent. Cappelletti translates to small hats in reference to the distinctive shape of this stuffed pasta, which resembles small, peaked hats. The filling varies but often includes beef, chicken, cheese, and nutmeg. The cappelletti is frequently served in hot chicken broth. Otherwise, try cappelletti romagnoli di magro stuffed with ricotta, Parmigiano Reggiano, and stracchino.
Another quintessential food of Emilia-Romagna is tortellini in brodo. This is another hat-like stuffed pasta, a mixture of pork, chicken, prosciutto, Parmigiano Reggiano, and nutmeg fill the tortellini. Bologna and Modena have always duked it out over who created this dish originally. Today, tortellini in brodo is a classic dish for Christmas dinner.
Gnocco Fritto
Gnocco fritto is a dangerously delicious fried dough made of flour, lard, salt, and a leavening agent, and they're typically enjoyed warm with cheese and cured meats. In Modena, the classic gnocco fritto di Modena is made without yeast and uses sparkling water to help the dough rise when fried. The lard is used in the dough, as well as for frying.
Alternatively, to order this dish in Bologna, ask for a crescentina. This version incorporates warm milk, olive oil, and brewer's yeast into the dough, fried in boiling lard. In Parma, gnocco fritto is known as torta fritta and is often served as a sweet version with a sprinkling of sugar.
Maiale al Latte
When it comes to Emilia-Romagna's food, one of the most cherished dishes of the region is maiale al latte. The recipe involves slowly braising a pork loin in milk with aromatics like garlic, sage, and rosemary. As the pork cooks, the milk separates into curds that absorb all the meat's tasty fats and flavors.
Tigelle and Piadina
Tigelle is a snack food of Emilia-Romagna commonly savored throughout Emilia. A simple dough of flour, water, yeast, and lard is traditionally baked on terracotta molds lined with chestnut leaves in a woodfired oven. The name comes from these clay molds, which were called tigelle. Today, a tigelliera resembling a waffle iron is used to make the tigelle, which is enjoyed with cured meats and local cheeses sandwiched between the bread.
Pesto alla Modenese, a decadent spread of lard, rosemary, and garlic, frequently accompanies tigelle in Modena. In Romagnole cities, the piadina Romagnola is the go-to snack. A piadina resembles a large flatbread eaten with cheeses and cured meats. A fresh, creamy cow's milk cheese called Squacquerone di Romagna PDO often finds its way into a piadina Romagnola. Historically, tigelle and piadina were considered poor man's food but are widely eaten today.
CHEESES OF EMILIA ROMAGNA
Parmigiano Reggiano
Parmigiano Reggiano, Italy's most famous cheese, is made in Emilia-Romagna. This staple of Italian cuisine is a PDO-protected cheese made in Parma, Reggio Emilia, and Modena. The PDO also encompasses parts of Bologna west of the Reno River and Mantua (Lombardy) on the right bank of the Po.
The Parmigiano Reggiano production process starts with a strict diet for the cows, excluding fermented feeds, silage, and animal flour. Milk collected from the morning and previous evening goes into the traditional copper bell-shaped vats. Then, the milk coagulates with the addition of a whey starter and rennet. Once curds have formed, the cheesemakers use the traditional "spino" tool to transform the curds into tiny granules.
These curd granules are cooked at 55°C for under an hour until they sink and form a single mass. This cheese mass is cut into two parts, wrapped in linen, and then placed into molds, where it takes its final shape.
Each wheel is stamped with a unique code to verify the origin of production. After a few days, the Parmigiano Reggiano wheels are placed in a water and salt immersion, where the salt enters the cheese via osmosis. Finally, the cheese is aged for at least twelve months, though many wheels of Parmigiano Reggiano are aged upwards of twenty-four months. Read more about the production and grade selection of Parmigiano Reggiano.
Other Popular Cheeses
The world-renowned Grana Padano PDO and Provolone Valpadano PDO cheeses are traditional of the whole Pianura Padana. Provolone Valpadano is a stretched-curd, semi-hard cheese made in Dolce (mild) and Piccante (spicy) styles. Slow-ripened Grana Padano production began in the Middle Ages, and this cheese is mainly used within the Piacenza region.
More information
If you would like us to customize an exclusive luxury tour, contact us and let us know your travel plans. We offer luxury food and wine tours for private groups of a mininium two guests. In addition, all of our private, chauffeured tours are available year-round upon request.
Cellar Tours
Welcome to Cellar Tours, the premier Luxury Travel Specialist since 2003. Our goal is to provide you with the ultimate food and wine vacation experience, with exclusive Mercedes chauffeured tours that showcase the best of local cuisine and wines.
Our team specializes in crafting bespoke, custom-designed vacations, events, and incentives tailored to your unique tastes and preferences. Travel is not just about seeing new places - it's about creating unforgettable memories and indulging in the finer things in life.
As members of Slow Food, OTAVA (Travel Agency Association in Spain), and the IACP (International Association of Culinary Professionals), we promote sustainable tourism and support local communities. We work closely with top-rated hotels, restaurants, and wineries to provide you with the highest level of service and attention to detail.
Whether you're planning a romantic getaway, a family vacation, or a corporate retreat, let Cellar Tours be your guide. With our passion for food and wine, extensive knowledge of local culture, and dedication to exceptional customer service, we're confident we can exceed your expectations.
Contact us today to start planning your dream vacation – we can't wait to hear from you!