La Rioja is home to some of Spains best restaurants and has a long culinary tradition and is mainly celebrated for its outstanding local produce; wide varieties of fresh fruit and vegetables from local market gardens, in addition to succulent meat and game from the regions' farms. Indeed, there are enough fine raw materials in Rioja to satisfy even the most demanding and critical of chefs, with the Atlantic providing fresh seafood and local rivers supplying an abundance of trout and other fresh-water fish. There cannot be many gourmets on the planet who would not be seduced by the smell of chuletas – lamb chops grilled over vine cuttings, served with a delicious local Crianza.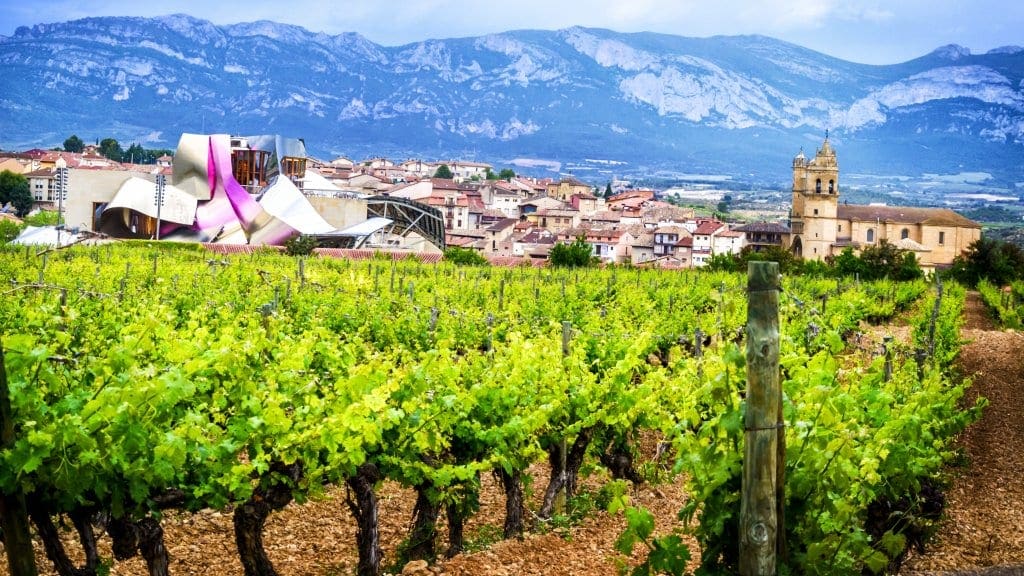 In recent years the gastronomic community has been paying La Rioja closer scrutiny, for the region now boasts a handful of Michelin starred restaurants in addition to its wonderful and numerous tapas bars and traditional, family-run eateries. Historically, Basque chefs and their Catalan rivals have dominated the food headlines in Spain and abroad, but they are now increasingly challenged by the creativity of Rioja's best chefs. And given the inherent quality of Rioja's cuisine, not to mention the enviable produce local chefs can work with, it's not unlikely that Spain will have three super-star gastronomic regions in years to come.
More information on luxury, private chauffeured Food & Wine Tour of La Rioja
However, despite the region's clear potential as a fine dining destination, chefs unanimously agree that wholesome cooking using the freshest local ingredients is the only way forward. So whether you're looking for a creative gastronomic journey for that special occasion or tried and tested Riojan cuisine, you won't go wrong with our hand-picked selection.
Here Are Cellar Tours selection of best restaurants in La Rioja, Que Aproveche!
Casa Toni
27 Calle Zumalacarregui, San Vicente de la Sonsierra, 26338, La Rioja
Price: Mid-Range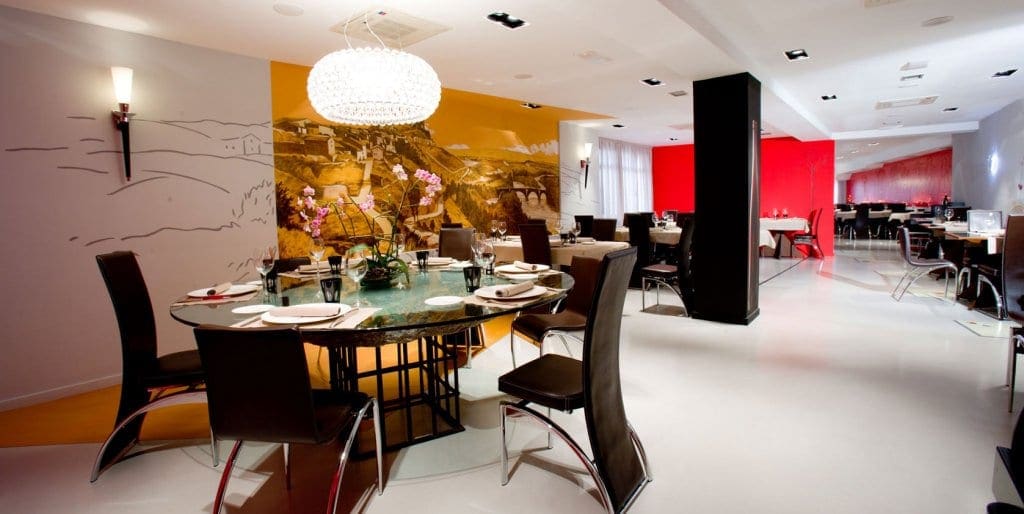 If the region needed a poster child for its new brand of creative, bold, yet honest cooking, then it knows where to look. Casa Toni offers thoroughly modern interpretations of Riojan cuisine, while its sister restaurant, Toni Tradicional, provides more crowd-pleasing and recognizable fayre. Executive chef Asier Santamaria applies contemporary gastronomic techniques to seasonal produce with spectacular results; however, the menu sensibly offers more traditional dishes to keep the purists happy.  Start with their signature prawn carpaccio, followed by the utterly divine salt cod with Riojan and Pil-Pil sauce, and finish with the incredible red wine ice cream and red fruit jus – just a snapshot of this kitchen's flair and imagination! The setting is suitably modern: a stylish brightly lit space with an army of well-trained staff. And what of the wine, you may ask?  The list is long, varied, and naturally highly biased toward local wines with expensive single-vineyard cuvees and affordable options by the glass. Open Tuesday – Saturday for lunch and dinner.
---
El Claustro (Formerly Las Duelas)
Calle San Agustin 2, Haro, La Rioja
Price: Expensive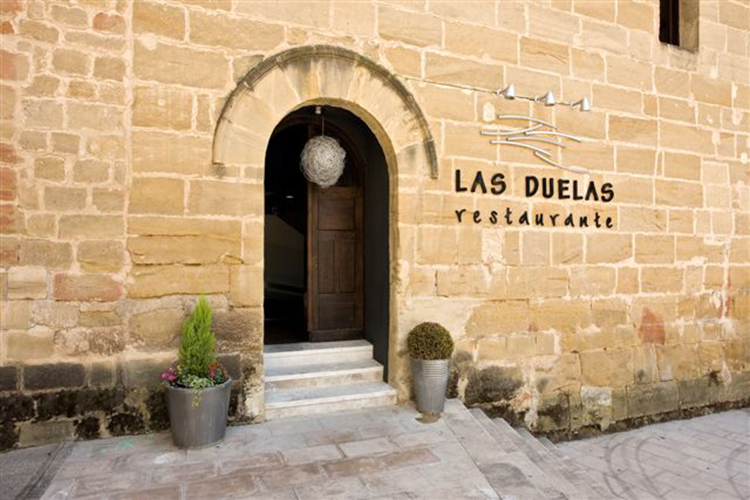 The lively and historic town of Haro also happens to boast one of the region's finest restaurants – Las Duelas. Chef Juan Nales contemporary take on Riojan cuisine is befitting, a bright, stylish, and modern space more reminiscent of a hotel bar than a traditional local restaurant. Nales staunchly believes in only using local market produce to craft a 21st-century menu – expect such delights as Veal cheeks with white truffle butter, mushroom risotto with Parmesan foam, loan of venison with hazelnut croquettes, and fried hake with red peppers and virgin olive oil infused mayonnaise. For dessert, we must insist you try his fresh cheese ice cream and red wine sorbet. Attached to the hotel Agustinos, the staff are some of the most courteous in the region, highly professional, charming, and attentive. And as you'd expect, the wine offering is superb, with over 200 different wines and unusually for Rioja, some attractive options from further afield. This delightful den of fine Riojan gastronomy is open for business Monday-Saturday, lunchtimes, and dinner. Closed every Sunday.
---
Asador La Vieja Bodega
Avenida de La Rioja 17, 26230, Casalarreina, Spain
Price: Mid-range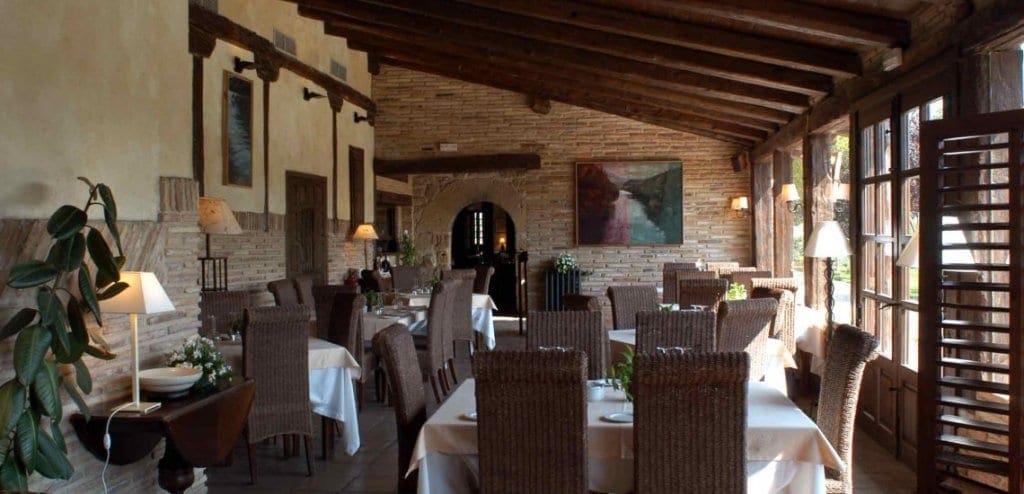 La Vieja Bodega is a Riojan institution and the place to come for traditional, authentic, and delicious food. Favored by wine producers, locals, and tourists, this former winey is always packed to capacity, so make sure to book ahead! Delightfully free of pretension and pomposity, La Vieja Bodega offers an atmosphere and vibe like no other – buzzing with the sound of hungry patrons having a great time. It was founded in 1994 by Angel Perez Aguila and rebuilt in 2001 following a fire. Today, it offers a 50 plus wine menu and specialties from La Rioja, the Basque Country, and the Castile region north of Madrid. Feast on their house specialties, including the signature chuletas, roast suckling pig, the always reliable roast hake, and Lechazo Asado, which is milk-fed lamb, roasted in a wood oven – absolutely delicious. The wine list is one of the most reasonably priced in the region, and the service suitably bright, breezy, and efficient. La Vieja is open Monday-Thursday for lunch only, Friday-Saturday for lunch/dinner, and offers a Sunday lunch from 13:30-16:00.
---
Echaurren (El Portal)
Calle Padre José García, 19 Ezcaray, La Rioja
Price: Expensive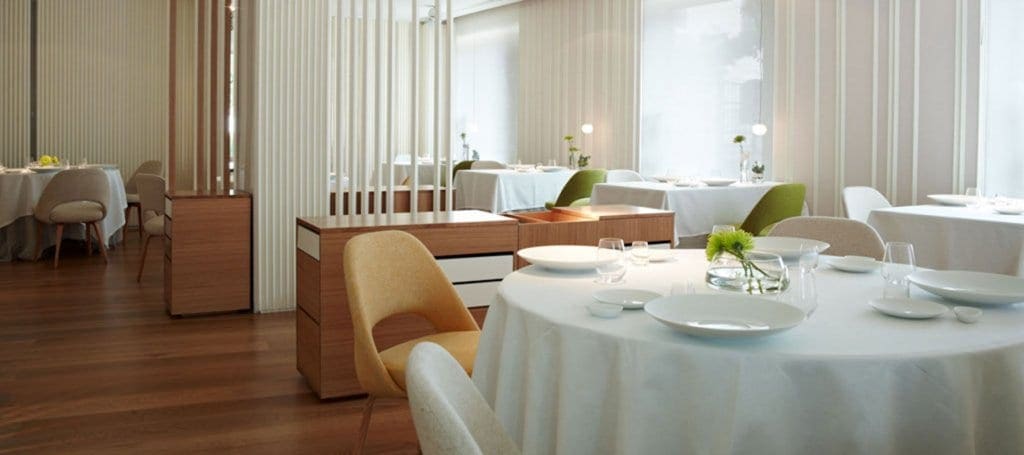 Arguably the region's finest and most lauded hotel and restaurant, Echaurren has been serving superlative cuisine for over 100 years. It boasts two venues: a traditional family restaurant and the two Michelin-starred El Portal, which opened in 2001. Currently run by the 5th generation Sanchez family, El Portal is blessed with the talents of Francis Paniego, one of the leading lights of new Riojan gastronomy. Following the teachings laid down by pioneers of 'La Cocina Alta' such as Juan Mari Arzak, Paniego is committed to understanding the science behind food preparation. His approach to local food is thoroughly modern and avant-garde. Nonetheless, this super-star chef never belittles the origins of Riojan cuisine; the results at this wonderful restaurant speak for themselves! Perhaps start your culinary journey with white Asparagus (a local specialty) with perrechicos, followed by his delectable glazed lamb's tail or the famous sheets of cod. For dessert, we'd recommend his Mojito sorbet with banana and mint – astonishing! As befitting his ethos, the space is modern and full of warm overtones, the service worthy of a star in its own right, being highly polished, slick, and attentive. The wine doesn't disappoint either, with a large selection of affordable crianzas and the finest (and most expensive) new wave Riojas money can buy.
The first restaurant in Rioja to be awarded Two Michelin stars, El Portal is a must-visit destination for discerning gourmets.
---
Finca de los Arandinos
Ctra Lr 137 Km 6, 26375, Entrena, La Rioja
Price: Mid-range

Rioja's leading spa hotel also happens to boast one of its finest dining establishments, widely tipped to be worthy of at least one Michelin star! The hotel overlooks the gorgeous Riojan countryside, with panoramic views of Tempranillo vineyards from all directions and an impressive list of amenities.  But, foodies know the real reason to come to Los Arandinos, which is Diego Rodriguez's sublime cooking, which exploits Rioja's local produce (most of it grown near the estate) to craft fabulous, international leaning cuisine. So Chateaubriand, that quintessential French dish, is given a fresh makeover with local beef smothered in sauce Espanol. Yet his Tierra restaurant is unassuming: a low key, small space that can cope with ten tables at most. We strongly recommend choosing his Tierra tasting menu, where you'll encounter such gastronomic delicacies as tuna with white garlic ice cream, gratin cod fillet with garlic soup, and the unmissable Graciano red wine sorbet with a warmed Rioja jus. Attentive, pampering service and a great wine offering compliment this wonderful Riojan bastion of life's greatest joys; superb food and wine! Open for lunch and dinner every day.
---
Restaurant at Marques de Riscal
Calle Torrea, 1, 01340 Elciego, Álava, Spain
Price: Expensive
www.restaurantemarquesderiscal.com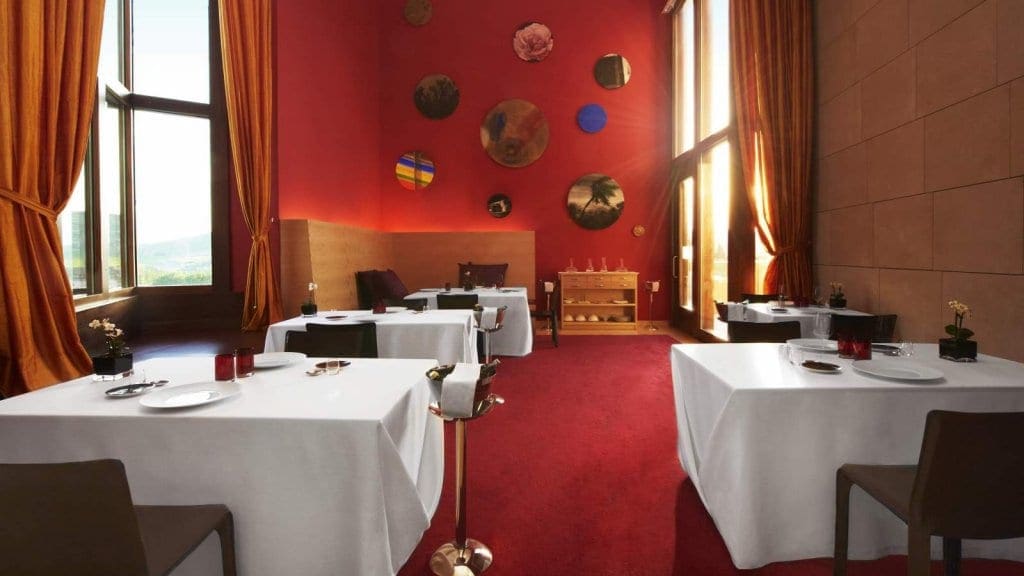 Marques de Riscal successfully introduced the concept of luxury wine tourism in Rioja; since opening its doors in 2006, the hotel has been showered with awards and accolades for its superb spa, location, service, and food! Thanks to this pioneering family, upmarket travelers to the region are now well catered for. Its signature restaurant was awarded a Michelin star in 2011, under the careful tutelage of legendary Riojan Chef Francis Paniego of El Portal fame. Adopting similar techniques employed at Echaurren's signature restaurant, Paniego focuses on precise, imaginative cooking at the Marques de Riscal kitchen, which updates classic Riojan cuisine for the 21st century.  Mouthwatering dishes such as a foie-gras jacket with red wine caviar, tomato tartar with Norway lobster, and cold white garlic soup are just some of the delights in store. The space is also one of the most avant-garde and impressive in the region; red walls, stainless steel lamps, and a firm emphasis on minimalism create an almost 'space-age' ambiance. Service is befitting of the hotel's 5-star ethos; they compete with El portal for the title of the best wine list; suffice to say over 200 choices are available and not solely Marques de Riscal vintages! Open for lunch and dinner Tuesday-Saturday.
---
La Galeria
Calle Saturnino Ulargul, 26001, Logrono, La Rioja
Price: Mid-range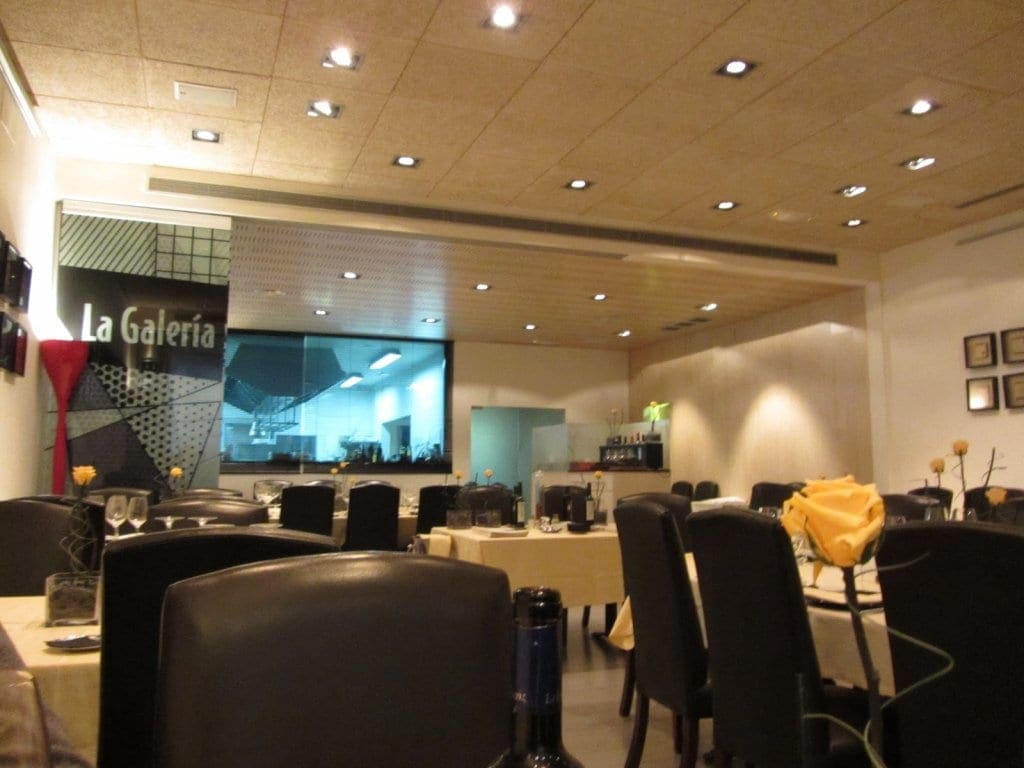 Rioja's hidden find, this wonderfully atmospheric and friendly small restaurant, holds a big secret – head chef Jose Felix honed his craft with such food giants as Arzak, Ferran Adria, Aitor Basabe, and Koldo Royo. His collaboration with entrepreneur Raul Martinez gave birth to what is arguably Logrono's best restaurant, which opened its doors in 2005. With a mere 32 cover capacity, the tables at this trendy space are in extremely high demand, so make sure to reserve a table at least two weeks in advance – one month in high season. Felix's food is another testament to how well traditional Riojan cuisine updates for the tastes of today, savor delicacies like his white asparagus with Viura mayonnaise, seared tuna, and utterly divine red berry souffle. Service is warm and engaging, and the staff will try their hardest to help you decipher the Spanish only menus. Local wines from nearby Bodegas are naturally on tap, and for the price to quality ratio, you'd find it hard to beat La Galeria on all fronts. Open Tuesday-Saturday for lunch and dinner.
---
En Ascuas
Calle Hermanos Moroy, 22, 26001, Logrono, La Rioja
Price: Great value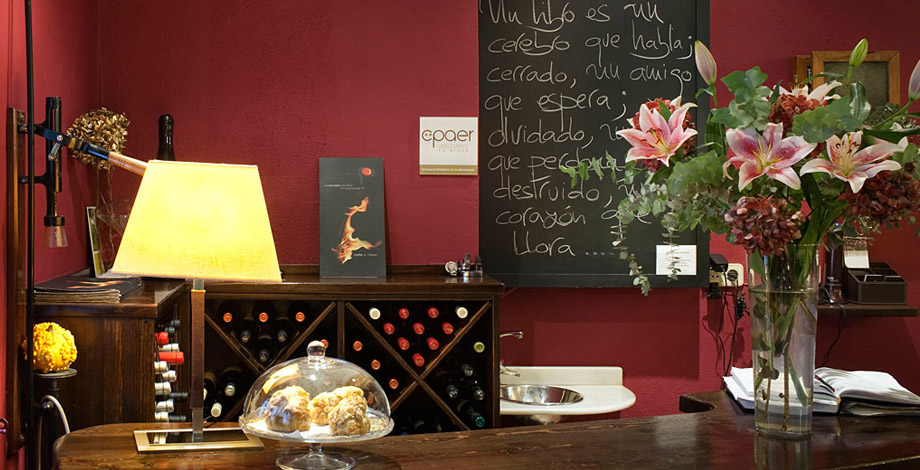 Highly popular, Enascuas is a Logrono institution, serving mouthwatering 'don't mess with the formulae' Riojan food in a lively and convivial setting. With such great food and moderate prices, it's not hard to see why securing a table at this local haunt is often tricky. Founded in 1997, the restaurant is renowned for its superb charcoal-grilled meat and fish dishes, packed full of flavor and utterly delicious. Their chuletas cooked over vine embers must be some of the best in the region, as is the merluza a la plancha (grilled hake) and other aquatic delights. The enticing smells that drift from the back of the restaurant are enough to turn any vegetarian into a committed carnivore for life. Wines, as you'd hope, are entirely local, great value, and dominated by traditional Riojan stalwarts like La Rioja Alta and Vina Tondonia. But the most remarkable thing about Enascuas is the pricing, which remains almost criminally reasonable. Opening times vary depending on the season; please check with the restaurant.
---
Restaurant at Hotel Viura
Calle Mayor, Villabuena de Alava, 01307, La Rioja
Price: Expensive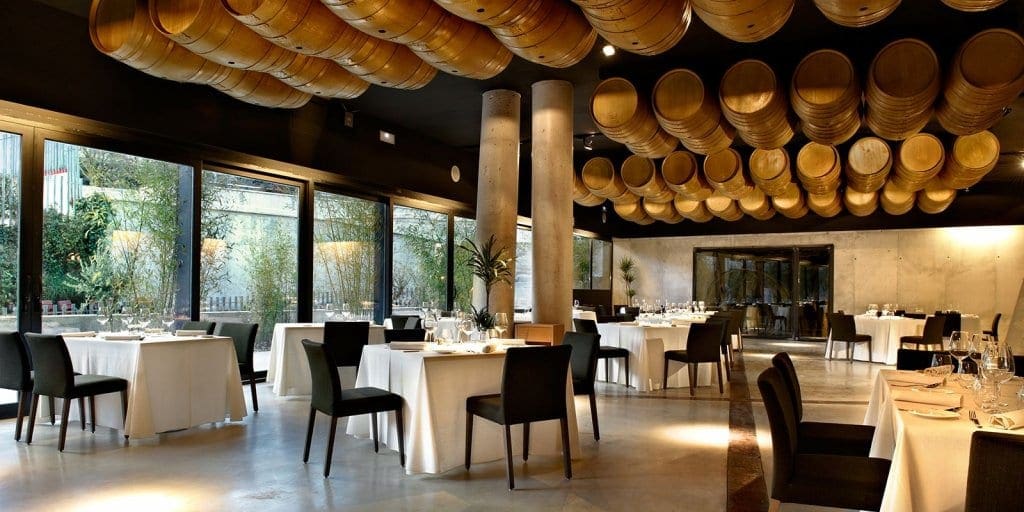 The newest addition to Rioja's wine tourism scene, Hotel Viura, is a superb, charming, and quirky boutique hotel. Located down a steep drive opposite a 14th-century church, this ancient landmark serves as a compelling juxtaposition to the new ultra-modern face of Rioja. In addition to holding the status of one of the region's best small hotels, Viura houses a fantastic restaurant on the ground floor, serving mouthwatering Riojan and Basque specialties. Head Chef Emilio Jose Contreras is a master of his craft and a lover of direct, punch flavors; his cooking evokes the flair and precision of a true master! So a tasting menu at Viura might include beef cheek croquetas paired with flavored almond gazpacho, followed by paprika, white garlic, and almond soup, then seared tuna steak with Padron peppers. Dessert requires exploration into the unknown; give the French toast and vanilla ice cream a try. Viura also boasts a monumental wine cellar, with older Rioja and sherry vintages a particular highlight. Service is almost frighteningly efficient at times, both throughout the hotel restaurant. Viura makes venturing outside the hotel grounds to eat a challenging proposition – Open Tuesday-Sunday for lunch and dinner.
Related Posts:
.