Haro represents the very soul of the Rioja region. The administrative capital of La Rioja is Logrono, yet there is almost indescribable magic to this small, attractive town situated in the north of the zone. It has been the center of viticultural activity in Rioja for centuries. Built on the sides and top of a hill on the southern slopes of the Obarenes mountains at the mouth of the River Tiron, Haro enjoys an enviable pole position.
History
The first official mention of Haro does not occur until the 11th century. However, historians believe that the Rioja region was inhabited by Homo neanderthalensis as far back as 700,000 BC. These hunter-gatherers led a nomadic lifestyle until a Neolithic farming population drove them out around 5000 BC. Over the centuries, Spain was invaded and colonized by settlers from the Mediterranean, including the Greeks and Carthaginians. Then, in 218 BC, the Romans began their conquest of Hispania.
The Romans ruled Hispania with a tight grip for centuries until the Western Roman Empire started to crumble in the 5th century AD. Thereafter chaos reigned, and several civilizations attempted to assert their dominance over different parts of Spain. In 542, the Visigoths made Toledo their capital and ruled over their Spanish territories for almost two centuries.
However, their rule ended in the 8th century, when armies from North Africa began their conquest of Spain in 711. Encountering little resistance from the disorganized and demoralized Visigoths, the Arab and Berber armies easily conquered large swathes of the country. At the height of their power, only northern Spain remained outside of their sphere of control. The resistance to Moorish rule began almost immediately – Pamplona in neighboring Navarra fell to the Basques in 755.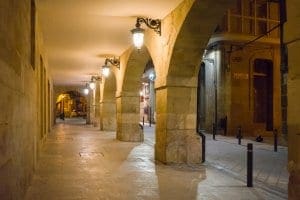 Middle Ages
Between the 8th and 11th centuries, many battles were fought between the Christian forces of Northern Spain and the Muslim armies. Over time, the Spanish monarchs pushed back the Muslim forces – Navarra emerged as the independent Christian Kingdom in the 10th century, after Sancho I Garces became king of Pamplona. His successor, Sancho III the Great, is the source of the first recorded historical mention of Haro in 1040, in an official state document. After that, the rule of Haro fell to Diego Lopez I de Haro, the Lord of Biscay and close advisor to King Alfonso VI.
How the town came to be known as Haro is something of a mystery. However, the town's location provides some clues. Historically, there was a lighthouse (faro in Spanish) on the hillside where Haro now stands, which used to flash its warnings to vessels joining from the River Ebro. Perhaps faro simply evolved into Haro over the years?
Haro continued to grow and prosper in the 13th and 14th centuries as part of the newly unified Christian Kingdom – the marriage of monarchs Fernando and Isabel in Valladolid in 1269 laid the foundations of the Spanish nation-state, uniting their lands in military, religious and diplomatic matters. The Moors were finally ejected from Spain in 1492, when their last stronghold, Granada, was captured by Spanish forces.
Modern Times
In the 17th century, Spain entered a golden age, which saw a flourishing of notable artists and writers achieve European notoriety and fame. Meanwhile, Riojan Wines had become so crucial to the economy that in 1635, the Mayor of Logrono banned carriages from passing along roads near to the bodegas, worried that they would disturb the wines. Rioja's first commitment to quality dates back to this period; in 1650, official documents make the first reference to quality control.
The 18th century saw the Real Sociedad Economica de Cosecheros de Rioja (Royal Economic Society of Rioja Wine Producers) established, aiming to encourage the cultivation of vines and wine production and its commercial development. It was a prosperous time for Haro – improvements to the city's housing and infrastructure were made, and successful merchants built lavish mansions to display their newfound wealth.
Haro's connection with France began in the second half of the 19th century, when French vineyards were affected with mildew and then with phylloxera, the parasite that was to destroy practically all French vines. Inevitably, some of the Bordeaux wine producers came to the Rioja region and soon realized that, although conditions were different from those they knew in Bordeaux, it would still be possible to produce excellent wines – as was subsequently shown when they vastly improved wine production in Rioja. Haro, due to its good rail links with France and other regions of Spain, was the natural location to found bodegas and is today home to the oldest, including Marques de Riscal and Tondonia.
Sadly, all this took place against a backdrop of national decline and political disintegration – Spain's first republic lasted only a year (1873) and consumed four presidents. The 20th century would see further political upheaval as King Alfonso XIII was forced to abdicate in favor of the Second Republic, declared in 1931.
However, the Nationalist movement had no desire to allow the Republic to prosper and rose against the government in 1936. This marked the start of the Spanish Civil War between the Nationalists, under General Franco, and the legitimate Spanish government. After years of brutal fighting, Madrid became formally established by Nationalist forces in 1939. However, the bloodshed didn't stop there – with many Republicans executed in reprisals, and Spain remained internationally isolated until the 1950s.
Yet, in the 20th century, Rioja continued to thrive, irrespective of the many political upheavals. Spain did not take part in the Two World Wars, and in 1926, Riojan wines were officially recognized with the establishment of the Consejo Regulador (regulatory board). The board attained legal status in 1945 and finally became officially established in 1953. In 1991, a Ministerial Order granted an additional and superior designation to be added to Rioja's wines, making them the first wines in Spain to achieve the ranking of Denominacion de Origen Calificada (DOCa). Every year its citizens celebrate Rioja's global renown during La Battala dos Vinos, which takes place in June. Over 4000 join in this exuberant three-hour battle – it commemorates a dispute between Haro and the neighboring town of Miranda. Wine is traditionally 'fired' from botas (flasks made from hide). No one is spared, so our advice is to pack old clothes!
Nevertheless, despite Haro's obvious importance to Rioja's history, even non-aficionados will find much to love in this compact and picturesque little town. Easy to navigate, Haro encourages visitors at every turn to stroll around and enjoy its many attractions. The area known as La Herradura (the horseshoe) typifies everything great about Haro. Packed full of excellent restaurants, tapas bars, and cafes, the nearby Plaza de la Paz is a hedonist's dream. Haro may only be a small town, but its appeal and charm are endless.
Gastronomy & Wine
The Spanish proverb "three Spaniards, four opinions" does not apply to Riojanos and gastronomy – they unanimously agree that good wholesome cooking using local and seasonal produce cooked in the traditional way is the only way to dine. Of course, Rioja boasts several Michelin and luxury dining venues, but often a home-cooked meal in a traditional restaurant can be just as memorable. Rioja's culinary ethos is influenced by the wealth of fruit and vegetables grown in local market gardens. Together with the region's excellent meat and game and an abundance of fresh fish (both from the Atlantic and local rivers), means that every meal is a special occasion.
Highlights include Solomillo al vino de Rioja (beefsteak macerated in red Rioja and brandy, and cooked with shallots and mushrooms); chuletas, which are lamb chops from very young lamb, typically grilled over vine shoot embers; lechazo asado or cordero lechal asado, which is young milk-fed lamb rubbed with garlic and roasted in a hot wood-fired oven until tender – absolutely divine! However, the fish dishes can be just as venerable: trout and freshwater crayfish from local rivers, Atlantic hake (merluza), grilled, and Bacalao a la Riojana (salted cod with red peppers and tomatoes), are just a few of the local offerings. With all these (and many more) mouth-watering dishes and the abundance of superb Riojan wine, it is little wonder that both locals and visitors are such enthusiastic diners.
This brings us nicely to the subject of wine. You may have heard that Rioja is the leading source of fine wine in Spain. In this case, the gossips were right. There are so many styles and varieties of Rioja, from young, energetic reds to age-worthy, structured whites and lavishly expensive icon wines, that even seasoned oenophiles are spoilt for choice. Moreover, the quality of sparkling wine has risen enormously in recent times, while Rioja roses can be just the ticket in the summer months. Indeed, matching food and wine is one of life's greatest pleasures, and in this regard, Rioja never disappoints. Every imaginable dish you'll encounter in Haro has the perfect wine counterpart, from the traditional, velvety reds of Tondonia to the robust, rich reds of Finca Allende. It really is a wine paradise.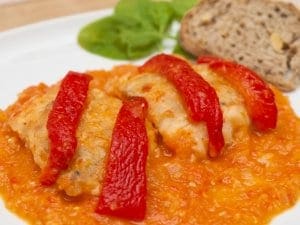 Highlights
On Haro's most famous street, you'll discover the lovely old Gothic church of Santo Tomas, which has an Herreran style south portal, delicately carved by Felipe de Vigarni in 1516, a Gothic nave, and a baroque altarpiece. It is one of the most beautiful religious buildings in Rioja.

La Herradura

This is Haro's masterpiece, a small, compact area full of atmospheric alleyways and tapas bars galore. It is made for a relaxing afternoon, sipping wine and hopping from bar to bar.

Abalos

East of Haro, Abalos is easily accessible for a day trip. It is a picturesque village dominated by the Sierra de Cantabria mountains. Its fascinating narrow streets contain many 17th and 18th century stone buildings, embossed coats of arms, an old palace, and a beautiful ornate 16th-century church. Vineyards surround it.

A name synonymous with excellent red and white wine, Rioja begs to be explored. Many of the region's oldest wineries are situated in Haro's railway quarter – let Cellar Tours organize the visit of a lifetime.