Spain's Top Gourmet Paradores
The "Paradores de Turismo de España" brand was founded in the early 20th century by Spanish King Alfonso XIII to save historical patrimony and promote tourism simultaneously. Castles, fortresses, manor homes, palaces, convents, monasteries, and other historic buildings were converted into hotels and state-run under the Parador brand. The very first Parador hotel was opened in the mountains of Ávila in 1928, and today there are 95 Parador hotels, including one in Portugal. The name comes from the verb "parar," which means to stop. The concept of the hotels is indeed to "stop and relax," and apart from notable, monumental buildings, Parador hotels are also housed in modern spaces with outstanding views and breathtaking nature. The brand is synonymous with high quality and gastronomy, and each Parador places an important emphasis on local cuisine and wines. We have selected our favorite 10 Parador hotels for our food and wine-loving guests; enjoy the read and the travel daydreaming!
Parador de Aiguablava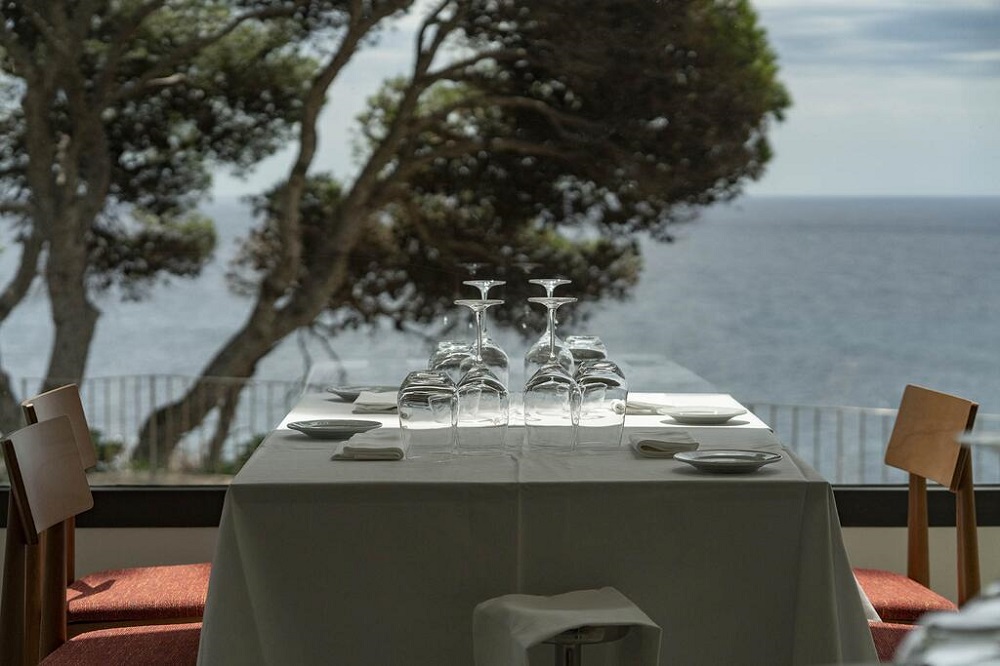 Perched on the clifftop of La Punta d'es Mutsover and overlooking the crystalline Costa Brava beach of Aiguablava, the Parador de Aiguablava could not have a dreamier location. Ensconced amid pine trees with views from every turn of the turquoise waters and sweet little cove below, this Parador was recently renovated and looks terrific. The atmosphere is "casual chic," with an airy and breezy feel. Most rooms have a sea-facing balcony or terrace and have been updated and freshened up, and the decor is beachy with relaxing tones of grey, cream, turquoise, and mustard. The interior decoration is carried through in the public areas, which have sophisticated furnishings and Miró inspired artwork. The facilities include a spa (with sea views), indoor and outdoor pools, and a stellar restaurant (which, we hate to be repetitive, has views to die for). This part of the Empordà region is renowned for its exceptional food and wine with famous local foods like the delicate anchovies from La Escala, the vibrant red prawns from Palamós, and the scenic, local vineyards nearly spilling into the sea. If you can peel yourself from the relaxing, verdant poolside (with those views!) and wine-soaked lunches at the elegant Mar I Vent restaurant, there is soooo much to see and do in this area. The adorable, artsy, hill-topped village of Begur is only a few kilometers down the road and has fantastic upmarket shops and dining options. Apart from Aiguablava beach, Sa Tuna beach and Las Calas de Fornells are nearly Caribbean-like with their transparent, sparkling, clean waters, white sand, and intimate, small scale. While staying here, you MUST have lunch at Toc al Mar (in the cove below). After a life-affirming, seafront lunch of grilled rock octopus, lobster rice, and their ridiculously delicious house rosé, kick off your shoes and have a siesta on the warm sand, bliss!
website: Parador de Aiguablava
related tour: Costa Brava Wine Tour
---
Parador de Argomaniz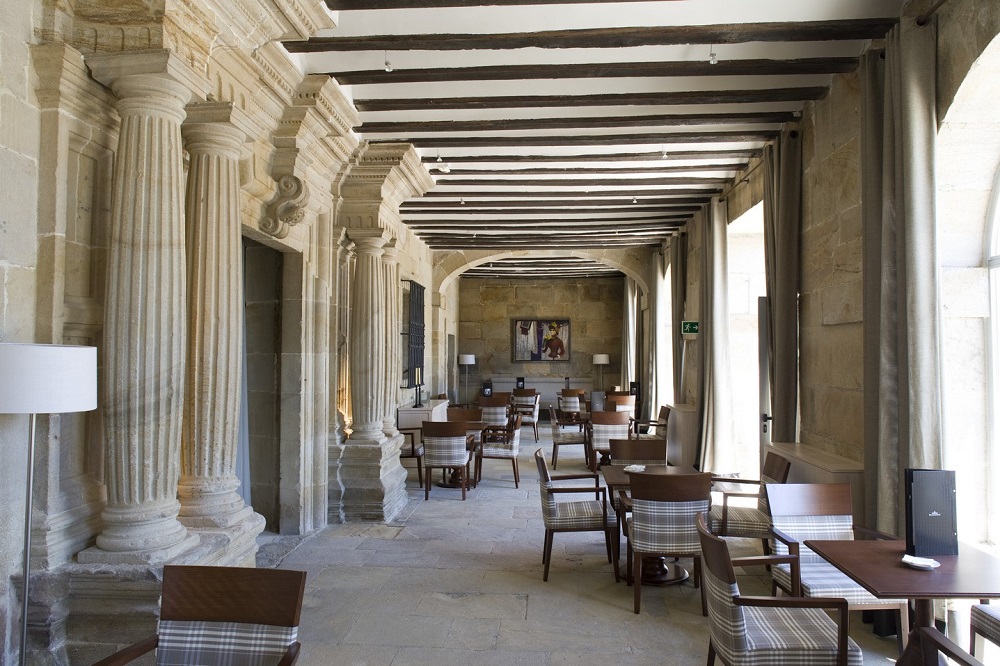 North of the Rioja Alavesa wine country and just a few miles east of the super foodie town of Vitoria, the Parador de Argómaniz is a perfectly preserved Renaissance palace. It is located in pristine Basque countryside next to the Parque Natural de Garaio and is a haven for wine-loving gourmets looking for a relaxing retreat. Vitoria, which is only a 15-minute drive from this Parador, is one of Spain's coolest, most under-the-radar cities. It offers a cornucopia of cultural events and gastronomic treats. The Vitoria summer jazz festival celebrates its 44th edition this year and always features big names. Over the last four decades, the festival has hosted brilliant performers like Ella Fitzgerald, Dizzy Gillespie, Stan Getz, Muddy Waters, Oscar Peterson, Sarah Vaughan, and Earth, Wind, and Fire. While San Sebastian's pintxos bars attract tourists from all over the globe, Vitoria is a lesser-known food Nirvana -without the crowds.
What makes this Parador so desirable is that it has the best of both worlds- a hidden, private location amid green hills that is only a hop, skip, and a jump from a lively town and only 40 minutes from some of the top Rioja wine estates. Admire the opulence of the palace on arrival, and take in the views across the valley. Check-in and check out your spacious room with a luxurious bed and crisp linens. The décor is understated elegance- cool whites, grays, beige, and stone, and the atmosphere is utterly pleasant. Relax with a glass of Rioja, naturally, on the terrace soaking up the vistas. Dinner then is the highlight here. The restaurant is hugely popular with the locals, and the dining room is warm and friendly, with high ceilings lined with original wood beams and feels like a luxe farmhouse. Chef Sergio Lacalzada is well respected for his "cocina de autor"- skilled, creative, and inspired Basque cuisine. Using exceptional local ingredients like Idiazábal cheese, Guernica peppers, fresh anchovies from Bermeo, ultra-fresh fish like sea bass and hake, smoked river trout, and of course high welfare local beef, Sergio has created a faithful clientèle who keep coming back and spreading the word- that includes us! Everything on the menu is delicious; what a revelation. Stay a few nights here so you can do pintxos one night in
Vitoria, and also visit the nearby Rioja wine country and its medieval villages and castles.
website: Parador de Argomaniz
related tour: La Rioja Wine Tours
---
Parador de Baiona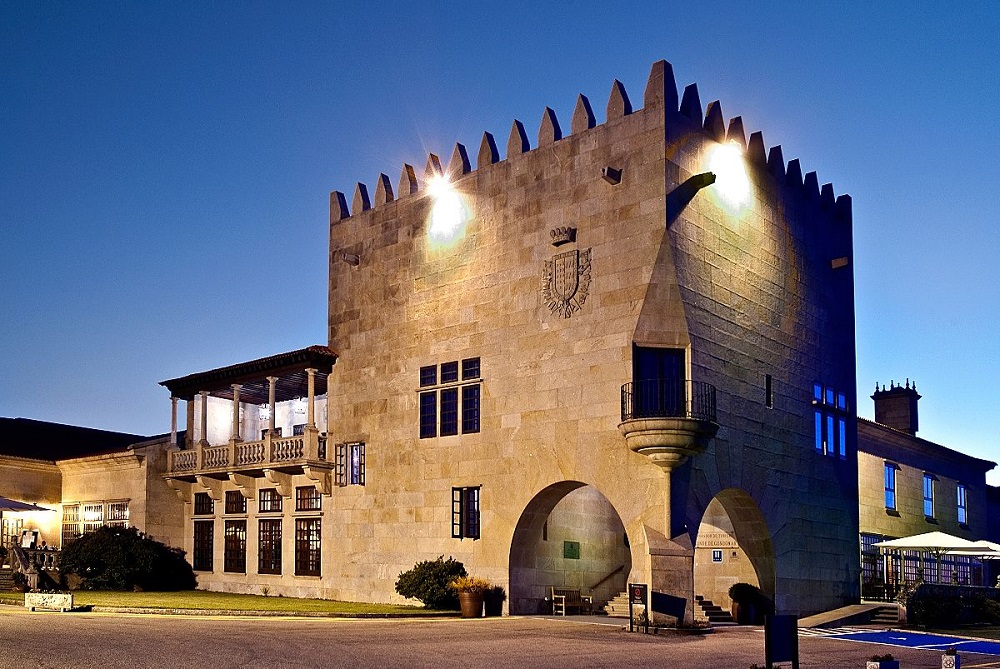 Protected from the open sea by a lovely bay, the hotel is nestled away in the Monterreal Peninsula. Its medieval fortress extends along the coastline, where you will find scenic walkways to admire the breathtaking bay (famous for its sunsets). You have gorgeous coast walks, beaches, views of bobbing fishing boats, and luxury yachts in all directions from the hotel's grounds. The hotel's interior is suitably maritime-themed with oil paintings of famous naval battles, navy blue and white nautical decor, and sea views from the rooms. Breakfast is super duper here; we love it! And the restaurant is good too, although only a short taxi ride away you mustn't miss Rocamar (a "must" for its dramatic ocean views and fresh seafood). Other facilities here include an outdoor pool, sauna, jacuzzi, and the wonderful village of Baiona and its famous beaches, which is a 5-minute walk away. Fun fact: Baiona is also known as Villa de la Arribada (Port of Entry), as it was the first town in Europe to learn of the existence of the Americas when Christopher Columbus's Pinta ship arrived here with the news. This incredible spot is an excellent base for a wine tour of the glorious Rias Baixas, home of Albariño wine.
website: Parador de Baiona
related tour: Galicia Wine Tour
---
Parador of Cangas de Narcea (Monasterio de Corias)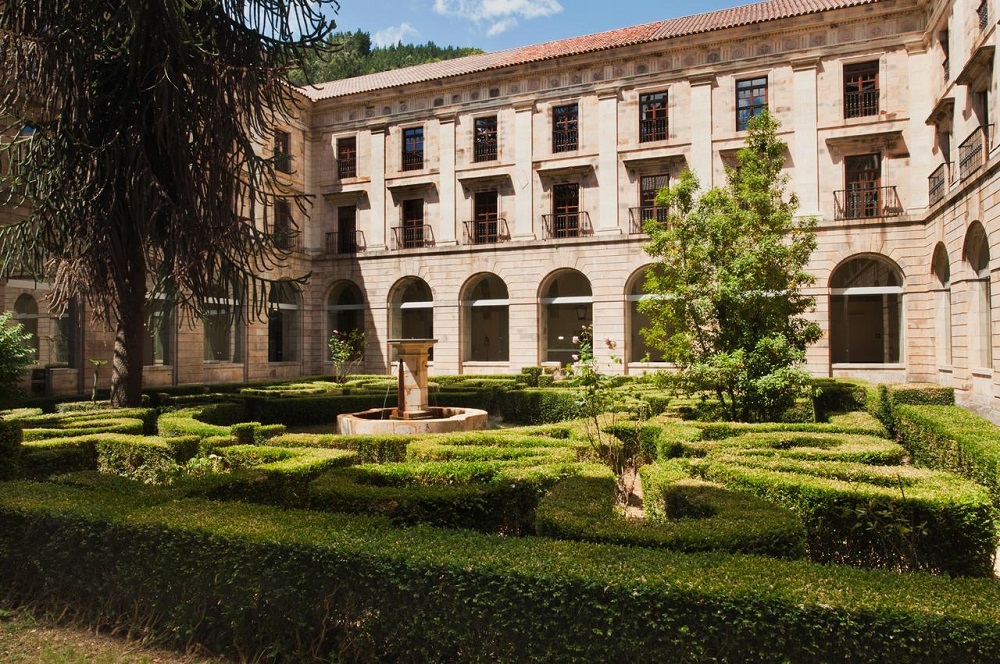 This tastefully renovated 11th-century Benedictine monastery is now one of the most stylish Parador hotels in Spain and winner of the prestigious Condé Nast Traveller awards. It's also in the heart of the wine country in the southwestern corner of Asturias. This part of Northern Spain is often referred to as "Green Spain" and is undoubtedly one of the country's best-kept secrets. Asturias was recently featured in the NY Times (in November 2020), and the journalist summed it up perfectly- "Asturias, Spain's Natural Paradise." The region is truly an oasis, with verdant green valleys, ethereal mountains, royal blue lakes, and heavenly coastline. Indeed, from the Parador's bedrooms, you'll gaze right over the tranquil Narcea river and at the lush surrounding hills sprinkled with pine trees and cascading vines. The hotel is situated in a gentle, unspoiled valley a few kilometers from the hamlet of Cangas de Narcea, and this area is a hub for walkers as there are countless trails and nature reserves in easy reach. On arrival, you will marvel at the majestic facade of this artistic masterpiece, coined the "Escorial of Asturias." Admire the cloistered gardens and the pristine halls with their vaulted ceilings and stone floors. Unwind and zen out in one of the inviting lounge areas with contemporary décor and a peaceful ambiance. Try one of the unique wines, made right next door to the hotel at Bodegas Monasterio de Corias, using rare grapes like Albarín tinto (and blanco), Carrasquín and Verdejo tinto as well as the more well-known Mencia and Verdejo blanco grapes. There is an excellent spa onsite, featuring a heated indoor swimming pool, a Jet and hydro-massage pool, Aroma mist shower, Turkish and Scottish showers, and VIP private treatment rooms. The 69 rooms and five junior suites (which are worth it for the extra space) all offer scenic views and the usual amenities (flat-screen TVs, free wifi, roomy bathrooms, etc.). The food is a major draw here, and the gorgeous restaurant set in the monk's ancient refectory is a true delight. Taste tantalizing dishes like verdina beans with clams, succulent monkfish, tender Asturian beef, and of course Asturian fabada (the famous white bean stew with chorizo and morcilla). While in this area, don't miss the local wine estates and the magical walking opportunities, which will help you offset the delicious cuisine!
website: Parador de Corias
related tour: Asturias Gourmet Food Tour
---
Parador de Chinchon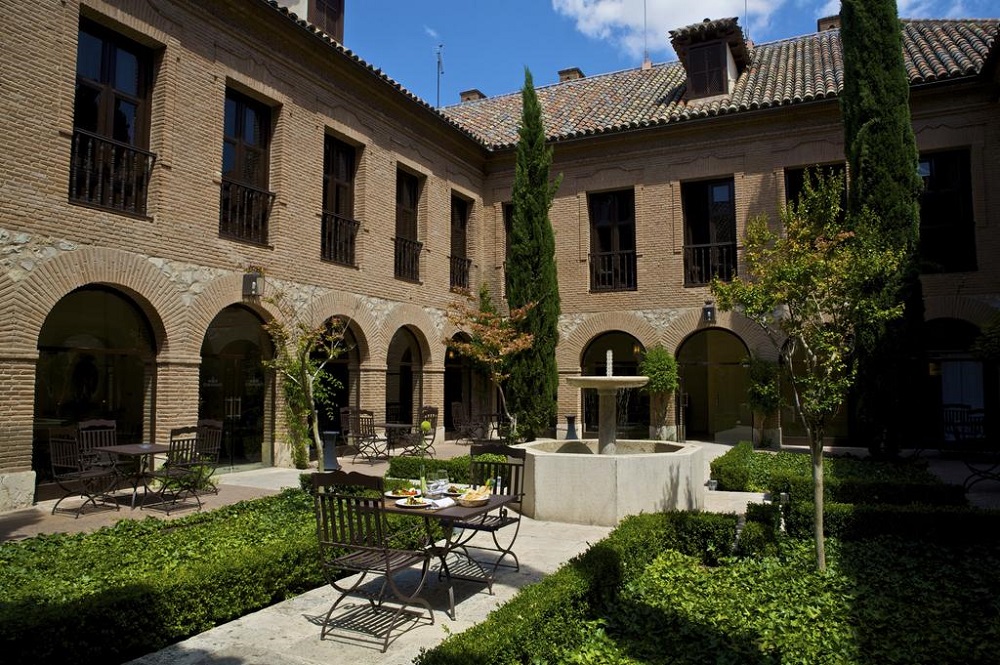 Chinchón is one of the most perfectly preserved medieval villages in Spain, whose circular Plaza Mayor lined with original timber houses has long hosted important public events from inquisition hearings to bullfights and lively markets to outdoor plays. This tiny little hamlet has even been featured in films with actors as wide-ranging as John Wayne, David Niven, Orson Welles, and Rita Hayworth. The entire village has been declared a "Conjunto Histórico Artístico," celebrating and protecting its artistic heritage as patrimony. With an easy drive of under an hour from Madrid, it is a popular day excursion. The main plaza fills up at lunchtime with happy tourists nibbling on tapas and classic Castilian fares like roast lamb, barbecued chorizo, cocido stew, and local sheep's cheese, washed down with big Spanish red wines and the Anis liqueur made here. By night though, Chinchón transforms as the daytrippers leave, and you are transported back to medieval times. The illuminated Gothic church looks down over the plaza mayor, with its over 200 turquoise balconies. And what luck, there is a fabulous Parador where you can sleep, located in a 17th-century Augustinian monastery no less! The courtyard and gardens are charming to wander through on a warm evening. The décor pays homage to its monastic past with frescoes, antique paintings, and painted wood saints. But the vibe is welcoming, with big armchairs in every corner and plenty of private spaces to read and enjoy a quiet drink or a chat. The rooms are perfectly in harmony with the main building, with oak beams, luxurious heavy curtains, high ceilings, lithographs, maps, and Spanish tiled floors. A perfect day would begin with a long, appetite-inducing walk around Chinchón (upgrade the walk with a private guide, there is so much history), and then continue with a tapas feast right in the plaza mayor at the phenomenal "La Casa del Pregonero." This inspired restaurant located in the last town crier's house offers heirloom recipes given a modern touch and presentation using as many zero-mile ingredients as possible, especially the famous garlic from Chinchón. Finish the late afternoon, then a swim at the Parador's large outdoor swimming pool with views over the gardens, and then some chillax time in the sunshine by the pool with a glass of wine. If you have room for dinner, grab an outdoor table and try the pheasant paté with raisin bread and an artisan cheese plate. On your way out of Chinchón the next day, pick up one of the super cool artistic bread creations at Panaderia Vidal.
website: Parador de Chinchon
related tour: Madrid Food & Wine Tour
---
Parador de Jarandilla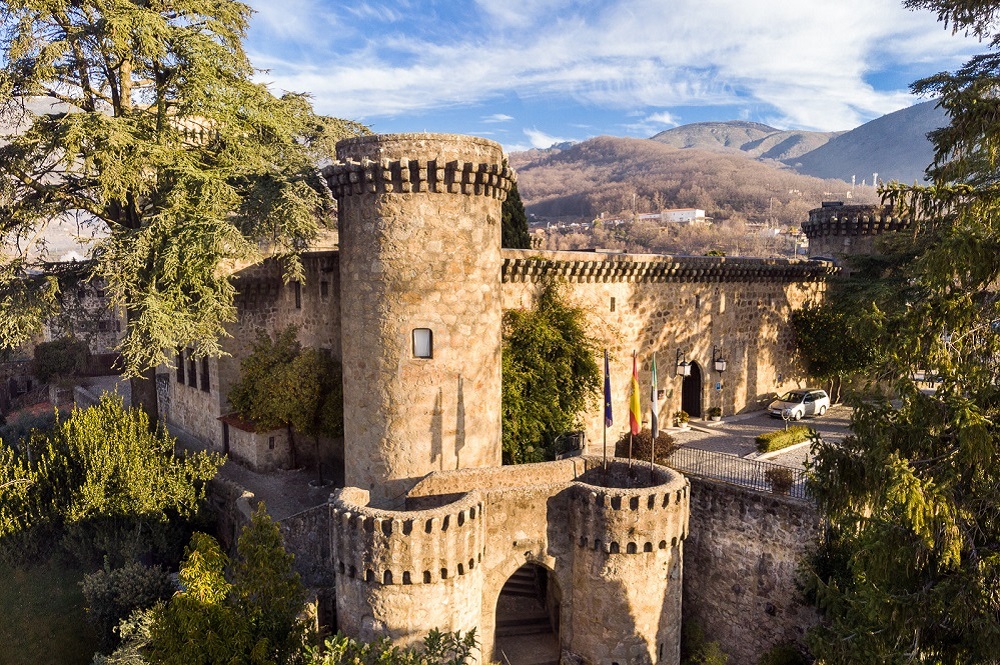 Jarandilla de la Vera is located in the green north of the province of Cáceres in Extremadura, amid oak and chestnut forests, medieval villages, deep river gorges, waterfalls, bucolic streams, and natural swimming pools. The word Jarandilla comes from Xarandiella, an Arabic word meaning "village of green fields." Indeed, this was a Moorish village until the Knights Templar reconquered the town under King Alfonso VIII. The region is exceptionally fertile and where Spanish paprika is made (Pimentón la Vera). It's also one of the most delightful hamlets in this beautiful, rural part of southwest Spain. The village is most famous for its 15th-century fairy tale castle, once home to Holy Roman Emperor King Charles V while he awaited his palace at the Monastery of Yuste to be completed. It's no wonder he chose this serene, verdant region to live out his days as the landscapes are so calm and soothing. Today, this castle is amazingly a Parador hotel where you can stay! You may not want to leave once you arrive, as the castle grounds, palm trees, fortified towers, orange trees, alfresco tables, fountains, and massive outdoor swimming pool are so inviting. The décor is "Middle Ages meets Country House." There are all the usual castle trappings in the lounges and public areas like coats of arms, tapestries, crests, busts, candelabra, a few hunting trophies here and there, and homey sofas and plush armchairs to sink into. While not ultra-luxury by any means, the 50+ rooms are supremely cheerful, you will have a restful sleep in the high-quality beds, and our favorite rooms have views over the mountains. This Parador makes the cut for our list of top ten Paradors for food and wine lovers because of the exceptional dining here. Extremadura has some of the most delectable cheese and charcuterie in the whole country. Torta del Casar cheese is a flavor bomb, ¡Dios mío! We recommend two nights and two dinners here as the region has so much to see, and the Parador menu options are fab. Try the artisan cheese platter, of course, the D.O. Dehesa Iberian Bellota ham, the patatas revolconas (mashed potatoes sprinkled liberally with Pimentón and flavored with bacon- sinful and a "must"), the cod croquettes with orange and rosemary chutney, the beef cheeks cooked in excellent local wine, the creamy rice with wild mushrooms and sheep's cheese, and finish with homemade cheesecake. You can walk it all off in the brilliant hiking routes nearby in the enchanting Sierra de Gredos, as well as right from the hotel as the Ruta del Emperador trail starting point is a gentle 10-minute walk from the Parador. This is a truly excellent weekend idea for food, wine, nature, and walking lovers.
website: Parador de Jarandilla de la Vera
related tour: Extremadura Food & Wine Tour
---
Parador de La Granja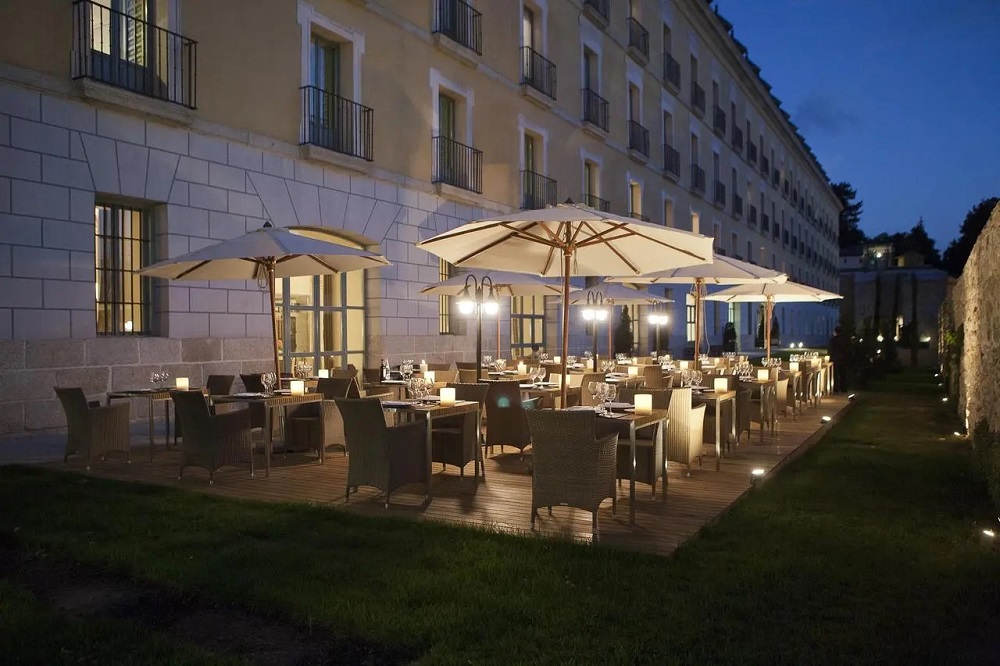 La Granja is the perfect Parador if you are looking for a gastronomic spa break in an idyllic small town close to Madrid. Just a few miles from Segovia, this darling village is most famous for its 18th century Royal Palace and extensive, manicured, French-style gardens decorated with Egyptian and Greek mythological sculptures and fountains. The palace was built for King Philip V (the first Spanish king in the French Bourbon dynasty, hence the French influence) in the early 1700s. Versailles heavily inspired the palace and gardens, and this was a summer retreat for the court. It was a popular base for the nobles to use when on hunting excursions in the nearby Guadarrama mountains. The village of La Granja is also famous for the 18th century Royal Glass factory, now a working museum where you can buy the prized, expensive La Granja crystal (the decanters and wine glasses are timeless). Finally, the third most famous location in this tiny town is your Parador hotel! Constructed in the late 1700s under the enlightened king Charles III (who, as a side note, had Pompeii excavated and also had the Prado museum built in Madrid), this palace was a gift to his sons, the Infantes Gabriel and Antonio. Renovated into a luxury hotel in 2007, it's the perfect weekend getaway for enjoying simple pleasures like long lunches, spa time, and garden walks. The Royal Palace and gardens are only a few minute's walk away. While monumental and majestic, this Parador still manages to feel like an intimate and cozy townhouse because of the polished decoration and furniture. Contemporary art rubs shoulders with Greek-inspired sculptures, La Granja glass chandeliers, and bubbling fountains. The bedrooms are huge with high ceilings, king-sized beds, and subdued hues of beige, gray, cream, salmon, and terracotta. An outdoor swimming pool complements the indoor pool and spa, and various candlelit lounges are just perfect for relaxing with an aperitif and a magazine before dinner. Speaking about dinner, this is a highlight at this Parador! You can't leave without trying the "judiones de la Granja" (giant butter beans, considered to be the jewel in the crown of Segovian cuisine and served in a hearty stew). Another specialty of this region is the mouthwatering suckling pig, roast in wood-fired clay ovens and served with confit potatoes. And in warmer months, their version of the Basque dish bacalao al pil-pil is a winner.
website: Parador de-la Granja
---
Parador de Leon (Hostal San Marcos)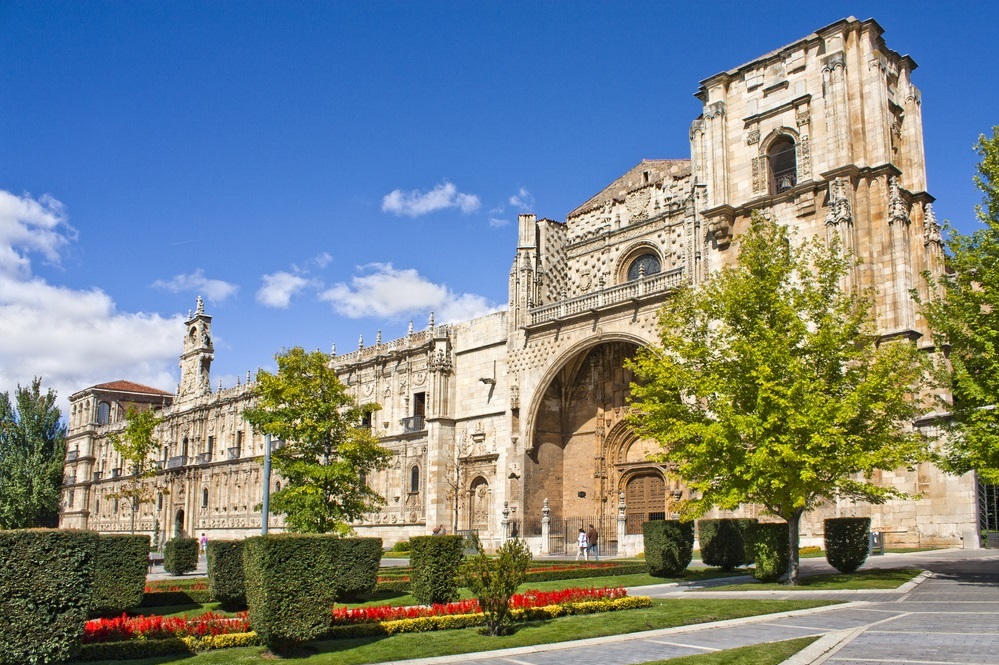 The Paradors of Spain are well-loved and well-known as hotels either located in charming historic buildings or hotels located in places of truly unique beauty. The Parador of Léon ticks both of these boxes. Quite simply, this flawlessly converted 16th-century monastery-hospital complex is jaw-dropping. It is one of the most magical and iconic Renaissance jewels in Spain! On arrival, admire the whimsical Spanish Plateresque façade. Take a tour through Spain's antiquity as you study the portraits of the famous (real and legendary) personalities who left their imprint here, including Alexander the Great, Julius Caesar, Hannibal, Hercules, El Cid, Charlemagne, and of course Isabel and Ferdinand. Step inside and step back in history. Exquisite tapestries and period oil paintings adorn the white-washed and ancient stone walls. The arched ceilings feature moody, intimate lighting, and there are a multitude of cozy lounge areas where you will want to flop down with a huge tome of a novel and a glass of Bierzo wine on a lazy afternoon. We love the chic and classic décor since the renovation was completed in 2020. The 51 rooms are all distinctive, spacious, elegant with soothing gray, beige, white, burgundy, and hardwood color schemes. There is heirloom furniture throughout with some pretty unique headboards. The facilities here include an enchanting cloister with gardens, a café, and the refined Rey Don Sancho restaurant specialized in traditional products and dishes like dry-cured beef cecina and the comforting Cocido Maragato- all presented with flair and a light touch. Do enjoy a meal here, but whatever you do, don't miss the fabulous Michelin starred restaurant just next door- Cocinandos. Léon is one of our favorite cities in Spain and still a bit of a best-kept secret with a wide array of "musts" like visiting the cathedral with its outstanding stained-glass windows and spending an afternoon in the "barrio romántico" grazing on tapas and enjoying the good life.
website: Parador de Leon
---
Parador de Lerma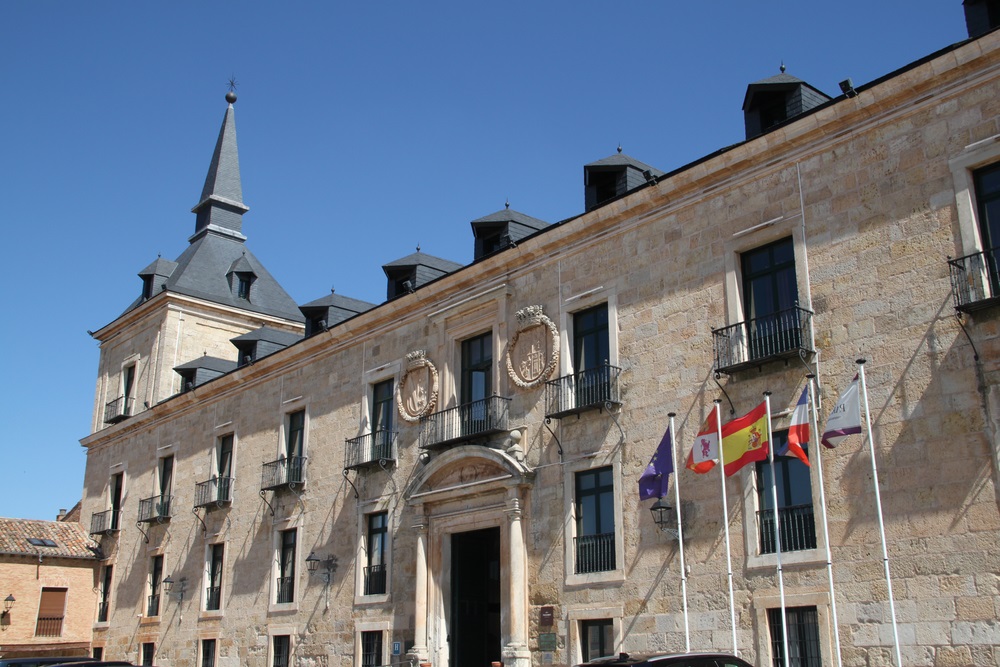 This regal, Ducal Palace, dates back to the 17th century and was built for Francisco Gómez de Sandoval y Rojas (otherwise known as the duke of Lerma). He was one of the most powerful and trusted nobles in King Philip (Felipe) III of Spain's Hapsburg court. Local legend says that the duke ordered a network of secret, underground passageways to be created for the palace complex, linking the Palace with the town's religious buildings like the Collegiate Church of San Pedro and the convent. It is thought these passageways were made in case he ever needed to make a fast escape. While this is a romantic notion, it has not been definitively proven by historians. What is certain, though, is there are indeed passageways between the underground cellars, as this is an ancient winemaking town, and underground cellars have been built under the town since time immemorial. Today, this atmospheric Palace is a Parador hotel, and you can sleep like a king here! Located right in the heart of Lerma's medieval quarter, it feels like a movie set when the hamlet is illuminated at night. There are 60 rooms to choose from, plus a spacious suite, and the décor is "updated medieval" with terracotta floors, four-post beds, rich gold and burgundy fabrics, and plenty of elegant, dark wood. The hotel has a charming, central, arched courtyard with timber beams, potted palms, and period furniture. This is a fantastic spot for an evening aperitif of Arlanza or Ribera del Duero wine before dinner. The restaurant here is set in a distinguished and graceful, vaulted dining room. You can enjoy authentic local dishes like cochinillo (suckling pig), Venison with a chestnut sauce, and convent custard desserts. A less formal and highly recommended gastronomic experience in Lerma is the mythical baby lamb dish called "lechazo," which is roast in centennial wood ovens. Our favorite tavern in town is the lively Asador Casa Brigante, right in the square and just steps from the Parador. The "lechazo" here is to die for!!
website: Parador de Lerma
related tour: Ribera del Duero Wine Tour
---
Parador de Santo Estevo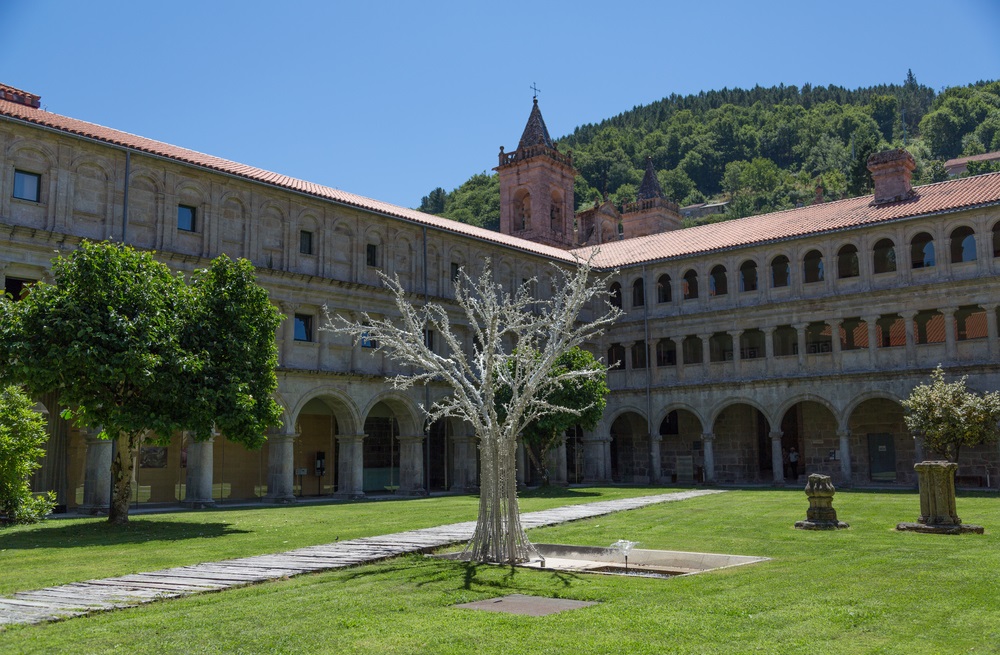 Tucked into a thick chestnut forest on a hillside overlooking the stunning Sil river gorge, the Parador Santo Estevo is located in one of the most picturesque wine regions in the world- Ribeira Sacra. The Romans named this area "sacred riverside," and they also introduced winemaking to the area. Today, world-class vines hang on for dear life to the almost comically steep terraces on either side of the rivers Sil and Miño before being painstakingly hand-harvested. It's no wonder the winemakers here are called heroic! This corner of Galicia is also blessed with a rich collection of historic architecture, including many extraordinary monasteries (the monks carried on winemaking traditions after the Romans). Parador Santo Estevo is located in a particularly remarkable monastery, founded in the 6th century. Over the last 1500 years, it has been added on to, improved, and indeed rebuilt, and many influences combine to make this building so exceptional. There's a Baroque façade, a Romanesque church, a Gothic cloister (not to mention a separate Romanesque cloister and a third Renaissance cloister), and stone altarpieces thought to have been made in the 12th century. Basically, the complex is a beautiful assortment of styles. While strolling through the ethereal, stone halls at night here, for a moment, you might feel like you have stepped into Sean Connery's "In the name of the rose" film. That is, of course, until you walk into the classy spa, head out to your panoramic deck, settle into the outdoor jacuzzi and crack open a bottle of Ribeira Sacra wine while soaking up the views of the surrounding woodland! Austere, this hotel is not. The public spaces have been brightened up with flattering lighting and a handsome color scheme of white, deep red, and light pine. Most of the 75 rooms have characterful features like centuries-old, granite windowsills, marble bathrooms, and hardwood floors. Dine on traditional Galician dishes like grilled octopus, Padron peppers, and baked zamburiñas (scallops) in the monastery's converted old stables or al fresco on the terrace overlooking the forest. This is a fantastic place to stay while visiting the Ribeira Sacra wine country, and needless to say, featured in our Galicia wine tours.
website: Parador de Santo Estevo
related tour: Galicia Wine Tour
Related Blog Posts: