La Rioja is still one of the world's best-kept secrets. Unlike Tuscany and Provence (which are admittedly splendid), Rioja does not attract hoards of tourists, which is only to the region's advantage. Yet it has so much to offer – visiting Rioja, you will find wines rarely seen in other areas of Spain, let alone outside the country. When Rioja's wealth of superb wines are added to the region's superlative gastronomy, numerous luxury hotels, beautiful unspoiled scenery, and colorful history, you have the recipe for an enduring love affair.
The topography and scenic beauty of La Rioja, though, is perhaps its most precious asset. The region's ochre earth and vast blue skies, which seem far more Mediterranean than the Basque greens further north, are captivating. In fact, it's hard not to feel as if you're in a different country altogether. La Rioja is Spain's second-smallest region, and yet its diversity of landscape is astonishing. Rioja's northern border is particularly spectacular – marked by the Sierra de Cantabria mountain range, it forms a natural protection for the vines against the cooler winds and rain from the Atlantic. To the south lie the Sierra de la Demanda and Las Cameros mountain ranges. The River Ebro, running through the region, has a host of vineyards on both banks, and helps provide irrigation for the vines.
La Rioja also boasts some of Spain's most beautiful and unique villages, including San Millan de Cogolla, Santo Domingo de la Calzada, Briones and Laguardia. The regional capital Logrono is a stately wine-country town with a heart of tree-studded squares, narrows streets and hidden corners. There are few monuments here, but more important to some is the great selection of pintxos (Basque tapas) bars. In fact, Logrono is quickly gaining a culinary reputation to rival anywhere in Spain. Haro, the centre of numerous historic wineries, also has a heady bouquet. Its cheerful pace and compact old quarter, leading to the gorgeous Plaza de la Paz, has some intriguing alleyways with tapas and copas aplenty. Believe us, the hours soon slip away.
Get out the copas (glasses) and make sure to arrive hungry, as La Rioja is a destination bursting with fine wine and superlative gastronomy. It is Spain's second-smallest Autonomous Community (after the Canary Islands), and yet both Riojan wines and the region's culinary heritage are famous throughout Spain. Utilizing local produce as much as possible, Riojan gastronomy is all heart and soul – divine, but intensely nourishing and homely. Family-run inns and unpretentious casas de comidas are the staple of Riojan restaurants, offering home cooking that has much in common with that of neighboring Navarra, Aragon, and Leon.
However, while Riojan gastronomy has always been of high quality, in recent years a culinary shift has seen a stronger emphasis on experimentation and molecular cuisine. Of course, traditional restaurants still abound, but they have been joined by a firmament that values innovation as much as tradition. The result has been the awarding of Michelin stars, which can only enhance Rioja's reputation as a premier food and wine region.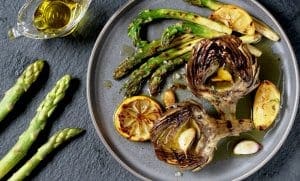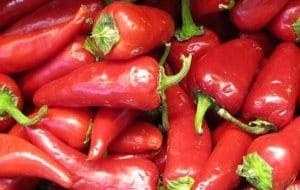 Indeed, budding chefs are really spoilt for choice when it comes to fresh produce. Market gardens are full of artichokes, asparagus, cardoons, borage, Swiss chard, aubergines, and courgettes. Small and fiery red chili peppers, alegrias Riojans, are a key component of local cuisine, as is wine. Many meat dishes involve wine and brandy – look out for solomillo al vino de Rioja ( beefsteak macerated in red Rioja and brandy, and cooked with shallots and mushrooms) – as do desserts. Traditional desserts are usually fruits poached in wine, while local pastries are made with walnuts and almonds.
Yet the food culture in Rioja's mountain areas is quite distinctive. Pork is vital; all kinds of cured pork products – chorizo, salchichon and a delicious sweet blood sausage made with rice – go into stews rich with the mottled caparrones (kidney beans) and red beans. Wild boar, venison, partridge, hare, and quail are all regular guests on menus. But perhaps Rioja's greatest culinary treasure is its tradition of grilling lamb over smoldering vine prunings. Chuletas, which are lamb chops from very young lamb, taste unbelievably moreish when cooked over vine shoot embers. Lechazo asado or cordero lechal asado, which is young milk-fed lamb rubbed with garlic and roasted in a hot wood-fired oven until tender, defies words. Freshwater crayfish, trout and salt cod are also popular in La Rioja. The fresh, salty, slightly acidic goat's cheese Camerano rounds off this gastronomic feast nicely. It makes a divine tapa, served over caramelized onions.
Cellar Tours recommended restaurants
Cellar Tours selection of Top Rioja Wineries
The beautiful wine country of La Rioja is a fascinating and historic region regularly featured on our luxury wine tours. Rioja was demarcated by the area's governing body, the CONSEJO REGULADOR, in 1926. The region extends for approx. 120 km along both sides of the Ebro River and is, at its widest, 50 kilometers, bounded by mountains on either side. The word "Rioja" is a derivation of the two words "Rio" (River) and "Oja" (name of a tributary of the Ebro, located near the region's southwestern boundary).
"La Rioja" has always been a vital part of Spain's history. Phoenicians, Carthaginians, Romans, Moors, and finally, medieval Crusaders have all played a role in the area's history. The Romans, however, made wine a part of their culture wherever they traveled, and La Rioja was no exception. Ancient sites of Roman wineries still exist in and around the area today.
After the Romans came the Moors, and winemaking all but ceased. It wasn't until after the famous "El Cid" liberated Spain and medieval Christianity brought trade via the Crusaders through the region that it flourished again. The Benedictine monks of Cluny in Burgundy, known for their viticulture, helped to establish three monasteries in the area. The vines they planted were mostly white grapes. In the fourteenth century, English traders acquired a taste for a local Rioja wine, a blend of white and red wines called Blancos Pardillos. Over time, the development of lighter reds came about satisfying eighteenth-century English and French courts.
Sub Wine Regions of La Rioja
La Rioja Alavesa, the smallest of the three Rioja sub-regions, is today responsible for producing some of the area's most expensive and venerable wine.

This is undoubtedly the beating heart of the great Rioja region. La Rioja Alta, one of the three Rioja sub-regions, lies entirely within the municipality of La Rioja

From one perspective, Rioja Oriental is Spain's newest wine appellation. For decades, the largest sub-region in Rioja was known as Rioja Baja, in reference to the generally lower altitudes of the vineyards compared to Rioja Alta and Alavesa
Cellar Tours Exclusive Wine Tours in La Rioja Region
La Rioja Wine Tours
La Rioja Wine Tours: Your own chauffeur, accommodation at luxurious wine hotel & fine dining in top restaurants in wine country

Northern Spain Food & Wine Tour
This Northern Spain Tour is for food & wine lovers; includes the regions of Ribera del Duero, Rioja; traditional & Michelin starred dining & luxury hotels.

San Sebastian Wine Tour
This unforgettable tour includes Michelin Starred dining at Akelarre & Mugaritz, VIP private wine tours in Txakoli & La Rioja, plus luxury hotel
Recommended Towns & places in La Rioja
Laguardia
Laguardia is one of the most perfectly preserved medieval villages in Spain. It is also located right in Rioja wine country and is the perfect base for your wine tour of Spain's most well-known red wine region. Laguardia is a medieval hill hamlet (called "villa" in Spanish), reminiscent of Tuscan hilltop villages. The town is surrounded by an ancient wall and has a delightful jumble of cobble-stoned streets lined with "Tabernas," wine shops, palaces, and cafes. Laguardia was founded in the year 1164 by King Sancho Abarca, and the spectacularly preserved wall dates back to the 15th century. The entire village became protected as Patrimony of Spain in 1964. The name "Laguardia" originates from "La Guardia de Navarra," the "Guard" of Navarra, referring to its strategic importance in the kingdom of Navarre.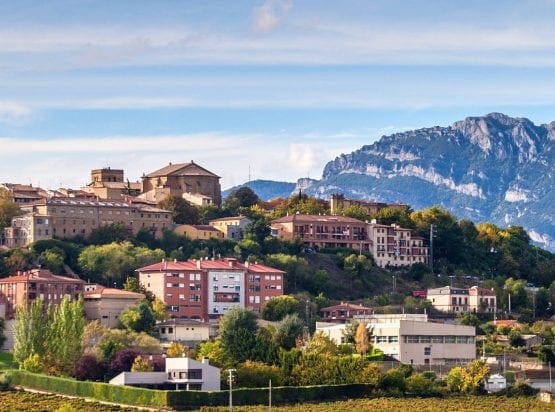 Local Events & Festivals

Rioja Wine harvest Festival
18th-22nd of September. An annual festival in Logroño is organized to celebrate the new harvest and offer thanks to Our Lady of Valvanera the patron Saint of Rioja.

Medieval Festival in Briones
Jun 15th – June 16th, 2019. A medieval festival set in the historic quarter of Briones recreates life in the region in the 14th century
Today, there are some 63,500 hectares under vine in Rioja, spread across three distinct sub-regions. Rioja Alta is situated west of the city of Logrono, Rioja Alavesa is partly located in Alava, a province in the Basque Country to the north and Rioja Oriental is found south-east of Logrono, parts of which lie in the neighboring region of Navarra. Rioja's northern border is particularly spectacular – marked by the Sierra de Cantabria mountain range, it forms a natural protection for the vines against the cooler winds and rain from the Atlantic. To the south lie the Sierra de la Demanda and Las Cameros mountain ranges. The River Ebro, running through the region, has a host of vineyards on both banks and helps provide irrigation for the vines
Weather
Climatically, Rioja is something of a chameleon. Rioja Oriental enjoys a Mediterranean climate, with often baking hot summers, while La Rioja Alta has a more Atlantic climate. The lower altitudes in Rioja Oriental, combined with the typically hot, dry summers ensure that Grenache achieves full ripeness, with generous alcohol levels often above 14.5%. In contrast, the elevated terrain of Alavesa combines with its cooler, wetter climate to provide wines with a signature freshness and lower alcohol. The region, however, often experiences brisk, cold winters, which coupled with short hot summers, forces the roots of the vines to fight for an abundance of nourishment, resulting in grapes with an abundance of flavor
Average High/Low temperatures for Bordeaux in Celisus/Fahrenheit
Without doubt, the best times to visit Rioja are May and June. The weather is usually warm and sunny, but it lacks the intensity of July/August. The region is humming, the restaurant terraces are open and a packed cultural calendar awaits you! September is also a magical time to visit, right in the middle of the annual harvest.
Getting there
By plane

Vitoria has La Rioja's main airport and is under an hour drive from Laguardia, Haro and Logrono. Bilbao airport is an approx 90 min from Laguardia and surrounding wine
villages.

By car

Haro is located about 1 hour and 15 minutes from Bilbao airport and is the first big wine hub coming from the north. Logroño is just under a 4-hour drive from Madrid.
Cellar Tours Selection of Top Hotels in La RIoja
Shopping

The quintessential souvenir from Rioja has to be the leather wineskin- the Bota de Vino. This artisan producer is the 5th generation making them. His great great grandfather started selling them in 1865! You can also purchase them online through this company.
Useful Information
Buying wine in Spain

Both carrying wine on flights and shipping wine abroad have become difficult to impossible in recent years due to new airline restrictions and import bureaucracy. Most of the wineries we work with sell their wine abroad in major markets (US/ UK/ etc) and we can tell you where to purchase the wines in your area. If you do want to ship, the main methods are UPS and DHL; both very expensive options. Some wineries "ship" wines, often having their distributors in your region ship it to you rather than sending it to you from Spain. This is due to import regulations. If you would like to carry wine back, we suggest you bring a small suitcase and be sure to pack and pad it properly before checking it in.

Timetable for meals

Lunch hours in restaurants are 1:30/2PM –4/5PM (weekends you can enjoy your big lunch until 5 PM easily). Tapas bars tend to be open all day from early morning to late evening. Dinner- few restaurants open before 9 PM and most diners head for their dinner around 9:30/10PM. On weekends, many restaurant kitchens serve until 1 AM. Some restaurants more accustomed to foreigners open earlier, but it is not the norm. After dinner, most Spaniards take a "Paseo", a digestive walk, try it!

Shopping

Opening times for shops – traditional shops tend to open around 10, close from 1:30/2PM to 4:30/5PM and then stay open until 8-10PM, depending on the part of town. In tourist areas, shops have longer hours. Shopping – bargaining is frowned upon. The listed price is the price and it is insulting to ask for lower pricing (both in shops and markets). Shops do not accept other forms of currency besides euros.
Facts and figures
Capital

Logroño

President Regional Government

José Ignacio Ceniceros

Area

5045km2

Population

322K (2010)

Area under vine

63,137ha

Principal Red Grapes

Graciano, Garnacha, Mazuela, Maturana Tinta, Tempranillo

White Grapes

Chardonnay,Garnacha Blanca, Malvasía Riojana, Sauvignon Blanc, Maturana Blanca, Tempranillo Blanco, Torrontés, Verdejo,Viura

Bottles Produced

360 million bottles (2018)
If you would like us to customize an exclusive, luxury tour for you, get in touch with us and let us know your travel plans. We offer luxury food and wine tours for private groups of minimum 2 guests. All of our private, chauffeured tours are available year round upon request.
Contact us for your personalized quote!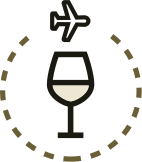 Cellar Tours
Cellar Tours is a Luxury Travel Specialist, operating since 2003 and offering exclusive Mercedes chauffeured Gourmet Vacations in Chile, France, Italy, Ireland, Portugal, South Africa, and Spain. We specialize in luxurious custom designed vacations, events and incentives related to food and wine. We are proud members of Slow Food, UNAV (Travel Agency Association in Spain), and the IACP (International Association of Culinary Professionals).