Profile of Badia a Passignano
The enticing blend of history, culture, and gastronomy you will find at Badia a Passignano is a perfect example of why Tuscany endures as a favorite destination for food and wine connoisseurs. This Antinori-owned winery, a rolling estate tucked into the heart of Chianti Classico, is as well-loved for its fascinating historical setting as for its luscious Chianti Classico Riserva di Badia a Passignano wine.
The 215-hectare estate encircles a beautiful ancient abbey still owned by the Vallombrosian monks. Although the year of its founding is unclear – some historians claim the year 395, while others push it back to 891 – there is no doubt that the abbey played a vital role in Tuscan winemaking throughout the last millennium. Even in ancient times, the Vallombrosians were known for their scholarship and winemaking expertise; the order reached a pinnacle of power in the middle ages when it owned nearly a quarter of Tuscany. Although Badia a Passignano was sacked and burned in the 12th and 13th centuries, it was later rebuilt and by the 1500s had gained fame for being a center of science and learning. Galileo Galilei taught mathematics here in 1587, and the monks were great students of literature and music, amassing impressive libraries that still exist today. For centuries, it was this progressive monastic community that cultivated the land and cared for the vineyards. A fascinating link to the area's long wine-making history came with the 1983 discovery of a thousand-year-old vine near the estate.
Today as in ages past, the wine made here is aged in the vast cellars that run beneath the abbey. Bought in 1987 by the esteemed Antinori winemaking family (now in its 26th generation of vintners), the estate produces a single wine: Chianti Classico Riserva di Badia a Passignano.
As part of an exclusive Tuscany wine touring vacation with Cellar Tours, we can organize a visit to the Abbey, a VIP tasting of the top Antinori wines, and a gourmet lunch at the Osteria di Passignano restaurant, run by Tuscan chef Marcello Crini.
Wines produced
Chianti Classico Riserva di Badia a Passignano

Sangiovese 100%, Alc. 13.5%
Winery details
Via Passignano 33
Loc. Badia a Passignano 50028
Tavarnelle Val di Pesa (FI), Italy
Tel +39 055 8071278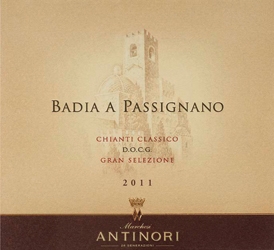 Appellation

(DOCG) Chianti Classico

Founded

This was a working estate as early as 395 and was purchased by the Antinori family in 1987.

Area under vine

50 hectares

Oak barrel origin

The majority of the wine is aged in barriques (and a small part in barrels of 500-700 liter capacity) for about 14 months, followed by 12 months in the bottle before releasing the wine to the market.
Winemaker

Roberto Stucchi Prinetti

Owner

The Antinori family

Grape varietals

Sangiovese, Cabernet and Syrah