Certain wine regions require little or no introduction. Piedmont is such a destination – the home of seductively-scented Nebbiolo is loved and admired by sommeliers, collectors, and wine lovers across the world. Indeed, this corner of northwest Italy has been in the fine wine business for hundreds of years. It does not need to take lessons from anyone.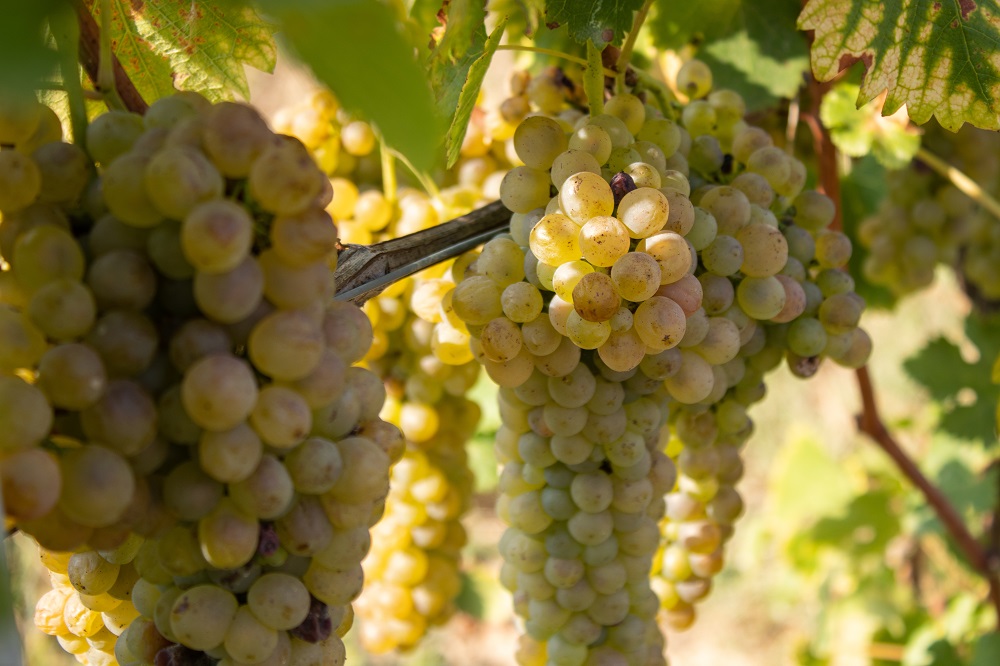 Yet even the most well-trodden vineyard can occasionally surprise you. Growers have cultivated a little-known grape called Arneis alongside their more commercially-lucrative Nebbiolo vines for centuries. Long consumed within the borders of Piedmont, Arneis is nonetheless starting to develop an international following among fans of Italian whites. Racy, pungent and full-bodied, Arneis is equal to its opposite number. The name means 'little rascal' in the local Piemontese dialect, a not unfair description of this fascinating variety. However, its capricious nature and susceptibility to disease ensure that only the most dedicated winegrowers have the patience to persevere with Arneis. Fortunately, the rewards more than justify the outlay.
History and viticulture
Arneis boasts a long and complex history in the vineyards of Piedmont. The Romans popularized wine growing in the region, a practice which continued after the collapse of the Western Empire in the 5th century AD. Taking inspiration from the vignerons of Burgundy, Piedmont's wine establishment decided centuries ago that Nebbiolo should not generally be blended with other red grape varieties (whites were another matter). The two regions also share a longstanding passion for understanding and demarcating terroir; the legendary oenologist Renato Ratti unveiled a list of Barolo crus in the 1980s after years of painstaking research. Many years earlier, Arneis was first mentioned in the 1400s in written documentation referencing a grape called 'Renesi.' It is widely believed that this was the original Piedmontese term for Arneis.
But there needs to be a binding consensus on this issue. In the 15th century, an ancient grape called Ranaysii was grown in the hills surrounding Turin – some viticulturists argue that this is more likely to be Arneis. Interestingly, the modern term for the grape was not recorded until the 19th century, made by an ampelographer, Count Giuseppe di Rovasenda. In the 1800s, Arneis was commonly blended with Nebbiolo in the wine regions of Piedmont, mirroring the culture of the Northern Rhône; in Côte-Rôtie, growers will often add a small percentage of Viognier to their Syrah wines, enhancing the perfume and mouthfeel. Yet, in Barolo and Barbaresco, the primary objective was to soften the occasionally astringent tannins of these two potent wine styles.
Unfortunately, this somewhat ignoble destiny prevented Arneis from developing a standalone reputation in the early 20th century as a fine white grape. In many of Piedmont's leading vineyards, Arneis was used as a form of pest control: the pungent berries shifted attention away from Nebbiolo, protecting this far more valuable crop. Paradoxically, though, the gradual shift toward mono-varietal Nebbiolo wines in the 1950s was only to the grape's detriment. Having shown no interest in developing a Piemontese white wine industry, growers started to grub up large swathes of Arneis, replacing it with Nebbiolo and Barbera. By the 1960s, only a few hectares of this precious grape remained in northwest Italy. Extinction beckoned.
However, one man refused to wave arrivederci to centuries of tradition. Alfredo Currado, sadly no longer with us, was head of the Vietti wine family. In the 1970s, Currado decided to rescue Arneis from oblivion, expanding the acreage in his vineyards and popularizing the grape's virtues to the international wine community. Bruno Giacosa, meanwhile, also refused to stop producing Arneis white wines. Over time, interest in producing mono-varietal wines from the grape increased, reaching a peak in the 21st century. Today there are approximately 610 hectares under vine, mainly found in the Roero and Langhe sub-regions of Piedmont. The timing has been most fortuitous as global demand for saline whites continues to rocket.
Nonetheless, growing Arneis should not be undertaken lightly. From an economic standpoint, the grape seldom delivers a generous crop – mass-market brands are wary of planting Arneis, which is no bad thing! Moreover, the berries can become overripe in a relatively short time, leading to negligible acidity and a lack of structure. To combat this, producers must not harvest too late in the season, ideally in early September. Calcareous and sandy terroirs suit it best, as they help to maintain freshness and acidity in the grapes. Of course, that does not help with Arneis' innate susceptibility toward fungal diseases, including powdery mildew. A great deal of hard work throughout the season is required if high-quality wine is to be fashioned from Arneis. Otherwise, the results are inevitably disappointing.
Winemaking
The challenges inherent to working with Arneis do not end in the winery. The main problem is a tendency to quick oxidation – oxidized wines are charmless, with a noticeable lack of fruit and freshness. Therefore, you would expect the critical mass of growers to favor protective winemaking and cool fermentations in stainless steel. It is certainly true that many producers follow this path. But some delicious examples are being made today that favor gentle oxidation in wood (rarely new), enhancing the wine's structure, richness, and mouthfeel. However, getting the balance right is crucial. Overoaked Arneis is never pleasant to drink.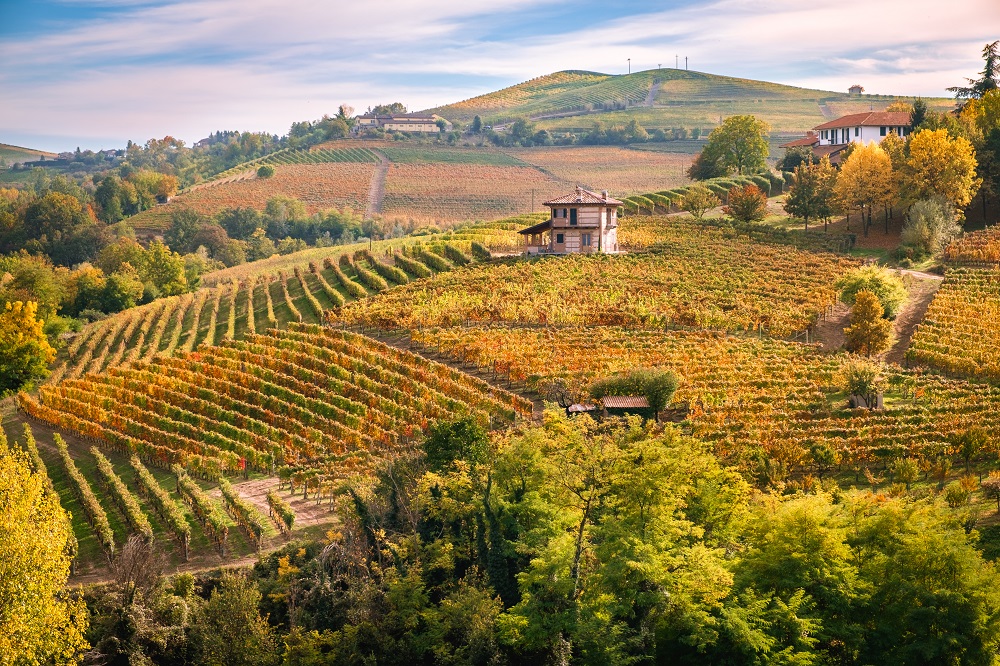 Pastoral vineyards of Roero
Bruna Grimaldi and Damilano represent one side of the argument. Their philosophy is to protect the grape's aromatic profile at all costs: bunches are pressed very quickly after entering the winery, with sulfur dioxide added to prevent oxidation. The free-run must from the first pressing will then be drained into a cold-settling tank, allowing solid material to fall to the bottom. The juice is then pumped or racked into stainless steel tank, ready to be vinified. This clean and efficient vessel, much-loved by winemakers worldwide, is ideally suited to producing aromatic white styles. Sterile and spotlessly clean, it allows very precise management of the fermentation temperature; cool vinifications ensure that the fruity esters and aromatic compounds do not 'burn off' during the process. In the case of Grimaldi, malolactic fermentation (converting malic to softer lactic acid) is rarely employed to preserve freshness in the wines. That said, Grimaldi usually matures Arneis on its fine lees for several months in tank, adding a welcome dose of textural richness and fat. The wines are then filtered and bottled. This popular interpretation of Arneis, pungent and fruit-driven, is always approachable from the get-go.
At the opposite end of the spectrum is Demarie Sabbia's Arneis wine. Made into an orange wine style, the grapes are crushed and left in contact with the juice for over 20 days without any temperature control. A further post-fermentation maceration extracts plenty of phenolics and color from the pulp. The wine is then transferred to French barrique and aged for about four months. Yet the process does not end there: the wines are typically allowed to 'rest' in stainless steel before bottling to allow the constitute elements to marry, integrate and soften. The resulting wine is deeply colored, massively concentrated, and very complex. So if you like your white wines unoaked and saline – avoid. But for the more adventurous consumer, there is a world of pleasure to discover in the cellars of Demarie Sabbia.
Piedmont's new calling card
The analysts have spoken: demand for still and sparkling white wines is extremely buoyant worldwide. This will not surprise the Europeans who endured more scorching summers recently – who among us crave tannic red wines in 35 °C heat? No, warmer summers and milder winters call for a sip of something cold, zesty, and refreshing. Or, to put it another way: a chilled glass of Arneis.
Today, the grape has three main strongholds in the vineyards of Piedmont. In Barbaresco and Barolo, a rising number of producers are marketing a white (Bianco) label, sold as Langhe DOC, under the regulations. Cooler sites in both appellations can yield excellent Arneis wines with lovely aromatics and flavors of stone fruit and citrus. Ceretto, DaMilano, and Vietti make the best examples. However, a far greater volume is produced in the zone of Roero – perhaps northern Italy's most underrated vineyard. In the hills of Roero, on the River Tanaro's left bank, Arneis vines thrive in the region's moderate climate. Situated to the northwest of Alba, the terroir is dominated by light sandy soils and some clay. They produce some of Piedmont's finest Arneis wines – arguably better than those made in the Langhe hills further south. There is also a smattering of vineyards planted in the up-and-coming appellation Terre Alfieri DOCG, located in the province of Asti.
All of this points to one thing: the market for premium white wines from northwest Italy is becoming more crowded, which can only be a positive development. In Arneis, Piedmont has a flagship for the region's increasing diversity of output, whether it's the sparkling wines of Alta Langa or the resurgence of Asti. But most importantly, good Arneis is delicious! We imbibed glass after glass of this beautiful grape during a trip to Piedmont in June and promptly fell in love. The pale color, powerful aromas of stone fruit and honeysuckle, fresh acidity, and fruit-driven palate were irresistible. In the 1980s, Michelin restaurants in Barolo and Turin were generally forced to look further afield when restocking their cellars with top-notch whites. But no longer. In 2022, a home-grown grape punches far above its price point.
Top producers of Arneis wines: