Italy is highly adept at creating regional brands with a global cachet. Do you want proof? There is scarcely a wine lover today who has not sipped a glass of Amarone, Brunello di Montalcino, Barolo, and Chianti. With a tradition of high-quality viticulture that dates back to the Romans, Italy is a giant among Europe's leading wine producers. In addition, it has enough indigenous grape varieties and unique terroirs to sustain a lifetime of interest.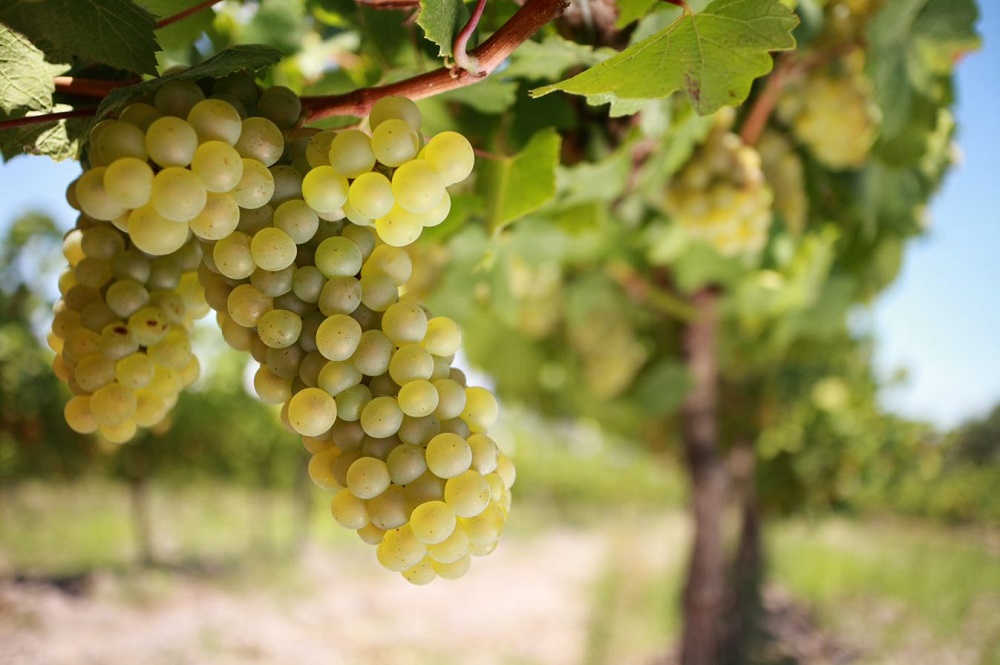 However, for a myriad of reasons, this proud nation has only recently developed a reputation for its delectable white wines. Fortunately, producers are making up for lost time – Piedmont's signature white wine, Gavi, has become a firm favorite abroad. Based on the noble Cortese grape, it is a style that ticks many boxes: Gavi works as a thirst quencher; summer aperitif; seafood partner, and as a high-quality alternative to Sauvignon Blanc. In addition, Gavi is a wine for our modern age, packed full of citrus fruit and racy acidity.
History and viticulture
Historians believe that Cortese has been cultivated in the vineyards of Piedmont for many centuries. Originally inhabited by nomadic Celtic-Ligurian tribes from western Italy, the province became part of the Roman Empire in 220 BC. Like the Greeks before them, the Romans were passionate wine drinkers; many of Italy's key grape varieties were introduced by the Greek traders, who described Italy as Oenotrua ("land of vines"). The tradition continued even after the collapse of the Western Roman Empire, when the Burgundians, Ostrogoths, Lombards, and the Franks all attempted to subjugate Piedmont. Nonetheless, winegrowing continued despite the machinations of European politics in the post-Roman era. By the Middle Ages, the wines of Piedmont were widely recognized as being the finest in northern Italy; Italian agricultural writer Pietro de Crescentius first mentioned the area's burgeoning wine industry in the 14th century.
By the 1400s, Piedmont was absorbed into the administrative rule of the Duchy of Savoy, affording local winegrowers privileged access to markets across the border in southern France. However, Cortese was not documented in written texts until the mid-17th century, first mentioned by an agronomist in 1659. The grower had compiled a survey report of vineyards owned by the Marchesa Doria, proprietor of a beautiful villa in the hamlet of Montaldeo. The document outlines the estate's vineyard holdings, including Cortese and Vermentino. Several centuries later, ampelographer noted that Cortese was a key part of the wine culture in Alessandria, an up-and-coming region in Piedmont. When Italy's various city-states and kingdoms were unified under a single political banner in the 19th century, Piedmontese winegrowers seized the opportunity to raise awareness of their wines domestically and across emerging export markets.
Valuable expertise, meanwhile, was being imported by the winemaker Giuseppe Garibaldi – the oenologist taught growers how to use a Bordeaux-patented copper/lime mixture to control fungal diseases that were ravaging vineyards in Piedmont. Yet, in relative terms, Italy was spared the destruction wrought by phylloxera in the 1800s. The parasite, inadvertently imported from the US, destroyed the livelihoods of countless farmers during this period, with France and Spain suffering the most. However, due to Italy's highly fragmented landscape and the isolationism of certain regions, less than 15% of the country's total acreage was affected.
Nevertheless, the Italian wine industry was not without its problems in the mid-20th century. Rapid economic growth after the Second World War created unprecedented opportunities for wine producers; however, their equipment and methods were sorely outdated compared to France and Germany. For this reason, Italy forestalled its entry into the global market for white wine; most white styles, such as Trebbiano Toscana, were made with rustic equipment and little care. The result was a deluge of charmless and astringent wine, lacking fruit and freshness. Thankfully, the arrival of stainless steel and temperature control in the latter part of the century revolutionized Italian white wine. Suddenly, the nation was competing in international markets with styles that gave Alsace Riesling and Sancerre a run for their money. Moreover, viticultural techniques were drastically improved in the late 1990s, with a strong emphasis on lower yields and reduced synthetic pesticides and fertilizers.
These important developments have significantly aided Gavi's international reputation. The key grape of the appellation is much-loved by local growers for several reasons:
Cortese is not very difficult to grow.
It delivers a consistent yield.
The variety is not particularly fussy about its terroir.
Moreover, this early-budding and early-ripening grape is fairly robust, with a (relatively) low susceptibility to fungal diseases like mildew. The only major issue concerns excessive growth and vigor – an abundant yield is incompatible with producing a high-quality wine from Cortese. Therefore, the vine must be pruned with due care throughout the season, particularly during the ripening period in July and August. But, all in all, Cortese was not put on this earth to torture winegrowers. However, its potential in the winery is as dependent on the skill and prowess of the winemaker as it is on the soil.
Winemaking
Cortese varies in 'pitch' far more than most Italian white styles made today. Its most treasured attribute, certainly in light of global warming, is the grape's innate freshness and poise; acidity levels are seldom low, even if the berries are packed full of sugar. Yet this can be a downside in cooler vintages, resulting in tart and aggressively acidic Cortese – this is the ideal base wine for traditional method fizz.
Indeed, Piedmont is now exporting some excellent sparkling wine, including Alta Langa and the niche production bubbly made under the Gavi Metodo Classico DOCG. In broad strokes, Cortese is made in the same way as Champagne: high-acid base wines are gently pressed, fermented in stainless steel, and then bottled with the addition of sugar and yeast. This kickstarts a secondary fermentation in bottle, dissolving CO2 into the wine. As a result, the best labels are both delicious and rarely expensive – a fruit-driven and racy treat.
Nevertheless, the critical mass of growers use Cortese to fashion dry table wines. Two key choices open to the oenologist: protective winemaking with an emphasis on bringing aromatics to the fore or lees enrichment and/or oak aging to create a more structured, complex style of white. If producers want the former, a relatively standardized paradigm will be observed:
The use of sulfur to prevent oxidation.
A gentle pressing.
Fermentation in stainless steel at low temperatures.
Malolactic fermentation in warmer years.
Filtration and bottling relatively soon after the harvest.
The result is a mouthful of citrus and stone fruit, with all the hallmarks of an aromatic white wine style; Cortese always refreshes the palate. But the grape is fairly malleable, supporting a degree of maturation in barrique. Such wines offer less upfront aromatics and racy acidity – compensations include an enhanced body, softer mouthfeel, and notes of toast and vanilla on the palate. Of course, there is no right or wrong way to make Cortese. As ever, personal preference is the final arbiter.
Cortese takes flight
Trust the Italians to take an obscure grape variety and transform it into a global icon. In less than 20 years, Cortese di Gavi has become a rival to New Zealand Sauvignon Blanc, seducing buyers, consumers, and sommeliers in one fell swoop. But, like Albarino, Picpoul, and Riesling, it offers a wonderfully refreshing and mineral-scented style of white that people find irresistible. Moreover, with the international market for dry white wines booming, we imagine Cortese may find a welcome home in the New World before too long.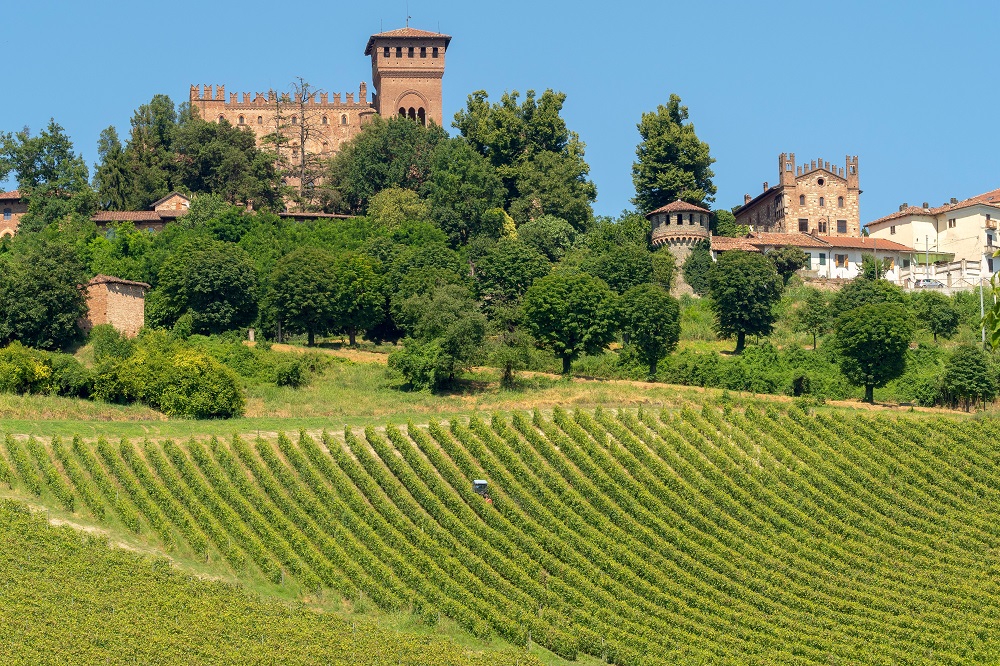 Vineyards of Alessandria in Piedmont
Yet, for now, Cortese is almost exclusively found in the majestic scenery of Piedmont. There are approximately 2,950 hectares planted in Italy today, concentrated in the hills of Alessandria in southeast Piedmont. Awarded DOCG status in 1998, both still and sparkling wines can be made under the appellation rules, albeit the latter remains a small part of the overall export volume. Flanking the pretty town of Gavi itself, the undulating landscape is beautiful and instagrammable – vines cling to hills in 13 separate communes across the zone, including Gavi, Serravalle Scrivia, and Arquata Scrivia. Cultivated on mineral-rich and well-drained terroir, Cortese reaches an apogee in the region– no other Italian appellation has yet managed to emulate Alessandria's success with the grape. Cortese yields crisp and racy white wine on these flinty soils, with textbook acidity and a floral bouquet of white flowers, lemon, apple, and melon. It is heaven in a glass on a warm summer evening. All that is required is a perfect culinary match. But don't worry: we can help you with that too.
Young and unoaked Gavi finds a natural home as the ideal aperitif – all that lovely freshness and ripe acidity stimulate the palate for your gastronomic feast. It will also pair fantastically well with salads, scallops, langoustines, and asparagus – one of the few grapes not overwhelmed by the vegetable's intense woody flavors. However, more structured and powerful wines can handle richer dishes, not least roast guinea fowl – a lovely winter favorite in Piedmontese cuisine – duck and meaty fish such as Turbot and Monkfish. There is a bottle of Gavi for every possible context and occasion. Widely available and democratically priced, Cortese de Gavi has become Piedmont's most attractive viticultural proposition. Saluti!
Top producers of Cortese wines: