What does the name Champagne mean to you? – is it simply a glamorous product, a must-have accessory at celebrations, or a famous icon? Of course, the answer is all of the above, but crucially for the savvy globetrotter; the Champagne region is a fascinating region to visit, full of historic towns and villages, gastronomic adventures, and naturally, enough bubbles. To keep even the most ardent Champagne fanatic happy! Moreover, the region is quite compact and readily accessible from Paris, so visiting for a glamorous weekend break is easy-peasy. And besides, everyone knows that a glass – or bottle – of Champagne is always welcome, at any time of day or night. Just ask Madame Lilly Bollinger.

Getting there and away
Visiting Champagne is very easy! There are two central historical hubs: Reims and Epernay, located east of Paris, in the Champagne-Ardenne region. Many visitors travel to Paris from London via Eurostar and then catch a high-speed TGV train from Paris's Gare de Est to Reims. (www.voyages-sncf.com). Alternatively, you can fly to one of Paris' main airports and hire a car – both Reims and Epernay are easily accessible via France's wonderful high-speed toll highways.  Here at Cellar Tours, we can organize a tailor-made itinerary precisely to your taste in France's Champagne producing region. Click here to contact us.
A few facts before touchdown
The Champagne region started its viticultural life as a significant producer of still rather than sparkling wines. By the 9th century, it was supplying the citizens of Paris with their evening tipple. The production of sparkling wines occurred in the 17th century, and by the 1800s, the first houses were supplying the world's elite with this mysterious new drink. Champagne's most famous icon is, of course, the Benedictine monk Dom Perignon. He is credited with mastering the Champagne hallmark of blending different wines to achieve something far greater than the sum of its parts. So, it's rather fitting that his name was attached to the first commercially available prestige Cuvee Champagne – the crème de la crème of Champagne production. Today, the region is synonymous with some of the world's most famous luxury brands, including Cristal, Krug, and Ace of Spades.
Check in at Chateau les Crayeres in Reims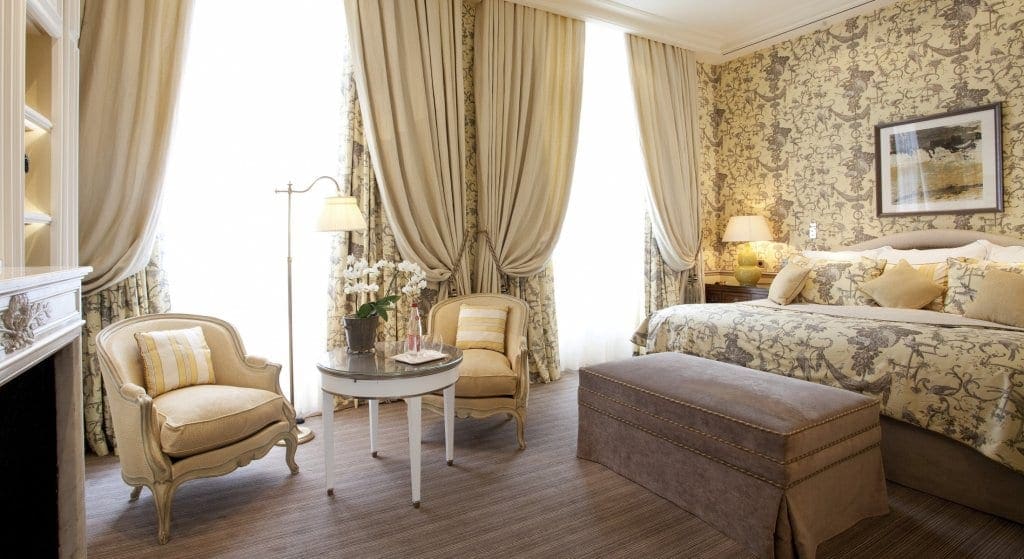 Fans of exquisite gastronomy, serious decadence, and glamorous accommodation – welcome to paradise. You have arrived at the legendary Chateau les Crayeres – Crayeres meaning stone quarry – widely regarded as Champagne's and indeed one of France's finest hotels. The setting is enough to make you swoon, a gorgeous, palatial mansion with enough grand staterooms and antique furniture to make you feel royalty. The Chateau was built at the start of the 20th century and today serves as a luxury base for discerning visitors wishing to explore Reims and beyond. However, unlike some Chateau hotels in France, Les Carayes offers relaxed luxury rather than stuffiness, and there isn't a hint of pretension about the place. Everyone is made to feel welcome, especially at the hotel's excellent restaurant, Le Parc, by Philippe Mille.
First Morning – Day one
Welcome to Reims. Endowed with elegant shops, tempting delis, a panoply of brasseries, and great restaurants, the city even caters to the teetotalers! Before you head off to visit one of the famous Champagne Houses, stop for a relaxing cafe au lait in one of the city's charming cafes. We'd recommend heading to Place Drouet-d'Erlon, a lively square full of bustling cafes; take your pick.
We hope you enjoyed your relaxing coffee break, for it's time to immerse yourself in the region's star attraction – bubbly. Veuve Clicquot is hard to beat for a fantastic tour and introduction to Champagne's history and mysticism. The house has a long and proud history; it was founded in 1772 by the banker Philipe Clicquot, who decided to use his family's vineyards to start a wine business. The houses' reputation subsequently rose during the legendary Madame Clicquot's stewardship, who was the widow of Philipe's deceased son. Veuve Cliquot is most famous for its exquisite Prestige Cuvee, La Grande Dame. After a detailed exploration through the house's history and cellars, enjoy a glass of this complex and elegant Champagne. What a perfect way to end the morning!
Lunchtime
All that Champagne tasting is bound to work up an appetite, so enjoy a well-earned break at our favorite informal restaurant, Brasserie Flo – Located on the lively Place Drouet-d'Erlon. The restaurant has been charming regulars and tourists for years, offering friendly, relaxed service, delicious food, and a plethora of Champagne vintages. Feast on such delights as monkfish casserole, confit de canard, smoked duck breast, accompanied by glasses of mouth-watering fizz.
Take a stroll
After lunch, take a leisurely walk around Reim's beautiful old quarter and take in the sights and sounds of this vibrant student center. The city was an important Roman settlement and still boasts some monuments that testify to its past, including the Triumphal Arch, Forum, and stone quarries, which today function as the all-important Champagne cellars. A must-visit monument is the magnificent Gothic Cathedral Notre-Dame, which was begun in 1211. It served as the setting for the coronation of several French kings and rich in history and intrigue. On the other side of town is the Musée de la Reddition (the "Museum of Surrender"). In 1945, General Eisenhower accepted the surrender of Germany in the Second World War.
An aperitif
Relax back at your hotel and enjoy a glass of Krug at the La Rotonde bar, the classiest address in town. Relaxing Jazz in the background makes the experience all the more memorable, and the list of vintage Champagnes on offer will make you drool.
Fine Dining
Enjoy a change of scene at L'Assiette Champenoise, Reim's superstar 3 Michelin-starred restaurant run by Arnaud Lallement. One of France's culinary masters, Lallement's cooking, is bold, dazzling, and perfectly judged, offering creative cuisine that never becomes overwrought or 'tricksy.' We won't spoil it for you, but suffice it to say gastronomes rarely leave disappointed.
Day two: Epernay adventure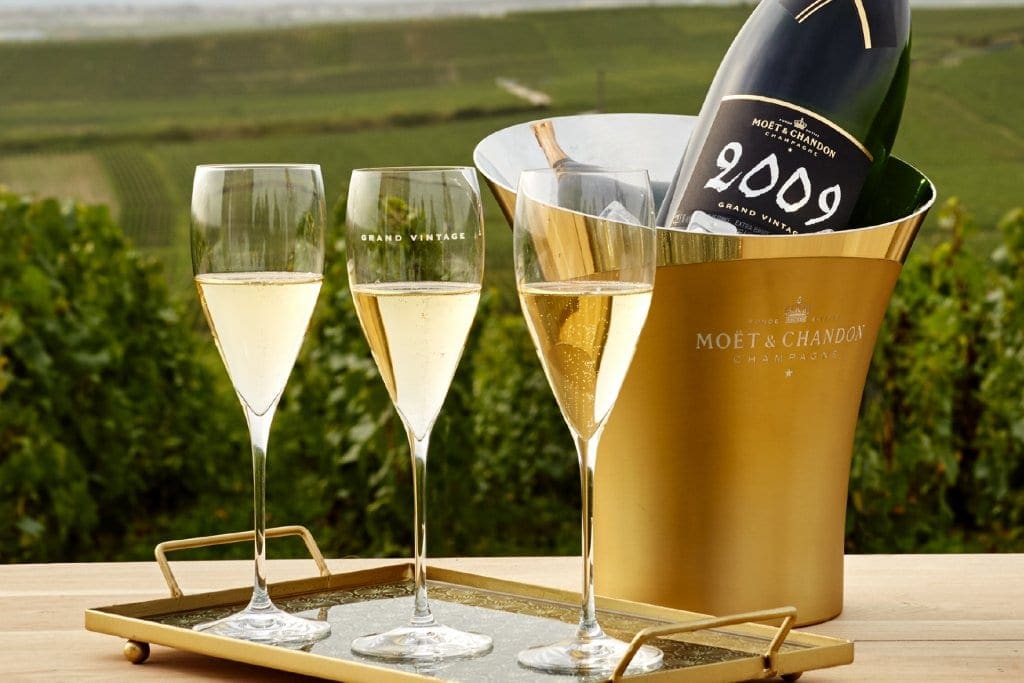 It would be perverse to visit Champagne and not spend a morning in Epernay, which, despite its small size, is every bit as impressive to visit as Reims and houses the headquarters of some of the most famous Champagne Marques. So after a hearty breakfast at Les Crayeres, take the time to explore the historic Avenue de Champagne. Some of the leading brands with their headquarters in Epernay include Pol Roger and legendary firm Moët & Chandon, which has a statue of the great Dom Perignon outside the entrance. And as a bonus, on Saturday mornings, there is a fantastic local produce market, protected from the outside elements by the glass. Pick up some excellent seasonal produce, including; white asparagus, fine meats and fish, oysters, fresh vegetables, fruit, and fine Champenois cheeses: Maroilles, Chaource Langres.
Over to Gosset
Prepare for a real treat. Gosset is located just outside Epernay in the charming village of Aÿ. The house boasts a formidable and long history of Champagne production; Gosset is, in fact, the oldest Champagne house, founded in 1574. The owners welcome visitors and delight in showing guests around the historic cellars and, of course, sharing one or two of their finest vintages.
A special lunch
What could be more memorable than a long, relaxed lunch at L'Abbaye in Hautvillers? The answer: nothing! The restaurant was named after a nearby abbey where Dom Perignon was resident and spent countless hours perfecting the noble art of Champagne blending. The restaurant sticks to a tried and tested formulae of serving classical, regional specialties such as Foie gras salad, sautéed veal fillet in a Champagne sauce, and confit de canard. The wine list is also suitable long and diverse – try one of the lesser-known grower Champagnes to get a varied taste of what the region can offer.
Stretch your legs
You're now ideally situated to explore Hautvillers, which incidentally is where Dom Pérignon is buried. Although it is a tiny hamlet compared to the region's capital Reims, it does boast gorgeous views of the Montagne de Reims' vineyards. Take a stroll along its winding, picture-postcard streets and enjoy a well-earned afternoon aperitif at Au 36, on rue Dom Pérignon. It would be rude not to.
Retail therapy
Before dinner, you must visit some of Reim's fine boutiques, stocked full of both chic clothes, leather goods, accessories, and rare vintages. Fashionistas will love Lancel – O sacs d'Angelique, a shop that contains luxury leather goods to rival any top boutique in Paris.
The icing on the cake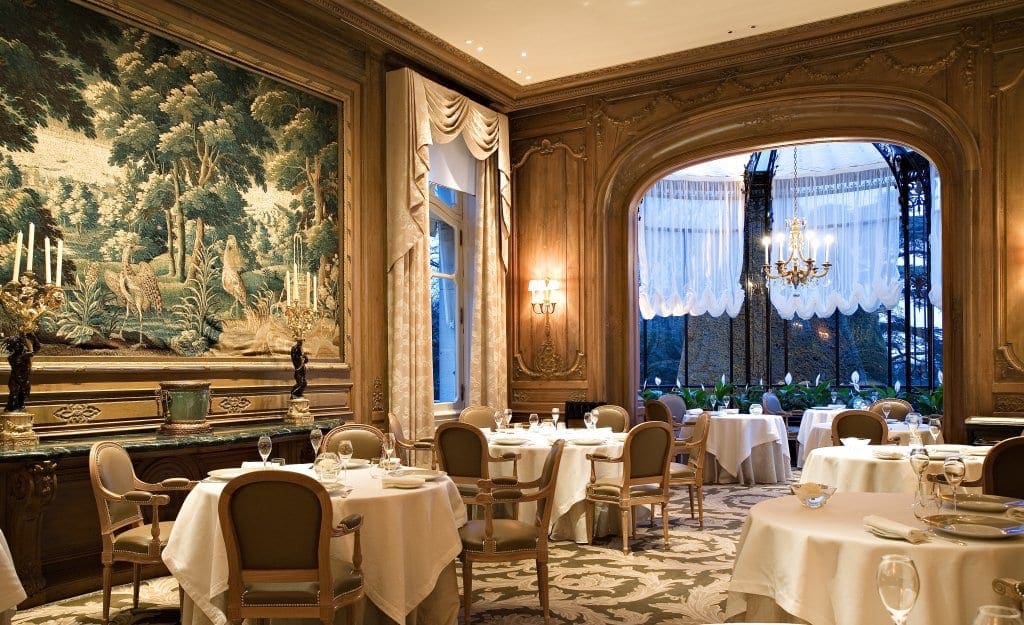 End your trip on a spectacular note, with dinner at the two Michelin starred Le Parc, conveniently right inside your gorgeous hotel! Philippe Mille's cooking is astounding in its complexity and intricacy, and the stately dining room lends the whole experience a distinctly regal and sophisticated air. Prepare to be dazzled, not least by the fantastic wine list, with fine vintages that date back several decades.
Related Blog Posts: