Many collectors believe, not unreasonably, that Chardonnay is the sole genius behind the magnificent white wines of Burgundy. From the Premier Crus of Chablis to the iconic vineyards of Puligny-Montrachet, only one white grape is allowed under the appellation rules. Yet this corner of France has long held a closely guarded secret. A surprising volume of white Burgundy is not based on Chardonnay at all.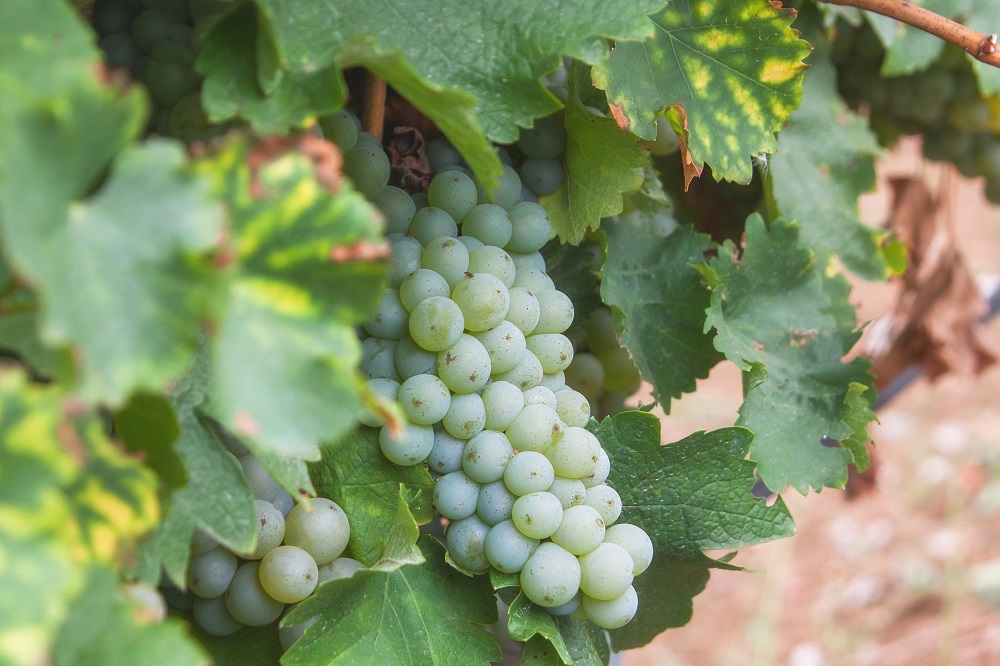 Step up, if you please, Aligoté. This little-known variety is the second most common white grape after Chardonnay, although the acreage is far lower. Historically maligned by critics and consumers – the phrase 'aligrotty' has been employed more than once – Burgundy's second grape has recently enjoyed a certain renaissance. Talented growers in appellations like Bouzeron have worked hard to rescue the grape's reputation, demonstrating that Aligoté can produce high-quality wine. After a few setbacks, that message is starting to disseminate; fresh and saline whites are the height of fashion in 2022, which is exactly what Aligoté delivers.
Read more about French White Wine
History and viticulture
Burgundy has been synonymous with wine production for many centuries. However, we cannot say with absolute certainty who made the first wine in this corner of central-eastern France; after the Romans invaded Gaul, viticulture spread throughout the nation, used to provide wine for the Roman army and ruling classes. Following the collapse of the Roman Empire in the 5th century, religious orders eventually assumed control of Burgundy's vineyards. The most important of these were the Cistercian monks, who laid the foundations for Burgundy's now famous classification of terroir.
But their dominion over these precious vineyards was not to last. The powerful Dukes of Burgundy assumed control in the 11th century, claiming rights to oversee what was the region's most lucrative asset. At this point in history, the signature red grape of Beaujolais, Gamay, was widely planted across the Côte d'Or, a practice that the Dukes wished to stop. As a result, much Gamay was ripped out in the 1100s and replaced with Pinot Noir and Chardonnay. According to viticulturists, however, Aligoté did not emerge as a key variety until the late 17th century.
After that, its role in Burgundian viticulture occupied an ill-defined middle ground. Lacking the respect of Chardonnay, Aligoté was nonetheless cultivated alongside the grape in some very prestigious climats (vineyard sites), including Corton-Charlemagne and Montrachet. Yet, despite these privileged locations, Aligoté never managed to build a strong reputation off the back of Chardonnay's growing cachet. Further upheaval occurred during the French Revolution of the late 1700s when the land was taken by force from the aristocracy and church and redistributed to loyal followers of the revolutionary vanguard. Phylloxera wrought terrible devastation in the late 18th century, forcing growers to replant their vines, grafted onto American rootstock. The era of Aligoté being grown alongside Chardonnay was over.
By the early 1900s, Aligoté's profile was almost non-existent. However, it was awarded its first standalone appellation in 1937: Bourgogne Aligoté. Nevertheless, the grape was mired in apathy for many decades, only really consumed by the French – it resided at the bottom of dusty wine lists in the bistros of Paris and Lyon, where bottles would go for a song. The first major boost to Aligoté's image came in the 1970s when legendary winemaker Aubert de Villaine purchased a neglected estate in Bouzeron, a pretty wine village in the Côte Chalonnaise. In 1979, a special Bourgogne Aligoté de Bouzeron appellation was established to recognize the superior wines being made in the commune. The de Villaine family has worked tirelessly since that time, demonstrating to sommeliers and Burgundy aficionados that Aligoté can yield age-worthy and complex wine.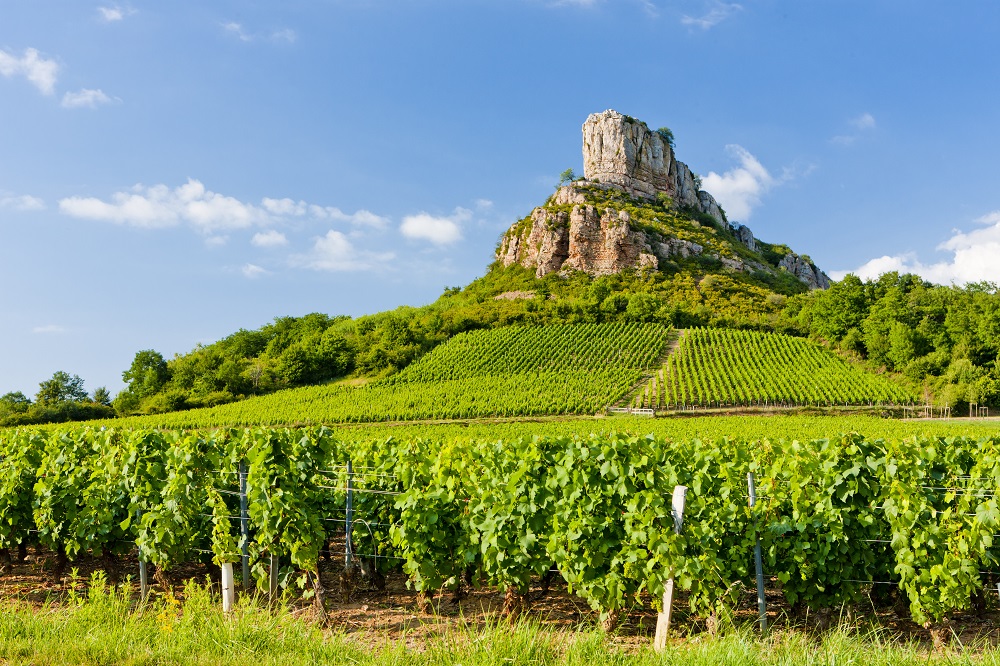 Vineyards near the rock of Solutré in Mâconnais
DNA analysis has determined that Aligoté is part of the Pinot family of grape varieties – the result of a cross between Gouais Blanc and Pinot Noir. There are approximately 1,800 hectares under vine in Burgundy, spread across several major wine zones, including Chablis and the Maconnais. For many years, Aligoté was "relegated to the back of slopes," as winemaker Pierre de Benoist once observed. But as growers take the grape more seriously, rigorous site selection is becoming standard practice among quality-focused producers.
In general terms, Aligoté is relatively straightforward to grow. It is an early-ripening variety with inbuilt resistance to the frost attacks that can appear with alarming frequency during March. However, Aligoté does require plenty of sunlight to achieve phenolic ripeness – the top climats are southeast-facing slopes with good drainage. As a result, it is not very susceptible to fungal diseases and rot, although they can cause problems in difficult years.
Aligoté's chief weakness is its tendency to deliver inflated yields, particularly when planted on fertile alluvial soils. In addition, the berries, even when fully ripe, are naturally high in acidity. As a result, poor quality Aligoté can be unbearably tart and astringent, reinforcing the prejudice that has dogged this grape since time immemorial. So constant pruning and green harvesting are essential with Aligoté if the winegrower seeks premium quality. Unfortunately, in the wrong hands – and in the wrong sites – this grape produces wine with all the charm of an embittered rottweiler. Only with a great deal of hard work and judicious site selection can you hope to convert the unbaptized.
Winemaking
In a zeitgeist defined by rising temperatures and the inevitable hike in alcohol levels, Aligoté could be viewed as a gift from heaven. Even in very warm years, the grape offers freshness and acidity bags, supporting a citrus fruit palate. The only dilemma facing Burgundy's winemakers is this: is it better to emphasize the grape's inherent fruitiness or produce a more structured wine intended for laying down?
Both approaches are adopted in Burgundy today. Most white Burgundy – Chardonnay, and Aligoté – is sorted through and pressed relatively quickly after the grapes enter the winery. Of the various types of press, the most favored (at present) is a pneumatic device that uses an inflated cylindrical balloon to press the grapes gently against the container, releasing pure must.
In the case of wines such as Meursault and Puligny-Montrachet, this must is often cold settled and then decanted into oak barrels for the primary fermentation. However, certain winegrowers prefer to use stainless steel to make their Aligoté wines. Fermentations undertaken at low temperatures in the Chablis mold preserve aromatic compounds, producing fresh and lively wines. For certain members of the Burgundy establishment, this is the right way to handle Aligoté. After fermentation, the wine usually undergoes malolactic fermentation in barrel, converting malic to lactic acid. This renders the wine more supple and approachable from the get-go. After that, the Aligoté will often be subject to fining and filtration before it is bottled.
Such wines can hit the market in under 12 months after the harvest. Conversely, some producers in Burgundy elect to take a more leisurely path when making Aligoté. Fermentation in oak foudres (large barrels) is becoming more common, in addition to maturation on the fine lees. White wines can gain richness and complexity from these dead yeast cells, especially when Bâtonnage (lees stirring) is employed. Occasionally, a percentage of the final cuvée may also be aged in new French barrique for several months to enhance the texture and mouthfeel. However, extreme caution is advised – Aligoté is a delicate grape variety, liable to be overwhelmed by more than a hint of new wood. An excessive amount of new oak is just as disastrous for wine as excessive anything else: it can easily strip Aligoté of its fragrant beauty. You need to take care.
The rise of Les Aligoteurs
Aligoté is no longer a dirty word in the majestic vineyards of Burgundy. Instead, its wine villages have welcomed a new generation of younger winemakers – they are qualified, talented, and very open-minded. They're infinitely passionate about breaking down historical prejudice and championing formerly lost causes. Moreover, they're willing and able to share their experience and expertise with their neighbors, continually seeking to fine-tune viticultural techniques and winemaking.
They are best represented by the men and women who founded the Aligoteurs association in 2018. The group's key mission statement is simple: prove to the world that Aligoté can make superlative and age-worthy white wine. Its members are an eclectic bunch, ranging from the nephew of Aubert de Villaine to chef-restaurateur Philippe Delacourcelle. There are some big hitters from the Côte d'Or – Domaine Pierre Morey from Meursault and Domaine Ponsot – in addition to trend-setting growers like Domaine Chevrot, Domaine Château de Rougeon, and Domaine Sylvain Pataille. Each of them has something unique to offer: a delectable interpretation of this misunderstood grape. Some of the region's most iconic and celebrated domaines, such as Leroy and Coche Dury, now market an Aligoté label.
Of course, this diverse group owes much to the pioneering efforts of Aubert de Villaine. The man behind the unparalleled Pinot Noir wines of Domaine de la Romanée-Conti selected the Côte Chalonnaise for his inaugural Aligoté revival project. It begins at the southern tip of the Côte de Beaune but on a different ridge of hills slightly to the east. The most exalted vineyards are planted on south-facing slopes, on a mixture of limestone and gravel and limestone mixed with clay. It enjoys a cooler macroclimate than the Côte d'Or, as vineyards are less sheltered from westerly winds that cool the vine canopies. Consequently, the harvest usually begins after domaines in the Côte d'Or have begun picking.
De Villaine took full advantage of these favorable conditions when he purchased Domaine de Villaine in 1971, now run by his nephew Pierre de Benoist. It is situated in Bouzeron, a tranquil village with much appeal. The vineyards are found on a valley's slopes that lie parallel to Santenay and Rully. It has long been associated with Aligoté, as the terroir is said to be ideally suited to cultivating the grape. However, according to Pierre, Bouzeron contains limestone-rich soils with shallow topsoil that quickly gives way to the bedrock. He says this helps to curtail the inherent vigor we associate with the variety, producing ripe and elegant wine. The family has even founded an Aligoté nursery to share high-quality clones with their neighbors.
But, as ever, the proof of the pudding is in the eating: Aligoté made at Domaine de Villaine is phenomenal; cultivated according to strict biodynamic principles, the wines are aged on their lees in oak foudres for several months. This adds a layer of structure and finesse only rarely glimpsed in Burgundy Aligoté. We swooned over the elegance and concentration of fruit in our glass; citrus, rosemary, apricot, and vanilla all made an appearance. The acidity was powerful and yet ripe – the finish long and complex. It would be an overstatement to claim that this was on a par with the Montrachet produced at DRC. But thanks to the passion of men like Pierre de Benoist and Laurent Fournier, the quality gap is closing all the time.
Top producers of Aligoté wines:
Charles Lachaux
Coche Dury
Domaine Ponsot
Domaine Sylvain Pataille