Located in northeastern France, Burgundy is home to some of the world's most exquisite, costly, and sought-after wines. The region stretches from Dijon to Mâcon, (a lovely town along the river Saône) north of Lyon, encompassing the wine capital of Beaune and the renowned Côte d'Or in between. Over a thousand-year period from the 8th century to the French Revolution, Cistercian monks laid the foundation for legendary winemaking in Bourgogne. They painstakingly delineated, cultivated, and studied the countless vineyards of the Côte d'Or, revealing Burgundy's greatest sites and establishing the concept of terroir along the way. As expected from such a highly lauded wine region, Burgundy cuisine is also divine and boasts some of the most famous French foods. And on a private Food & Wine Tour of Burgundy, you get to try this region's delicious cuisine paired with excellent Burgundian wines.
Read more in our Guide to French Cuisine
You can explore this region of France with Cellar Tours on a private Luxury Food & Wine Vacation, dine in the best local restaurants, and enjoy VIP tastings at top wineries.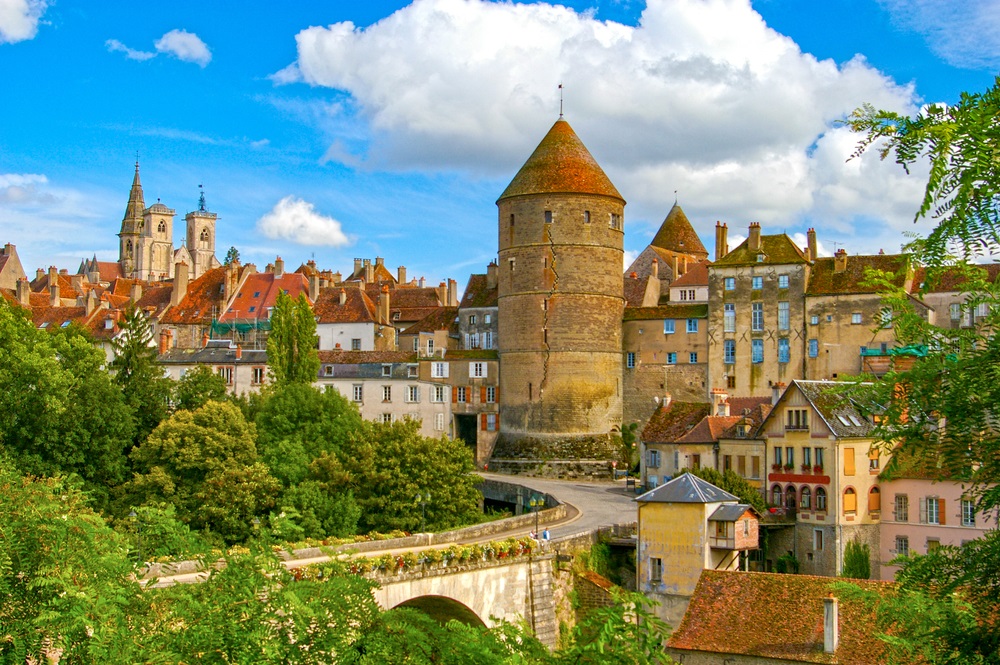 Gourmet Ingredients from Burgundy
Dishes from Burgundy tend to be rich and full-flavored, ideally matched to the local wines and the region's cooler climate. In addition, there are a few products and ingredients quintessential to Burgundy cuisine.
Dijon Mustard
Savored by gourmands worldwide, Dijon mustard hails from its namesake city in northern Burgundy. This gourmet product was first introduced to French cuisine in 1336 for King Philip VI's Burgundian banquet. However, the recipe which launched Dijon to acclaim and captured the tastebuds of many was developed by Jean Naigeon in 1856. Naigeon replaced the vinegar used in early versions of mustard with verjus, a juice extracted from unripe grapes. This verjus contributed further acidity and enhanced flavor to Dijon mustard's trademark piquant taste. To be labeled as a Dijon mustard, the product must be made in the delineated zone of Dijon and adhere to the original recipe Read more about this delicious condiment.
Blackcurrants & Crème de Cassis
Blackcurrants, or cassis in French, are widely cultivated around Dijon. They're predominantly used to make Crème de Cassis, a blackcurrant liqueur with several gastronomic uses in Burgundy. It's enjoyed as a digestif and in a popular local aperitif called Kir, made with white wine and Crème de Cassis. Additionally, there's a Kir Royale featuring Champagne and Crème de Cassis. This French liqueur, formerly known as ratafia, is also frequently used in several Burgundy dishes. As of 2015, local producers could label their liqueurs as Cassis de Bourgogne, but only if their fruit was grown and produced within the region.
Poultry from Bresse AOC
As of 1957, poultry from Bresse (in the neighboring region of Auvergne-Rhône-Alpes), or poulets de Bresse, became the only poultry worldwide with a protected AOC status. The Bresse chickens are reared in grassy, open ranges with a minimum of 10-square meters per bird and fed only non-GMO corn and milk. They're a staple in Burgundy cuisine, starring in delightful dishes like coq au vin and Gaston Gérard chicken.
Charolais de Bourgogne
Driving through the winemaking villages of Burgundy, you're likely to bump into Charolais de Bourgogne, a local breed of French cattle. Charolais de Bourgogne are known for their rapid growth, higher meat content, and top-quality meat. They're an unmistakable white or cream-colored breed of cattle exceptionally heavy and larger. Charolais de Bourgogne are perhaps best relished in boeuf bourguignon, a classic Burgundy dish.
Gougère – L'Aperitif in Burgundy
Gougère are ideally enjoyed alongside a glass of Chardonnay from Meursault, Pinot Noir from Nuits-Saint-Georges, or a refreshing Kir for l'aperitif. They are savory pastries made with choux dough and grated cheeses, like Emmental, Comté, and Gruyère. These cheese puffs are just enough to whet your appetite and kick off a Burgundian meal.
Popular Burgundian Entrees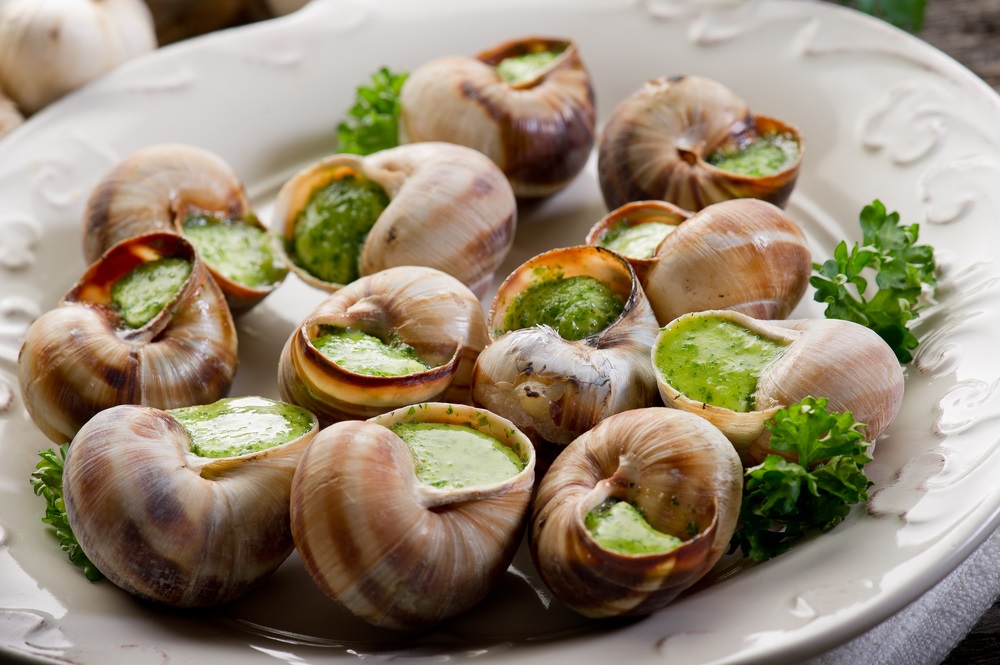 Burgundy Snails – Escargots de Bourgogne
French cuisine's entree (l'entrée) is not the main dish but rather more of an appetizer to the meal. Here are a few must-try entrees to order when dining in Burgundy.
Escargots de Bourgogne
Escargots à la Bourgogne are a flavorful preparation of snails for which the Burgundy region is known. The snails remain in their shells and are filled with a mixture of butter, garlic, and parsley. The shells are placed in a special dish uniquely shaped to hold them, then baked in the oven. Escargots à la Bourgogne are an ideal match for a glass of white Burgundy and are surprisingly delicious.
Jambon Persillé
Jambon persillè, or parslied ham, is a rich and filling terrine made from ham that's slowly simmered in white wine with vinegar, garlic, and parsley. The ham is then chopped and made into a terrine with aspic, gelatin derived from meat stock. Jambon persillé is the ideal pairing for a glass of Chablis and is savored throughout the year in Burgundy cuisine.
Oeufs en Meurette
Impeccable in its simplicity, oeufs en meurette is a Burgundian entrée consisting of poached eggs in a flavor-packed sauce. The eggs are poached in the meurette sauce made from red wine, lardons, onions or shallots, and mushrooms. The dish is known for its aromatic richness, as a bouquet garni made from parsley, thyme, and bay leaves further flavor the sauce. Plus, as the red wine cooks down and its alcohol evaporates, the wine's flavors become much more concentrated. Finally, oeufs en meurette is served with toasted bread for soaking up every last drop of the delectable sauce.
Le Plat Principal in Burgundy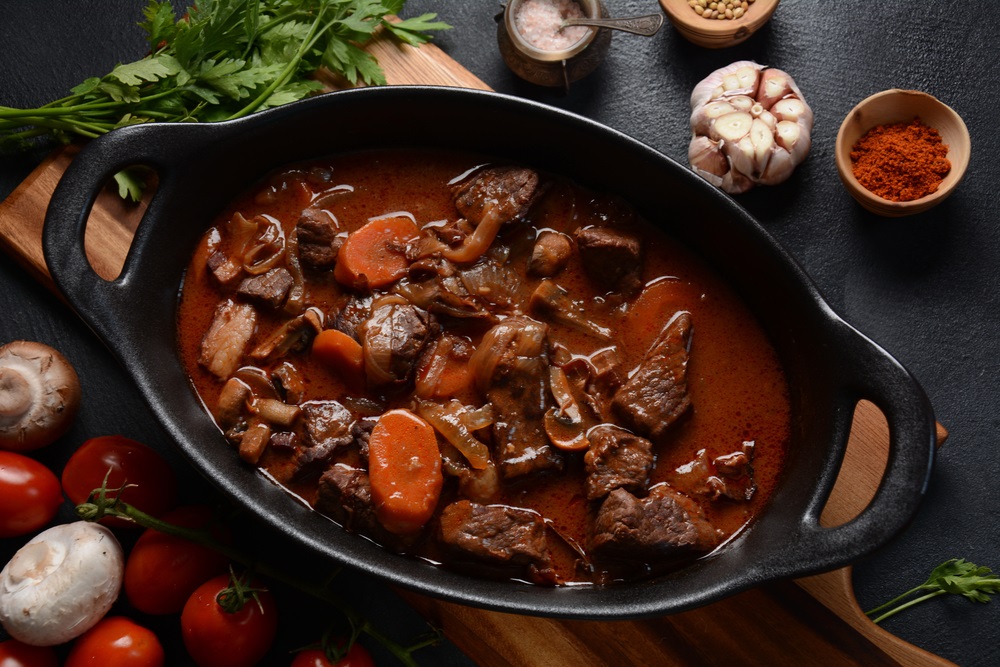 Boeuf Bourguignon, a classic
Though there are several main course options to choose from while dining in the region, here are five classic Burgundy dishes that are sure to please.
Boeuf Bourguignon
Charolais beef and Burgundian wine shine in this quintessential dish from French cuisine adored by chefs worldwide. Boeuf bourguignon has been made in Burgundy for over a century, with the first written mention dating to 1867 in Pierre Larousse's Grand Dictionnaire Universel du XIXe Siècle. However, this French classic was likely created even earlier as a peasant dish in the Middle Ages when the cooking method was used to soften tough cuts of meat. Boeuf bourguignon is made with beef, pearl onions, mushrooms, carrots, and a bouquet of aromatic herbs simmered for hours in red wine, preferably a young red Burgundy until the meat is tender. The acidity in the wine further helps to tenderize the meat.
Coq au Vin
Another French cuisine classic hailing from Burgundy, coq au vin was traditionally prepared with a rooster (coq) though today, chicken is more commonly used as it's easier to obtain. This French recipe was initially created to make tough rooster meat more edible. Today, coq au vin involves simmering Bresse poultry (chicken or rooster) in red Burgundy or Beaujolais with lardons, mushrooms, and pearl onions. The wine both adds flavor and tenderizes the meat here as well. A beurre manié, a mixture of equal parts butter and flour, thickens the coq au vin. This Burgundy dish is typically served with mashed potatoes or crunchy French bread to soak up the flavorful sauce.
Poulet Gaston Gérard
Madame Gaston Gérard, the wife of the Mayor of Dijon, created this classic dish in Burgundy cuisine in 1930. She was cooking for the esteemed food writer, Maurice Edmond Sailland, also known as the Prince of Gastronomy. Legend has it that while cooking chicken for Sailland, Madame Gèrard accidentally dropped a jar of paprika into the pan. She added ingredients like butter, cream, cheese, Dijon mustard, and white wine to soften the paprika flavor. Sailland ended up loving the creation, and poulet Gaston Gérard was born. Bresse chicken is preferred for the dish, and today the chicken is first browned in butter before cooking in a sauce of the previously mentioned ingredients and its cooking juices.
Pôchouse
Traditionally considered a poor man's meal, pôchouse is a freshwater fish stew made from at least four types of fish, such as eel, pike, trout, perch, etc. The fish is poached in a white Burgundian wine and flavored with bacon, garlic, onion, and thyme to make the stew. Some recipes call for the sauté pan to be deglazed with marc de Bourgogne after sauteing the bacon, garlic, and onions. Finally, Pôchouse is thickened with beurre manié and crème fresh or heavy cream before serving.
Lapin à la Moutarde
Rabbit is popular in French cuisine, especially in countryside regions like Burgundy. Lapin à la moutarde is made by first coating the rabbit in Dijon mustard a few hours before cooking. The rabbit is then seared in a skillet with butter, then cooked with onions, white wine, and a bouquet of Garni. Crème fraiche and parsley are added just before serving. Chardonnay from one of several villages of Côte de Beaune is the ideal wine pairing for lapin à la moutarde.
Burgundian Cheeses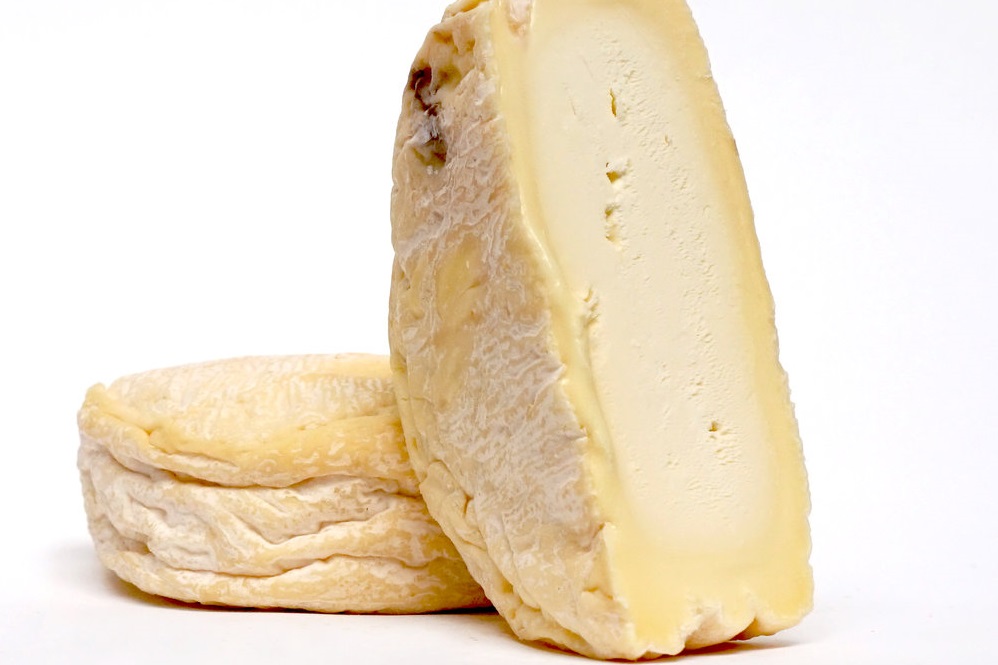 Saint-Florentin cheese
No meal in Burgundy is complete without enjoying several local cheeses, which are a staple in the region's diet. In French cuisine, cheese is usually served at the end of the meal after the main course and before dessert. Some of the most famous Burgundian cheeses include Époisses, Soumaintrain, Aisy Cendré, and Charolais. Specialty cheeses like Délice de Pommard, Abbaye de Citeaux, and Ami du Chambertin are also worth seeking out. Explore these Burgundian cheeses and the best wines to pair in our blog post A Burgundy Cheese Platter.
Additionally, Saint-Florentin is another raw milk, washed-rind cheese, which is prominent in Burgundy cuisine. It's made from cow's milk in the village of Chailley in the department of Yonne. Saint-Florentin has a sweet, tangy flavor when young, which becomes spicier with age. Also hailing from Yonne, Dôme de Vèzelay is a raw goat's milk cheese aged for around ten days before eating. Shaped liked a dome, hence the name, Dôme de Vèzelay offers subtle flavors and a piquant aftertaste ideally paired with Chablis.
Desserts in Burgundy

Anis de Flavigny, anise seeds coated in sugar
Nonnettes
French for little nuns, nonnettes are spiced gingerbread cakes filled with orange jam. The spongy cakes are made with rye, honey, and spices like cinnamon, cardamom, ginger, nutmeg, and anise. Historically, nuns prepared the cakes at monasteries throughout the region and would give them to travelers passing through the Burgundy. If you enjoy nonnettes, be sure to try the bread-like cake with similar gingerbread flavors called pain d'epices, which is a specialty of Dijon.
Poires au Vin et Cassis
This is a local variation on the classic dessert in French cuisine, poires au vin. In Burgundy, the dessert features pears poached in red Burgundy and Crème de Cassis. The wine and Crème de Cassis simmer with sugar and a cinnamon stick to make this French dish. First, peeled pears are poached in the liquid and removed once cooked. Then, the sweetened sauce is cooked down into a syrupy consistency and poured over the pears before serving.
Tartouillat
Tartouillat is a traditional Burgundian baked-custard fruit dessert, usually made with sliced pears, apples, or black cherries. Tartouillat is made by first slicing the fruit and placing it in a baking dish. Next, custard made from eggs, sugar, and some flour, along with milk and a splash of brandy, are whisked together. Finally, the mixture is poured over the fruit and baked until just starting to brown.
Anis de Flavigny
For anise lovers, keep an eye out for Anis de Flavigny candies produced in their namesake village. To make the candies, anise seeds are coated in a mixture of sugar and water within round pots, which are rotated for fifteen days. This allows sugary layers to grow around the anise seeds forming perfectly rounded candies. Anise de Flavigny comes in various flavors, including rose, blackcurrant, lemon, orange blossom, ginger, tangerine, mint, violet, and licorice.
---
About Nicole Dickerson
WSET certified international wine writer with a passion for rare varieties and cellar hand experience in both hemispheres. Join me in the vineyards and cellars of the wine world at palmandvine.com.
Related Blog Posts: