At first glance, Jacquère does not deserve a lengthy introduction. Indigenous to the beautiful Savoie region of central-eastern France, Jacquère has long played the role of 'tourist entertainer,' quaffed by millions of skiers since time immemorial. As a result, it received about as much attention – and respect – from critics as Liebfraumilch or Black Tower.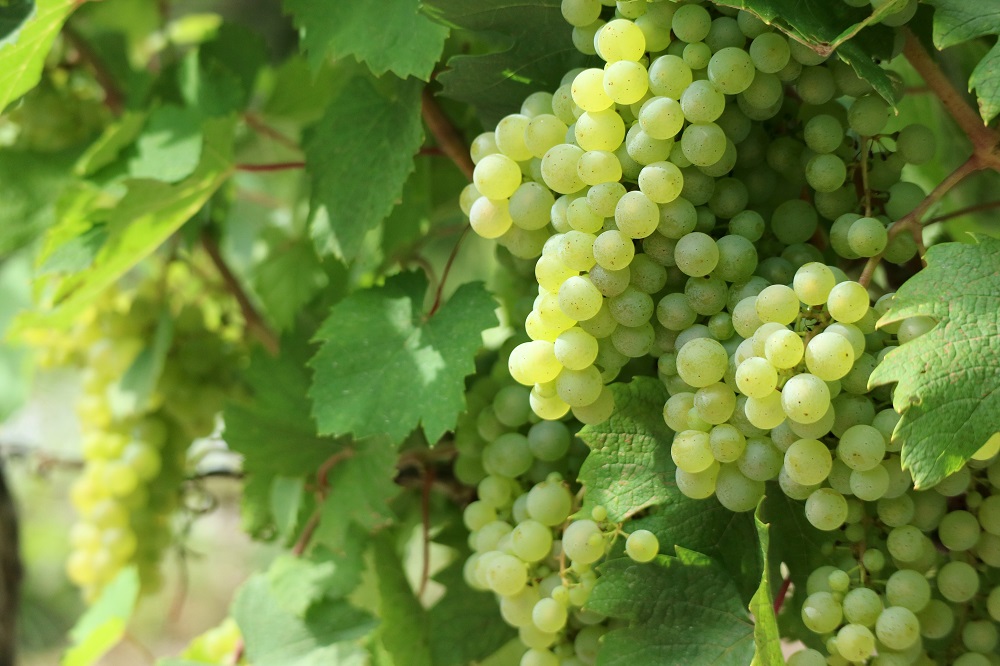 Is this indifference justified? Not at all: Jacquère produces a wine style very much in vogue in 2022. In an increasingly health-conscious age, there is little to dislike in Jacquère's low alcohol, fresh acidity, and mineral-tinged fruit. Wine lovers (we're repeatedly told) are crying out for such wines in an effort to reduce their alcohol consumption. If ever there was a grape variety capable of answering the demand for lower ABVs and lighter flavors, it is Jacquère.
Read more about French White Wine
History and viticulture
Savoie is the most esoteric and individual of France's great wine regions. Its proud community of winegrowers have staunchly resisted the forces of globalization, refusing to plant scores of Chardonnay and Sauvignon Blanc. Instead, they offer a palate of original flavors and indigenous varieties, including Gringet, Chasselas, Modeuse, and Jacquère. In Savoie, tradition, and respect for the past is king.
So Jacquère has long been one of the region's key white grape varieties. It has been cultivated in these mountains for centuries: Celtic, Gaulish, and Teutonic tribes inhabited Savoie before the Roman invasion of Gaul in 50BC. The Romans undoubtedly introduced vine cultivation to this corner of France, a legacy that survived the fall of the Western Roman Empire in the 5th century AD. After that, Savoie knew little peace and stability; this era was defined by endless wars between the houses of Savoy, Dauphine, and Provence, with each family seeking total hegemony. Nevertheless, the region's winegrowers continued to make wines from indigenous grapes like Jacquère, producing light and sweet styles for early consumption. 'Mountain wine' was the local synonym for Jacquère: extremely dainty whites that would never leave the region's borders. Even today, Savoie wines are largely the preserve of locals and winter tourists.
Yet, in the 13th century, a cataclysmic event severely curtailed wine growing in the valleys of Savoie. According to historians, a deluge of rain caused a devastating landslide on the slopes of Mont Granier, releasing a tsunami of solid rock onto the poor inhabitants below. Several villages were completely wiped out by this tragic event, including vast swathes of agricultural land. As a result of the devastation, viticulture was abandoned, and many survivors fled the region into Switzerland.
However, many centuries later, settlers did return to the slopes of Abymes and Apremont to start a new life. Vines were replanted, and the high-yielding Jacquère was top of the list. Until the 19th century, Savoie had existed as an independent province, maintaining a somewhat uneasy relationship with the French government. Yet, in 1860, the ruling council agreed to be absorbed into a unified French state. But in one sense, little changed even after the political realignment – Savoie has always been very multi-cultural, not least because of its proximity to the Swiss border.
In the late 1800s, the phylloxera louse arrived in the vineyards of France, inadvertently imported from the US. In a relatively short period, many of France's leading wine zones were reduced to ruin; the pest was endowed with a poisonous bite that killed off vines very quickly. The only defense available was to graft plants onto American rootstock, which had developed a resistance to phylloxera. Jacquère was once again returned to the vineyards of Savoie; growers would not countenance losing such an important part of their viticultural heritage.
Of course, the sentiment was only part of the reason for Jacquère's return to grace. Named by a French ampelographer, Pierre Tochon, in 1868, Jacquère is liable to crop at very generous levels – some would say too generous – unless its vigor is tightly controlled. In the post-war environment of the 1950s and 60s, impoverished growers often prioritized quantity over quality, damaging Jacquère's reputation significantly. At best, they produced an inoffensive, neutral white wine suitable for après-ski.
But as visiting tourists started to demand more from their wine lists, growers realized they had to up their game. As a result, much time and money were invested into improving Jacquère wines in the 1980s – yields were drastically lowered, and protective winemaking became standardized. Around this time, DNA analysis revealed one-half of the grape's parentage: Gouais Blanc. However, its other parent is unknown, albeit viticulturists suspect it is also native to the mountains of Savoie.
Nonetheless, despite recent advances in wine quality, Jacquère remains an 'easy' variety in many ways. It buds early, usually achieving full phenolic ripeness in mid-September. Constant pruning and green harvesting are essential if premium quality is desired – calcareous soils tend to produce the best wines. Overall, however, this is no Pinot Noir!
Winemaking
Jacquère lends itself to both still and sparkling winemaking. Indeed, the Crémant de Savoie appellation places the grape front and center – all cuvees must contain at least 40 percent Jacquère, or 60% if there is no Altesse in the blend. The quality of these brilliant value sparkling wines has been consistently good since 2015, when the appellation was introduced. Jacquère's naturally high levels of ripe acidity make it a perfect candidate for premium fizz, hand-crafted according to the conventions of the traditional method. Unlike many Savoie wines, crémant has been quite successful in export markets, particularly in northern Europe. With Champagne prices continuing to rise, the demand for better-value alternatives can only increase.
Still, wines made from Jacquère are rarely powerful or full-bodied. Instead, the aim is to produce a light wine that delivers pleasure from the outset. Winemakers prioritize aromatics, acidity, and freshness, while oak maturation is not generally sought. So, in general terms, the Savoie approach strictly protects the must before fermentation occurs – sulfur dioxide is the most effective weapon against spoilage and oxidation. This will typically be added as the grapes are pressed before the juice is transferred to a settling tank, where it will be chilled to temperatures as low as 0 °C. In addition, certain wineries pass the wine through a centrifuge to remove all solid particles; alternatively, they will filter it to absolute clarity.
Fermentation will inevitably take place in stainless steel tanks. This enables the winemaker to precisely control the temperature, producing wonderfully fresh and saline white wines. The wine will then be chilled once again and may undergo malolactic fermentation if the producer feels that the acidity is too aggressive; Jacquère will be bottled within three months of fermentation. In most cases, it will not even sniff a hint of oak, much less new barrique. However, maturation on the fine lees is practiced by a few growers, determined to prove that Jacquère can yield a more 'serious' and structured style of wine.
But, if you ask us, this blurs the grape's lovely precision and focus. As critic and writer Andrew Jefford so eloquently put it: "Even if (like me) you're not a skier, we can all shut our eyes and imagine what it must be like to blitz downhill in a crisp, twisting swirl of brilliance and powder and chill. Now imagine your tongue doing that, and you'll have some idea about how a good glass of Jacquère tastes." It is the role that Jacquère was born to play.
Understanding Jacquère
Jacquère's main preoccupation, other than keeping winter tourists happy, is to silence disgruntled dinner guests. We've all heard this familiar complaint from oenophiles: "Can't we try something other than Sauvignon Blanc or Chardonnay tonight?" Our advice is to offer something delicious from the Savoie without mentioning its provenance. Instead, hand it to them and wait for the cries of pleasure. "Beautiful," they'll invariably say. "What is it." The answer is guaranteed to shock.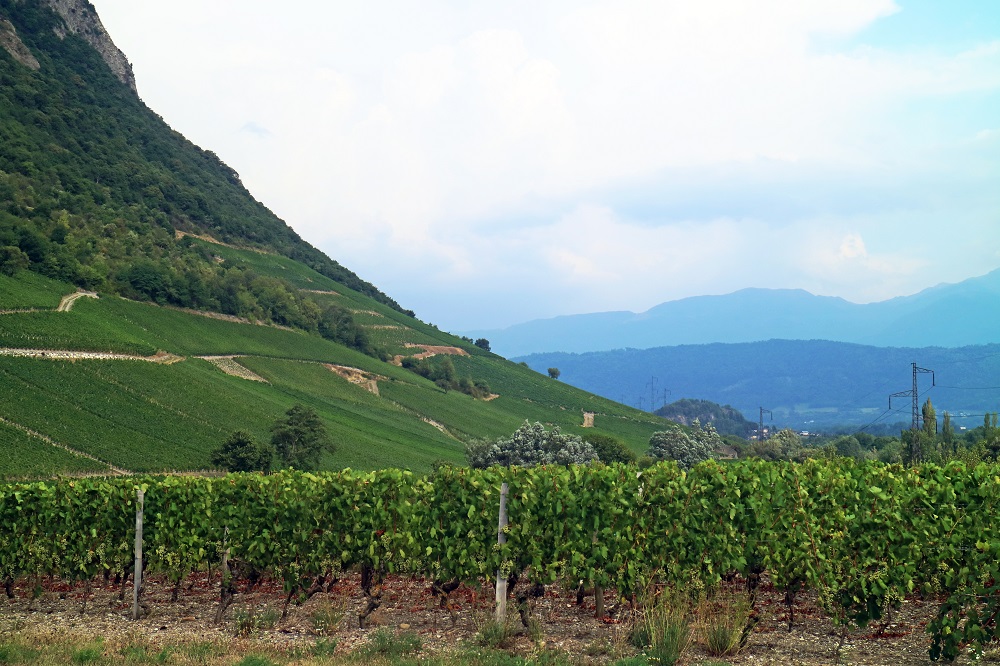 Vineyards in the pristine Savoie
Of course, insiders and a growing number of sommeliers recognize the attraction; winemakers in the Savoie have spent the last 20 years refining what they already did better than anyone else, making aromatic, low-alcohol whites from the grape. Flanked by snow-capped peaks, Savoie's vineyards are located just south of Lake Geneva. Ironically, although the geographical area is almost as large as Bordeaux, Savoie produces a fraction of that region's volume. This is the reality of wine growing in a mountainous topography, where most of the land is not suitable for agriculture.
Equally, there is no shortage of exceptional terroir in the zone: Savoie's cold winters and mild summers are conducive to slow ripening, encouraging the development of potent aromatic compounds and moderate alcohol. Although Savoie has no official Grand Cru/Premier Cru hierarchy, many of the best sites enjoy south-facing exposure and well-drained limestone soils. Jacquère seems to produce the best results on clay-limestone terroir, although it can be challenging to ripen the berries in very wet years.
To discover the best of Jacquère, delve into the Vin de Savoie appellation. Created in 1973, it covers a wide geographical area encompassing a rich mix of sub-zones and climats. And yet, the critical mass of wines offer the same characteristics: light, clean and fresh, Jacquère is at one with Savoie's mountains and alpine breezes. This is the true beauty of the grape: you can drink Jacquère with food or without; on the slopes, or sit beside a crystal-clear lake in the warm summer sun. Moreover, you can get delicious wine for the price of an average Sauvignon Blanc. You could say that this is where people graduate when they've had enough of ubiquitous wine styles!
There is just one problem. Although producers are now sending more bottles abroad, many of the top labels remain in the cellars of Savoie's wine boutiques and restaurants. The only solution, of course, is to pay a visit to Savoie and drink these wines at the source. Trust us: you won't regret the airfare.
Top producers of Jacquère wines:
Domaine Labbe
Domaine Marc Portaz