Who hasn't heard of Chardonnay and Cabernet Sauvignon? These French grapes are world-renowned and planted across the globe in both hemispheres. Herewith is a list of some more of the most famous and also lesser-known grapes from France, from Alicante Bouschet to Viognier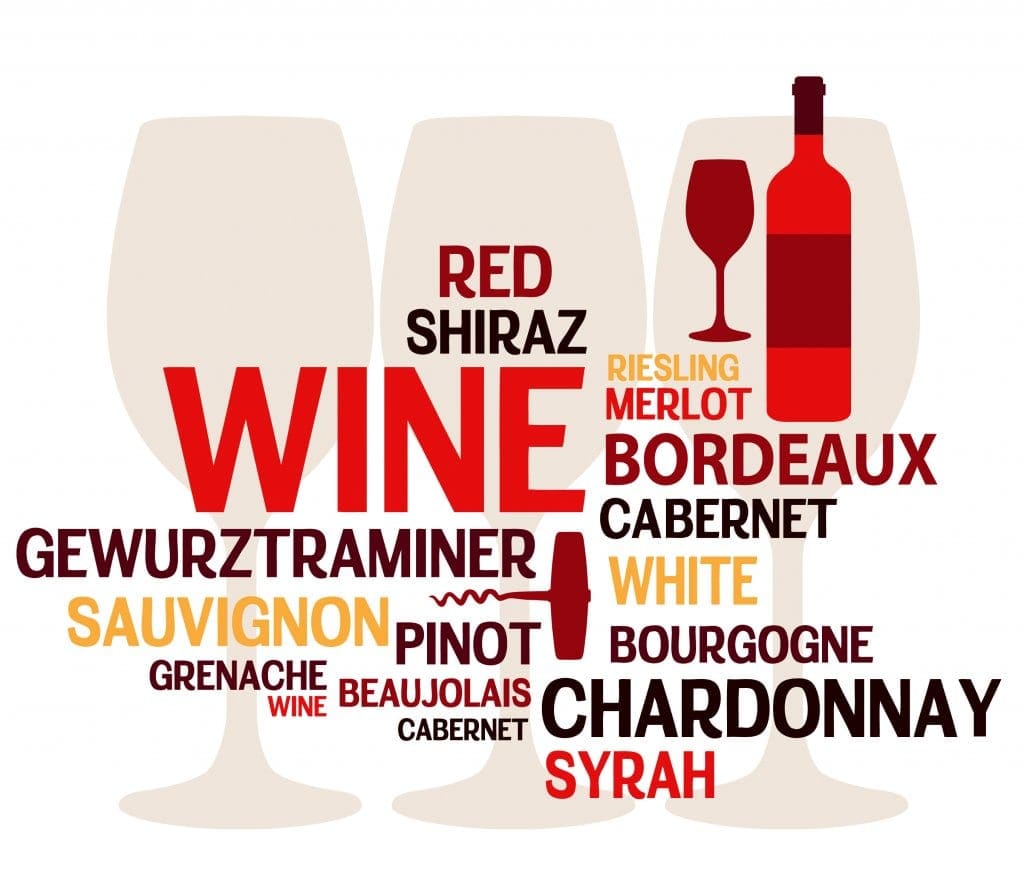 Armagnac – High-quality grape brandy from Gascony
Appellation d' Origine Contrôlée – Controlled Appellation of Origin; ie, a quality designation, confirming where the wine is from and with a set of rules related to vinification and viticultural practices for each "AOC".
Alcool – Alcohol
Assemblage– Blending, refers to the winery's blending of various grape varieties or plot-specific wines (already vinified) to make the final wine
Barrique Bordelaise– Bordeaux Barrel, 225 liters
Bénédictine – Herb liqueur originally made by Benedictine monks
Bière – Beer
Blanc de Blancs – Champagne made entirely with Chardonnay grapes.
Blanc de Noirs – Champagne made from the red Pinot Noir and/or Pinot Meunier
Bouquet– the aroma of the wine
Brut– Dry
Carte des Vins – Wine menu
Cépage– Grape varietal
Climat– "Climate", it refers to the "terroir" of the wine (the relationship between the grapes, soils, weather conditions, etc)
Collage– Fining/ clarifying
Crème de cassis– Blackcurrant liqueur often added to white wine (to make a "Kir") or champagne (to make a "Kir Royal")
Calvados – Apple brandy made in Normandy
Cave– Wine cellar
Cidre – Cider
Claret – British (incorrect) coined word for red wine from Bordeaux
Cognac – Grape brandy made in the Cognac town and region.
Cru– Vintage, vineyard
Curaçao – Orange liqueur
Cuvier-The fermentation room in a winery
Dégorgement– "Degorging", refers to the final step in making champagne style (Méthode traditionelle wines) whereby the yeast deposits at the top of the bottle are frozen and removed before corking. Depending on the wine style, liqueur de triage might be added.
Dégustation– Tasting (can be used for wine, for cheese, for cognac, etc)
Demi-sec– Off-dry (medium sweet) wine style
Domaine– Wine estate
Elevage– Ageing (wines)
Encépagement– The grape varieties that comprise the vineyard
En Primeur– "Futures"; when a wine is sold while still in barrel, this is de rigueur in regions like Bordeaux.
Fût– Oak cask
Grand Cru– Important growth, refers to the finest wines and vineyards. The term is used differently region to region in terms of wine classification.
Guignolet – Cherry liqueur
Marc – similar to Grappa or Orujo
Millésime – the vintage year (for wines)
Mousse– Champagne and sparkling wine's foam or head.
Mousseux – Sparkling
Moût – Grape must
Napoleon –Brandy classification is given to Cognac, Armagnac, and Calvados
Pétillant – Lightly sparkling
Phylloxera– Nasty insect (a kind of plant lice) responsible for devastating vineyards by eating the vine roots. In the 19th century, there was a Phylloxera epidemic in France and southern Europe and vintners learned that they could fight it by grafting their vines onto North American root stalks as they are immune to.
Pourriture noble– "Noble rot", refers to the process whereby sweet wines like Sauternes are made.
Premier Cru– "First Growth", refers to a high wine classification in regions like Bordeaux and Burgundy
Remuage– "Riddling", the process of turning the champagne bottles (and other Méthode traditionelle wines) slightly while they are upside down in the "Pupitres" daily over the course of a few weeks (or months, depending on the wine) in order to softly work the dying yeasts to the neck of the bottle. At the end of the process, the yeasts will be frozen and sucked out of the bottle during the "dégorgement".
Ricard – Aniseed aperitif
Sec– Dry
Soutirage– "Racking", a winery task that involves transferring the wine from one barrel to the next to separate it from its lees.
Tanin – Tannin
Terroir-The interaction of various elements of a wine ecosystem such as the climate, microclimate, soils, grape varietals, and of course the winemaker's skill.
Veraison– When the grapes change color, for example from green to red. This is the final ripening stage and is usually in August, depending on the wine region.
Vigne – Grapevine
Vignoble – Vineyard
Vin – Wine
Vin Blanc– White wine
Vin Rosé– Rosé wine
Vin Rouge– Red wine
Vin Chaud– Mulled wine
Vin Délimité de Qualité Supérieur (VDQS)– Mid-level wine classification, lower than AOC wines but higher than Vin de Pays or Vin de Table wines.
Vin de Pays– a higher quality classification than "Vin de Table", this translates as country wines.
Vin de Table– Table wine, the lowest quality classification of French wine.