Calvados Brandy a Norman Delight!
It's no secret – at least in Normandy – that Calvados is one of the world's greatest spirits. An apple brandy indigenous to the French region of lower Normandy, Calvados brandy has for centuries been an essential part of the social and gastronomic life in this part of France. Indeed, no feast in Normandy is complete without the obligatory – and essential – trou Normand (literally 'Norman hole'; a glass of Calvados) to allow room for more dishes. To refuse a glass is a grave insult; but then, why would you?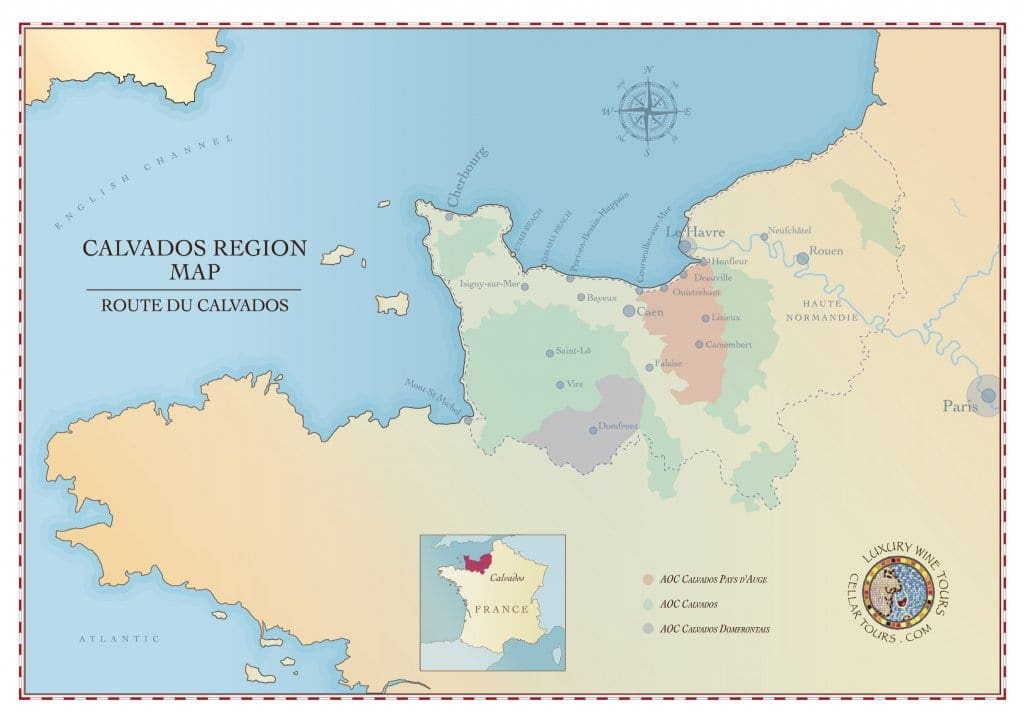 Calvados AOC map
Yet what is less commonly discussed is the incredible artisan craftsmanship and savoir-faire that goes into each glass of Calvados often passed down from generation to generation. It all starts with the raw materials – growers in Normandy are just as proud of their terroir as vignerons in the Cote d'Or. They grow over 200 different varieties of apple in Normandy's beautiful Route du Cidre, a 40km circuit about 20km east of Caen that takes in the prettiest villages of the Pays d'Auge, including Cambremer and Beuvron-en-Auge. Along the journey, signs reading Cru de Cambremer indicate the way to over 20 artisan cider and Calvados producers that have been in this business for many decades. The region truly is a joy to behold, and that's before you've begun to even sample any delicious brandy.
History: Originally Distilled from Basque Apples
Historically, cider (sicera in Latin, which roughly translates as an intoxicating drink – how apt!) has been made in France since the Middle Ages. It was the preferred drink of the Normans during the time of William the Conqueror's war in England – subsequently, it became the tipple of the aristocracy and clergy who, rumor has it, started experimenting with distillation in order to acquire "eau de vie" or water of life from the fermented apple juice.
But officially, the distillation of cider into Calvados started in the 16th century, pioneered by a nobleman called Gilles de Gouberville. His written account of the process is fascinating, particularly as it details the import of cider apple trees from the Basque Country in Spain. In 1606, an association of distillers formed an official corporation, laying the groundwork for a thriving artisan industry to develop. But perhaps industry is the wrong word, for even today the best Calvados is produced by family businesses. Its popularity rocketed in Paris during the 19th century, aided by the technological advancements that led to industrial distillation. It also benefited, ironically, from the phylloxera plague which destroyed vineyards in the 19th century, forcing the aristocracy to source their brandy from outside of the Cognac region.

AOC (appellation d'origine contrôlée) Calvados
Today cider and, of course, Calvados is a protected designation of origin (AOC) in Normandy, with strict controls enforced regarding production methods, to cite just one example. It is made using specific varieties of apples or pears (some of them being very old varieties), and there are four key types of apple used in cider making: sweet, bittersweet, bitter and sour. The whole process (including aging) typically takes several years, with many factors influencing the quality of the final product, including soil, quality of fruit pressing and distillation methods.
The journey starts in the orchard – the apples are shaken off the trees or gathered from the ground sometime between early October and early December. Traditionally, the trees don't number more than 100 per hectare to ensure maximum sunlight. After being stored for two or three weeks to let them mature, they are pressed. The raw apple juice – including the solid matter left by the pressing – is fermented for six months, with a fast fermentation followed by a slow one. When all the sugar has turned to alcohol, the juice is distilled, usually twice. The resulting liquid is clear but takes on a delicate golden hue from the oak casks in which it's aged for anything from two years to many decades. As with Cognac, aging ends the moment Calvados is bottled.
Of course, the final product is far from homogenous – several different grades of Calvados exist: AOC Calvados Pays d'Auge, AOC Calvados and Calvados Domfrontais. The last category reflects the longstanding tradition of growing pears in the region, and is typically a fruity and tangy drink, rather than profound or complex.
However, AOC Calvados Pays d'Auge is a different matter altogether. Although the AOC stipulates a minimum of 2 year's aging, the best examples are always aged for far longer than that, producing a brandy of exquisite refinement and complexity. There's a myriad of labels to get to grips with, but the three basic categories are as follows:
Fine, Trois Etoiles or Trois Pommes – a Calvados aged for a minimum of 2 to 3 years.
VSOP, VO or Vieille Reserve – a Calvados aged for at least 4 years.
Hors d'Age, Extra, XO or Napoleon – a Calvados aged for more than 6 years.
But equally, this is just a guide to quality and the producer in question should always be your ultimate reference point. The best mature examples merge finesse and power with ease tantamount to promiscuity, while young Calvados is the ideal aperitif. It also matches beautifully with Normandy cheeses such as a creamy Camembert. Meanwhile, mature Calvados begs to be savored in its own right, although top-end Calvados from the Pays d'Auge will typically be served with Pont-l'Evêque cheeses or an apple pudding in Normandy restaurants.
However, we prefer to enjoy its myriad of flavors – ripe apples, dried apricots, butterscotch, nuts, and chocolate – without any gastronomic interference. This is the real beauty of Calvados, is can be a fun, delicious aperitif or something far more 'serious' and complex, depending on your mood. Connoisseurs always salivate over the best Cognac (with good reason), but there's no denying that Calvados is every bit the equal of that prestigious, and perhaps more famous, spirit.
Leading Calvados producers:
Related Blog Posts: