The Provence wine region attracts countless romantics, wine lovers, gourmets, and bon vivants each year. With good reason, its vivid landscapes and historic villages cannot fail to captivate anyone who steps foot into the region. Painters such as Van Gogh and Picasso were inspired by the luminous light and brilliant colors of Provence. It has come to the forefront in recent years as a wine region, with several exciting high-quality small producers from the key appellations. The change has been dramatic in the last ten years, with many quality-conscious winemakers bringing a new focus to meticulous grape growing and expressing their terroirs' potential.
The region has arguably long been associated with large volumes of easy-drinking rose (produced to appease sun-seeking visitors), but this is changing for the better. Many small properties are vinifying smaller quantities of rose wines with real flair and style, and the quality has never been higher. However, while rose remains the mainstay of wine production in Provence, exciting reds and some very well made whites have emerged in recent years.
Provence has reinvented itself in the last 15 years and continues to do so, producing age-worthy red and white wines in addition to the well-established formulae of sun-kissed rose. It's a heady experience to stand in Provence and savor the sights and smells of what is one of the most beautiful parts of the world. No surprise then that everybody who visits instantly succumbs to its charms. Provence's wines invoke everything the region is famous for, a lust for life and its inhabitants' warmth. Savor a glass of Bandol over a warm evening and smile – you're in Provence.
Visiting
Sip from a delicious glass of Coteaux Varois rosé while enjoying a warm summer evening; overlooking the sparkling Côte d'Azur Mediterranean on a Luxury Private Provence Wine Tour with Cellar Tours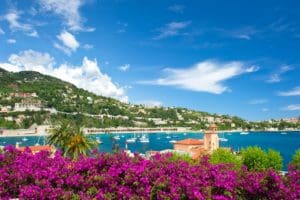 Cotes de Provence and Coteaux Varois
The vast majority of central Provence is covered by the appellations Cotes de Provence and Coteaux Varois. Both appellations produce impressive quantities of rose, but reds are increasingly taking center stage too. Notably, some excellent, structured, and fruit-driven reds are being produced from blends of Rhone varieties and a dash of Cabernet Sauvignon for good measure!
Coteaux d'Aix en Provence & Les Baux de Provence
Moving further west, the visitor encounters the appellations of Coteaux d'Aix en Provence and the spectacularly sited vineyards of Les Baux de Provence. Many of the region's most avant-garde winemakers are found here, producing the next generation of Provence wines, intense, fruit-driven reds that were hitherto rarely seen in the South of France. Domaine de Trevallon is one of the area's leading lights; their Cabernet and Syrah blend one of the finest available. The use of new oak has become prolific, although some traditionalists still age their wines in large, used oak vats. Whatever the approach, an exciting array of different styles is emerging, and the advancements in quality continue apace.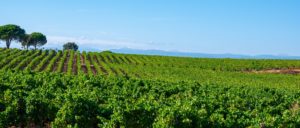 Palette
East of this large appellation, we find the tiny area of Palette, with just over 40 hectares under vine for both red and white wines. Two established producers dominate the viticulture scene, Chateau Cremade, and Chateau Simone, an estate of real quality and distinction. An extensive number of varieties are planted while increasing replanting is concentrated on Syrah, Grenache, and Mourvedre. The hot, dry climate suits these varieties perfectly.
Bellet
In the foothills of the Alpes-Maritimes, just north of the city of Nice, is the tiny appellation of Bellet. However, its small size does not do its significance justice as it offers some of the most exciting and unusual wines in Provence. With a mere 39 hectares under vine, quality, not quantity, is paramount here, with well-structured reds, nutty, floral whites, and delicious roses taking precedence. The vineyards are planted at altitudes of some 300m, which moderates the otherwise hot climate, ideal for ripening Chardonnay in what would otherwise prove unsuitable terroir. Some excellent examples are made, which are often blended with the little-known variety of Rolle.
Cassis & Bandol
The two coastal appellations of Cassis and Bandol between Marseille and Toulon are reliable sources of red, white, and rose. In Cassis, look out for the white wines – the best have a lovely finesse and are unique in France. While the whites and roses from Bandol are good, it is the reds you should get excited about. Provence is undoubtedly famous for Bandol, in addition to its rose wines. Newcomers to Bandol are in for a treat as it is a wine of great fire and spice with a concentration and driving vigor like no other. The appellation is situated in the foothills just inland from the port of Bandol in a spectacular, natural coastal amphitheater. The vineyards, many of them over 40 years old, stretch from the town of La Ciotat in the east to Sanary-sur-Mer in the west and enjoy a unique, warm, and dry maritime climate. The terroir is surprisingly varied, and the resulting wine style differs enormously, depending on the soils and local conditions. Gravel and clay soils suit the Mourvedre variety perfectly, producing rich, spicy, and age-worthy wines. Established Bandol leaders Domaine Tempier and Chateau Pibarnon are now being joined by a new wave of small, high-quality growers. This is possibly the most exciting area to follow in Provence, although we must remember that these wines need time, often for up to a decade.