Montepulciano Grape Varietal
Montepulciano grape is an outlier among Italy's eclectic palette of red grape varieties. It lacks the international renown of Sangiovese (although it is Italy's second most widely planted indigenous variety) and the glamour of Nebbiolo. It is not achingly trendy; it does not lend its name to luxury brands marketed at oligarchs. And yet, you'll find Montepulciano across central and southern Italy, in provinces as diverse as Lazio, Marche, and Molise. There are over 45 appellations that allow the grape in the blends, albeit few insist on 100% Montepulciano wines. Like the Italians, this misunderstood red grape is a complex and contradictory animal.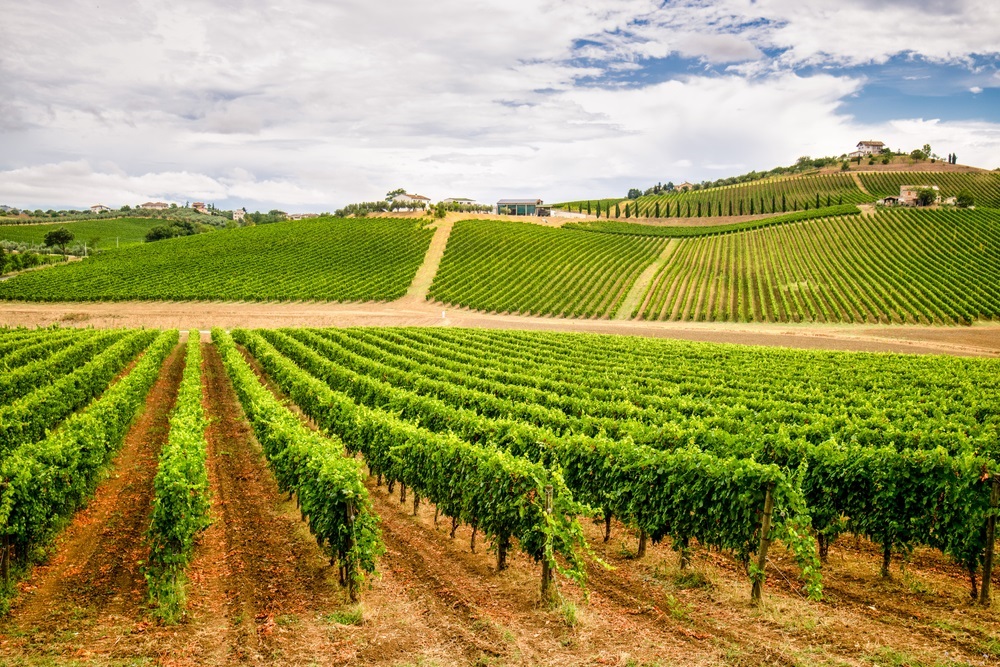 Historically, there has been a tendency to damn Montepulciano with faint praise. The grape has never attracted widespread ridicule, but neither has Montepulciano traditionally been regarded as a 'noble' variety. "Soft" and "easy-drinking" are the two most common adjectives used to describe Montepulciano, and many versions are indeed designed to be enjoyed at a young age. However, it is often a pleasant, innocuous, and relatively unexciting red wine.
However, an emerging generation of Italian winemakers are starting to achieve great things with Italy's unsung hero. If the grape is planted on good terroir and handled with care in the winery, something more refined and age-worthy can emerge. Instead of "easy drinking," you'll encounter an intense and powerful wine with enough structure and extract to age for several years after bottling. There is more than a whiff of Merlot about premium-grade Montepulciano, with its accessible tannins and beguiling fruit profile of plum jam, red berries, and eucalyptus. And like Merlot, it can produce excellent wine as a standalone varietal or as part of a blend.
Discover this wonder grape on a Private Wine Tour of the Le Marche & Umbria regions arranged by Cellar Tours. Visit the top wine producers and enjoy VIP tastings in the vineyards.
Origins
The exact origins of the grape are a mystery. Curiously enough, although the variety shares its name with a town in Tuscany, the Montepulciano grape is not permitted under the Vino Nobile di Montepulciano DOCG framework rules. Genetic analysis has shown that Montepulciano is a close relative of Sangiovese; however, it does not play a defining role in the contemporary viticulture of central Tuscany. Yet, there are many zones in central Italy where Montepulciano is a ubiquitous feature of the landscape, particularly in the Adriatic coastline and Umbria. The dark-skinned Montepulciano grape thrives in the heart and soul of central Italy, its timeless countryside epitomized by rolling foothills, olive groves, and endless vines.
Nevertheless, elevation, soil, and aspect vary enormously in this part of Italy. Consequently, it isn't easy to generalize Montepulciano's inherent stylistic qualities beyond the classic flavors of the grape. Poor examples are thin, tart mouthwash with little charm or structure – the best wines are rich gastronomic superstars. The two most common soil types are galestro, and Albanese – galestro is used to describe crumbly clay-limestone, while Albanese refers to colder and heavier soils with higher clay content. Both terroirs are ideally suited to cultivating the Montepulciano grape, the latter tending to produce richer and heavier wines.
But the real trick to ripening the grape successfully is sunshine and plenty of it. Montepulciano needs a long and warm growing season to achieve satisfactory phenolic maturity as a late-ripening variety. The most significant viticultural hazard is its tendency to produce overly-generous yields; when the skin to juice ratio is unbalanced due to inflated bunches, Montepulciano can make very dilute and lackluster wine. Therefore, poor soils and a judicious pruning regime are essential if the grower intends to make a premium label. Nevertheless, Montepulciano does not cause endless headaches – unlike Pinot Noir – during the vintage season and has a strong natural resistance to fungal diseases like powdery mildew. Moreover, unlike Sangiovese, Montepulciano has moderate levels of accessible tannin that rarely veer into astringent territory.
Montepulciano d'Abruzzo DOC
At this point, you may well ask: who is making the best Montepulciano today? That is very much a matter of opinion; however, many would regard the wines of Montepulciano d'Abruzzo as one of the leading contenders. Awarded DOC (Denominazione di Origine Controllata) status in 1968, the appellation encompasses a large expanse across the Abruzzo region of southern Italy. Cultivated since the 1700s, Montepulciano has responded well to the zone's hot Mediterranean climate and calcareous soils, producing concentrated and structured wines that are nonetheless approachable upon release.
Such a large zone inevitably contains a great diversity of vineyard sites, but most winegrowers regard the coastal vineyards as being in the first division. Benefiting from the cooling breezes of the Adriatic, the most coveted vineyards are planted on higher altitude plots that also benefit from cooler temperatures and concomitantly higher acidity levels and freshness. There are five viticultural sub-zones in the wider appellation, which vary in soil structure, elevation, and proximity to the sea. Of the five, Alto Tirino and Casauria are particularly well regarded; Teate, Terre dei Peligni, and Terre dei Vestini constitute the final three.
Local attitudes to winemaking are no less diverse. Under the DOC framework, growers can either release a 100% Montepulciano wine or blend in up to 15% Sangiovese. The latter philosophy tends to create wines with more acidity and tannin in their youth, and consequently, they are arguably slightly less approachable than 'pure' Montepulciano styles. Nevertheless, they can age well and evolve into glorious velvety complexity after a few years. Oak aging is a subject that always divides opinion; light, fresh versions such as Cerasuolo A'bruzzo make the ideal summer aperitif, but a dash of barrique can add weight and structure to ripe Montepulciano. In addition, there is a higher Riserva tier marketed under the appellation rules – Montepulciano d'Abruzzo Riserva must spend at least six months in oak and be three years old at the time of commercialization.
Colline Teramane DOCG
Equally, great wine is made in the vineyard rather than the cellar. The critics are unanimous: the finest terroir is the hills around the town of Teramo, which was awarded its own DOCG in 2013. A potent marriage of good proximity to the Adriatic, meager soils, and mandatory low yields creates something exceptional in the bottle. Only 10% Sangiovese can be added to the blends if used at all. All wines marketed under the Montepulciano d'Abruzzo Colline Teramane DOCG must be aged for two years, with at least one year in barrel. Riservas, meanwhile, will have spent three years (a combination of barrel and bottle) aging before release.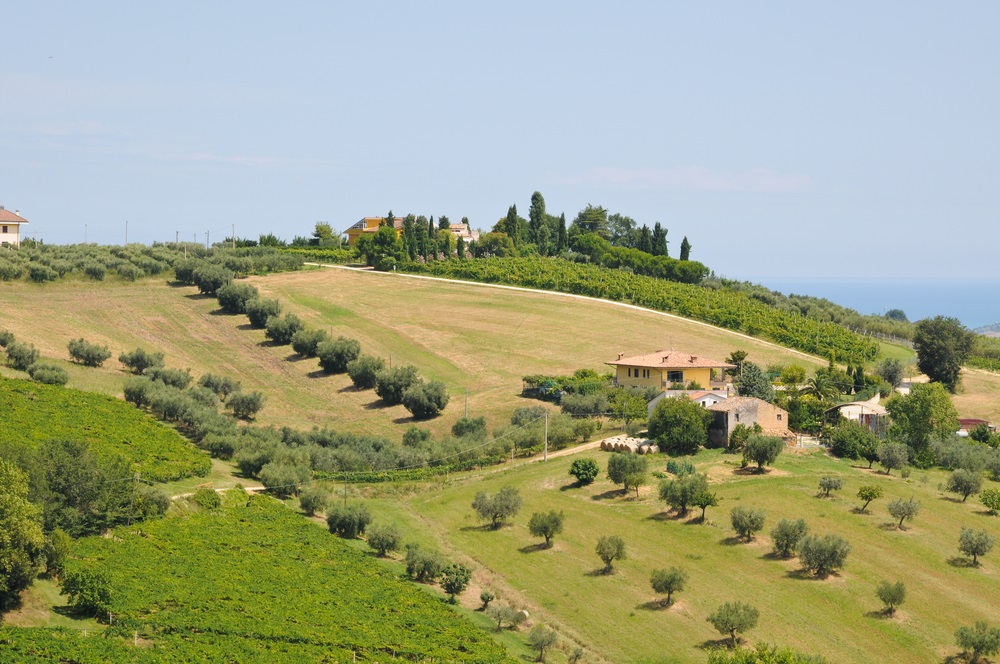 The beautiful hills around Teramo
Tasted blind, the top examples of Teramane, are a dead ringer for Tuscan Merlot from Bolgheri. Young wines typically offer a seductive palate of red and black fruits, with pronounced aromas of sour cherry, rosemary, plum, and damson. With age, tobacco flavors, tar, chocolate, and oregano should emerge. There is an exotic quality to the best Montepulciano from this zone, with a tannic structure and extra layer of refinement lacking in the simpler bottlings from inferior terroirs.
Rosso Conero and Rosso Piceno
Of course, winegrowers in the neighboring region of Marche have their own ideas about the 'best' Montepulciano wines. The reds of the area have been slow in gaining much global recognition – the upside is that expensive labels are almost unheard of in Marche. Nevertheless, there is a world of value to be discovered in the zones Rosso Conero and Rosso Piceno; the former was awarded DOC status in 1967. Rosso Conero requires that Montepulciano makes up at least 85 percent of the blend, the remainder being filled by Sangiovese. The vineyards flank the slopes of Mount Conero, southwest of the city of Ancona, between the Adriatic Sea and the Apennines. Mineral-rich calcareous soils suit the variety down to the ground, as does the continental climate and hot summer season. The resulting wines tend to have more tannic 'grip' than Montepulciano d'Abruzzo and can benefit from 1-2 years of bottle age after release.
The wines of Rosso Piceno are no less excellent. The terroir includes the provinces of Ancona and Macerata, with a great diversity in altitude. Some growers seek out sites as high as 600 meters above sea level due to the favorable diurnal temperature variation and enhanced freshness, a quality often prioritized by winemakers. Others, however, prefer the low slopes and the alcoholic might that flows from the hot Mediterranean climate – rainfall is very scarce between June and September. Heavy clay soils dominate, as elsewhere.
Culturally, winegrowers in the Rosso Piceno DOC zone tend to walk a different path. It is common – and indeed permitted under the appellation rules – to add up to 50% Sangiovese to the final blend; 'Superiore' is awarded to wines aged in barrel for at least one year. However, there has never been a movement to make 100% Montepulciano varietal wines, as local winemakers argue that Sangiovese is required to add structure and 'heft' to the final product. But regardless of whether we agree with them, the output quality is generally very high. The wines tend to be soft and approachable in their youth due to the high levels of phenolic ripeness that are easy to achieve. Occasionally, they have port-like qualities and are too jammy, but top wines balance freshness with intense concentration. Chocolate, plum, blackberry, and mocha are classic aromas in young wines, tobacco, and cloves in older vintages.
Food Pairings
This brings us nicely to the dinner table. Montepulciano, blended or produced as a standalone wine, can tackle various dishes. In Abruzzo, you'll probably be served Montepulciano with lamb all' Abruzzese, slow-roasted leg of tender lamb, roasted and basted in a delicious concoction of tomatoes, herbs, and wine. In Marche, local restaurants will seldom not create their version of a fillet of pork (Lonza) cooked with fennel. At the same time, salt-cured mountain ham, or Prosciutto di Carpegna DOP, is a ubiquitous staple of the province. Stuffed rabbit and pigeon are also commonly enjoyed – all enticing dishes that will love the softness and gentle acidity of premium-grade Montepulciano. Hard cheeses, tomato-based pasta sauces, and cured meats are all tried and tested pairings that make both the food and wine sing.
Good Value
Indeed, Montepulciano is very much a wine crafted to deliver endless pleasure to all. Unfortunately, many growers and brand owners, particularly in Burgundy, are now pricing their wines at levels only the obscenely wealthy can afford. How glorious, then, to celebrate a democratized wine style that is readily available and made by generations of the same family. The grape may not offer connotations of luxury, but it is undeniably authentic and keenly priced. In an increasingly globalized and homogenized world, Montepulciano is the real deal.
Best Montepulciano wines:
Dea del Mare
Il Faggio
Garofoli Piancarda
Moramari
Vigna Corvino