Picpoul could give Kiwi Sauvignon Blanc a run for its money if there is a new fashionable white grape variety. It has excellent credentials: the grape produces an aromatic style full of character; it is becoming popular outside of France; it is marketed at very attractive price points. Yet, best of all, top-quality Picpoul Blanc is absolutely delicious. It delivers a robust, mouth-filling glass of citrus fruit that is irresistible on a warm summer's evening.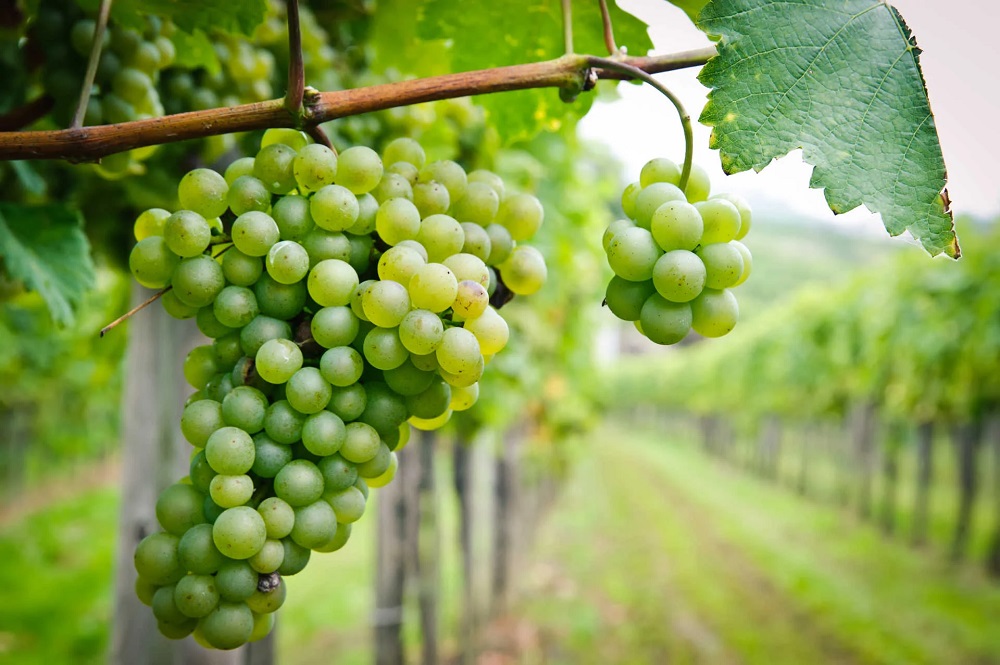 So any drawbacks? Mais oui: Picpoul Blanc can be difficult to grow because the variety is prone to developing certain grapevine diseases in wet weather. Moreover, the reality is that the grape has a long journey ahead before it can rival the global recognition – and intense demand – for New World Sauvignon. But with a growing army of sommeliers and critics onboard, Picpoul has started down a path toward greatness.
Read more about French White Wine
History and viticulture
Routinely described by viticulturists as an "ancient variety," Picpoul Blanc has been around longer than the toaster oven. It is widely believed to be indigenous to the Languedoc-Roussillon, a region that has been in the wine-growing business for many centuries. The catalyst for its rise to prominence was establishing a Mediterranean trading post, founded in 600 BC by Greek mariners. Known as Massilia (modern-day Marseille), the port soon became a thriving center of trade and prosperity, attracting merchants from the eastern Mediterranean. As a result, many exotic goods were imported during this period, including several different grape varieties. In this case, it is believed that Picpoul is the genetic ancestor of a virtually extinct grape called Brun Fourca, introduced before the Romans conquered Gaul. Brun Fourca mutated to create Picpoul Rouge, eventually mutating into Picpoul Gris and Picpoul Blanc.
By the 1600s, Picpoul had cemented its reputation as one of the Languedoc's most important white varieties. According to the major investor and pioneer Gerard Bertrand: "Picpoul has been around for at least five centuries; in 1618, the botanist Magnol described it as one of the most renowned grape varieties in Languedoc." A large volume was cultivated to make Picardan (no relation to the grape) for export. A local white style, Picardan was a blend of Picpoul, and Clairette Blanche sent to the bistros of Paris via France's network of waterways and canals. It was as ubiquitous in Paris' Latin Quarter as confit de canard and entrecôte.
Meanwhile, the Languedoc was becoming widely associated with juicy and affordable red wine, albeit quantity rather than quality was the central concern. Nevertheless, Picpoul continued to thrive in the coastal vineyards of Sète and the environs. As a result, Dutch traders opened up new markets in the 18th century, shipping vast quantities of these saline whites from Sète to the ports of northern Europe.
This is by no means the end of the story, however. In the second half of the 19h century, a nasty pest called phylloxera started to attack vineyards in the South of France – the first incidences were recorded in the southern Rhone. Eventually identified as a louse indigenous to North America, phylloxera spread havoc across the wine regions of western Europe between 1870 and 1900. Only one solution presented itself: most vines had to be regrafted onto American rootstock. But this proved to be the grape's undoing; winegrowers were not minded about replacing grape varieties that were challenging to grow. As a result, the acreage shrank considerably in the 20th century, reduced to a small section of coastline west of Montpelier. Yet the grape found a new vocation in the 1960s and 70s, supplying base wines to be aromatized for the production of Vermouth. Unfortunately, the market collapsed in the late 1980s, forcing producers to return to their roots and focus on making dry whites.
Fortunately, Picpoul Blanc is very adept at producing high-quality wine. This goes some way toward offering compensation for the numerous challenges inherent to growing the grape. Picpoul Blanc tends to bud quite late in the season, which can be advantageous in cooler springs when the risk of frost attacks is omnipresent. However, the variety can be quite mercurial, shifting between ripening a reasonable (if hardly plentiful) yield to delivering a paltry crop. The ideal terroir involves sandy soils, good drainage, and adequate sun exposure. Due to the vine's high susceptibility to fungal diseases, a course of sulfur treatments may be essential during inclement years. Picpoul can yield stupendous white wine in good vintages, but it never makes your life easy.
Winemaking
A comparative tasting of Picpoul from different growers reveals that it is versatile enough to produce light, saline, dry whites or wines with real density and body. Moreover, while it may be more romantic to attribute these differences to terroir, winemaking is often the key differential when discussing Picpoul de Pinet. Nevertheless, there are some guiding principles when making high-quality Picpoul. Winegrowers usually strive for finesse; a lot of Picpoul resembles Galician Albarino, deliberately made in a light and refreshing style. Such wines rely on fruit in the absence of oak – lees aging is another matter – and the balance between ripeness and acidity. It is the style of the moment, achingly popular in the restaurants of Paris and beyond.
Producers in the Languedoc understand this all too well. Rustic equipment and apathy once yielded oxidative and lackluster wines. However, those days are long gone. In 2022, the fruit (and juice) is protected at all stages of the winemaking, both via sulfur dioxide and inert blankets of gas – argon is the most effective – safeguarding against spoilage. The revolutionary extraction system Coravin uses a similar technique: the pierced cork is sealed with argon gas, preventing oxidation. In the South of France, sulfur will be added in the press before fermentation begins. After pressing, the must is normally chilled and clarified to remove solid matter – filtration or centrifuging is the most efficient method available today.
Fermentation, though, is rarely a gripping affair. Most growers favor stainless steel, the classic choice when a fruity and aromatic style of white is sought. Typically using cultured yeasts, the fermentation will occur over a relatively long period at very low temperatures. Indeed, fermentation at about 10 degrees centigrade can take up to one month. After it is completed, the wine will probably be filtered again, cold-stabilized, and bottled. However, the sommelier community does not want all their Picpoul to taste the same. A sub-category of more 'gastronomic' wines is emerging, aged on their fine lees for several months to enhance texture and mouthfeel. They have more weight, complexity, and body than Picpoul tout court. But some may prefer the zippy acidity and citrus attack of 'untouched' Picpoul.
The Renaissance of Picpoul de Pinet
They call it the Muscadet of the Midi: Picpoul de Pinet's journey from zero to hero is a remarkable story. Today, it is responsible for the vast majority of white wines exported from the Languedoc – over 80 percent. And yet, just sixty years ago, there were barely 50 hectares cultivated in the entire region. The authorities were seriously considering whether they should ripe up the remaining vines and plant other varieties. For a time, it seemed like Picpoul's days were numbered.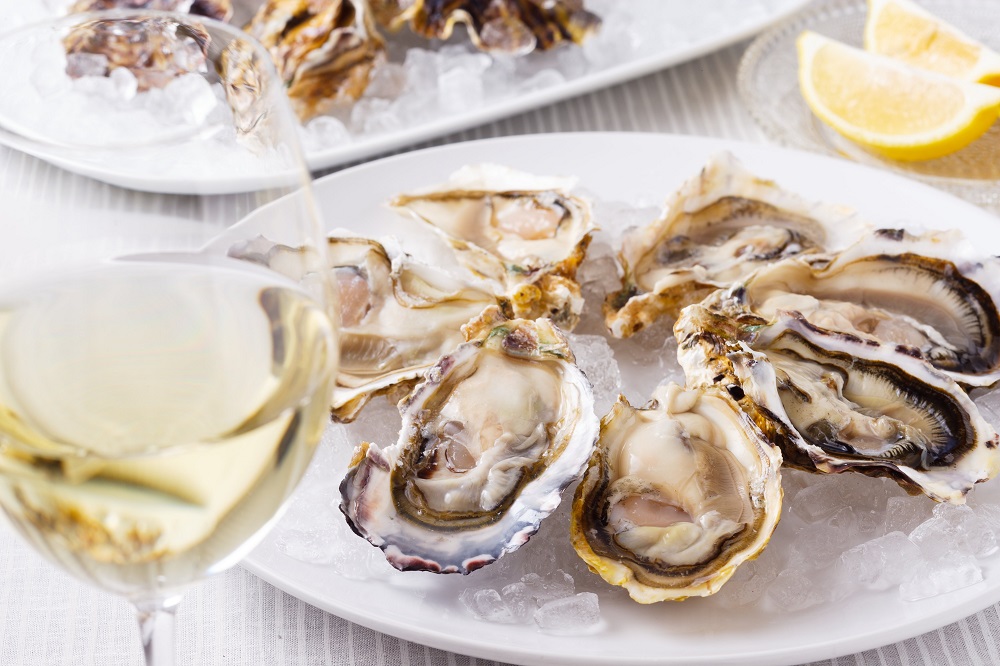 Fresh oysters pair delicious with Picpoul Blanc
Of course, a few passionate advocates in your corner can make a big difference. Awarded appellation status in 1985, this small zone flanks the Bassin de Thau lagoon, just inland from the old port of Sète. It is driven by a close-knit community of winegrowers, many of whom belong to the four major cooperatives in Picpoul de Pinet. As a result, producers adopt a collegiate approach, working toward the same quality goals. This was very successfully exploited by the cooperative president and figurehead Étienne Farras, who convinced the tourism authorities to promote Picpoul alongside their fresh oysters and beautiful scenery. Suddenly, restaurants were pairing their shellfish with bottles of the local white grape – a marriage made in heaven. Success inevitably bred expansion, attracting outside investors to the region and increasing the area under vine. Meanwhile, machine harvesting enables the appellation's producers to collect a far greater volume of ripe and healthy berries. The region is also lucky to have the charismatic and dynamic Frédéric Sumien in its corner; Sumien runs the appellation for the benefit of everyone.
Combine all these factors, and you have a potent recipe for viticultural revival. Indeed, Picpoul de Pinet has been basking in the spotlight of fashion for several years now; this lemon-scented white has become a big hit with connoisseurs across Europe and the US. But, unfortunately, restricted to the small zone just north of Sète, the authorities have not (thus far) allowed other parts of the Languedoc to market their version. So instead, it has been left to the New World to experiment with this wonderful grape. But if you seek a decent supply of Picpoul Blanc, there is only one destination able to answer the call. And there's another potential issue with this grape: it becomes addictive all too quickly.
We've seen it happen many times. Visitors arrive at a nice restaurant in Marseille, or perhaps Carcassonne. They peruse the menu and ask the waiter what's good with seafood: a bottle of Picpoul duly arrives. They take a sip – it soon turns into a gulp. Before too long, the sommelier explains that they must keep some bottles unopened for the dinner service. It is that juxtaposition between citrus and stone fruit, creaminess and crisp acidity, freshness, and weight that oenophiles find utterly irresistible. All good Picpoul is lively, aromatic, and frighteningly moreish; bottles slip down with alarming speed. True, we will probably never reach a point where the grape is as internationally recognized as Sauvignon Blanc. But there is nothing between them regarding quality, pizzazz, and the ability to refresh a weary palate.
Top producers of Picpoul de Pinet: