Sicily's secret weapon: Carricante
November 16, 2022
Estimated reading time: 8 minutes
Elevate Your Palate with Sicily's Carricante: The Volcanic Elegance of Etna Bianco
Sicilian white wines can be astonishing. With average summer temperatures hovering around 37°C in July, logic dictates that this Mediterranean island should struggle to produce fresh and racy whites. And yet, in the vast majority of vintages, that is what Sicilian growers achieve. This is particularly remarkable as drought is a routine occurrence in Sicily, with torrid summers necessitating vine irrigation in July and August. So what is their secret?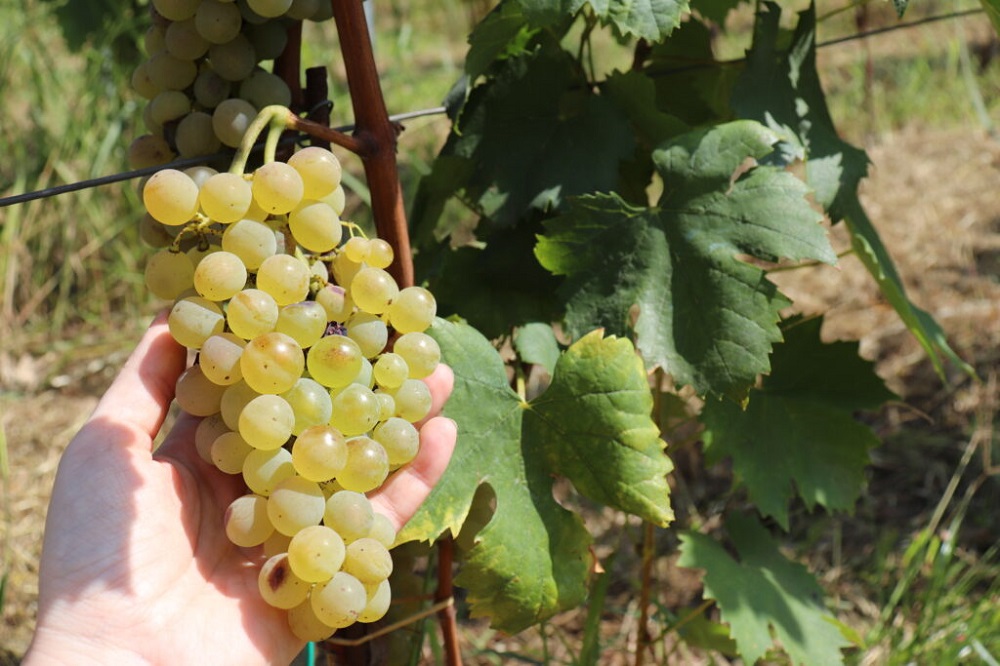 Guide to Italian White Wine: Read more
The first part of the quality equation is the unrivaled brilliance of Carricante, a white grape indigenous to Sicily. Able to maintain high acidity even in very hot climates, Carricante is primarily grown on the volcanic terraces of Mount Etna. This dormant (we hope!) Volcano represents the other side of the quality equation: altitude. You can find vineyards planted up to 1000 meters above sea level on the higher slopes. This affords growers all the benefits of diurnal temperature variation, leading to fresher, lighter wines. So read on if you think Sicilian wines are simply alcoholic caricatures packed full of extract.
History and viticulture
You could spend a lifetime delving into the fascinating history of this viticultural paradise. Since antiquity, ancient civilizations have been growing vines on the island of Sicily, including the Phoenicians, Greeks, and Romans. Indeed, Sicily's fertile soils were responsible for generating much wealth in pre-biblical times, as olive groves and vineyards soon covered the entire landscape. After the fall of the Western Roman Empire, various Germanic tribes fought endless battles to control this commercially important – and strategically valuable – piece of real estate. Yet it was the Arabs who managed to subjugate the entire island in the 10th century. They retained control for over a hundred years – the Normans (descendants of the Vikings) took Palermo in 1071, finally capturing the settlement of Noto in 1091.
Viticulture thrived during this period as Sicily became part of the kingdom of Aragon. Indeed, it is no surprise that this incredible melting pot of cultural influences gave birth to a rich palate of indigenous varieties and wine styles. Thus, historians believe that Carricante has been growing on the slopes of Mt. Etna for at least a thousand years, although the grape's genetic ancestry has yet to be determined. The most iconic landmark of Sicily, known as 'Mamma Etna' by wine producers, has erupted several times over the centuries – the beautiful city of Catania has been destroyed more than once. Indeed, minor eruptions are an omnipresent feature of life in Sicily. But to quote winemaker Giuseppe Benanti: "There is no point in worrying about it; otherwise, one should not have taken on the challenge of making wine here."
His contemporaries would very much agree with him. The volcanic soils of Mt.Etna offer winegrowers an unparalleled opportunity to produce a diverse range of unique red and white wine styles. Moreover, it is one of the few places in the world to escape the ravages of phylloxera in the 19th century. This poisonous louse, accidentally transported from the US to the vineyards of Western Europe, killed millions of vines in the late 1800s. The chaos only haltered after growers realized that American rootstock offered an effective resistance against the disease. As a result, a massive regrafting program took place in the early 20th century, yet the slopes of Mt.Etna were unaffected. This is because the pest could not survive on the Volcano's igneous soils, so regrafting was unnecessary. As a result, today, Etna is one of the few European destinations to have pre-phylloxera vines – Santorini and the Canary Islands are two other examples.
Yet, for a time, it seemed as if the Italians would squander this precious gift. Endowed with a series of generous EU subsidies in the 20th century, Sicily's powerful cooperatives began to dominate the island's wine scene, exporting large volumes of lackluster plonk to the regions of northern Italy. Thankfully, the last 15 years have witnessed a significant realignment, as the reality of intense global competition forced growers to focus on quality rather than quantity. Moreover, international grapes have been ripped up in favor of local curiosities, which is always good. As it stands today, there are over 200 hectares planted on the island – very little Carricante is grown on mainland Italy.
The grape's etymology derives from the Italian word 'Carica,' which translates as load in Italian – a reference to the vine's natural vigor. It's a fair description: Carricante will normally deliver a prolific yield if its growth is not strictly controlled throughout the growing season. However, careful pruning and green harvesting will temper this inherent 'luster,' leading to a medium-sized yield of relatively large berries. Fortunately, Carricante can produce high-quality wine even if the yield is, by certain standards, not ungenerous. As a bonus, fungal diseases are almost unheard of on the slopes of Mt.Etna due to the arid Mediterranean climate. This late-ripening variety will accumulate sugars gradually in successful vintages, maintaining good acidity into late summer. The resulting wine is a crowd-pleaser: pungently aromatic, with moderate alcohol and lovely ripe acidity. However, Carricante is capable of becoming so much more.
Winemaking
One could be forgiven for believing that all aromatic white grapes receive the same treatment. From Arneis to Riesling, there is likely to be some stainless steel involved in the vinification, invariably conducted at low temperatures. But this is more than just due to a lack of imagination: cool fermentations produce very fruit-forward and expressive styles, precisely what the global market demands. Protective winemaking (the exclusion of oxygen) is also a standardized paradigm in the cellars of Italy, as contemporary winemakers seek to preserve freshness at all costs.
In many cases, Carricante's production follows this recipe to the letter. Benanti, for example, prefers to use only the free-run juice from gently-pressed berries, fermenting the wines in stainless steel and aging on the fine lees to enhance mouthfeel and structure. Malolactic fermentation typically occurs unless the vintage has been particularly hot; malolactic converts malic acid to softer lactic acid. The wine is then filtered before it is bottled for sale. Alta Mora, Cottanera, Tenuta di Fessina, Pietradolce, and Tasca d'Almerita all broadly follow this approach. Their unoaked interpretations of Carricante are bright and pungent, with citrus, stone fruit, and garrigue notes on the mid-palate. A saline mineral undertow is another quintessential characteristic of young Carricante.
Yet many estates, including Alberto Graci and Tenuta della Terre Nere, are maturing their wines in wood. Approaches can vary significantly: some favor 225-liter barrique, while others prefer large barrels known as tonneau. This gentle oxidation of the wine can bring a new dimension to Carricante, producing a more structured, complex, and powerful grape expression. However, an excess of new oak can spoil the style, imbuing the wine with aggressive flavors of coconut and vanilla. As ever, prudence is always the best course of action when aging white styles in oak. But if you get the balance right, greatness beckons.
The miracle of altitude
Winegrowers on the slopes of Mt.Etna are in a constant battle against the hot Mediterranean climate of the southern Mediterranean. The usual and often inevitable outcome of growing white varieties in such torrid weather is low acidity, high pH, and an excess of alcohol. This is primarily because of the vine, although quite a robust plant, does not like prolonged periods of extreme heat. Indeed, if the temperature rises too much above 30 degrees centigrade, then vines tend to use their carbohydrate stores for increased respiration. This can result in flabby wines that lack freshness and poise. Excessive ripeness is the Achilles heel of wine producers worldwide, particularly with climate change.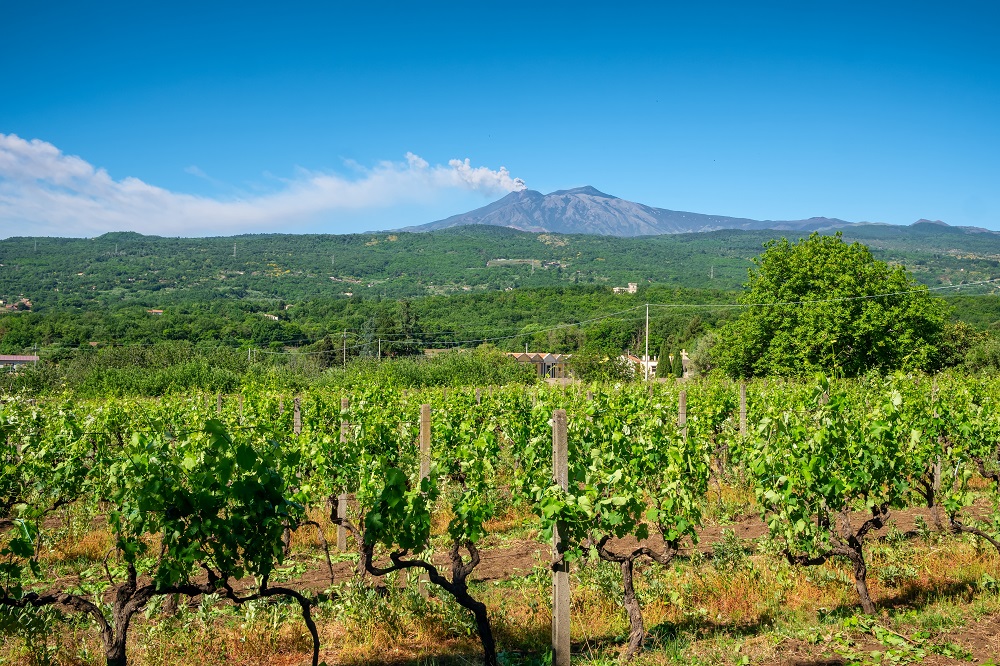 However, Sicilian winemakers are a resourceful and tenacious bunch, able to overcome any obstacle thrown at them. Nevertheless, growing vines on a volcano does offer one major advantage: altitude. Etna, with its rich mosaic of different elevations and exposures, offers endless possibilities for the ambitious oenologist. Centenarian vines are cultivated on soils that include congealed magma, rich in minerals. Vineyard sites rise to 1000 meters above sea level among this patchwork of terroirs. This high elevation is vital when growing Carricante: it moderates the summer heat and encourages a stark differential between day and night-time temperatures. Known as diurnal temperature variation, these cooler evenings slow the vine's metabolism to a glacial pace, ensuring that phenolic ripeness does not come at the expense of acidity. It is for this reason that a glass of Carricante seldom disappoints.
Today, Sicily's most important (premium) white wine appellation remains Etna Bianco DOC. The finest sites are on the Volcano's higher slopes, overlooking Milo's pretty village. Low-yielding bush vines, carefully managed by a close-knit community of growers, deliver wines of unparalleled perfume and finesse. The top examples offer enticing aromas of grapefruit, rosemary, and thyme, aging into honeyed complexity after a few years. Attractively priced and reasonably plentiful, there is very little to criticize in modern-day expressions of Carricante. But the true brilliance of this grape lies in its diversity. Whether you're searching for the perfect sundowner – a small volume of sparkling Carricante is now made – or a suitable pairing for roast sea bass, there is a bottle for every occasion. Sicilian whites have become one of Italy's biggest success stories of late. So if you demand a guarantee of supreme quality, look no further than Carricante.
Top producers of Carricante wines:
More information
If you would like us to customize an exclusive luxury tour, contact us and let us know your travel plans. We offer luxury food and wine tours for private groups of a mininium two guests. In addition, all of our private, chauffeured tours are available year-round upon request.
Cellar Tours
Welcome to Cellar Tours, the premier Luxury Travel Specialist since 2003. Our goal is to provide you with the ultimate food and wine vacation experience, with exclusive Mercedes chauffeured tours that showcase the best of local cuisine and wines.
Our team specializes in crafting bespoke, custom-designed vacations, events, and incentives tailored to your unique tastes and preferences. Travel is not just about seeing new places - it's about creating unforgettable memories and indulging in the finer things in life.
As members of Slow Food, OTAVA (Travel Agency Association in Spain), and the IACP (International Association of Culinary Professionals), we promote sustainable tourism and support local communities. We work closely with top-rated hotels, restaurants, and wineries to provide you with the highest level of service and attention to detail.
Whether you're planning a romantic getaway, a family vacation, or a corporate retreat, let Cellar Tours be your guide. With our passion for food and wine, extensive knowledge of local culture, and dedication to exceptional customer service, we're confident we can exceed your expectations.
Contact us today to start planning your dream vacation – we can't wait to hear from you!