French wine covers the whole gamut, from varieties exported worldwide to obscure grapes that almost no one has heard of; you can probably imagine which category Picardan falls into! However, this is esoteric on a different level: just a few parcels are left in the southern Rhône Valley, primarily in the appellation of Châteauneuf-du-Pape. Few, if any, consumers would recognize Picardan Blanc; it has absolutely no commercial value in the vineyards of southern France. And yet, here we are, talking up one of the rarest grapes in western Europe.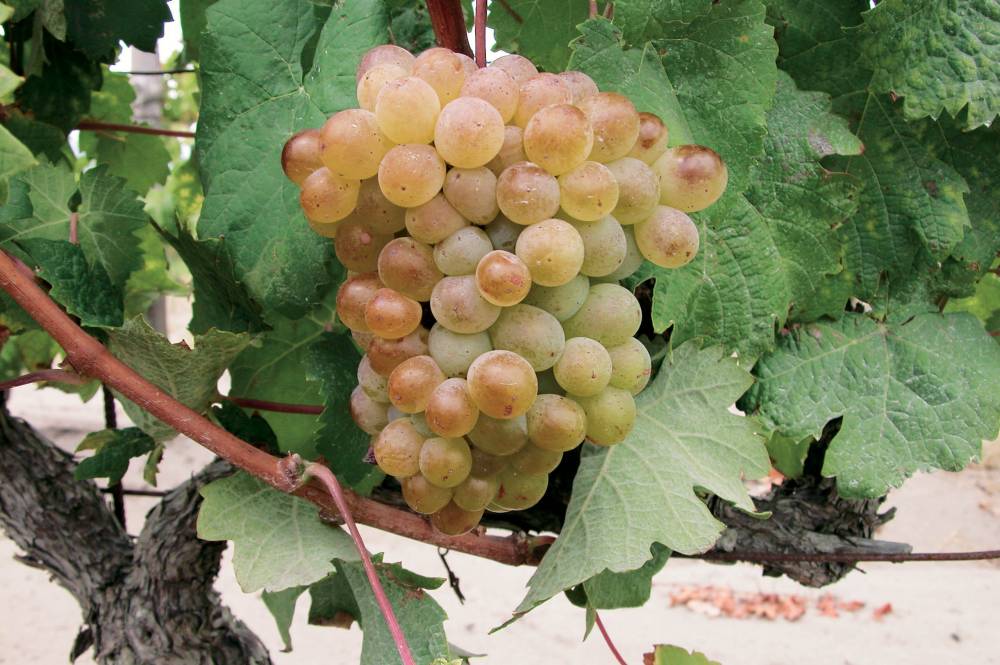 Of course, it's all part of the local color. French growers can be very stubborn about keeping cherished traditions alive – the younger generation may be disposed to waving au revoir to Picardan for good. But financial considerations and selling ubiquitous varietals are not the only priorities in France today. Accountants may scoff, but there is something very attractive – and charming – about an industry led by sentiment as much as the balance sheet.
Read more about French White Wine
History and viticulture
Although Picardan's exact origins remain a mystery, viticulturists are fairly certain that it is indigenous to the southern Rhône Valley. They believe that vines have been cultivated in the region since around 600 BC; viticulture spread like wildfire after the Romans established a foothold in Gaul following the invasion of 52 BC. Indeed, it was love at first sight for the Roman conquerors – few visitors are immune to the rustic splendor of western Provence! The Romans decided upon the name 'Provincia Romana' for their favorite Gallic province, a moniker that evolved into Provence. However, after the western Roman Empire collapsed in the 5th century, the area descended into chaos, and viticulture was largely abandoned.
Little is known about this period of history, as relatively few clues and written records managed to survive the onslaught of numerous conflicts. Historians believe Provence was invaded by a host of outsiders, including the Visigoths of northern Europe, Burgundians, and the Moors – the latter group was expelled in the 700s. Nevertheless, the Rhône's big moment did not arrive until the 14th century. It is a story that has been told many times: the Catholic church relocated to Avignon in 1309, escaping the political turmoil that had engulfed the historic seat of the Papacy: Rome. Pope Clement V established a thriving court during this period – successive popes invested massive sums of money in expanding the Papal palace at Avignon.
But from our perspective, the church's most important contribution was the revival of Provence's wine-growing industry. Much rejuvenation activity was eventually centered around Châteauneuf-du-Pape or 'The Pope's new castle' as it translates. Initially, the papacy was fixated on the wines of Burgundy – Clement V had little time for the rough and rustic reds of the southern Rhône, made by the Bishops of Avignon. Yet his successor, John XXII, took an interest in local wine production and decided to improve quality across the board. Moreover, although Châteauneuf-du-Pape has long been celebrated for its red wines, some of the first bottles made were white – inevitably sweet. Based on a potent concoction of over six different varieties, Picardan was first mentioned as part of the Châteauneuf-du-Pape Blanc' recipe' in 1715. Known by various synonyms – Araignan Blanc, Oeillade Blanche, and Gallet – Picardan became quite widespread in southern France by the early 19th century. Somewhat confusingly, the name is also given to a particular style of white wine made in the Languedoc-Roussillon. However, that Picardan was based on a blend of Clairette Blanche and Picpoul Blanc.
Meanwhile, Picardan almost totally disappears from view. By the 1870s, growers across southern France reported alarming losses in their vineyards: whole crops were being destroyed without any explanation. The first documented case occurred in 1860 – scientists eventually identified phylloxera as the culprit. This poisonous louse was destroying France's wine industry, and there seemed to be no viable solution for a time. Thankfully, regrafting European vines onto American rootstock offered a strong defense against this terrible blight. But not every variety was saved: Picardan was sidelined in favor of more fashionable grapes like Grenache Blanc.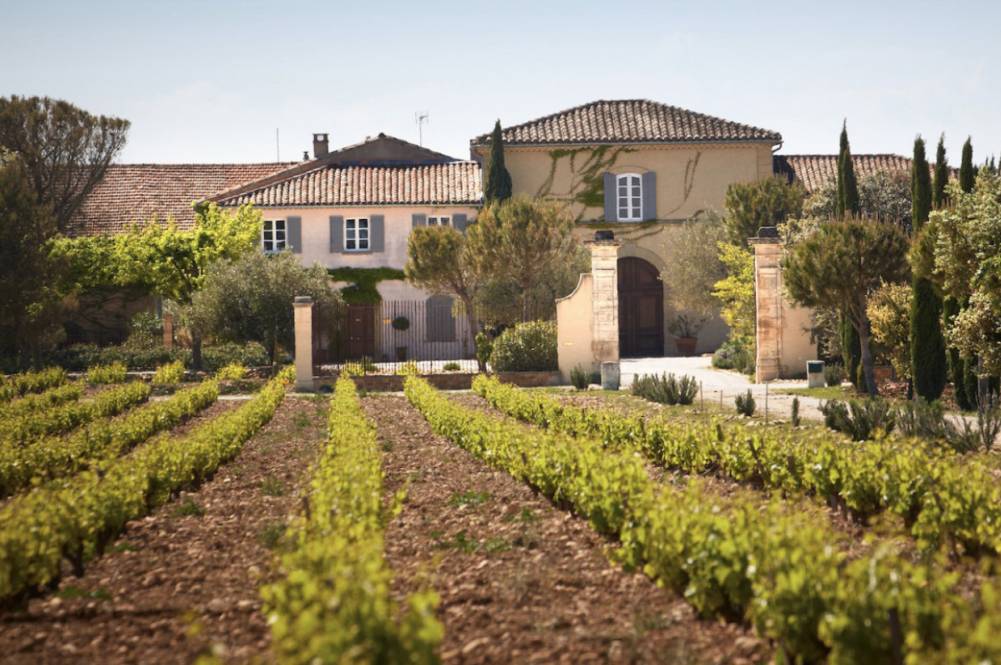 Château de Beaucastel
Still, it seems remarkable that so little Picardan survived into the 21st century. The famous Perrin family of Château de Beaucastel is one of the last remaining advocates of Picardan – they usually incorporate at least 5% into their Châteauneuf-du-Pape Blanc. They're also responsible for supplying Tablas Creek in California with a few choice vine cuttings! According to their winemaker: "Picardan buds out in the middle of the spring cycle, making it somewhat less prone to damage in our spring frosts than early budding grapes like Viognier and Grenache Blanc. Its vines show moderate vigor, although they tend to hang a heavy crop, which we've had to thin the last two years." Indeed, constant pruning is necessary if the winemaker hopes to craft a high-quality wine out of this grape. In addition, the variety is susceptible to grey rot in difficult years. Overall, though, Picardan is hardly a nightmare to grow.
Winemaking
The Perrin family maintains the defining template for producing top-quality Picardan, not least because so few winegrowers in Châteauneuf-du-Pape will allow the grape to come anywhere near their winery.
Nevertheless, Château de Beaucastel's winemaking formulae can be applied to many of the permitted varieties used in the production of Châteauneuf-du-Pape Blanc. In this case, hand-harvested berries enter the winery for sorting: this is used to separate ripe fruit from damaged and/or underripe grapes. The bunches are often chilled to preserve freshness before they're pressed. The Perrins favor using a sophisticated pneumatic machine to gently release the juice from the bunches into a tank and cold-settled.
Fermentation will then begin. Attitudes and approaches to vinification will fluctuate from producer to producer in the southern Rhône, just as they do in regions worldwide. Perrin's approach, however, is to ferment a certain percentage of the must (normally 30 percent) in wood to add structure and texture, while the remaining 70% is fermented in stainless steel tanks. Thus, the benefits of temperature control and careful oxidation are merged into one glorious wine package. Low-temperature fermentation protects fruity esters in the juice, while barrel aging can enhance complexity and depth if the volume of new barrique is carefully judged. After vinification, the wines are matured in tank and barrel for eight months before bottling.
The rarest of the rare
Picardan is a leading contender for the title of France's most rarefied wine experience. With the notable exception of Tablas Creek in California, we are unaware of any winemaker producing a single-varietal expression from the grape. In the majestic vineyards of Châteauneuf-du-Pape, a handful of producers will blend a small percentage of the variety into their cuvées – these include Beaucastel and Château de Vaudieu. If you seek fame and ubiquity, we advise you to look elsewhere. Yet Picardan has long piqued our curiosity; Cellar Tours has asked several winemakers why they persist in growing Picardan, especially when so many regard it as superfluous to the appellation. The answer is always the same: "Because it's part of our legacy and this unloved grape has something to offer."
For our part, we've tasted mono-varietal Picardan just once – a winemaker passed over the sample to probe our reaction to this rare piece of Rhône history. It was impressive: perfumed and zesty, the wine offered lovely aromas of stone fruit, citrus, and garrigue. Bright and very fresh, it was obvious that Picardan could really enhance the top wines of Châteauneuf-du-Pape Blanc. This was confirmed later that evening when tasting a series of wines that incorporated the grape alongside several that did not. Picardan brings ripe acidity, freshness, and zippy vitality to a style that can sometimes be a little top-heavy. Is it indispensable? Probably not, but we still wish more producers would harness all that is wonderful about this tragically moribund grape.
Top producers of Châteauneuf-du-Pape Blanc (incorporating Picardan):