The French Basque Country holds many secrets, not least a smattering of indigenous varieties that seldom make international headlines. Chief among these is Courbu, known as Hondarrabi Zuri on the Spanish side of the border. In the verdant hills of Hondarribia and beyond, the grape is used to make Txakoli – this tongue-twister of a white wine is brimming with citrus fruit and bags of acidity. Poured from a great height by the old pros of San Sebastian and Bilbao, it offers a wonderful counterpoint to Basque cuisine – particularly fresh seafood. The only problem is that a glass slips down all too easily.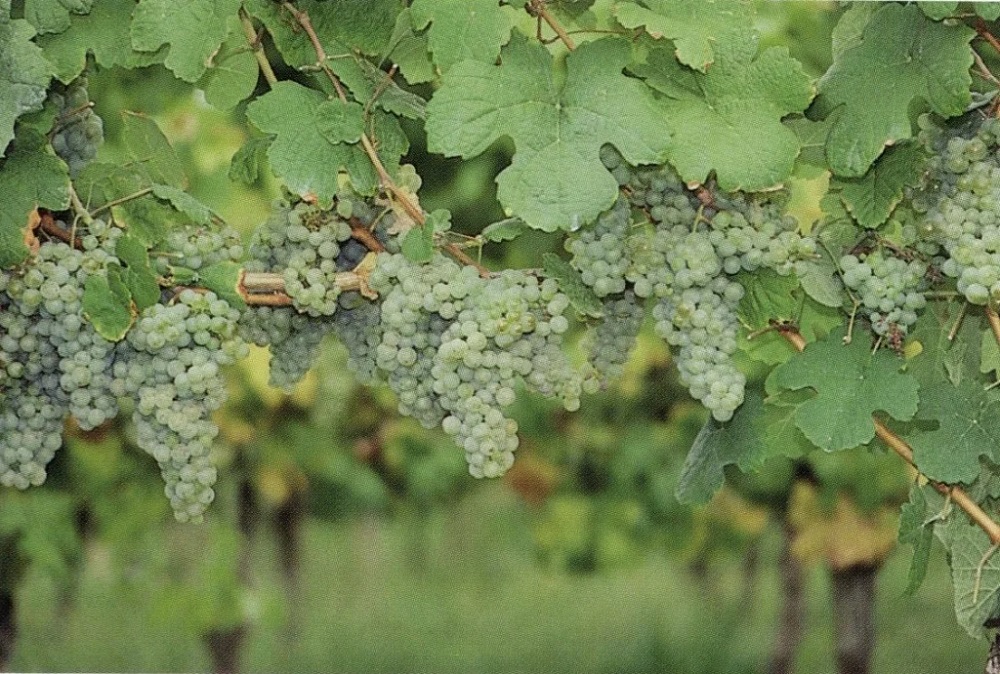 For centuries, both the French and Spanish Basques harnessed Courbu's high acidity to make a very light and refreshing style of white. Yet there is one key difference: although dry white wines from the French region of Irouleguy are not dissimilar to Txakoli, the French tradition also emphasizes making sweet wines out of Courbu, often blended with Petit and/or Gros Manseng. As far as local vignerons are concerned today, Courbu has a multitude of roles to play and should not be pigeonholed. But whether consumers feel the same, of course, is an altogether different matter!
Read more about French White Wine
History and viticulture
The subject of Courbu's origins has been heavily debated over the years. Spanish producers, naturally, like to believe that Hondarrabi Zuri is indigenous to the Pais Vasco, running from Irun on the border to the handsome city of Bilbao. However, viticulturists are skeptical (including growers without an intrinsic bias), arguing that the most likely birthplace is the foothills of the Pyrenees. Courbu is believed to have moved west and jumped across the border, becoming established as the Basque Country's premier white grape. Indeed, Los Vascos have been knocking back lunchtime glasses of Txakoli – served with delicious pintxos – for a long time!
At this point, there is more than one variety of Courbu. Almost genetically identical, Petit Courbu and Courbu Blanc are distinguished by a slight color differentiation in the vine's leaves; the latter takes on a slightly darker color after budding. Nevertheless, they deliver the same style of white wine. There is also a rare third variety grown in southwest France called Courbu Noir. Sadly, it is on the verge of extinction. Meanwhile, Courbu Blanc and Petit Courbu lived in splendid isolation for centuries; the Romans never managed to conquer this part of western Europe, so they never assimilated the Roman language and culture. However, the French Basque Country eventually fell under the control of the Plantagenet dynasty of England following the marriage of Edward I to Eleanor of Aquitaine.
The English magnates became very fond of the sweet wines of Gascony, shipped to the Low Countries via the thriving port of Bayonne – a rival to Bordeaux in everything but size. After the Plantagenet's rule ended in the 1400s, the region continued to prosper as a major center of agriculture and maritime trade. In the 18th century, an impressive fleet of Basque privateers not only shipped barrels of wine to northern Europe but also brought back untold riches from the New World. This part of southwestern France retained its local autonomy until the French Revolution of 1793; the monarchy was disposed of – both Louis XVI and his queen Marie-Antoinette were beheaded – and a short-lived republic was proclaimed. But regardless of these dramatic political shifts, Courbu Blanc and Petit Courbu remained an important part of the viticultural landscape of Gascony and the Pays Basque until the mid-1800s.
Then phylloxera ruined everything. Initially detected in the southern Rhône Valley in the 1860s, this poisonous louse (accidentally imported from the US) killed vines everywhere it went! Spreading from the Rhône into all corners of France, phylloxera devastated the wine industries of Bordeaux and Gascony. For a time, the situation appeared hopeless. Fortunately, growers eventually discovered a solution: American varieties had developed an inbuilt resistance to the disease, so European vines had to be regrafted onto the same rootstock. As a result, an unprecedented replanting program was initiated across France in the early 20th century.
However, only some variety were destined to be returned to its former glory. Many white grapes, such as Picardan and Courbu Blanc, were sidelined in favor of more productive varieties that were easier to grow. By the 1980s, Courbu Blanc and Petit Courbu were on the verge of extinction in Gascony and the Pays Basque, while plantings of Sauvignon Blanc were increasing exponentially. Their salvation, ironically enough, hinged on the values of the emerging generation rather than tradition-bound growers born in the mid-20th century. With regionality becoming all the rage, a younger firmament of producers returned Courbu to their vineyards, reclaiming a golden age of winemaking. Yet Courbu Blanc and Petit Courbu are relatively easy to grow. Although vines tend to produce an over-abundant canopy (unless they are rigorously pruned), Courbu is not renowned for its generous yields.
On the contrary: a healthy vine planted on a superior terroir will ripen small bunches laden with concentrated berries rich in acid and flavor. The warmer climate of Gascony lends itself to fruitier interpretations of Courbu Blanc compared to the tart hit of Txacoli. Nevertheless, grey rot can cause problems during wet vintages, albeit fungal diseases are far more commonplace along the Basque coast.
Winemaking
Courbu Blanc – and indeed Petit Courbu – lend themselves to both dry and sweet wine production. In the region of Jurançon, Courbu was traditionally used to add acidity and freshness to the gorgeous sweet wines of the appellation, typically blended with Gros and Petit Manseng. Meanwhile, winegrowers in the Basque vineyards of Irouleguy prefer their whites bone dry and brimming with ripe acidity – Courbu is once again indispensable in cutting through the richness of Gros Manseng. Yet Courbu almost never appears as a mono-varietal style, which is a great shame. Even the grape's advocates (generally) regard Courbu as one small piece of an ensemble drama. That is unlikely to change, at least in the short term.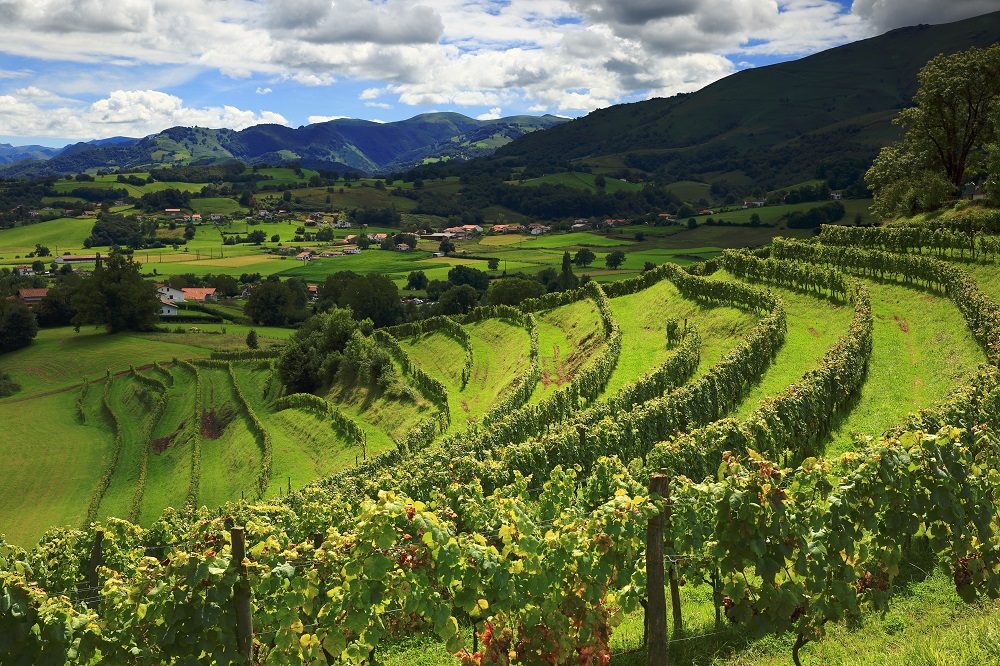 The lush green vineyards of Irouleguy in Southwest France
When producing dry whites, the utmost care will be taken to protect the grape's fruity aroma – sulfur dioxide is routinely added before fermentation, usually during the crushing stage. After the berries have been crushed – if this happens – they will be quickly pressed, and the juice is transferred into a tank for cold settling. This serves two purposes: solid materials (pulp, etc.) can fall to the bottom; the juice is chilled to preserve freshness and prevent spoilage. The juice may then be filtered before the primary fermentation begins. Stainless steel is the preferred vessel of choice, as it enables the temperature to be controlled with impeccable accuracy. However, certain producers still use old oak vats (foudres) for fermentation, although there will be no flavor pick-up from these ancient relics of a bygone age. In cooler vintages, the winemaker will encourage the onset of malolactic fermentation – this converts harsh malic acid into softer lactic acid. In addition, aging on the fine lees (dead yeast cells) is increasingly employed to add richness and texture to the final product. But it is quite rare for Irouleguy Blanc to be matured in new French barrique; new barrels can easily cost over 1000 euros per container nowadays! The wine will then be blended and bottled, ready for sale.
The resurgence of a new favorite
Victory has been snatched from the jaws of defeat in the vineyards of southwest France. After phylloxera devastated the wine industries of Gascony and Irouleguy, growers lost their way even after the widespread replanting program. That fact, combined with the virtual collapse of the market for sweet wines, severely dented the confidence of the post-war generation. Once cherished varieties like Courbu were ignored – or grubbed up – while this corner of France struggled to reinvent itself. Some banked on the popularity of Sauvignon Blanc to salvage their balance sheets – alas, the world does not need any more varietal expressions of this heavily planted grape.
Reinvigorated by the younger generation's passion, southwest France is betting on regionality and a sense of place, two things guaranteed to excite the sommelier circuit. As a result, the plantings of Courbu Blanc and Petit Courbu have increased in several appellations in recent years, adding verve and complexity to an expanding firmament of delicious white wines.
Nowhere is this more apparent than in a little-known gem called Irouleguy. Located 125 miles south of Bordeaux, the region encompasses 15 villages in one of the Pays Basque's most unspoiled and tranquil parts. Verdant, vine-covered hills come close to the Spanish border, making day trips to San Sebastian an obligatory weekend treat! Here, in this little corner of paradise, winegrowers blend Courbu and Gros/Petit Manseng to bring you fragrant whites of real class and refinement. As it stands today, they remain underpriced – a real bargain.
The consistent quality of Irouleguy Blanc can be traced back to the region's favorable terroir and climate. Soils rich in sedimentary limestone and red clay offer good drainage and water retention; summers are warm (but rarely too hot) with enough rainfall to prevent hydric stress during the crucial ripening stages of August/September. Meanwhile, cool nights help preserve the grapes' acidity, while Irouleguy is typically blessed with dry autumn weather – a real godsend at harvest time. This ensures that, in most cases, winegrowers can pick a very healthy crop of grapes packed full of acid and aromatic compounds. The results in bottle can be memorable: tangy and racy white wines bursting with flavors of nectarine, citrus, apricot, and green fruit. So if you're tired of the same old wine choices, you know where to look.
Top producers of blended Courbu wines:
Domaine Arretxea
Domaine Brana Harri
Domaine Brana Llori