A peaceful and idyllic town full of romantic canals that is all too often overlooked beside its more glamorous neighbor, Venice (just 30km south). Treviso is an amiable provincial capital whose calm waterways, elegant bridges, and arcaded streets offer a delightful contrast to Venice's buzz. Great shopping, varied architecture, and excellent northern Italian food and wine make this a perfect part of a culinary vacation. It's also nearby to Prosecco wine country, and a visit here can be included in a wine tasting excursion from Venice.
Begin your visit in the heart of the beautiful old city, the Piazza dei Signori, a busy square with cafés and imposing stone buildings, like the Palazzo dei Trecento (now the town hall). From here, you can head to the patchwork of architectural styles that is the Duomo (Cathedral). Unfortunately, the plaza stretching out in front of it is used as a parking lot, which detracts from the façade's allure. Also worth seeking out are the city's churches – especially elaborately decorated ones like the Church of San Francesco – and palaces like those once owned by the Rinald family. No matter where you wander, you will be able to enjoy the serene canals and effortlessly beautiful bridges that cross them.
Treviso can be included in a food and wine tasting itinerary of Northeastern Italy to also include Venice, Asolo, Bassano del Grappa, Verona, Valpolicella, and Friuli.
History
Although this area was settled even in ancient days, Treviso only appeared on the map when the Romans dominated it in 89 BC. After the fall of the empire, the city languished in a period of decline and suffered at the hands of the Barbarians. Nevertheless, it escaped destruction and, in the 6th century, acquired some importance when a mint was established here. During the Middle Ages, Treviso formed part of the Lombard League. The following centuries were marked by disputes between noble ruling families and the factions of papal loyalists (the Guelphs) and papal dissenters (the Ghibellines). Eventually, Treviso ended up as part of the Republic of Venice, the Serenissima's first mainland possession. Along with the rest of the Veneto, the city was annexed to the Kingdom of Italy in 1866. Much of the city was damaged during World War II bombings, but it has been restored to its former glory.
These days, Treviso is a prosperous manufacturing area and is the headquarters of firms like Benetton (which has a large store behind the central Palazzo dei Trecento) and DeLonghi. It offers excellent shopping opportunities, especially along the main drag, Via Calmaggiore, which runs between the central Piazza dei Signori and the cathedral, the Duomo. Treviso is featured in the best-selling book "The Broker" by John Grisham and is a must-read before visiting Treviso.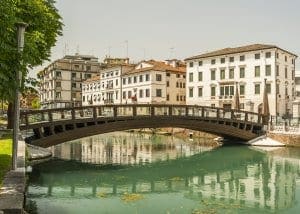 Gastronomy & Wine
Sandwiched between the Gulf of Venice and the Italian Alps, the Treviso province is surrounded by beautiful wine regions. Although no DOC-labeled wine is made in Treviso itself, you don't have to go far to find the DOCs Vini del Piave, Prosecco di Conegliano Valdobbiadene (such as the wonderful Villa Sandi and Bisol), Colli di Conegliano, Montello e Colli Asolani, and Colli Eugane. So many nearby wine producers keep Treviso stocked with a fabulous array of whites and reds, sparklings, and still wines. Fine Grappas are also made nearby.
Venetian Cuisine is world-famous and Treviso's location relatively near the Adriatic Sea makes seafood an obvious local specialty. Try dishes like fritto de mare (fried shellfish), baccalà (codfish), or risotto alle seppie (rice with cuttlefish ink). Other area specialties include wonderful cheeses like Asiago, Ubriaco ("drunk" cheese ripened in marc), Stracchino, and Casatella (from the plains), while Montasio and the colorfully named Bastardo del Grappa.
Treviso is especially known for its red chicory (radicchio trevisano) and wild, white asparagus ("bruscandoli," often served in risotto). One of the most delicious local recipes is Risotto al Radicchio. Risotto is huge here! Other dishes found in Treviso include Bigoli (thick spaghetti usually served with duck sauce), roast duck with polenta, Zuppa d'Arzo (barley soup), Risi e Bisi a classic Venetian dish of rice with peas) and Pasta e Fagioli (pasta with beans).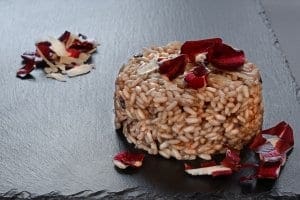 Highlights
Duomo

Originally a Roman church, Treviso's cathedral has been so modified and added to that only the gate dates to Roman times. Still, the Renaissance additions of a crypt, several chapels and sacred works by Titian and other artists, well merit attention.

Built-in the 13th century and later used as a stable by Napoleon's army; this early Gothic church boasts beautifully decorated chapels and several important frescos.

This stone bridge marks the confluence of the Canal Grande and the Buranelli Channels and is a symbol of the city.

Piazza Rinaldi

Home to a complex of three-palaces, dating to the 12th century, 15th century and 18th century, respectively, this piazza was once the seat of power of the Rinald family.

A 14th-century artist whose frescos dot churches and palaces across the city, Tomaso looms large here, and his work is nearly impossible to miss.

Basilica di Santa Maria Maggiore

Located on the lovely Via Carlo Alberto Street.