Lombardian Delights: Exploring the Best of Milan's Cuisine and Beyond
September 6, 2021
Estimated reading time: 23 minutes
The Essence of Lombardian Cuisine
Lombardy is a geographically and culinarily diverse landlocked region in northern Italy. Switzerland borders Lombardy to the north, followed by the Veneto and Trentino Alto-Adige to the east, Emilia-Romagna to the south, and Piedmont to the west. Geographically, the spectacular Lombardian landscape consists of three zones: a mountainous Alpine and a pre-Alpine zone in the northern territory near Switzerland; heading south, the Alpine foothills become more moderately undulating until the southern zone where alluvial plains meet the Po River. Historically, this central area of the Po River Valley was the center of trade between the Mediterranean and Alpine lands. Lombardy also encompasses several of Italy's well-known lakes, including Lake Garda, Lake Como, and Lake Maggiore. The city of Milan, world-renowned as a center for art, fashion, finance, and more, is the region's capital. The Lombardy region offers an abundance of experiences for every traveler, especially for foodies looking for a distinctive regional cuisine.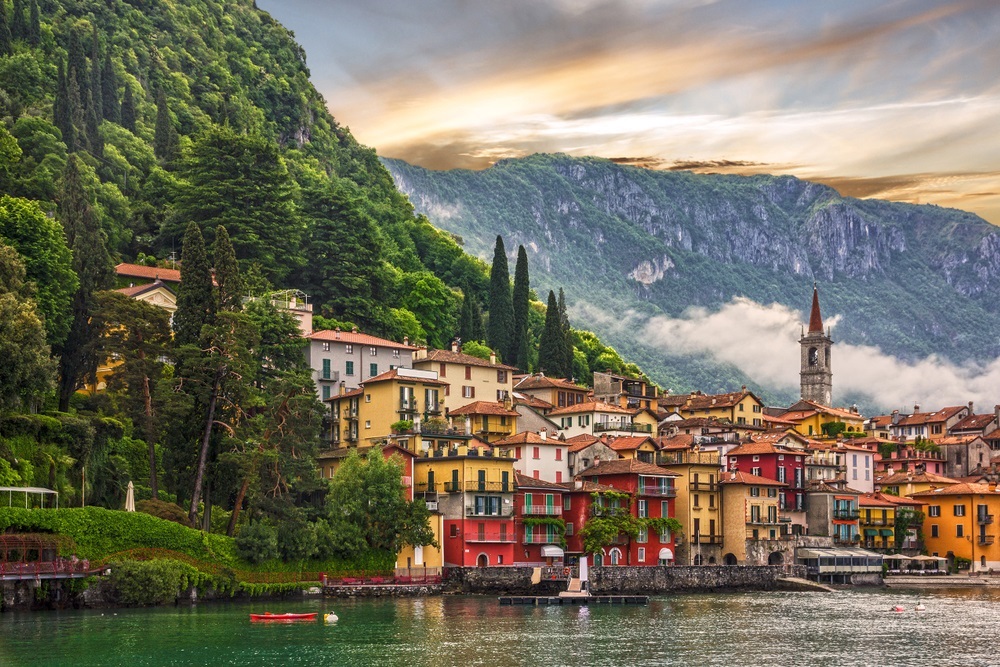 Guide to Italian Gastronomy and Cuisine: Read more
Lombardy's varied geography largely influences the region's culinary traditions. As a northern Italian region with Alpine influences, temperatures are decidedly cooler. Thus, Lombardian cuisine is bolder and heartier than more southern Italian dishes, consisting of staples like meat, butter, polenta, and rice. In addition, much of the land in the Po River Valley is used to cultivate rice, a prevalent ingredient in local and Italian cuisine. Polenta frequently appears in Lombardian kitchens and is often enriched with butter and cream. More northerly zones also utilize buckwheat for regional specialty pasta.
As one of Italy's leaders in industry and agriculture, Lombardy has always been a wealthier region. Therefore, Lombardian cuisine frequently features aged cheeses, premium cuts of meat, and flavorful spices. Home to sixty Michelin-starred restaurants, this Italian region is ideal for those who enjoy eating out.
On the fertile plains of the Po River Valley, agriculture centers mainly around rice, corn, wheat, sugar beets, and grazing feed for the region's multitude of beef and dairy cattle. At the same time, the higher plains near the region's center cultivate more fruits, vegetables, and cereals. In comparison, the Alpine foothills are afforded to vines, fruit, olives, and grazing lands for livestock.
Though Lombardian cuisine centers around meat and dairy, freshwater fish, such as perch, pike, freshwater sardines, missoltini, and carpione, are also savored, thanks to the region's lakes. While rice is the Lombardian carbohydrate of choice, stuffed pasta abounds in Brescia, Bergamo, and Mantua. Garda DOP olive oils are some of Italy's finest, known for their ripe, green, fruity flavor despite the region's affinity for butter. Produced near Lake Garda at the most northern latitude in the world for olive cultivation, Garda DOP oils are made with Casaliva, Frantoio, and Leccino varieties.
Lombardian Cheeses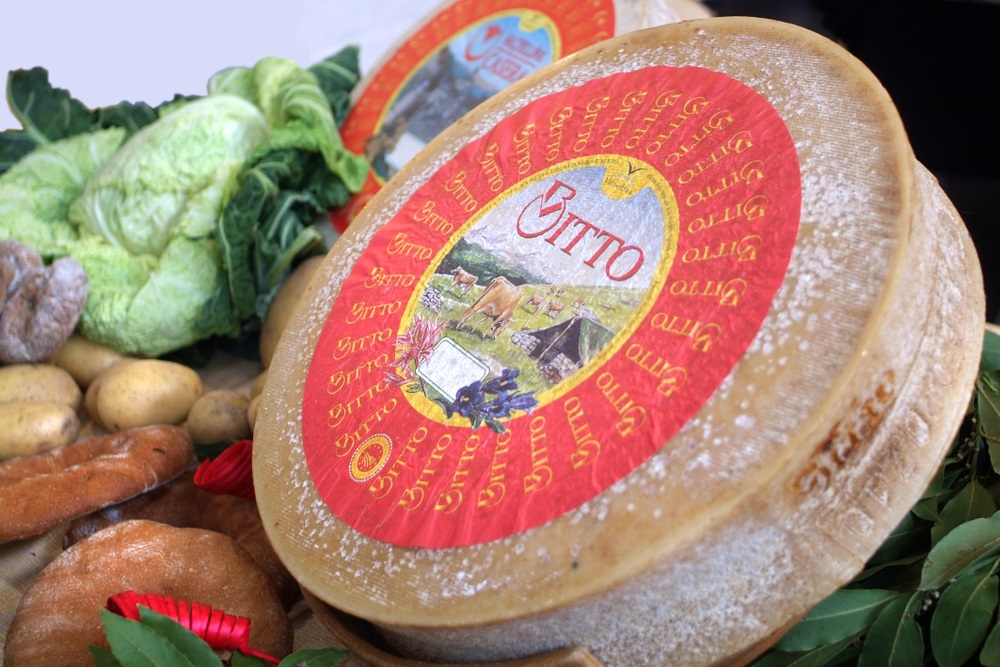 Lombardy is celebrated for its cheeses, boasting several examples of DOP and IGP-protected. The region's nutrient-rich alpine pastures in the north and near the northeastern lakes produce various flavorful mountain cheeses. Heading south towards the fertile Po River Valley, a more comprehensive range of unique Lombardian cheeses abound. In addition to making Grana Padano, one of the most famous Italian cheeses in the region, Lombardy has countless other regional cheeses worth exploring. The Slow Food Presidium recognizes several for their artisanal nature.
Gorgonzola DOP
Gorgonzola is one of the world's oldest cheeses, reportedly first made in 879 A.D. in Gorgonzola, a town near Milan. However, others believe the cheese originated in Pasturo Nella Valsassina, where natural caves offer consistent 6°-12°C temperatures ideal for cheesemaking. Gorgonzola is a creamy, soft white cheese characterized by streaks of blue-green mold, contributing to a spicy, tangy flavor. Different versions of Gorgonzola are made today, including a milder, sweeter Gorgonzola Dolce and a more piquant Gorgonzola Piccante. In Lombardy, Gorgonzola DOP cheese can be produced in Brescia, Bergamo, Como, Cremona, Lecco, Lodi, Milan, Monza-Brianza, Pavia, and Varese.
Taleggio DOP
Taleggio is a cow's milk cheese traditionally aged in the mountain caves of Val Taleggio. Today, Bergamo, Brescia, Cremona, Como, Lecco, Lodi, Milan, Monza-Brianza, and Pavia can all produce this washed-rind cheese under the DOP regulations. At the final stages of the production process, Taleggio is salted or washed in brine, forming the rind and the cheese's trademark pungent aromas. After a 35-day aging period, the soft yet solid cheese offers mild, tangy, fruity flavors with a subtle aftertaste of truffles.
Bitto
Recognized by the Slow Food Presidium, Bitto is only made during summer in the Valtellina Valley when there's grass for cattle to graze. Farming and cheesemaking have flourished in this area since Medieval times. The local farmers use the subsequent cow's milk and 10-20% goat's milk to make Bitto cheese. This ancient, artisanal cheese is first mentioned in commercial transaction documents dating from around 500 A.D. Probiotic starters are prohibited, meaning only naturally occurring, local alpine bacteria are used to make Bitto. This results in a variable product, with each wheel of cheese offering unique flavors. The cheese can be aged up to 10 years, depending on the percentage of goat's milk added. Unfortunately, there are only 12 producers today, making this cheese very rare and hard to come by. Therefore, visiting the Bitto Storico Center in Gerola Alta is a must for cheese lovers.
Bagòss di Bagolino
Bagòss di Bagolino is a traditional cheese hailing from Bagolino in upper Brescia's Val di Caffaro. Only 28 farms in Bagolino produce this cow's milk cheese using traditional methods, such as a wood-burning fire and large copper pots. Notably, cheesemakers add a teaspoon of saffron during curd-breaking, lending to a distinctly flavored cheese. Though saffron is not a local product, it speaks to the history of this Alpine town, which formerly bordered the Republic of Venice, where saffron was widely traded. Highly regarded by the Slow Food Presidium, Bagòss matures for 10-12 months, resulting in a more complicated, flakier texture and complex flavors of saffron and hay.
Bella Lodi
Characterized by a black rind, Bella Lodi is a cow's milk cheese made by a single dairy farm for more than 100 years located in the protected reserve of Adda Sud Park. After an eighteen-month aging period, the rind is coated in clay, carbon, and grapeseed oil to create its trademark black color.
Valtellina Casera DOP
The typical cheese of Valtellina Valley in the province of Sondrio, Valtellina Casera, is a partially skimmed cow's milk cheese aged at least 70 days whose subtly sweet flavor becomes more intense with age. This table cheese is used in regional dishes like pizzoccheri and sciatt.
Pannerone
A rare cheese from the province of Lodi laureled by the Slow Food Presidium, Pannerone is a full-fat, fresh, or short-aged cow's milk cheese with a semi-hard texture. The cheese is named after the local dialect for cream, pànera, as it's made using cream and milk fat without adding salt, resulting in a bittersweet flavor. Notably, Napoleon's troops were famously nourished by energy-inducing Pannerone before the battle of Lodi.
Formai de Mut dell'Alta Val Brembana DOP
Formai de Mut dell'Alta Val Brembana is a semi-cooked, full-fat mountain cheese from Val Brembana made with raw, whole cow's milk, which ages a minimum of 45 days on classic wooden shelves or scalere.
Quartirolo Lombardo DOP
Quartirolo Lombardo is produced throughout Lombardy, except for Mantua, Monza-Brianza, and Sondrio. This cow's milk cheese links the Po plain's agricultural customs and the region's pre-Alpine valleys. Quartirolo refers to the fourth cut of grass the cows graze on at the end of summer. The tenero version matures for between 5 to 30 days only, while the maturo designation requires 30 days or more maturation.
Fatulì della Val Saviore
Also prized by the Slow Food Presidium, Fatulì della Val Saviore is a rare cheese made from the milk of Adamello blonde goats, a breed native to the Val Saviore region. Produced by a single dairy farm, this goat cheese is smoked with juniper wood and aged six months, resulting in unique herbaceous and smoky flavors.
Lombardy's Cured Meat Specialties

Bresaola della Valtellina IGP
The true bresaola originates in Valtellina, where the prized topside cut of beef and the flank and silverside cuts are used to make this specialty. First, the meat is trimmed lean and then rubbed with a spice mixture, which varies by the producer but can include salt, juniper, garlic, clove, cinnamon, and other herbs. Next, the beef is stuffed into a natural casing, dries for a week, and then matures for a four-to-eight-week period. Quality bresaola is characterized by its bright red color and delicate flavor and is typically served on its own in Valtellina. However, you'll also find it served with a splash of olive oil and shavings of Parmigiano Reggiano.
Salame Cremona IGP
The production area for Salame Cremona IGP includes zones in Lombardy, Piedmont, Emilia-Romagna, and the Veneto. This pork salame is seasoned with salt and garlic. Smaller versions must be aged for a minimum of five weeks, whereas larger ones require a four-month minimum aging period.
Salame d'Oca di Mortara IGP
The province of Pavia produces salame d'oca mainly within the town of Mortara. Traditionally, the salame was made only from goose meat. It originated within a sizeable Jewish community in Valle Lomellina, seeking traditional recipes that met kosher requirements. Today, the salame is made from a mixture of goose, pork, pepper, spices, and herbs stuffed in a casing of goose skin. Salame d'Oca di Mortara is appreciated for its delicate, mild flavors and succulent texture.
Lombardian Bread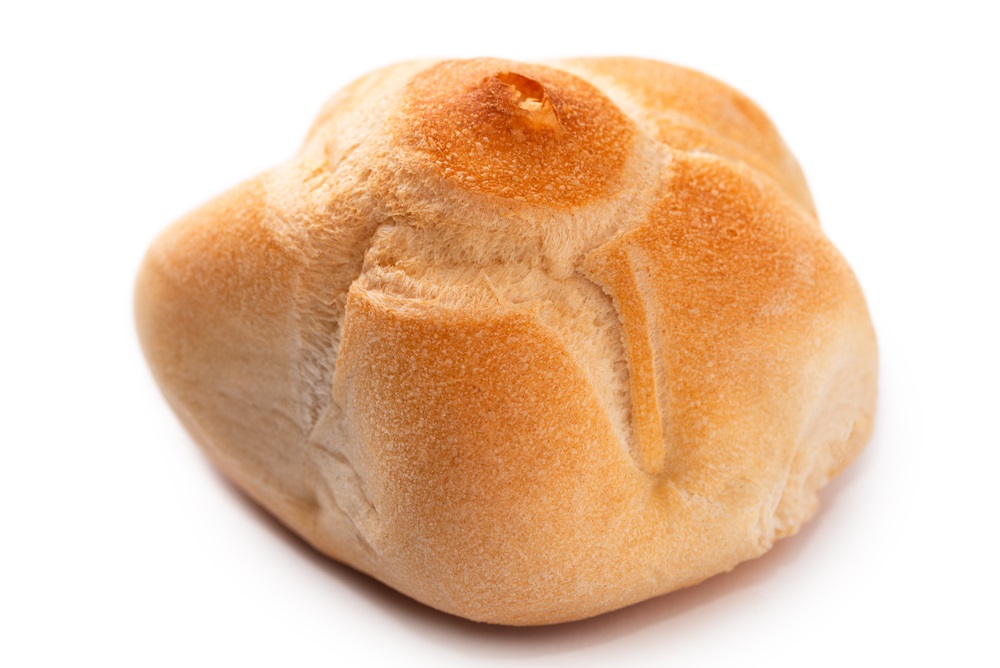 Schiacciatina Mantovana
Schiacciatina Mantovana is a crunchy, square-shaped flatbread from the province of Mantua. Also known as chisolina, the ancient bread originated in the peasant traditions of the province when the Gonzaga family ruled the area between the 14th and 18th centuries. Called schizzadas at the time, the farmers would bring schiacciatina to the countryside for sustenance during a long day's work. Traditionally, schizzadas dough was made from flour, water, and salt, then cooked under the hearth's ashes; today, it is made from flour, water, yeast, salt, lard, and olive oil.
Michetta
Once the characteristic bread of Milan, michetta was born from the influence of the Austro-Hungarian Empire's crusty, round Kaiser roll. The heavy, full dough of the Kaiser roll wasn't suitable for Milan's humid climate. So, local bakers developed michetta, which had a similar shape and crunchy exterior yet a hollower interior. The michetta rolls are printed by hand using a unique tool to resemble the form of a rose. Typically, they were filled with mortadella, other cured meats, or omelets for local workers' picnic snacks or lunchtime meals.
Unique Condiments from Lombardy

Mostarda di Frutta
Traditionally served in winter to accompany meat dishes, mostarda di frutta is a unique candied fruit condiment from Nordic regions. In the seventeenth century, its popularity spread to the province of Mantua and even more prominently to Cremona. It's prepared using mixed fruits, sugar, and mustard essence, which is particularly spicy. The popular mostarda di Cremona features tangerines, cherries, pears, apples, figs, apricots, and peaches.
Sciatt Valtellinesi
Sciatt Valtellinesi features the flavors of Valtellina Valley. Their unique name is derived from the local dialect for toads, referencing their unique shape. These fried fritters are made from a batter of buckwheat, beer, grappa, and cubes of the local Valtellina Casera cheese. Once fried, sciatt is served on a bed of dressed chicory for an antipasto or primo piatto.
Mousse di Bresaola
For aperitivo in Valtellina, you may also encounter mousse di Bresaola, a creamy spread featuring the area's famous cured meat specialty. Mousse is made with chopped bresaola blended with butter, creamy cheese like ricotta or mascarpone, cream, olive oil, salt, pepper, lemon zest, and brandy. Mousse di Bresaola is enjoyed spread over toasted bread.
Must-Try Risotto Dishes in Lombardy

Risotto alla Milanese
The first recipes mentioning this flavorful risotto are found in cookbooks from the early 1800s. However, a widespread legend recounts how Risotto alla Milanese was first created in 1574. Master glassmaker Valerio of Flanders had nicknamed his assistant Zafferano because the young man put saffron on everything. He even used saffron to stain glass for Milan's Cathedral. Zafferano was set to marry Valerio's daughter, so as a joke, his friends prepared a risotto using saffron, and the dish ended up being a huge success.
Regardless of its history, risotto alla Milanese is one of Lombardy's signature dishes. To make this creamy risotto, the rice is cooked in bone marrow with onions before adding rich beef stock, saffron, butter, Parmigiano Reggiano, and white wine to further flavor this luxurious risotto.
Risotto alla Certosina
Typical of the province of Pavia, risotto alla Certosina is a lavish dish combining flavors of freshwater lakes and the Lombardian terrain. Crayfish and frog legs star in this risotto flavored with fish stock and other ingredients like carrots, peas, mushrooms, celery, onion, garlic, white wine, and butter.
Risotto alla Pilota
Risotto alla pilota originated amongst the laborers of the rice fields in the province of Mantua. It's named for the laborer in charge of the pila or the mortar used for cleaning rice. Rather than a typical creamy risotto, this dish features a drier, grainier risotto, which can be kept and reheated over several days to suit the laborers' lifestyle. To prepare, the rice is cooked in boiling water, and once cooked, Parmigiano Reggiano cheese and sautéed sausage meat are added. A variant of risotto all pilota called col puntèl also sees a pork chop added.
Risotto con le Salamelle
Ideally prepared with salame from Cremona, risotto con le salamelle is made by first sautéing onions, chopped salame, and butter. Next, rice is added and stirred in the pan to toast until it becomes fragrant. Then, chicken or beef stock is slowly added to the pan with constant stirring until the risotto is cooked al dente. Risotto con le salamelle is sprinkled with Parmigiano Reggiano to finish.
Risotto Pavese
From the province of Pavia, risotto Pavese highlights the borlotti beans as the star ingredient. Onion, carrot, celery, white wine, butter, Grana Padano, and parsley help make this flavorful, hearty dish from simple ingredients.
Lombardian Primi Piatti

Tortelli di Zucca
Zucca, or pumpkin, is a prominent ingredient in the kitchens of Mantua throughout the autumn and winter. Tortelli di zucca is one of the province's most beloved dishes featuring this seasonal ingredient. The tortelli highlights sweet, sour, and sumptuous flavors, a combination popular when the House of Gonzaga ruled Mantua. The rich tortelli filling contains zucca, Mantuan pear mustard, crumbled Amaretti, Grana Padano, nutmeg, salt, and eggs. An egg pasta envelopes this luxurious filling for a decadent primo piatto.
Casoncelli
Casoncelli is a half-moon-shaped ravioli whose recipe varies from one Lombardian province to the next. The original recipe was created to utilize any leftover meat from previous meals. Generally, a meaty beef and pork mixture fills the ravioli, served in a sauce of butter, sage, and a generous helping of grated cheese. In Bergamo, the province best known for the dish, amaretti biscuits, and raisins add sweet contrast to the savory casoncelli filling.
Tortelli Cremaschi
A stuffed pasta hailing from the commune of Crema within the Cremona province, tortelli cremaschi are prepared with a handmade pasta dough of white flour, semolina, eggs, olive oil, and salt. Their scrumptious filling consists of cocoa amaretti called Amaretti Gallina and biscotti mostaccini. In addition, raisins, grated Grana Padano, egg yolk, nutmeg, mint, candied lemon, and Marsala wine make up the filling. Finally, they are topped with a sauce of melted butter, sage, and grated cheese; tortelli cremaschi packs a flavorful punch with ingredients unique to Crema.
Marubini
Another Cremonese recipe, marubini, is a stuffed egg pasta filled with meat, breadcrumbs, Grana Padano, and egg yolks. They are cooked in three different boiling broth types made with beef, pork, and chicken. The meat used to make each of the broths is repurposed into the filling for the marubini. They can be served with broth and a cheese sprinkle or drained from it and served with butter and cheese instead.
Pasta al Mascarpone
You'll find the simple pasta al mascarpone in the Lodi province. It's made from a flat pasta called maltagliati. Creamy mascarpone is the base of the pasta sauce, whisked with egg yolks, salt, nutmeg, and a splash of pasta water. The result is a lavish sauce that beautifully coats the maltagliati pasta.
Pizzocheri
In the northern Lombardy zone of Valtellina, where buckwheat is a widely savored ingredient, you will find pizzocheri pasta. The pasta is made predominantly with buckwheat flour and a smaller portion of white flour and water. After mixing the dough, it's rolled out and cut into short strips. Other ingredients that highlight the Alpine nature of the dish include cubes of potatoes and savoy cabbage boiled in salted water, then combined with the cooked pasta and sprinkled with Valtellina Casera and Parmigiano Reggiano cheese. Finally, browned butter flavored with sautéed garlic is poured over the pizzocheri before serving for a rustic, wholesome pasta dish.
Zuppa alla Pavese
Zuppa alla Pavese is quintessential soup of cucina povera traditions in the province of Pavia. Legend has it the simple soup was initially made to nourish King Francis I of France when he was taken captive after his defeat in the Battle of Pavia. Zuppa alla Pavese is prepared by poaching an egg in beef, or chicken broth spooned over toasted bread. The simple soup is topped with grated Parmigiano Reggiano to serve.
Minestrone alla Milanese
Minestrone alla Milanese is a hearty Lombardian vegetable soup. The inclusion of rice, lard, and pork rinds is what characterizes the minestrone as Milanese. As far as vegetables go, this soup boasts zucchini, borlotti beans, tomatoes, onion, carrots, celery, potatoes, and a blend of herbs and spices for a healthy, flavorful primo piatto in Lombardy.
Minestra Sporca
Minestra sporca is typically served in Brescia as a first course leading to the province's classic spiedo, or roasted meat skewers. Known as 'dirty soup,' this rustic dish combines chicken and rice, enhanced with chicken giblets for a deeper, richer flavor, embodying the essence of traditional peasant cooking. Vegetables like onions, carrots, and potatoes also flavor the dish.
Polenta Uncia
Originating in the provinces of Lecco and Como, polenta uncia, or greasy polenta, features a decadent preparation of this regional staple. High-quality mountain cheeses and butter are essential to the dish's success, plus garlic and sage are added to savor this high-calorie classic further.
Mouthwatering Secondi Piatti in Lombardy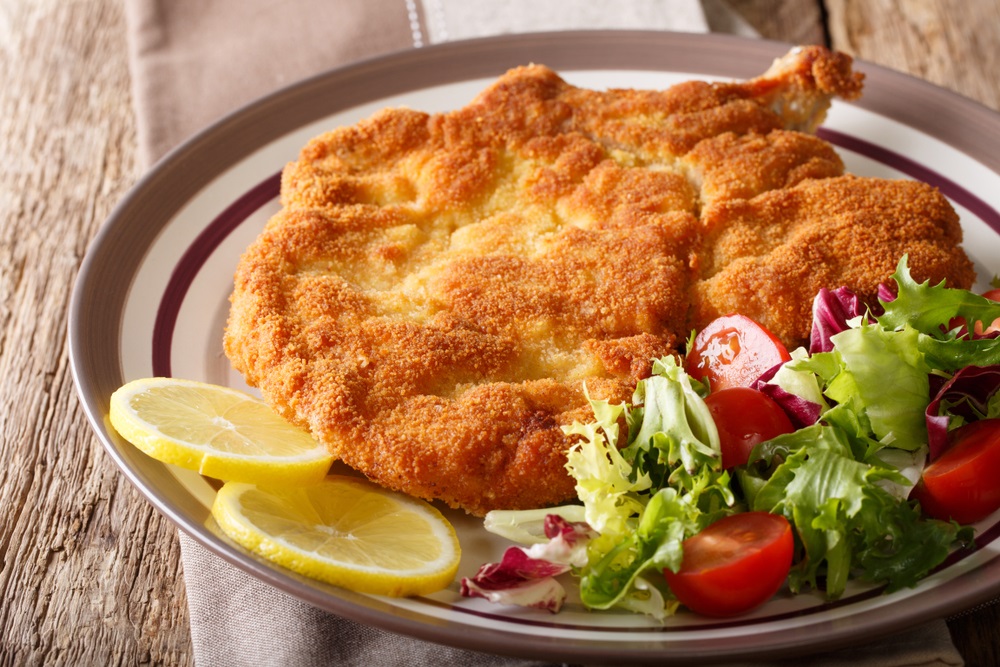 Veal Milanese
Perhaps one of Lombardy's most famous main courses, veal Milanese, also known as cotoletta alla Milanese, is reminiscent of an Austrian Schnitzel. However, it's distinctly Lombardian, considering the choice of meat. Veal Milanese is a veal cutlet coated in flour, eggs, and breadcrumbs. The breaded cutlet is pan-fried in butter until golden brown and served with fresh lemon wedges.
Ossobucco alla Milanese
Another contender for a regional favorite, ossobuco alla Milanese, is aptly named for the veal shank used in the dish. Ossobucco includes the bone and marrow, providing sumptuous flavors to the dish. The veal shank slowly simmers with broth, onions, celery, carrots, butter, white wine, salt, and pepper. Ossobucco alla Milanese is served with a gremolata of fresh chopped parsley, garlic, and lemon zest. Risotto alla Milanese is a classic primo piatto to serve with the dish. Alternatively, ossobuco alla Milanese is exceptional alongside a creamy polenta.
Cassoeula
An ancient Lombardian recipe, cassoeula is a pork and cabbage stew ideally served in winter. Its name probably comes from the spoon traditionally used to make the stew called a casseou. This plate is prepared with cassoeula, pork ribs, feet, snout, and cutlets slowly braised, along with carrots, onion, celery, and white wine. The broth is periodically added, along with cabbage and salami verzini, for a hearty, filling dish traditionally served in January for the Feast of Saint Anthony. The poor version of this dish is called verzata and only includes cabbage and pork rinds.
Uccelli Scappati
One of Brescia's most popular dishes, uccelli scappati, is not made with birds, as the name would suggest. Instead, pork or veal is stuffed with sage, wrapped in pancetta, and placed on skewers. The skewers of meat are then sautéed in brown butter and wine and then served with polenta. Uccelli scappati means escaped birds and is so named because game bird hunters traditionally prepare the dish when they have an unsuccessful bird hunt and are forced to turn to other meats.
Spiedo Bresciano
In Brescia, especially around Lake Garda, spiedo Bresciano is made with pork, beef, chicken, or rabbit skewered between pieces of potato and sage. Drizzled with butter and seasoned with salt, the skewers slowly roast over an open flame until the meat is tender and juicy. Historically, the spiedo were also made with the meat of game birds.
Manzo all'Olio
Beef, or manzo, is widely savored throughout Lombardy, and manzo all'olio is a classic preparation from Brescia, especially prominent in the Rovato area. The dish calls for a cut of beef called the priest's hat, which is the shoulder cut. Anchovies, garlic, parsley, capers, and onion are minced and sautéed along with the beef. Equal amounts of olive oil and water are added to the pan to cover the meat, which cooks slowly for a couple of hours until the amount of liquid has reduced by half and the meat is tender. The remaining sauce can be spooned over the sliced meat when serving.
Faraona al Mascarpone
Faraona al mascarpone is a guinea fowl dish from south Lombardy. The guinea fowl is first seasoned with salt and pepper, then stuffed with mascarpone cheese to prepare the dish. Next, oil, butter, white wine, carrots, onion, celery, and seasoning are added to a pot along with the guinea fowl. Everything is slowly simmered over low heat until the guinea fowl is cooked. The remaining liquid and cooked vegetables are usually puréed and served as a sauce alongside the bird.
Fagiano alla Milanese
Another Lombardian game bird dish, fagiano alla Milanese, involves an elaborate pheasant preparation:
The bird is seasoned with salt and pepper and browned in butter in a casserole dish.
Ground pork, pheasant liver, and shallots are flavored with cloves, cinnamon, and nutmeg and added to the casserole. White wine and stock are also added.
The pheasant and accompanying ingredients are slowly cooked over low heat until the pheasant is tender.
The remaining liquid and ingredients are blended to make a serving sauce and mixed with cream for added richness.
Busecca
Busecca is a tripe dish from Milan with peasant origins. It was mainly eaten around Christmas by the region's poor, who would gather in the stables after midnight Mass at church to enjoy busecca together. There are many variations, but generally, busecca is made with a soffrito of onion, carrot, fried pancetta, butter, sage, juniper, and cloves. Once these ingredients have cooked together, the tripe is added with tomato sauce, water, and borlotti beans. Busecca simmers until reaching a thick consistency, then is served with toasted bread and topped with grated cheese.
Mondeghili
Mondeghili are the Milanese take on le polpette, or meatballs. Their name derives from the Spanish albondigas and the Arab al-bunduck. Rather than a spherical shape, mondeghili has more of a flat, rolled form. They were brought to Milan by the Spaniards during their 150-year reign over the region. Mondeghili is made with a mix of different meats, including boiled beef, sausage, and mortadella di fegato (liver mortadella). Next, stale bread soaked in milk, grated Grana Padano, parsley, eggs, salt, pepper, and garlic are also included in the mondeghili mixture. Once shaped, the mondeghili are coated in breadcrumbs and fried in butter.
Rustìn Negà
Rustìn negà, literally translating to drowned roast, is another veal dish from Milan. The veal cutlet includes both the sirloin and filet attached to the bone. It's lightly dredged in flour before searing the veal in a pan with butter, pancetta, and aromatic rosemary sprigs. Next, white wine is added to the pan, and once evaporated, the meat is covered with a flavorful broth. Traditionally, the long cooking process took place over the coals of the hearth in a copper pan called a stuin.
Rane alla Camuna
In Brescia's Camonica Valley, they savor frogs in a dish called rane alla camuna:
The frogs are fried in butter along with onions, milk, salt, and pepper.
They are removed once cooked, and a bit of flour is added to the pan to create a thicker sauce. Once condensed, the frogs are added to the pan and simmered with the sauce.
Before serving, beaten egg yolks are poured over the frogs, and the rane alla camuna is served with a side of polenta.
Polenta e Missultin
Missultin, or missoltini, is a fish prominent in Lake Como. Once caught, they are salted and dehydrated under the sun. Then, they're conserved on a bed of laurel leaves in a wooden box called a missolta, hence the fish's name. Finally, the missultin are grilled to eat and served with slices of grilled polenta greased with butter.
Dolci from Lombardy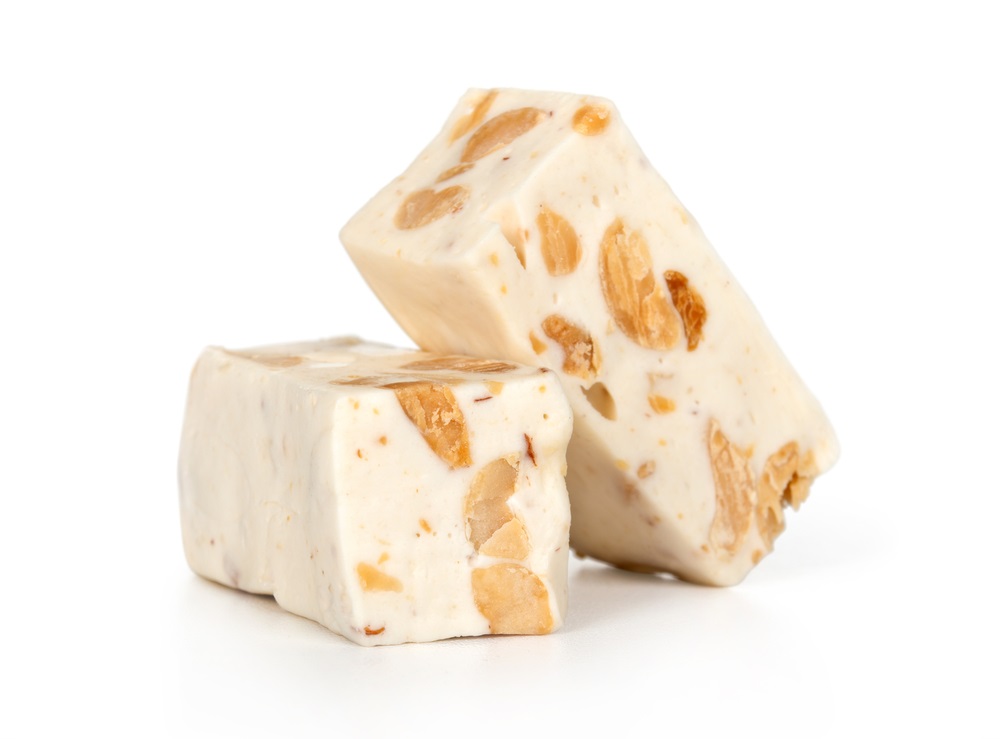 Panettone
Created in Milan, panettone is a classic Christmas sweet bread famous throughout Italy and worldwide. The festive bread is typically studded with candied orange and raisins, though countless variations exist today. Several legends recount the origin story of panettone, yet its true history is unknown. One such tale tells how a poor scullery cook named Toni saved the day in the court of the Duke of Milan. His boss burned a cake intended for the Duke's holiday feast. So, Toni used a sourdough starter he saved for his Christmas meal to make a sweet bread enriched with raisins and candied orange. The bread was a hit, and the Duke named the bread pane di Toni, or bread of Toni, which eventually became panettone.
Colomba Pasquale
Colomba Pasquale is another festive sweet bread from Milan typically served around Easter. Its shape resembles a dove, so the bread is named Easter dove. The spongey bread is studded with candied fruit and topped with sugary sprinkles.
Torrone
Torrone is a sweet nougat treat widely enjoyed throughout Italy, likely originating in Cremona. A 12th-century scholar named Gerardo of Cremona discovered turun in Arab texts he was studying and introduced the nougat to his home region. In Cremona, torrone includes vanilla, candied lemon peel, lemon zest, and almonds or hazelnuts. The city even hosts a festival dedicated to Torrone for a few weeks every November.
Stracciatella
If you've ever eaten gelato in Italy, you've likely encountered the delicious Stracciatella flavor. Enrico Panattoni first created it at Ristorante La Marianna in Bergamo. He was inspired by a soup of the same name made by cracking eggs into a hot broth. But instead, for the gelato, he broke pieces of chocolate into ice cream made of milk, cream, and sugar.
Torta Paradiso
Torta Paradiso was first developed in Pavia by a friar from a nearby monastery. After tasting the cake, the other friars at the monastery of Certosa di Pavia bestowed the paradise cake name on the dessert. The light dough is made only from sugar, butter, and flour. Today, torta paradiso is often filled with various custards, creams, or spreads.
Torta Sbrisolana
In Mantua and Cremona, torta sbrisolana is a crumb cake traditionally made for Carnival. Though today, it's savored year-round. Once considered a poor man's cake, it was formerly called the cake of three cups because it's made with one cup each of cornmeal, wheat flour, and sugar combined with lard or butter, whereas Cremona includes walnuts.
Wines of Lombardy
Northern Italy often conjures thoughts of Piedmont for wine enthusiasts, but there's much more to discover beyond the Langhe and Monferrato hills southeast of Turin. To the south and east of Milan lies a collection of vibrant wine appellations that have, until recently, remained relatively undiscovered. It's a curious irony that Milan, a glamorous and trendsetting city, is at the heart of this lesser-known wine region, often overshadowed by the likes of Piedmont, Tuscany, and Trentino-Alto Adige. Nevertheless, Lombardy has some outstanding wines today, including luscious reds, structured whites, and exceptional sparkling varieties. Due to its multicultural history, the region's northwestern influence leans toward contemporary ideas rather than strict tradition. Exploring a bottle of Franciacorta, crafted exclusively from French grapes, offers a glimpse into Lombardy's winemaking's exciting and innovative spirit.
More information
If you would like us to customize an exclusive luxury tour, contact us and let us know your travel plans. We offer luxury food and wine tours for private groups of a mininium two guests. In addition, all of our private, chauffeured tours are available year-round upon request.
Cellar Tours
Welcome to Cellar Tours, the premier Luxury Travel Specialist since 2003. Our goal is to provide you with the ultimate food and wine vacation experience, with exclusive Mercedes chauffeured tours that showcase the best of local cuisine and wines.
Our team specializes in crafting bespoke, custom-designed vacations, events, and incentives tailored to your unique tastes and preferences. Travel is not just about seeing new places - it's about creating unforgettable memories and indulging in the finer things in life.
As members of Slow Food, OTAVA (Travel Agency Association in Spain), and the IACP (International Association of Culinary Professionals), we promote sustainable tourism and support local communities. We work closely with top-rated hotels, restaurants, and wineries to provide you with the highest level of service and attention to detail.
Whether you're planning a romantic getaway, a family vacation, or a corporate retreat, let Cellar Tours be your guide. With our passion for food and wine, extensive knowledge of local culture, and dedication to exceptional customer service, we're confident we can exceed your expectations.
Contact us today to start planning your dream vacation – we can't wait to hear from you!