Andalusia is a vibrant Spanish region encompassing the southern coast of Spain. Both the Atlantic Ocean and the Mediterranean Sea uniquely influence the region. Its vicinity to these waterways and position on the gateway to the Mediterranean historically meant numerous civilizations left their mark on Andalusia. For example, the Romans imparted their wisdom in cultivating vines and wheat, whereas the Arabs taught the Andalusians methods for farming an array of fruits and vegetables. Beyond gastronomy, other cultures, including the Phoenicians, Carthaginians, and Greeks, further influenced the arts and customs of the region. Yet when it comes to Andalusian cuisine, spirited flavors and dynamic ingredients unite in a melting pot of authentic Spanish recipes.
Read more about Spanish Cuisine
You can explore this region of Spain with Cellar Tours on a private Luxury Food and Wine Vacation, dine in the best local restaurants, and enjoy VIP tastings in the top bodegas.
Andalusian Cuisine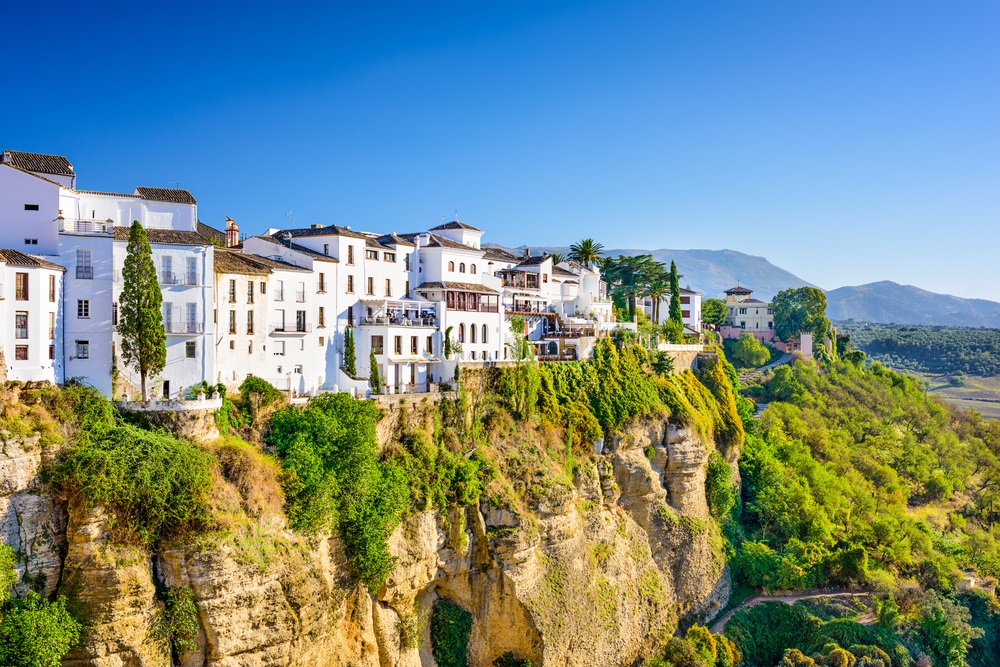 Eight different provinces make up the region of Andalusia. Almeria, Malaga, Granada, Cádiz, Huelva, Sevilla, Cordoba, and Jaen each have their own specialty dishes. However, all these provinces embrace seasonal ingredients and utilize the regional bounty of seafood and land-based meats.
Fruits and Vegetables
Thanks to Arab irrigation innovations and the region's diverse landscape, Andalusia grows a wide range of produce. Artichokes, early potatoes from Motril, broad beans from Jaen, and asparagus from Huétor Taja are all noteworthy. Moreover, these irrigation systems fundamentally improved olive tree cultivation in the region, thus enhancing Andalusian olive oil production and allowing Andalusia to climb to one of the world's leading olive oil producers.
Though olive oil is made throughout the region, only the best examples are produced under a designation of origin, such as the exceptional Spanish olive oils of Sierra Magina and Sierra de Sigura in the province of Jaen. Baena and Priego de Córdoba oils from the province of Cordoba also stand out for quality and are utilized to fry a variety of foods and garnish countless dishes; olive oil is a quintessential ingredient in Andalusian cuisine.
For fresh fruits, look to the sweet mountain oranges from Cordoba along with pomegranates, prickly pears, figs, and persimmons. In addition, Alpujarra grows fragrant strawberries, and along the coast, from Granada to Malaga, you'll encounter subtropical fruits like mangos, papayas, guavas, and avocados.
Andalusian Cheeses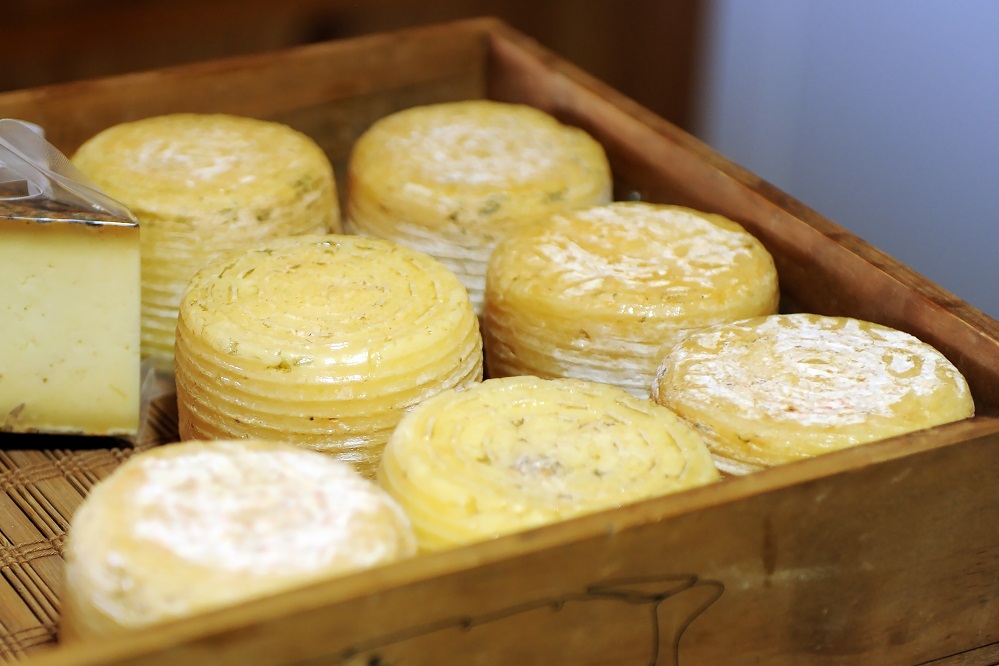 Payoya goat cheese from Sierra de Grazalema
Andalusian cheeses are distinctly regional because they are made with milk from native breeds of goats and sheep. The region is Spain's preeminent goat milk producer and is home to six different breeds of goats. These include Malaga, Blanca Andaluza, Florida, Murciano-Granadina, Negra Serrana, and Payoya breeds. There are also two sheep breeds in Andalusia: Segura and Merina. Cheesemakers are concentrated amidst the hillsides of Andalusia, where over 80 dairies are distributed. Most Andalusian cheeses are artisanal and handmade in small local cheese shops or village cooperatives. Here is a selection of the most popular cheeses to try while in Andalusia:
Payoyo – is a cheese made in Grazamela using milk from the Payoya goat.
Montes de Málaga – produced by a cooperative in the small village of Colmenar near the Montes de Málaga Natural Park.
Monte Robledo – a sheep cheese from the Huelva Andévalo farms, sometimes seasoned with rosemary, paprika, raisins, or honey.
Doñana – a highly flavorful cheese thanks to the nutrient-rich grasslands on which the goats graze amid the Coto Doñana National Park
El Bosqueño – handmade sheep cheese which becomes more intense with age made in El Bosque, Cádiz.
Blanca Serrana – is a cured or semi-cured cheese from the milk of Malaga goats.
Andalusian Wine & Spirits
Like most Spanish regions, Andalusia produces a variety of wines. Undoubtedly, Sherry is the most famous Andalusian wine made in the town of Jerez just inland from the coast in the province of Cádiz. Sherry is a fortified wine considered an acquired taste by some. Almost all Sherry is made using the Palomino Fino grape, which grows in chalky white albariza soils of the region. The unique solera system produces Sherry via oxidative or biological aging. The latter is made possible by the native flor yeast that forms a protective layer over the wine while aging. During this process, the wines develop distinctive flavors for which Sherry is known. There are numerous styles of Sherry with differing flavor profiles, including fino, manzanilla, amontillado, and oloroso. Learn more about how Sherry is made and the countless styles available here.
In addition to Sherry, Andalusia also produces red and white wines. 70% of regional production is made under one of six Denominations of Origin encompassing both Sherry and other styles of wine. Look out for these D.O.'s for an authentic taste of Andalusian wine while traveling through the region: Condado de Huelva, Jerez-Xérès-Sherry,  Manzanilla de Sanlúcar, Montilla-Moriles, and Málaga y Sierras de Málaga.
If wine nor Sherry suits your taste, then perhaps Jerez Brandy will be for you. Made in Jerez de la Frontera, Sanlúcar de Barrameda, or El Puerto de Santa María, Jerez Brandy is aged in oak barrels. It's typically 36-45% ABV and is produced under Solera, Solera Reserva, or Solera Gran Reserva designations.
Andalusian Tapas
Spanish tapas were created in Andalusia. Therefore, no trip to the region would be complete without hopping from one lively tapas bar to the next with the locals. Tapas is derived from the Spanish word meaning "to cover" in reference to how these tasty morsels were first developed. First, small plates were placed over people's drinks to keep the flies away. Then, the bars started placing small bites on top of the plates to attract customers, and the tradition stuck. But, of course, that's one of several origin stories for tapas anyway.
Tapas are an integral part of Andalusian culture. Bars will frequently have over one hundred items on their menus to choose from. Plus, a smaller menu with local, seasonal specialties. Dishes like cured ham, sea anemones, king prawns, fried fish, mini-stews, shrimp omelets, and more offer an authentic Andalusian tapas experience.
Cold Soups

Gazpacho, cold tomato soup
Gazpacho
Gazpacho is a specialty of Andalusian cuisine. The chilled soup takes on many flavors throughout the region. The most classic version consists of ripe tomatoes, green pepper, garlic cloves, olive oil, and breadcrumbs soaked in water. These ingredients are blended into a purée, then strained through a cheesecloth. Next, water is added, and the finished gazpacho can be garnished with diced cucumber, pepper, onion, hard-boiled egg, ham, or fried bread.
Ajo blanco
Next, gazpacho blanco, also known as ajo blanco, is a specialty of Málaga made with bread, garlic, and almonds. Ajo blanco is traditionally garnished with green grapes.
Salmorejo
In Cordoba, salmorejo is a type of gazpacho consisting of puréed tomatoes, bread, garlic, oil, and vinegar. Hard-boiled eggs or Spanish ham usually garnish salmorejo. Porra is like salmorejo, but with the addition of a green or red pepper.
Vegetable Dishes in Andalusian Cuisine

Chickpeas with spinach, Espinacas con Garbanzos
Broad Beans with Ham
In Andalusia, broad beans are a premium vegetable from Jaen. They come together beautifully with regional serrano ham in this dish. First, the beans are sautéed in Spanish olive oil with chopped spring onion. Once the beans are tender, chunks of serrano ham are added, and the salty ham provides a delicious contrast to the succulent broad beans.
Espinacas con Garbanzos
This spinach and garbanzo bean recipe is served piping hot for a comforting dish during winter in Andalusia. The chickpeas and spinach are seasoned with olive oil, garlic, cumin, paprika, vinegar and are cooked with tomatoes. This vegetarian recipe is especially popular in the province of Sevilla.
Pipirrana
Also called mojete, pipirrana is a traditional salad in Andalusian cuisine savored during the hot summer months for its freshness. The original recipe consists of chopped cucumbers, onions, tomatoes, green peppers, and tuna or olives may also be added. Pipirrana is seasoned with olive oil and vinegar and is usually accompanied by bread to soak up all the flavorful juices.
Regional Seafood Specialties
Seafood is abundant in Andalusian cuisine, as expected from a country bordered by the Atlantic and the Mediterranean. Red tuna is the most prized fish and is prominent in the waters here. The red tuna's annual migration route runs from the Atlantic into the Mediterranean Sea off the coast of Andalusia. Other notable fish include sea bream, sole, hake, sea bass, sardines, and anchovies. Shellfish and crustaceans, such as donax clams, king prawns, crab, and more, also abound. In true Spanish fashion, fresh seafood is often fried in olive oil or otherwise grilled, cooked in salt, baked, boiled, or turned into flavorful stews.
In Malaga, the mixed fried seafood called fritura malaguena is not to be missed. Enjoy this fried dish with a glass of Cava to refresh the palate and make room for more seafood. In the port city of Cádiz, be sure to try the hake cooked with onions and tart orange juice. Finally, in Cordoba, fresh squid prepared in its own ink with garlic, bay leaves, saffron, and olive oil served with rice is on the menu.
Meat Dishes in Andalusian Cuisine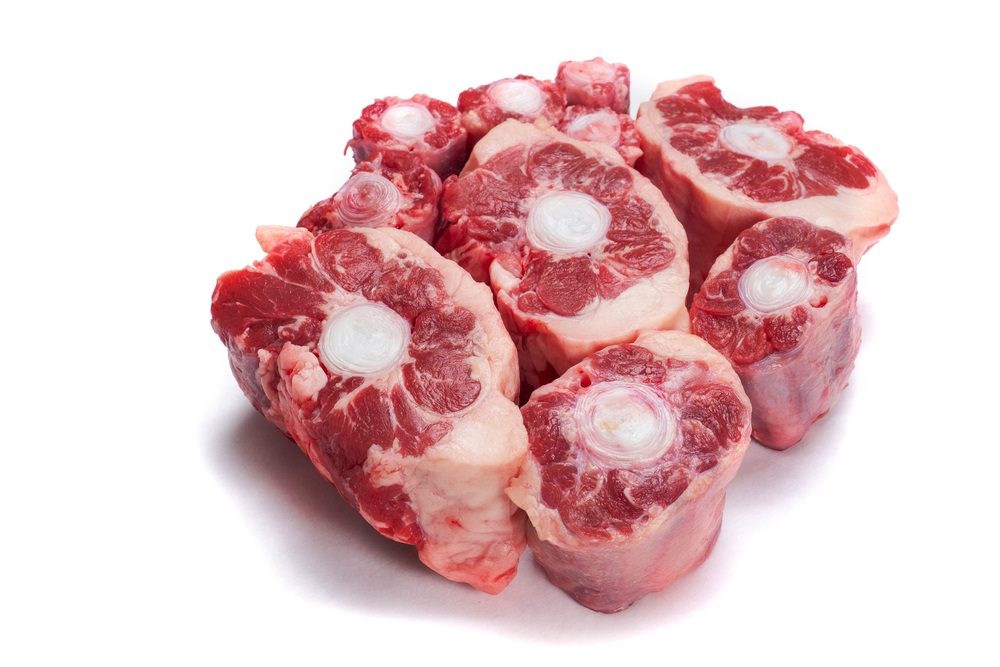 Bulls tails, Rabo de Toro
Since the region comprises mountainous zones and the coast, meat is also prevalent in Andalusian cuisine. Andalusian recipes feature poultry like chicken or turkey prepared with garlic or almond-based sauces. Seville-style duck is a typical dish of Sevilla not to be missed. But, then, there are hearty oxtail dishes, kidneys cooked in Sherry, lamb stews, and other meat recipes seasoned in local aromatic herbs.
Caldereta del Condado
In Huelva, a yearly pilgrimage takes place from Niebla to the village of El Rocio. The caldereta del condado is the customary communal lamb stew prepared to commemorate the occasion. To prepare the stew, lamb is slowly cooked with a plethora of ingredients, including ham bone, garlic, onion, tomato, parsley, mint, bay leaves, and seasonings. First, the lamb is set aside once tender. Then, the remaining liquid and ingredients are blended, along with cumin, paprika, cloves, and breadcrumbs. Finally, this thick sauce is poured over the lamb before serving.
Seville-Style Duck
This duck preparation is a luxurious Andalusian recipe hailing from the province of Seville. First, lard and cured bacon rind are heated in a casserole dish. The entire duck is added once the dish is hot. After the duck has been browned, carrots, leeks, celery, and garlic are added. Chopped tomatoes, bay leaf, and Sherry further flavor this Seville-style duck. For serving, the sauce is strained and poured over the quartered duck.
Other Andalusian Meat Dishes to Try:
Riñones al Jerez – pork kidneys cooked in dry Sherry and spices.
Sacromonte omelet – pig or pork brains and testicles cooked in wine with bay leaves, then made into an omelet.
Rabo de toro – an oxtail stew flavored with tomatoes, fresh herbs, and spices.
Cured Meats
Andalusian cuisine also offers an assortment of cured meats and sausages known for their rich aromas, tender textures, and full flavors. But, first, Jamón de Trevélez is one of the most renowned regional cured meats produced in Granada for over 200 years. Made from the Landrace, Large White, and Duroc-Jersey pig breeds, the climate of Trevélez in Granada is what makes this ham so delicious. Cool summers and cold winters mean the ham can hang to cure for extended periods without any preservative additions. So if you visit Trevélez, look out for legs of ham hanging from the ceiling in bars and restaurants.
Other than Jamón de Trevélez, most Andalusian cured meats and sausages are made in the mountains of Huelva and Cordoba. A Huelva Designation of Origin ensures hams are produced within specific regulatory quality standards. These hams must be made with purebred Iberian pigs or a crossbreed between a minimum of 75% Iberian pig with the Duroc-Jersey breed. Some are fed exclusively on acorns, in which case they're labeled under the Jamón de Bellota DOP Jamón de Huelva.
Additionally, Jamón Serrano is also made in Andalusia. These cured hams come from the Duroc breed of pig who are fed cereal or grain. The Jamón de Trevélez in Granada, I.G.P. Seron in Almeria, and Lacón Gallego in Galicia are all Serrano hams.
Andalusian Desserts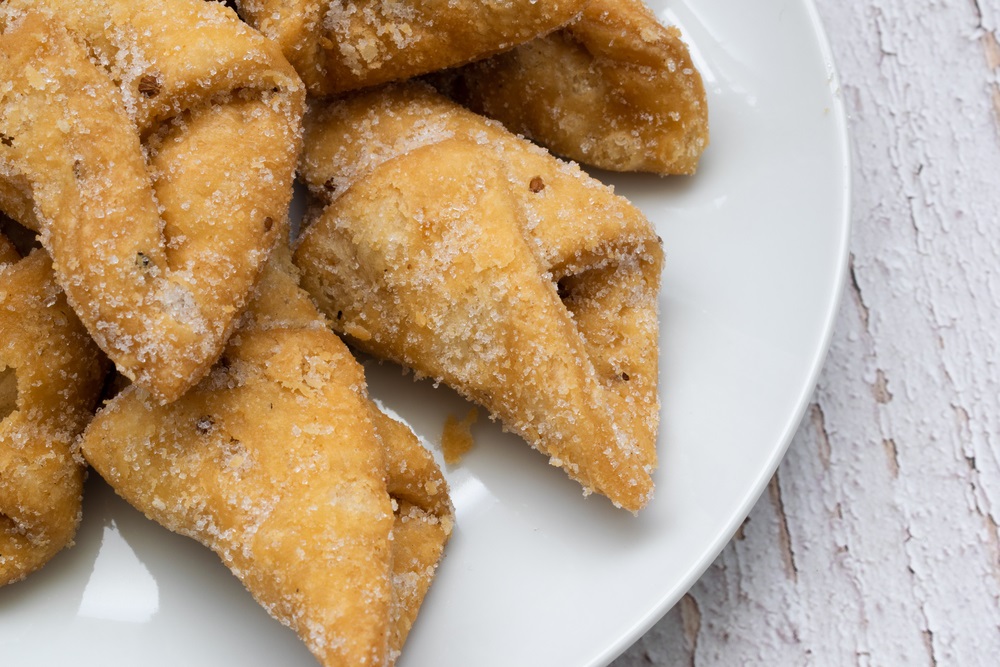 Pestiños,  sweet pastry fried in olive oil
Pestiños
In keeping with Spanish tradition, pestiños are a sweet pastry fried in Spanish olive oil. Flour, yeast, sesame, orange juice, and cinnamon come together for a flavorful dough, and once fried, the pastry is coated in sugar and honey for an irresistible sweet, crunchy treat. Since the 16th century, pestiños have been traditionally served during Holy Week and Christmas.
Tocino de Cielo
This historic Andalusian dessert, now famous throughout Spain, originated in the monasteries of Jerez de la Frontera and Montilla-Moriles. Tocino de Cielo is a custard made of water, sugar, and beaten eggs. The custard mixture is poured into caramel-coated molds before setting overnight, resulting in a decadent dessert steeped in delectable caramel.
Other Andalusian Sweets:
Buñuelos de San Benito is fried pastries drizzled with a syrup made from the rawest form of a piloncillo sugar cane.
Turrón de Cadiz – a marzipan dessert filled with pieces of fruit.
Piononos – a syrupy sponge cake rolled with cream and cinnamon, then drenched in a rum syrup.
---
About Nicole Dickerson
WSET certified international wine writer with a passion for rare varieties and cellar hand experience in both hemispheres. Join me in the vineyards and cellars of the wine world at palmandvine.com.