Ham is a Spanish national obsession and deservedly so!
Spain has a long history of curing ham for personal consumption, one which has emerged from its humble origins as a peasant rural tradition, to become a highly prized item for connoisseurs of Spanish cuisine and all classes of Spanish society. At the top of the quality, tree stands Jamón Ibérico – produced from a special breed of Wild Boar that is world renowned for its fantastic flavor. It is served across in the country in select tapas bars, and at its finest, is the undisputed champion of Spanish gastronomy. Its beauty lies in its simplicity – a soft and silky textured ham with a deliciously sweet flavor and aroma. Some of the best Jamón Ibérico comes from the mountains of Andalusia, although it is produced in a number of other regions in Spain. Moreover, while Ibérico ham is justly celebrated, it is merely one part, not the whole picture of Spain's Jamón culture. Several different categories and specialties of Jamón exist, the finest examples demanding impressive prices, being in short supply and high demand!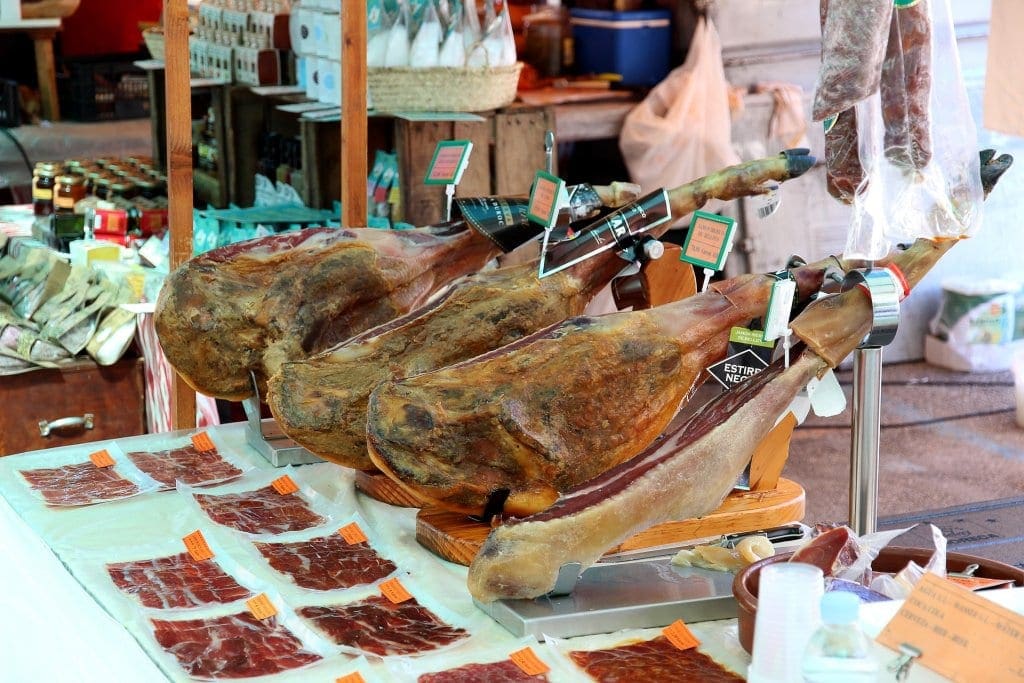 The main categories of Spanish Ham
There are five broad categories of cured ham available in Spain today, and they are at least partly differentiated according to the breed of pig from which they were produced. The most common is the Serrano ham, produced from the meat of the European white pig. However, the name Serrano specifically refers to the cut of the ham, rather than a breed used to produce the tasty Jamón. The best examples – salt-cured ham which is dried in mountain (Serrano) air – can be a delicious, cheaper alternative to the more expensive Jamón Ibérico. It is produced as follows: after slaughter, the legs and shoulders of the pig (the finest Jamón is said to come from the hind legs) are preserved with sea salt for two weeks, drawing out the moisture in the meat. After washing the salt off, the hams are hung for about a month before being moved to a Secadero (drying room). There, they will be aged for over 7 months in warm, dry conditions that cause the fat to infiltrate the muscle. Finally, the Jamón is left to settle in a cool bodega for about two months before release.
Jamón Ibérico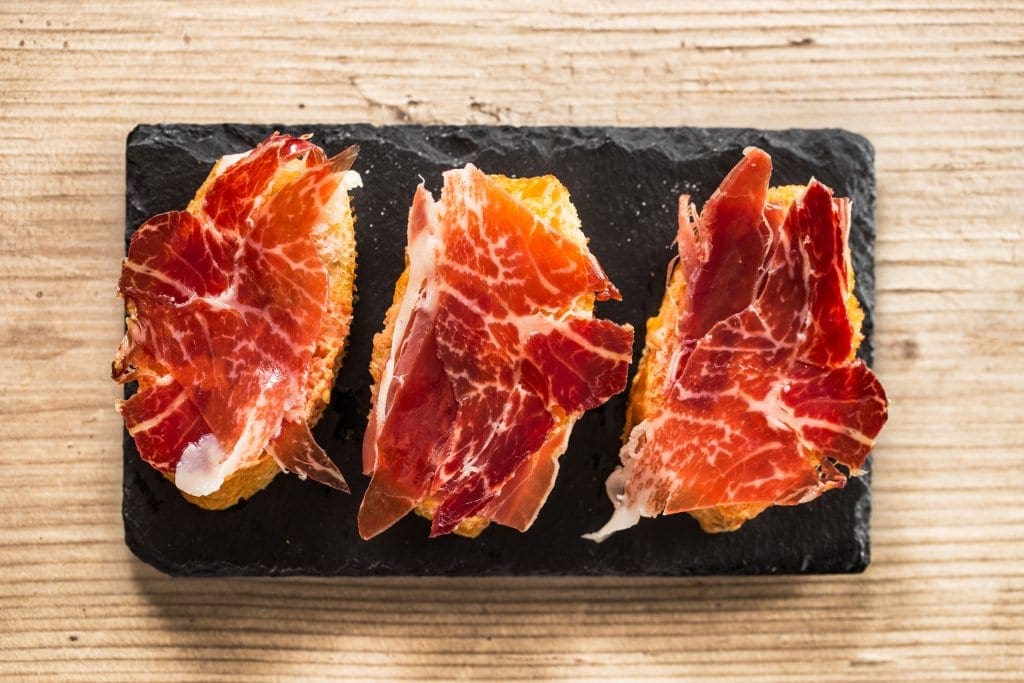 The next step up in the Jamón hierarchy is the priced Jamón Ibérico, produced from a descendant of the European Wild Boar that is found in small numbers in Dehesas, which are oak forest reserves in south-west Spain. The finest is undoubtedly the Jamón Ibérico de Bellota, which is only made in small quantities from pigs that feast on acorns and justifies its high price with its unrivaled depth of flavor, and texture. The villages of Jabugo in the Sierra de Aracena and Trevelez are famed for producing the tastiest cured ham in Spain, also known as Pata Negra. However, 'ordinary' Jamón Ibérico can be produced from mainly grain fed pigs, known as de campo. The hams are aged for over two years before release and offer a more intense flavor than the ubiquitous Serrano ham.
Jamón de Cebo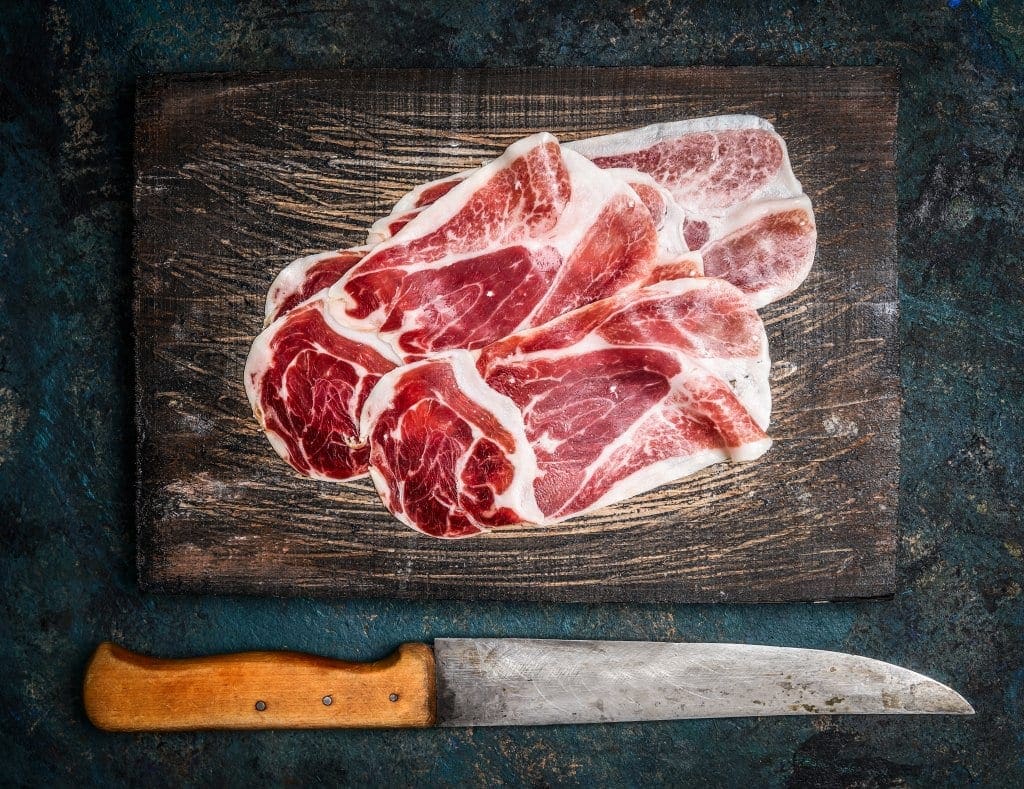 Jamón de Cebo is considered superior to de campo ham, as the pigs are fed acorns (bellotas) in addition to the standard grain. This acorn diet permeates into the flavor of the best Ibérico hams, and apparently lowers the level of bad cholesterol when consumed – as if we needed an excuse to enjoy this wonderful delicacy! In addition, there is a category of ham that sits somewhere between the finest Jamón de Bellota and the Jamón Ibérico.
Guijuelo Jamón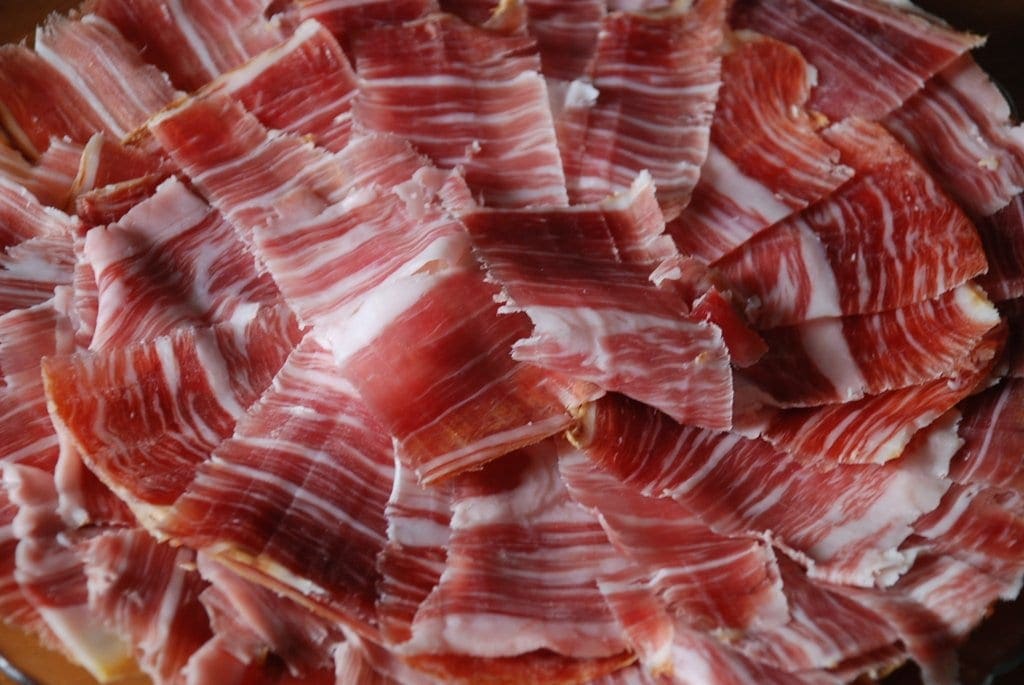 Guijuelo Jamón, a protected designation of origin that lies in the south-east of the Salamanca province, in Castile-Leon. Although the ham is produced from boars which may not be 100% purebred, it is still held in high regard in Spain. The animals may originate from several regions across Spain: including Andalucia, Extremadura, and Huelva, but the hams must have been cured and aged in the province to qualify as Guijuelo ham. Over 70 towns and villages in the region have the right to produce this succulent, flavorsome Jamón, which can either be classified as Ibérico or as the superior de Bellota, depending on the pig's diet. In a similar manner to other high-quality Jamón, the Guijuelo curing and aging process can last three years, in contrast to the much shorter period for the standard Serrano ham. The resulting product is sublime – Guijelo Jamón is renowned for its juicy, tender texture and a strong, almost overpowering flavor. It is also admired for its relatively low salt content in comparison to other quality Spanish hams – a benefit of Guijuleo's extremely dry climatic conditions which allow for a much shorter curing process than in other parts of Spain.
Ibérico de Bellota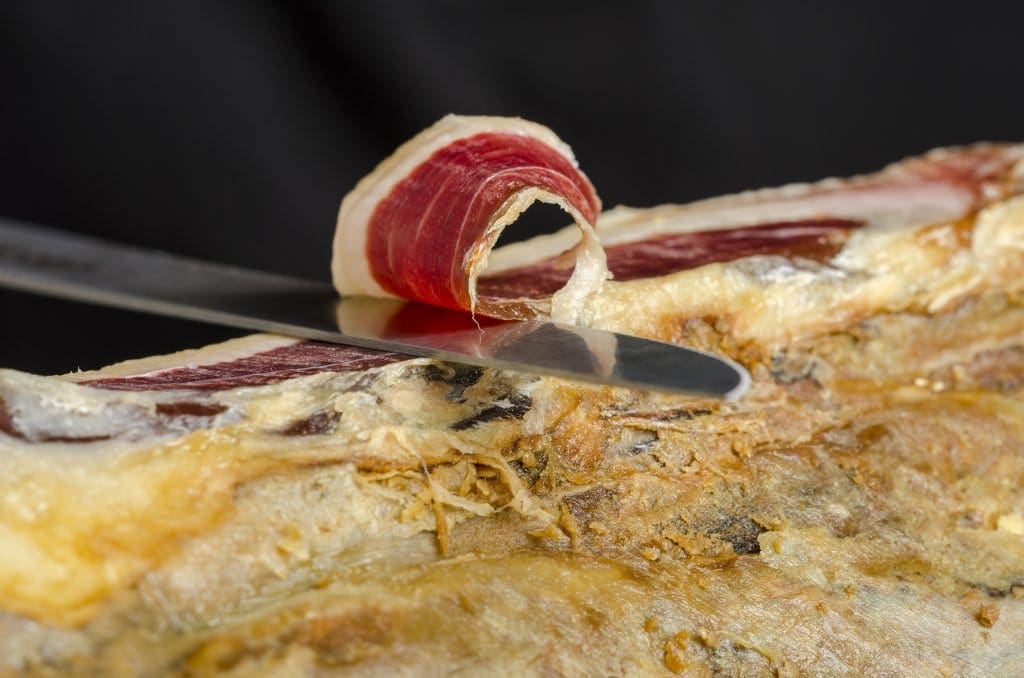 But of course, the most celebrated ham is the Ibérico de Bellota from specific designations in southern Spain, which is protected by strict appellation laws to ensure quality and released in small quantities every year. Wild Boars roam free across Spain's protected Dehesas, gaining weight from an acorn diet. The curing and aging process has been followed for centuries and remains largely unchanged today, albeit it has been updated with the latest temperature control technology. The final product is simply stunning: a silky, slightly salty ham that astounds first-time tasters with its aroma and flavor. Aficionados of Jamón de Bellota will insist that you consume the ham with little more than plain bread and a glass of Manzanilla Sherry.
Some Noteworthy Producers:
You can also buy many of these delicious hams online from https://7bellotas.com – they are based in Salamanca, Spain and are exclusively to the Art of the "Jamón"
The following are some of the best places in Spain to enjoy extra-thin slices of Jamón Ibérico:
Bodegon El Refugio, Calle Labradores 1, Logroño
A Riojan institution, this long-standing tapas bar in Logroño serves only the finest Jamón Ibérico, accompanied by a wide selection of Riojan wines.
---
Museo de Jamón, Carrera San Jeronimo 6, Madrid
This chain of Jamón tapas bars in Madrid has an enormous selection of hams, from the basic range to the ultra-expensive and delicious Ibérico de Bellota.
Website: www.museodeljamon.com
---
Bar el Jamón, Calle de Lavapies 47, Madrid
Off the beaten track, this unassuming, blink and you'll walk past it tapas bar in Madrid offers delicious Jamón at reasonable prices and crucially, doesn't attract hoards of tourists!
---
La Flor de Toranzo, Calle Jimios 103, Seville
Seville is packed with tapas bars, but La Flor stands out due to its wide selection of hams, reasonable pricing and a fantastic selection of wines by the glass.
---
Meson Cinco Jotas, Calle Castelar 1, Seville
The Jamón supremo of Seville, Jotas is the place to pig out on sublime Jabugo Ibérico ham. Worth every cent!
Website:www.restaurantescincojotas.com
---
7 Bellotas, Calle La Cuesta SN, Gallegos de Solmirón, 37751 Salamanca
Related Posts: