Jerez de la Frontera was one of the "Frontier" towns between areas ruled by the Moorish Caliphs and Christian Monarchs. "De la Frontera" (on the border) was attached to many of the town names which existed on this fuzzy border, including Chiclana, Arcos, Conil, and Vejer. Jerez was reconquered from the Moors by Fernando III in 1251, only to be lost again, and on and on it went for centuries.
Jerez is the capital of Sherry country. "Jerez" is actually "Sherry" mispronounced centuries ago by British wine importers. It is home to many of the big names (González Byass, Emilio Lustau, Garvey, Emilio Hidalgo, John Harvey). The town has an aristocratic air, with wide avenues lined with palms and many lovely squares. The two most impressive architectural monuments are the Cathedral of Salvador (boasting a masterpiece painting by Zurbarán, "The Sleeping Girl," in the Sacristy) and the remains of an 11th-century Moorish fortress (called the Alcazaba, it contains a maintained mosque).
Sir Francis Drake
Jerez came onto the world scene with the massive increase of demand for its local fortified wine, sherry. The story goes that Sir Francis Drake sacked the town of Cádiz, making off with barrel after barrel of the sweet tipple. England got a taste for the wine, including Shakespeare, one of Sherry's biggest fans. Sherry has an ancient history, with a wine history dating back thousands of years to the Phoenicians. Even before Sir Francis Drake brought the wine back to England, other wineries had been making sherry commercially for centuries. The history of Valdespino winery in Jerez, for example, dates back to the year 1264 when the King of Spain granted one of his knights, Alonso Valdespino, 30 acres of vineyards. More than 700 years later, Valdespino is still selling wine and is one of the oldest bodegas in the Sherry Region. Visiting the ancient bodegas (the wineries) is undoubtedly a "must do" for wine lovers visiting Jerez de la Frontera.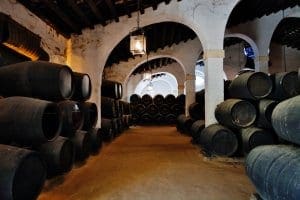 Gastronomy & Wine
Sherry is quite obviously the most identifiable wine from the region. Made from Palomino grapes (along with Pedro Ximenez), sherry comes in various styles. (Learn more about Sherry wine in the "Wine Regions" section of this website). It is considered by many to be the perfect aperitif, and it is served in all of the bars with "Tapas," like olives, strong cheeses, and "Chorizo" cured sausage slices and salted almonds.
The "Gastronomia Gaditana" (meaning food from the region of Cadiz, to which Jerez belongs) is varied and delicious. You will find freshly caught seafood (Flounder, Sea bass, Plaice, Mahi Mahi, Hake), and a variety of shellfish; Oxtail soup (made fresh after the bullfights), lovely cold soups (gazpacho, almond, Tomato with mint, pureed melon with bacon); Braised quail; tender beef and many more delicious, typical dishes including: "Langostinos al ajillo" (giant prawns in a garlic sauce), "Urta a la Roteña" (Perch sautéed with sherry, tomatoes, and onions), and "Dorada a la sal" (Mahi Mahi cooked in a salt crust).