The Spanish region of Galicia is a bucket list destination for foodies, wine enthusiasts, and outdoor adventurists alike. Galicia encompasses the northwestern corner of Spain with the Atlantic to the west, the Cantabrian Sea to the north, Portugal to the south, and the Spanish regions of Castile-León and Asturias to the east. The world-famous Camino de Santiago, stretching over 500 miles from France through 15 Spanish regions, ends at the Cathedral of Santiago de Compostela in Galicia. This cathedral is the burial place of James the Apostle, as his remains were recovered here in the 9th century. As the second most visited place in Galicia, Santiago de Compostela also houses a lively, fascinating food market called Mercado de Abastos. It's an exceptional place to experience the flavors of Galician cuisine, from tapas to fresh seafood, cheeses, and regional products.
Read more about Spanish Cuisine
You can explore this region of Spain with Cellar Tours on a private Luxury Food and Wine Vacation, dine in the best local restaurants, and enjoy VIP tastings in the top bodegas.
The Basics of Galician Cuisine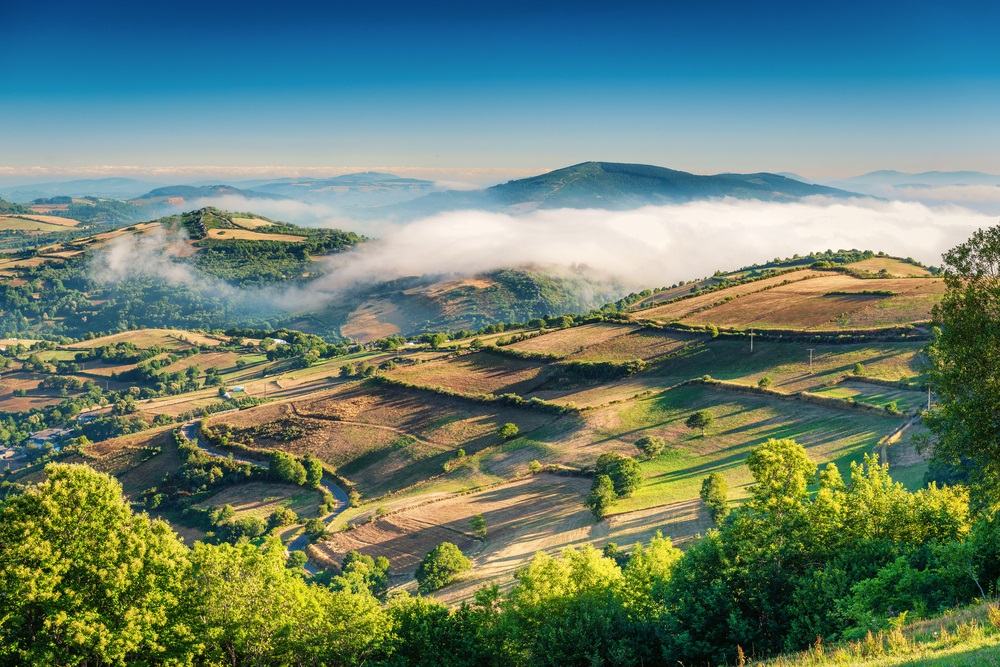 Galician cuisine relies on high-quality ingredients from the bountiful land and sea along with locally cultivated agricultural products. In addition to the Atlantic Ocean and Cantabrian Sea, Galicia boasts numerous estuaries along the coast known as rías. Legend has it the rías were created by God when He laid His hand here to rest after creating the world. Galician estuaries have a plentiful ecosystem thanks to the rich nutrients found in this part of the Atlantic. The Rías and surrounding ocean waters infuse barnacles, crabs, scallops, crayfish, cuttlefish, turbot, red sea bream, sardines, octopus, sea bass, and tons of other fish into Galician cuisine. With 1,200 kilometers of coastline and culture strongly rooted in fishing, rest assured, delectable seafood dishes await you in Galicia.
Though seafood abounds, meat is also savored in Galicia. Beef is the most eaten meat and is often enjoyed as veal. For the best quality, look to the Ternera Gallega designation indicating the veal is from the indigenous Rubia Gallega and Morena Gallega breeds. These calves are raised in Galicia on small family-owned farms and fed grains and fodder from vegetables. Additionally, sausages are a staple in inland Galician cuisine, where locals enjoy chorizo, a salami-style sausage called salchichones, androlla, and botello sausages. Parts of the pork leftover from making sausage are incorporated into hearty stews. Galicians also eat some free-range poultry, and Capon, a roast suckling baby goat, is a Christmas specialty.
Galician Agricultural Products
When it comes to produce, potatoes are an essential ingredient in Galician cuisine. The Pataca de Galicia is known for its creamy texture and smooth, oval shape. Turnip tops are also used in several Galician recipes. Known as Grelos de Galicia, the turnip tops have a slightly bitter, acidic flavor and are harvested by hand from October to January. Peppers are also popular, especially the Pimientos de Padrón, which range from mild to spicy in flavor. Plus, Galicians eat chestnuts, hazelnuts, almonds, and walnuts. While their regional honey, known as Miel de Galicia, comes in a range of colors and flavors thanks to diverse nectars from eucalyptus, blackberry, chestnut, and heather.
Galician Bread
Galician bread is especially delicious when paired with Galician cheeses and wines. First, pan de Cea is made in the town of San Cristóbal de Cea in the Carballino provence. It's one of four Spanish breads with its own protected designation. Pan de Cea is made with a 700-year-old wheat flour recipe and has a firm crumb with an elongated shape. The local Cistercian monastery called Santa María la Real de Oseira originally developed the baking and grinding techniques to make pan de Cea. While San Cristóbal de Cea's beneficial geographic location helped disseminate the bread to other parts of Galicia.
Another must-try bread Pan Gallego also produced under its own Protected Geographical Indication, is a crusty bread with a soft, spongy crumb filled with air pockets. Pan Gallego is an artisanal product made with wheat flour, sourdough starter, salt, and water. It's baked in various forms, including the misshapen loaf with a topknot called a bolo or hogaza, a flat ring of bread known as a rosca, a barra baguette-shaped loaf, and the round, flat bola or torta.
Galician Cheeses
Most cheeses in Galician cuisine are made with cow's milk. Here are four kinds of cheese you're likely to encounter while dining in the region. Each is made under its own protected denomination, ensuring the highest quality products.
Galician Wines
Galicia boasts five designated wine regions, the most famous of which is the Rías Baixas DO, producing exquisite Albariño along the Atlantic coast. The moderate, damp climate of the region sees the Albariño vines trained on a pergola system to encourage airflow and lower the risk of mildew and disease. Rías Baixas wines are adored for naturally high acidity and fragrant aromas of stone fruits, lemon zest, grapefruit, melon, and sea spray. In addition, albariño is the ideal match for many fresh seafood dishes in Galician cuisine.
Beyond Rías Baixas are smaller regions further inland such as Ribeiro, Ribeira Sacra, Valdeorras, and Monterrei. Ribeiro is the oldest Galician appellation and produces mainly white wines from indigenous grapes like Albariño, Torrontés, Godello, Treixadura, and more. Red wines make up less than 10% of Ribeiro production and are produced with Mencía and other indigenous red varieties. Next, the Ribeira Sacra DO makes varietal white wines and aromatic reds. Next, Valdeorras mainly produces varietal wines made with Godello and Mencía from vineyards grown on slopes above the River Sil. Finally, the Monterrei DO lies close to the Portuguese border and mainly yields fresh, youthful Mencía wines and wines from other indigenous grapes.
Seafood Dishes in Galician Cuisine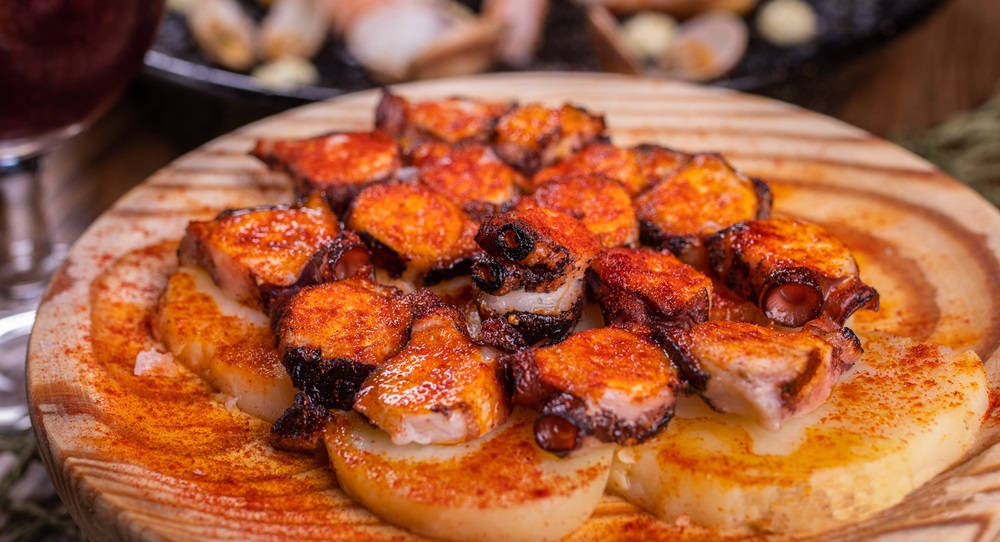 Polbo á Feira
Polbo a feira, or octopus a feira, is a Galician recipe featuring simple ingredients like octopus, potatoes, paprika, and olive oil. Traditionally, the dish is cooked in copper cauldrons known to impart the signature flavor for which polbo a feira is known. First, the octopus is cooked in boiling water until tender. Then, cut into pieces with scissors and seasoned with olive oil, salt, and paprika. Polbo a feira is a popular dish at festivals where it's served at pulpeiras or food stands specializing in octopus. Pair this Galician specialty with a glass of Godello, whose zesty citrus, saline, and subtle smokey flavors are an excellent match for the delicate octopus and spicy paprika. Alternatively, a fruity, youthful Mencía is an ideal red wine pairing.
Mejillones
As a leading source for mejillones, or mussels, around the world, Galician cuisine has numerous preparations for these mollusks. Mejillones rellenos is a recipe in which the mussels are stuffed with flour and onions, then cooked in wine. Subsequently, they're dipped in eggs, dredged in breadcrumbs, and fried in hot oil. Mejillones rellenos are often served as tapas with an anchovy and tomato-based sauce. Additionally, mejillones a la vinagreta is another popular mussels dish in tapas bars. First, the mussels are steamed and allowed to cool. Then, they're topped with a flavorful mix of chopped onion, bell peppers, red wine vinegar, olive oil, and salt. Rely on Albariño for a delectable wine pairing, as this Spanish white wine has fresh citrus and sea spray flavors to match the mussels' taste of the sea.
Vieras en su Concha
Vieras en su concha are Galician-style scallops served in their shells. First, chopped garlic and onion fried in a pan with a little oil and paprika or pimentón. Once browned, tomato sauce or fried tomatoes are added along with wine and seasonings. Next, the scallops are browned in their shells in the oven, then topped with the freshly made sauce, breadcrumbs, and parsley. Try vieras en su concha with a white blend from the Ribeiro DO. These fresh, aromatic, and elegant white wines with notes of ripe fruits and florals ideally complement the delicately textured scallops.
Other Galician Seafood Specialties to Try
Hake a la Gallega  – a simple fish dish made with hake, potatoes, garlic, olive oil, bay leaves, onions, salt, and paprika.
Rodaballo a la Gallega – a dish of boiled turbot and vegetables served with a garlicky sauce.
Caldeirada a Raya – a Galician fish stew made with skate.
Galician Meat Dishes

Lacón con Grelos
Sirloin Steak
Galician sirloin steak offers a flavorful land-based dish ideally paired with regional red wines. Typically, the sirloin medallions are cooked in a frying pan over high heat and served with a shallot and red wine reduction sauce and sautéed mushrooms. Pair Galician sirloin with an aged Valdeorras Mencía offering gamey, floral, concentrated red and black fruit flavors.
Lacón con Grelos
Lacón con grelos is one of Galician cuisine's most well-known meat dishes. The hearty dish is made by boiling ham hock with local turnip greens, served with potatoes and sausage. Lacón con grelos pairs well with an acid-driven Caiño Tinto red wine from Ribeiro, whose fruity, sour red cherry notes will complement the rich pork flavors of this Galician dish.
Other Classic Galician Dishes
Caldo Gallego
Caldo Gallego is a heartwarming, filling stew whose recipe varies by household and subregion throughout Galicia. The most traditional ingredients for the stew include turnips, potatoes, cabbage, white beans, lard, and different pork products like chorizo, bacon, or ham. The original Caldo Gallego recipes originated amongst Galician farmers who lived off whatever they could grow. A light, juicy red wine like Mencía with fruity red, herbal, and mineral flavors is an excellent pairing for comforting Caldo Gallego.
Empanadas
Empanadas are stuffed pastries consumed throughout Spain that can be filled with various ingredients from pork meat to octopus, sardines, beef, cod with raisins, and more. However, the classic Galician empanada resembles more of a large pie than the typical hand pie shape empanada. The filling is usually flavored with peppers, onions, and tomatoes featuring meat, fish, chorizo, or other local vegetables. The pastry is made with leavened dough, and Empanada Gallega can be served hot or chilled.
Desserts in Galician Cuisine

Tarta de Santiago
The tarta de Santiago is an almond cake made in Santiago de Compostela, the town at the end of the Camino de Santiago. A supremely moist cake made with almonds, eggs, sugar, cinnamon, and lemon zest, tarta de Santiago has become one of the most popular desserts throughout Spain. The cake received protected designation status in 2010 and is still made with the original 19th-century recipe. Bakers decorate the tarta de Santiago with the Cross of St. James outlined in powdered sugar.
Filloas
Galician filloas are crepe-like pancakes historically served at festivals or around Christmas time. Though today they can be found in Galicia throughout the year. Their batter is made with flour, water, milk, eggs, and sugar. Then, filloas are cooked in bacon fat and sprinkled with sugar before serving.
Other Galician Desserts to Try:
Bica – a spongy cake flavored with cinnamon that's delicious with a cup of coffee.
Galician cheesecake – a.k.a. tarta de requesón made with yogurt, a creamy byproduct of cheese production called requesón, sugar, flour, and eggs.
Galician donuts – known as melindre- are baked rather than fried.
---
About Nicole Dickerson
WSET certified international wine writer with a passion for rare varieties and cellar hand experience in both hemispheres. Join me in the vineyards and cellars of the wine world at palmandvine.com.